Cinco de Mayo or Derby Day? Those are hard choices! Either way, we wouldn't pass a good opportunity to drink margaritas and devour some tacos. So, we put together the best Cinco de Mayo specials in Chicago, as well as Cinco special cocktails offered by your favorite bars. So grab a few friends for a day/night out!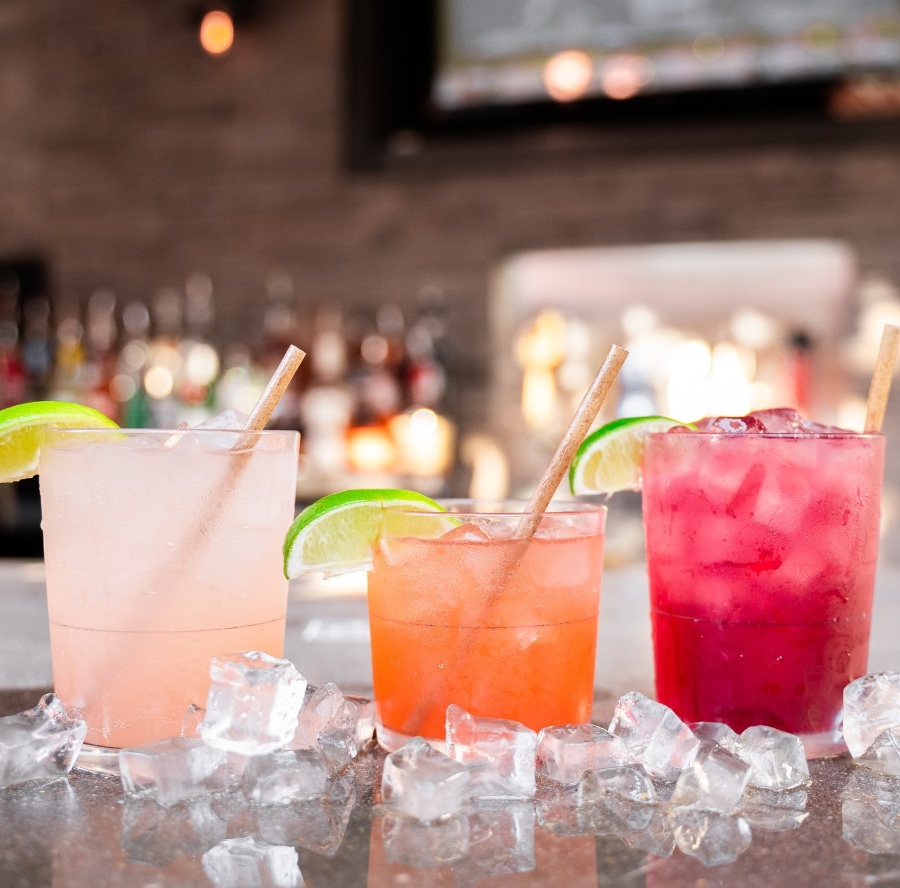 With great food, drinks, and a spacious beer garden that can accommodate any size group, from small gatherings to large groups, bring the whole squad to hang out. Celebrate Cinco de Mayo at Kirkwood on Friday, May 3rd with $5 Corona Drafts, $5 Pueblo Viejo Shots, and $25 Corona Premier Buckets. Make a reservation for Kirkwood here.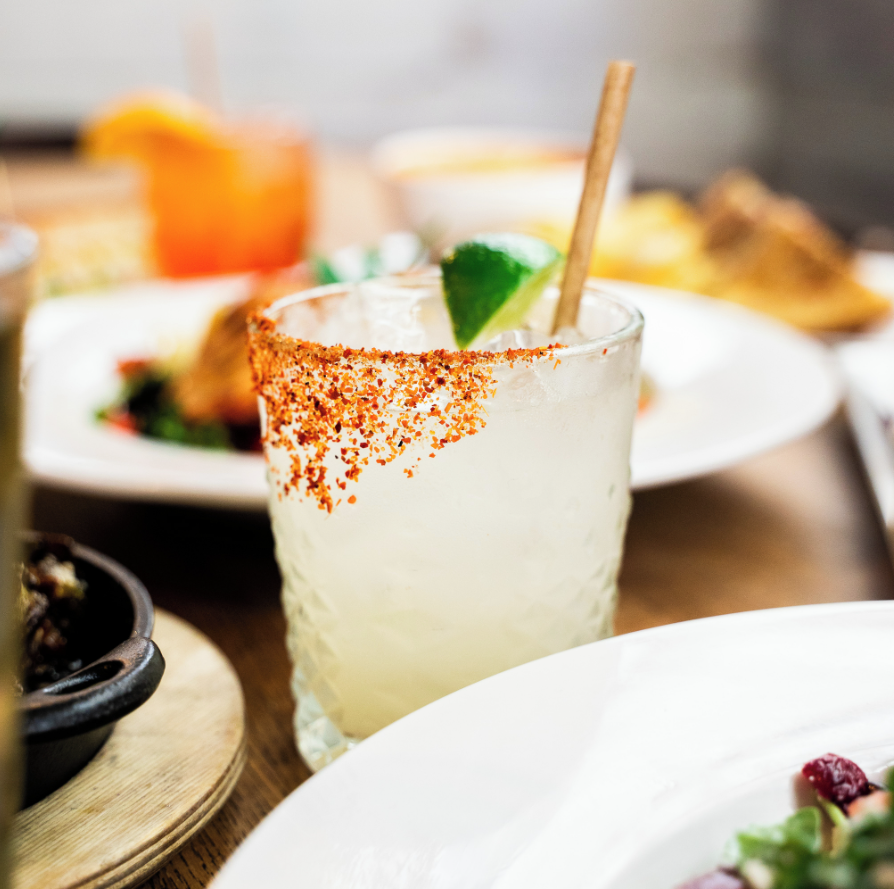 A staple for lunch, happy hour, and dinner throughout the week, Highline offers upscale bar fare and a FREE arcade with classic games perfect for anyone looking for a fun place to celebrate Cinco de Mayo all day long with $7 Classic Margaritas, $7 Jalapeno Gimlets, and $40 Jumbo-ritas. Reservations are available here.
Celebrate Cinco de Mayo in style with a luxurious tequila-tasting event on Friday, May 5, from 2 pm to 4 pm! Join the Barcocina team for an unforgettable day of exquisite tequilas on the new 4000-square-foot patio bar. Sip and savor some of their finest tequilas, selected for their exceptional quality and unique flavor profiles. The Barcocina team will pass out complimentary samples of cristalino tequilas, a new and groundbreaking style of distilling tequila. Relax and enjoy the company of friends and fellow tequila lovers for a beautiful day on the patio. All are welcome and the event is free to attend!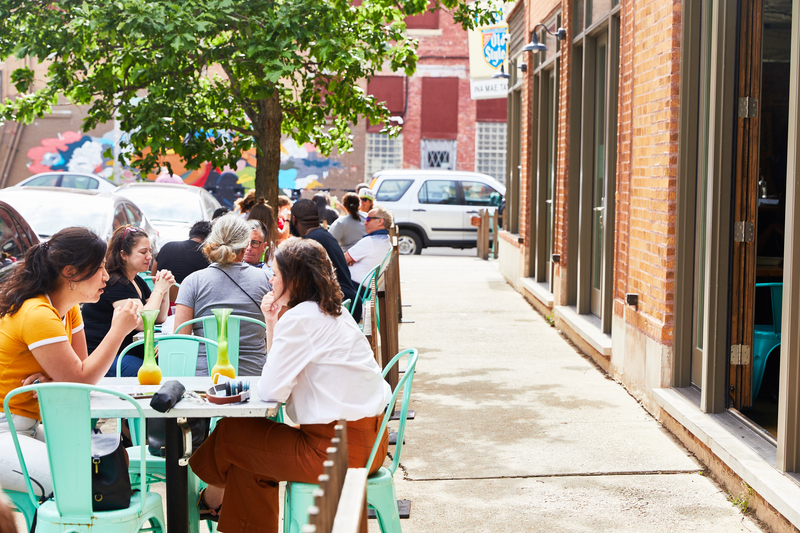 Ina Mae Tavern will be open Friday, May 5th at 4 PM, serving up Cinco De Mayo specials to not only help those in the city celebrate our favorite margarita-inspired holiday but also to kick off the weekend! Offerings include $7 Hornitos Palomas, $5 Hornitos Shots, and $15 Blackened Shrimp Tacos (3). Walk-ins are welcome, or make your reservation today via Tock.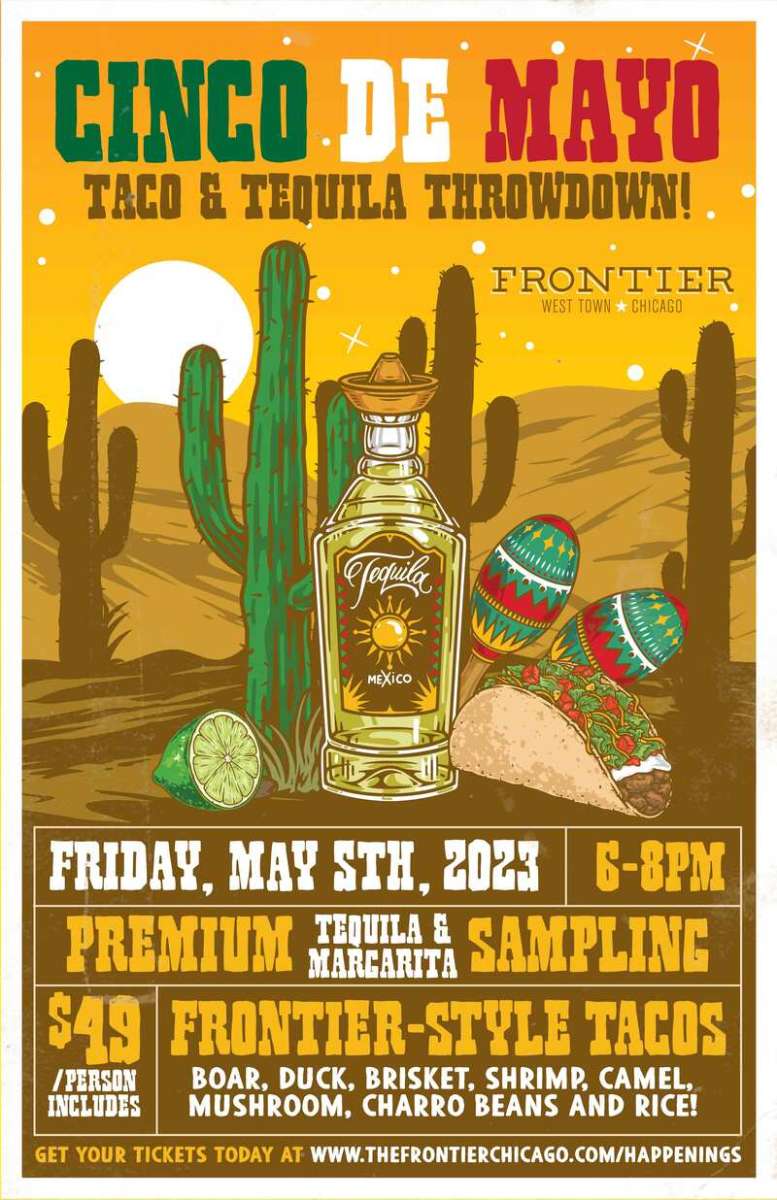 On Friday, May 5th, from 6 to 8 PM, West Town's Frontier will host a Cinco De Mayo Taco & Tequila Throwdown! For only $49/person, guests can enjoy premium tequila & margarita samplings as well as Frontier-style tacos with adventurous options, including boar, duck, brisket, shrimp, and camel! Secure your tickets today via Tock!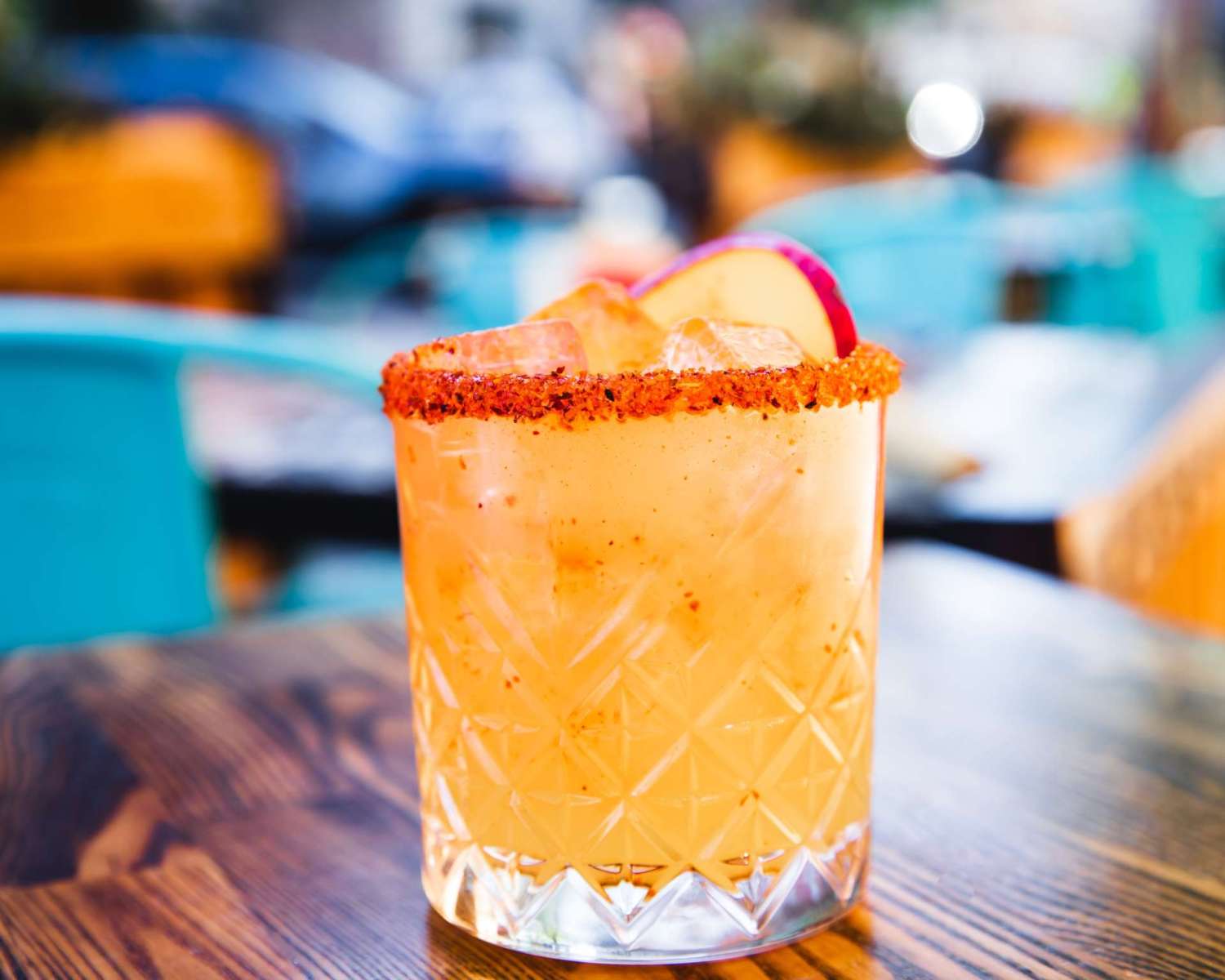 1726 S Racine Ave, Chicago, IL 60608
What better place is there in Chicago to celebrate Cinco de Mayo than in the Pilsen neighborhood? La Luna, the beautiful Mexican restaurant with artsy takes on traditional Mexican recipes will kick off festivities on Thursday, May 4, with Live DJ Kique from 7 to 10 pm. May 4 specials include $8 beer+shot, single shots for $4 and $6 Animal Fries, loaded with onions, melted cheese, and delicious spicy housemade sauce. On the big day, Friday, May 5, La Luna will feature a live mariachi band from 4 pm to 6 pm. Then, from 7 pm to close, dance the night away with music presented by a live DJ. May 5 specials include $50 Margarita Towers and party favors.
On Saturday, May 6, La Luna presents Mamitas Seltzer Fiesta, featuring a live DJ from 3 pm to close and some great drink specials: $20 buckets of mamitas seltzers, $4 shots, $30 pitchers. At brunch time, enjoy Bottomless Margaritas for $30. Sunday, May 7, La Luna's Cinco de Mayo weekend concludes with a Live Trio Brunch from noon to 2 pm. Enjoy $25 bottomless mimosas and micheladas.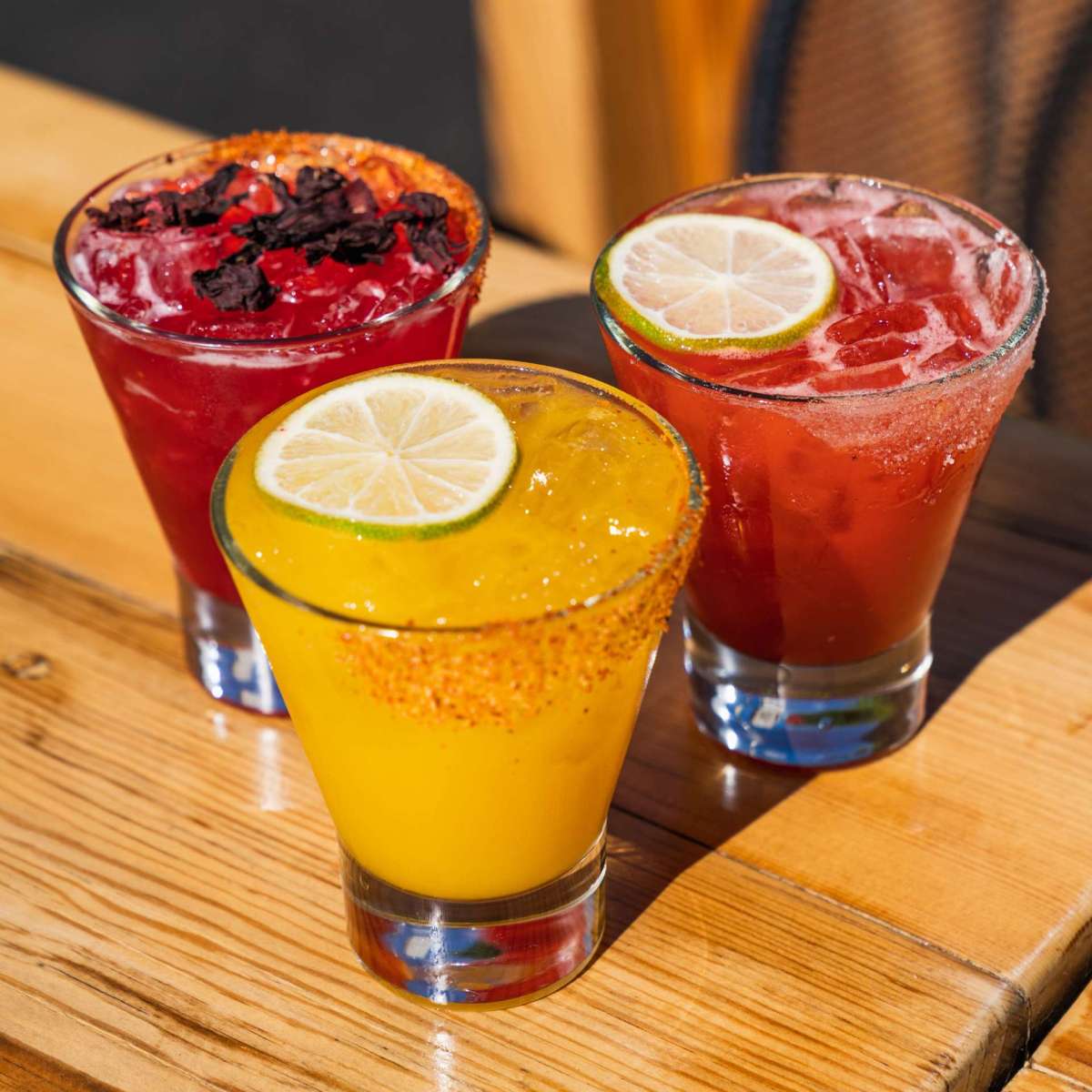 155 W Kinzie St, Chicago, IL 60654
Celebrate Cinco de Mayo on Friday, May 5th at Moe's Cantina River North. The restaurant will be festively decorated and will open for lunch at noon on Cinco de Mayo. Moe's is offering a special 3-taco lunch platter for $15 and $10 margaritas from noon to 3 pm. The regular menu is also available. A 3-taco dinner platter special is available for $18 after lunch.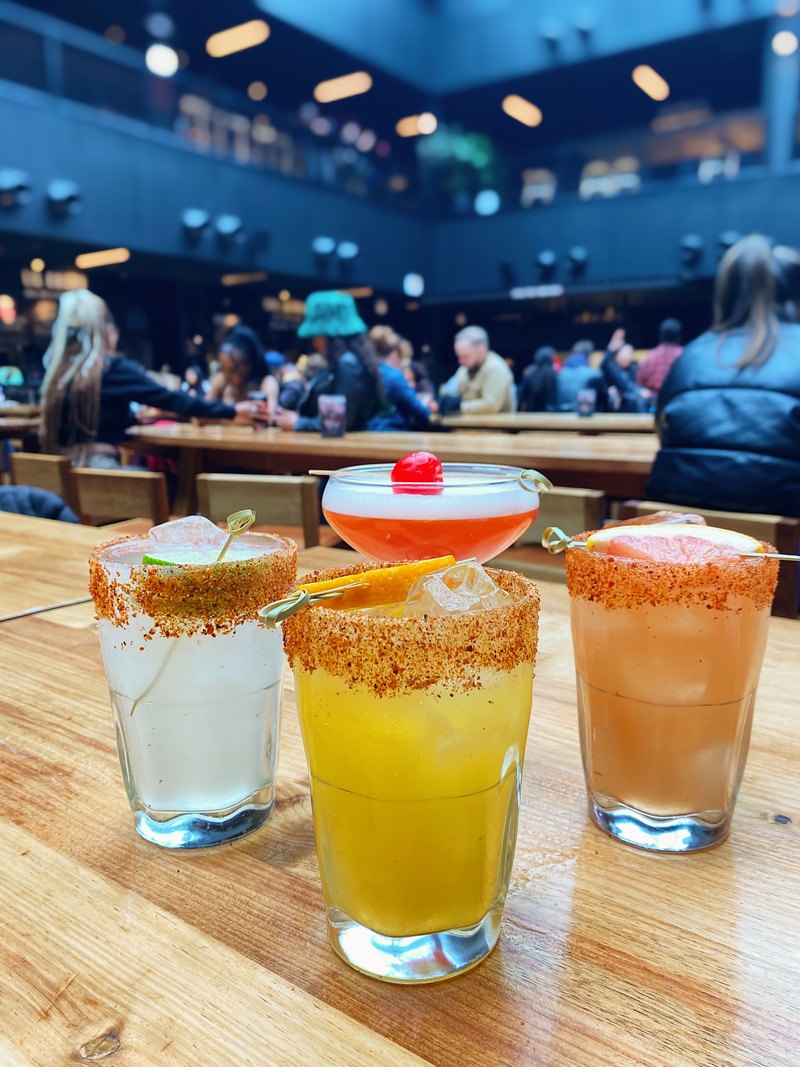 916 W Fulton Market, Chicago, IL 60607
Celebrate Cinco de Mayo at the Market with a jam-packed evening full of festivities! The Tierra Roja Band will set the mood with live music from 5:00 pm to 7:00 pm, followed by tunes spun by DJ Jem from 7:00 pm and 10:00 pm. The second-floor Demo Kitchen will be transformed into Time Out Mercado Cantina, where guests can taste and learn about tequila courtesy of Tromba Tequila. Tromba Tequila Tastings & Education will be held at 4:30 pm, 4:45 pm, 6:00 pm, and 6:15 pm. Finally, quench your thirst with special cocktails for $13 featuring Tromba Tequila, including:
Proud Corazon: Tromba Reposado, grapefruit, passionfruit, lemon, & Campari
Paloma 1862: Tromba Blanco, lime, & grapefruit
Hey Mamacita Mango Margarita: Tromba Blanco, mango, lime, Triple Sec, & habenero bitters
La Puebla Margarita: Tromba Blanco, lime, & agave
Caballito & Cerveza: shot of Tromba Blanco Tequila + Modelo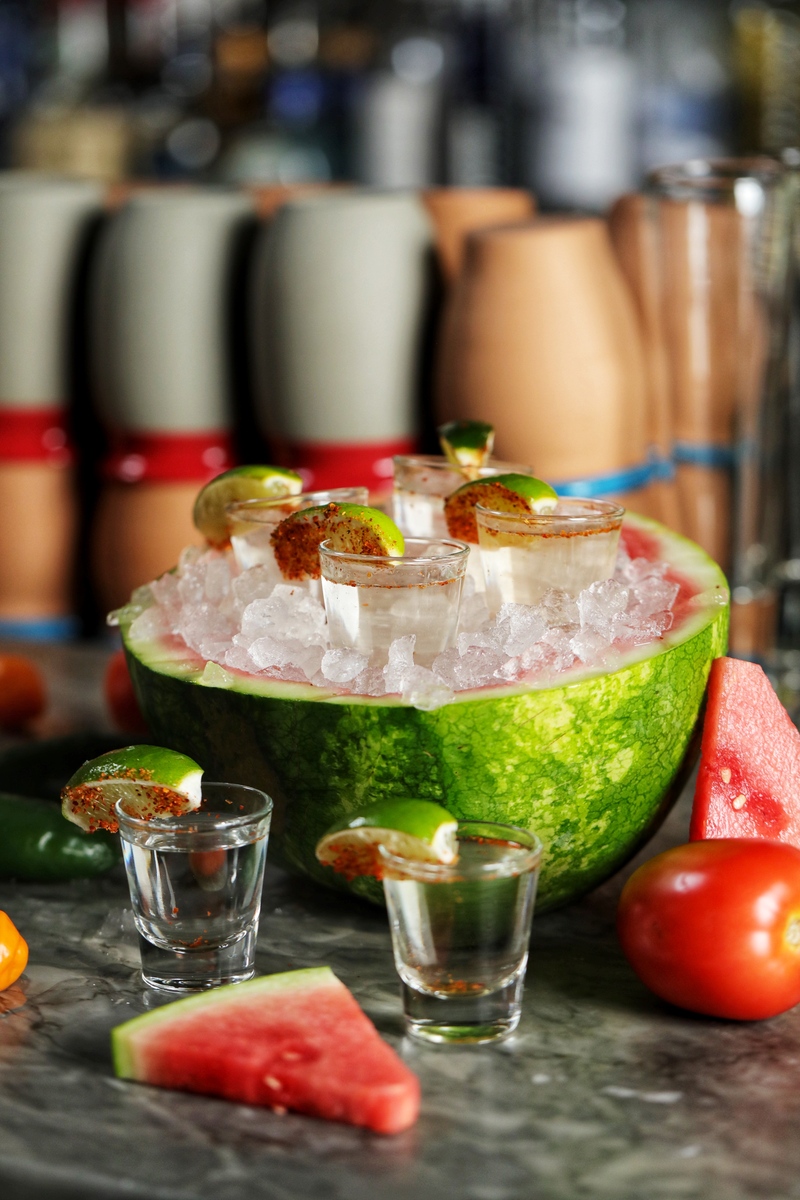 112 W Grand Ave, Chicago, IL 60654
Celebrate Cinco de Mayo at Arbella with a special menu available only on May 5th! Specialty beverages include Dobel Diamante Cristalino Margarita, ($16) and Michelada Modelo ($10). And don't forget the munchies with $9 hardshell Gringo Tacos and $10 Nachos! Food specials are available from 5pm to 9pm. Drink specials are available all day.
2763 N Milwaukee Ave, Chicago, IL 60647
Chef Rodolfo Cuadros, the restaurateur behind the acclaimed Pan-Latin Chicago restaurants Amaru and Bloom Plant Based Kitchen, opened Don Bucio's Taqueria earlier this year, providing Chicagoans a taste of a truly authentic Mexican taqueria with a twist — the entire menu is completely free from animal product. Chef Cuadros is collaborating with Chef Max Musto of Herbivore and Taqueria Chingon's Sous Chef Angel Guijosa for a taco showdown, each chef offering their own take on plant-based tacos. The tacos will be served at Don Bucio's Taqueria in Logan Square on Cinco de Mayo. A percentage of proceeds raised during the event will be donated to charity following the celebration. On top of the taco showdown, diners can take advantage of Don Bucio's Taqueria's late night Happy Hour with 50%-off margarita pitchers every Friday and Saturday from 9:30-10:30 pm.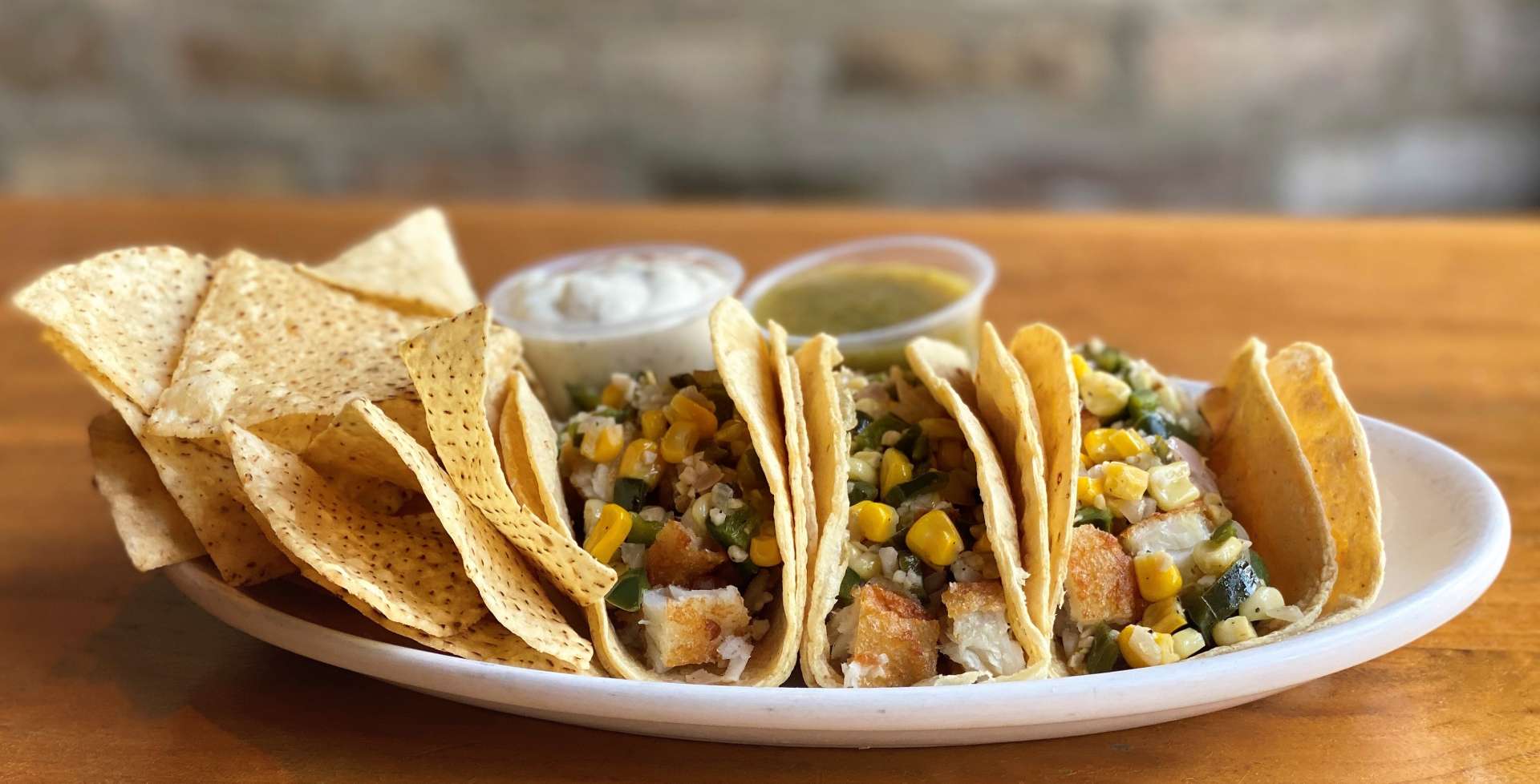 1801 W Division St, Chicago, IL 60622
Mac's Wood Grilled celebrates both Cinco de Mayo and the Kentucky Derby by adding all-day Cinco de Derby specials Friday, May 5 and Saturday, May 6. Enjoy taco platters both days, including Beer-Battered Whitefish Tacos with housemade poblano corn relish (poblano peppers, corn, garlic, red onions), tartar sauce and fresh lemon; and Wood-Grilled Steak Tacos with grilled skirt steak, cilantro, and diced onions. Both platters include three tacos with a side of tortilla chips, pico de gallo and salsa verde ($12 each).
311 N Morgan St, Chicago, IL 60607
FORA, a New American restaurant located on the ground floor of The Emily Hotel, has partnered with Cincoro and Round Two Chicago for a Cinco de Mayo patio party with live music, dancing, a pop-up shop and an amazing holiday raffle with a special rare pair of Nikes for the grand prize. The event takes place on May 5 from 4-8 pm. Round Two Chicago will supply the pop-up store at the restaurant with sneakers, clothes, and a few surprises along the way.
Additionally, Cincoro will supply tequila for Watermelon Margaritas, with each margarita purchased earning diners a ticket for the raffle. The first prize winner for the raffle will win a rare pair of Nikes from Round Two Chicago valued up to $500. Second prize winners will earn a bottle of Cincoro Anejo with a swag bag of goodies, while third prize winners will receive a bottle of Cincoro Blanco and their own goodie swag bag.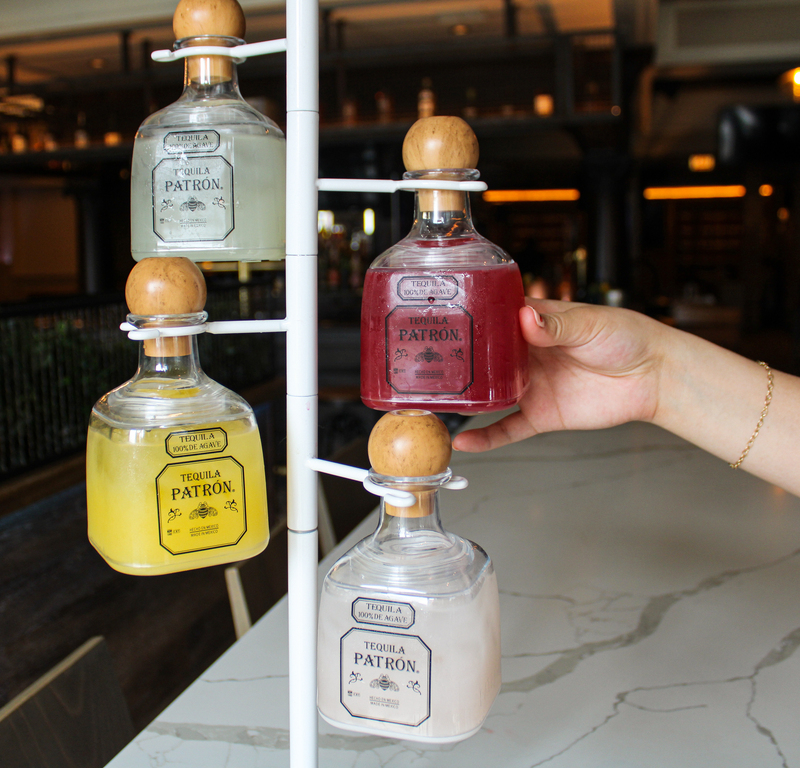 1525 N Wells St, Chicago, IL 60610
Indulge in delicious tacos at your favorite neighborhood restaurant in Chicago! This year, LG's Bar and Kitchen's Cinco De Mayo specials include:
Steak Tacos Placeros: skirt steak (sliced), mini tri-color sweet peppers, onion, garlic, garnish with fresco, lime, and cilantro
Baja Fish Tacos: beer-battered cod fish, shredded cabbage tossed with fresh lime juice, lemon mayonnaise, Pico de Gallo, and sliced avocado
Mango Habanero Guacamole: mango habanero roasted salsa, roasted pumpkin seeds and crispy Tortilla chips.
And there's no Cinco De Mayo without margaritas!!! Enjoy the Patron Margaritaville where you can Build Your Own Margarita Tower (4): Regular, Spicy, Strawberry, Pineapple, Mango or Coconut.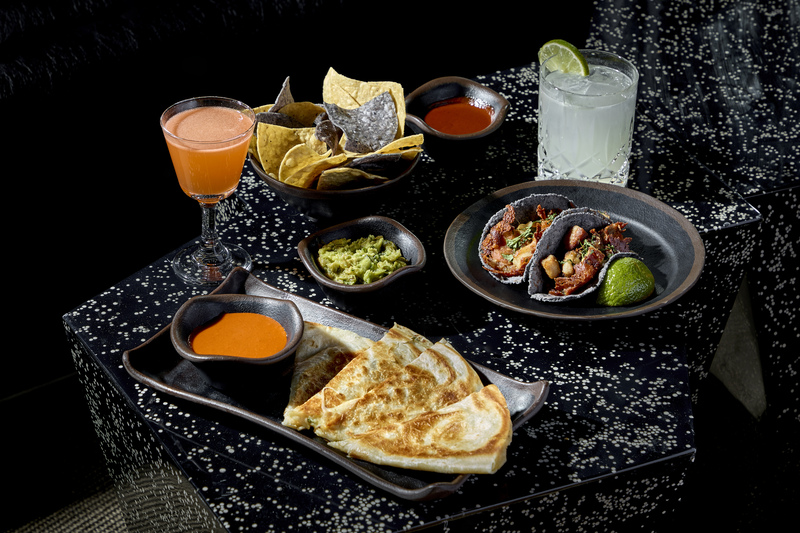 Located on the 7th floor rooftop of The Emily Hotel in Chicago's Fulton Market District, Selva is a cocktail bar inspired by the energy of Mexico by night. Stylishly moody and intriguingly vibrant, Selva serves up a special Happy Hour on Cinco de Mayo with half priced tacos from 5-6:30 pm including their Braised Beef Quesa Birria Tacos. Stick around for a live DJ set from The Soul Authority beginning at 7:30 pm and dance the night away atop one of Chicago's most beautiful rooftops.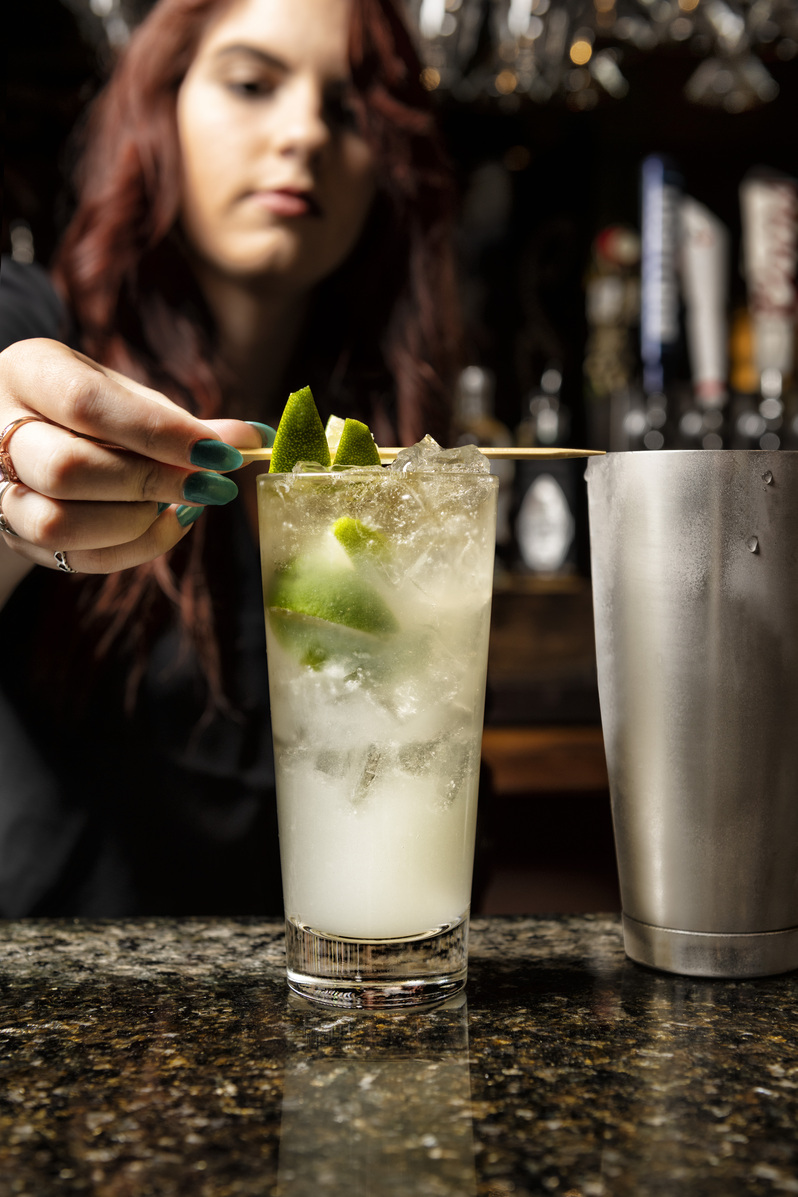 Cinco de Mayo, say salud with Bar Louie! Everyone's favorite neighborhood bar is offering $7 Dos Sauza Margaritas during happy hour, plus guests can also enjoy the brand-new Rock & Rita just in time for this special holiday! Made with Teremana Reposado, Grand Marnier, orange, agave, lime and a salted rim, the Rock & Rita is Bar Louie's innovative twist on the beloved marg. Pair these refreshing drinks with 50% off bar bites such as the Trio Dips and Chips, Chicken Quesadillas, and other flavorful options for a true Cinco de Mayo celebration! Participation and pricing may vary, see your local Bar Louie for details.
For Cinco de Mayo, Tallboy Taco offers build-your-own taco bars, including hand-pressed tortillas, two proteins (carne asada, chicken chimichurri, grilled Baja shrimp and pork al pastor), assorted toppings, fresh guacamole, Corn Fundido, and housemade chips. The kit also includes one of Tallboy Taco's signature sweets, Cinnamon Toast Crunch Treats. You can get the kit for two people for $59.95, plus tax or four people for $99.95, plus tax.
Pairing perfectly is Tallboy Taco's Casamigos Margarita Kit. The kit includes a 375ml bottle of Casamigos tequila, limes, hibiscus lemonade, lime agave, lime-tajin salt, a cocktail jigger, and collectible glassware, all for $65, plus tax. Order Tallboy Taco's Margarita Kit.
Cinco de Mayo Cocktails
845 W Washington Blvd, Chicago, IL 60607
El Che Steakhouse is putting a twist on traditional Southern cocktails! If you want to step away from traditional margaritas but instead try some more challenging and innovative flavors, come to El Che this month. Specialty cocktails include:
Cinco-Cero Spritz: La Fuerza Primavera Vermouth, Yerba Mate Syrup, Campari, Lemon, Tonic

Strawberry Mule: Strawberry Infused Vodka, Lime, Ginger Beer, Pink Peppercorn

Spring Margarita: Tequila, Blackberries, Lime, Creme De Violetta, Demerara

Fifty-Fifty Martini: Principe Los Apostoles Mate Gin, La Fuerza Blanco Vermouth

Fernet Con Coca: 30% Fernet and 70% Cola served with a side of candied cashews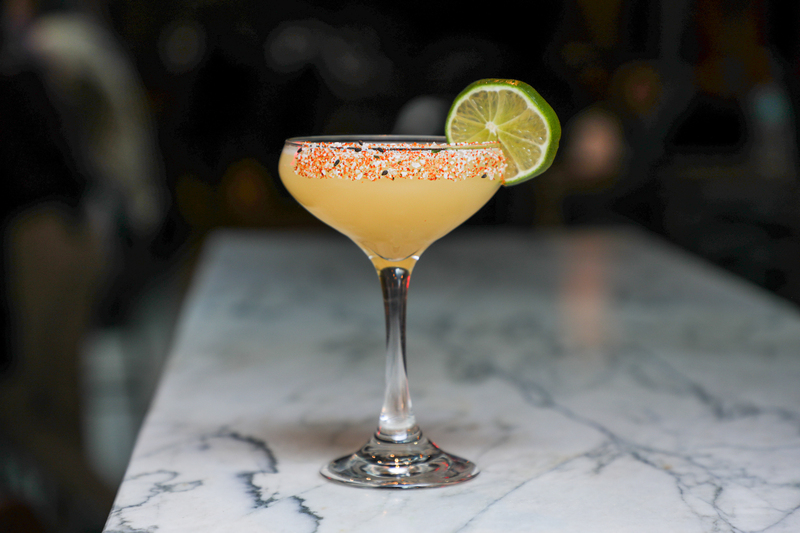 950 W Lake St, Chicago, IL 60607
Chicago's first Okonomiyaki restaurant is getting its Cinco vibes this year! Try their Spicy Yuzu Margarita, featuring Libelula Habanero Tequila, Cointreau, Yuzu Juice, honey, garnished with a togarashi rim and lime for $15. Pair the drink with their Carnitas Osaka-style okonomiyaki made with taqueria carrots and all the regular garnish favored by the crowd!
Come party at Carnivale the right way this Cinco de Mayo! Challenge your taste bud with spicy margarita and fruity goodness with this season's cocktail menu:
Milagro Spicy Margarita: Habanero infused Milagro reposado, dry curacao, fresh lime, agave syrup
NPD (no problem drinking): Milagro Blanco, Watermelon, grapefruit, lime, Mallorca melon syrup, topo chico
El Burro, at the Rumba lounge: Milagro Reposado, ginger, lime, simple, watermelon foam
Featured Image: Neil Burger for Selva