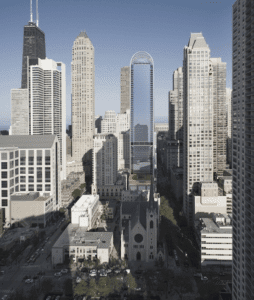 Symmetry Property Development, a global development firm based in New York, has put forth a proposal in Chicago that would break ground as River North's tallest high-rise.
According to Crain's Chicago Business, the 725-foot (60-story) building would be located at the northeast corner of Superior and Wabash. This high-traffic intersection is home to Holy Name Cathedral, 30 East Huron condos, and Jake Melnick's Corner Tap.
The plan for the building includes 246 condominium units, 216 hotel rooms, 120 timeshare units, and 30,000 square-feet of retail space. Mixed-use properties such as these have plenty of appeal to prospective tenants, especially in prime areas such as this that have a lot to offer both residentially and commercially.
The news of the proposal was shared by Alderman Brendan Reilly of the 42nd Ward, who will meet with the River North Residents Association the evening of Monday, March 13 to discuss next steps for the plan. Before moving into the development stage, the proposal would have to be approved by Chicago City Council.
Symmetry Property Development is no stranger to dealings in Chicago, as they have an existing relationship with former Mayor Richard M. Daley. Aside from New York and Chicago, the development firm also has presence in China.
This proposal follows a wave of commercial and residential skyscraper construction throughout Chicago over the past couple of years, creating a current renaissance of large-scale property development in the city. Other major proposed and confirmed skyscraper projects include the highly-anticipated Vista Tower, an ambitious idea for the Thompson Center, an upcoming tower in the South Loop, and a potential 800-foot riverfront high-rise.
Originally Reported by Crain's Chicago Business; Featured Image: Google Earth, Northeast Corner of Superior and Wabash