SUE the T. Rex has finally moved into a new home at the Field Museum, and we're all invited to the housewarming party.
Our favorite dino was deserving of some new digs when Máximo took their place at the Field Museum earlier this year. SUE was temporarily off display to make way for their new permanent suite in The Griffin Halls of Evolving Planet exhibit, where you can now get a close-up look as soon as today!
SUE the T. Rex is the most complete and best-preserved dinosaur humans have ever uncovered and is named after their discoverer Sue Hendrickson. It took over 10 months for experts to disassemble and remount all of the bones, and you may notice a few key differences when you see them again. SUE is much more barrel-chested as they now feature rib-like gastralia bones and, since their arms are even closer together, SUE can (theoretically) clap.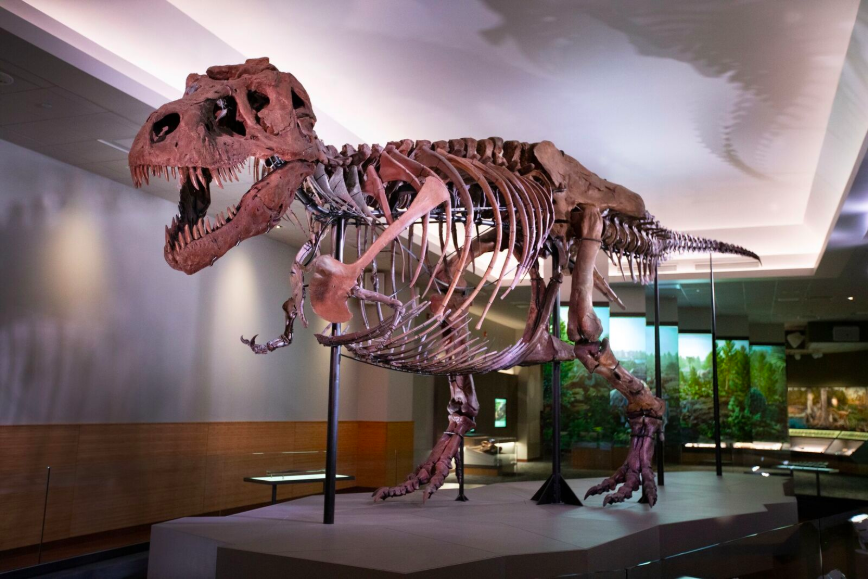 Entrance to SUE's exhibit at the Field Museum is included with the price of basic admission, a Discovery Pass, or an All-Access Pass. Buying tickets online during the holiday season is a smart move since entry is not guaranteed during especially busy days. The museum recommends arriving as early as 9 am when they open to ensure your entry, but make sure to note that the Field Museum is closed on Christmas Day.
Since SUE's new lair is bound to be a hotspot for the next few weeks, your museum ticket will designate a time slot when you can see the giant tyrannosaur, so it's best if you arrive to Evolving Planet at least 30 minutes prior. You'll know the entrance to SUE's home when you see a looming T. Rex shadow outside the exhibit.
And, if you're wondering why I am not referring to SUE as she/her, it turns out the dino actually prefers the pronouns they/them, as per this press release by the Field Museum, because "scientific opinion on determining the sex of tyrannosaurs has lacked sufficient data" since they were first discovered in 1990.
Are you excited to see SUE back at the Field Museum? Follow the dino on Twitter for regular (and hilarious) updates and don't forget to tag #SUEOnTheMove in your Tweets and Instagram posts!
Featured Image Credit: The Field Museum