There's a city with the wackiest museum you have likely ever experienced and a funky street that time has passed by, a beer experience you won't forget and a cathedral covered in more than 41 million pieces of glass. It's St. Louis, MO, just a short flight from Chicago, a half-day train ride, or about a six-hour drive.
If you haven't been to St. Louis before then it's definitely worth a visit to the city's 630-foot-high landmark, the Gateway Arch. It represents a passageway to the west, exemplified by the likes of historic explorers like Lewis and Clark. Don't worry if you can't take a decent photo through the weather-beaten windows at the top; just getting there via an amusement-park-style tram-car-enclosure is an experience to remember.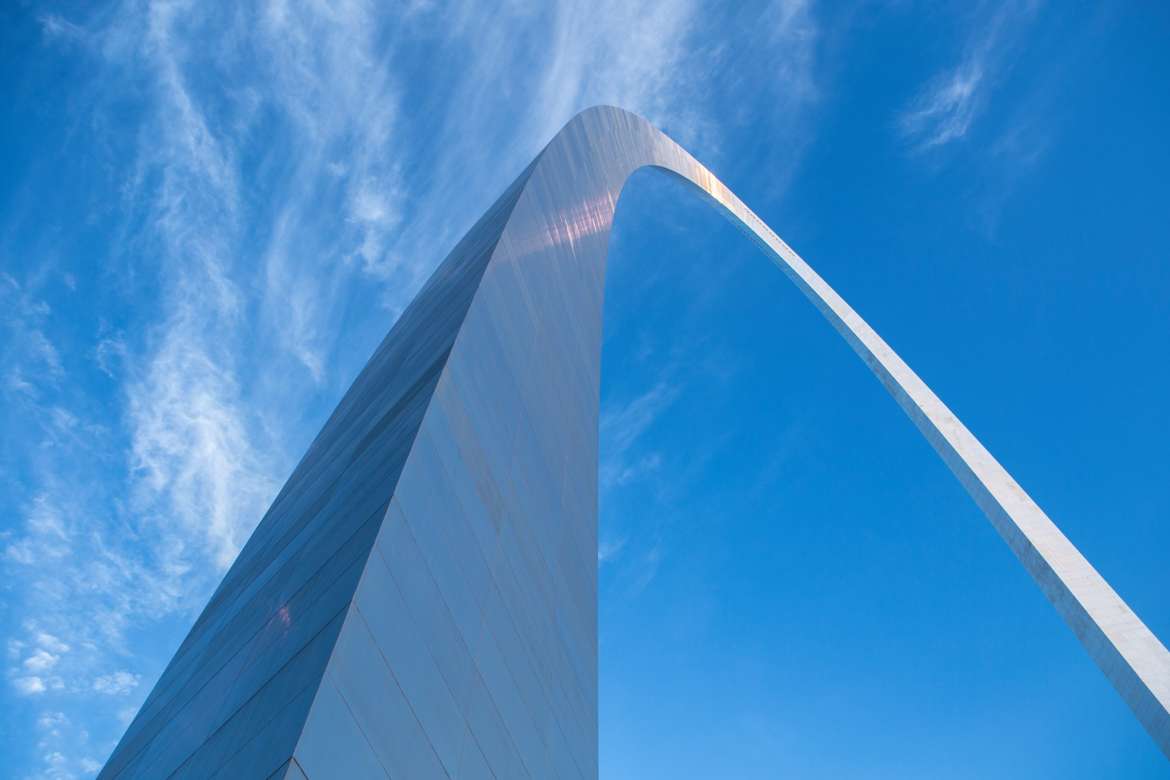 Another good reason to visit is to walk through history below the Arch. After being closed for the past few years, the Museum at the Gateway Arch reopened on July 3, 2018, after a multi-million-dollar renovation that also included the grounds. The newly done museum still takes visitors back in time but does so with even better life-sized figures, scaled-building models and dioramas of explorers, Native Americans, old-time St. Louis scenes, and pioneers traveling West.
Now that you've done the one touristy must-go-to spot, it's time to check out all of the other fantastic and funky, wondrous and wacky sights that St. Louis has to offer.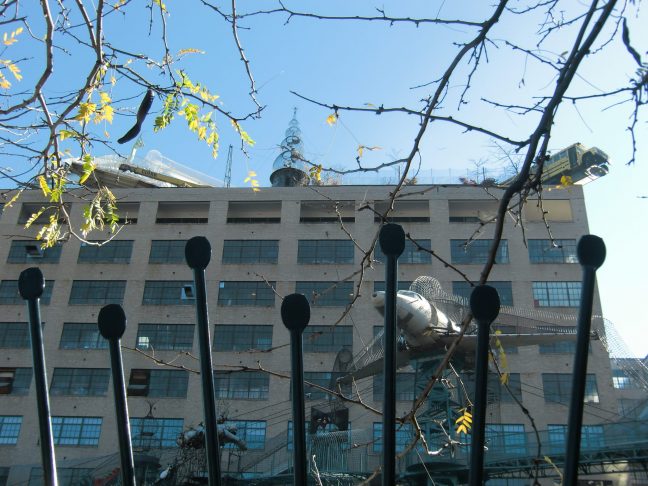 The name, City Museum, sounds pretty ordinary, but clues that this institution is outlandish appear before you even walk through the front gate. The planes you see hanging down the museum's side, the estranged Ferris wheel, and a bus leaning off the roof are evidence enough that this place is anything but ordinary.
Once home to the International Shoe Company in the Washington Avenue Loft District, the building has now become a funhouse. Think Disneyland, but constructed of re-used, found objects around the city. It has circus acts that feel like a three-ring spectacle, has tunnels but also an aquarium, features architectural leftovers and a 10-story slide, includes an organ that sounds just like the one in Phantom of the Opera. The City Museum is more than worthy of your time, and will you give you a grandiose perspective of the town unfolding before you.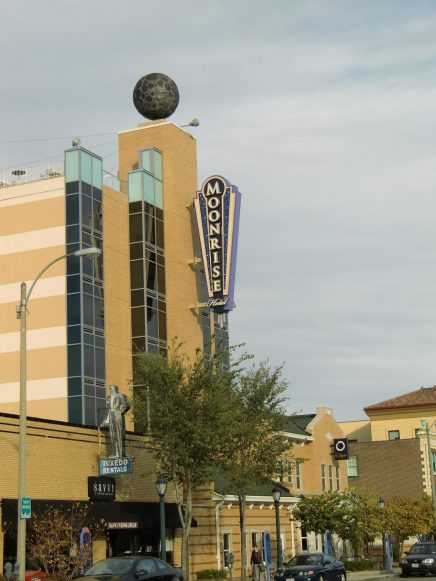 Like Chicago, St. Louis is a city of neighborhoods. But one of those areas, The Loop, has a funky street that will have you thinking you've stepped back 60 years ago.
It's Delmar Blvd., a road where a trolley that used to "loop" around the neighborhood now clangs down the center of the street, where a hotel called Moonrise has a revolving orb on its roof and 1950s furnishings inside. Head to Fitz's, where they serve up old-fashioned root beer floats and then to Blueberry Hill Restaurant & Music Club to celebrate rock 'n' roll legend and Hall of Famer Chuck Berry ("Maybellene", "Johnny B. Goode") with photos, a Jukebox, collectible paraphernalia, and live music.
As if the moon might feel lonely in the Delmar firmament, the planets are also around. Find them on the Delmar Planet Walk, where a scale model of our solar system can be seen in their respective order and relative distance along Delmar Blvd. But there is also another walk on the street. Chuck Berry and other famous folks from the town, such as Yogi Berra, Robert Duvall, T.S. Eliot, Marsha Mason, Sara Teasdale, and Tina Turner have sidewalk stars on the St. Louis Walk of Fame.
Don't forget to take time for a fantastic beer experience. It doesn't matter what your preferred drink; the Anheuser-Busch/Budweiser tours of the company's historic buildings in the Soulard Neighborhood, topped by tasting a few in the King of Beers' Biergarten, offer a slew of selfie opportunities.
With craft beers still a Chicago staple, it's nice to know what the bartender and menu mean when talking about IPA, hops, malt, and what the difference is between an ale and a lager. On the tours, you learn about the beer-making process, the ingredients, and how to pair the right foods with different beers. You may even be able to take a tour that includes the Budweiser's famed Clydesdales.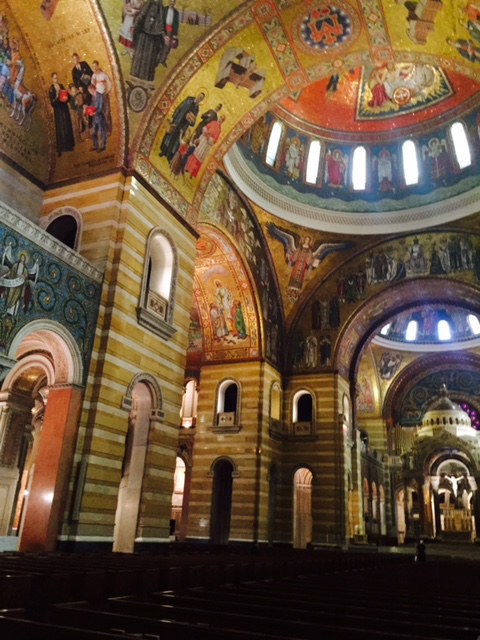 Sometimes it's just not possible to keep from saying, Wow! When it comes to wondrous sights, the millions of gorgeous mosaic pieces covering 83,000 square feet inside the Cathedral Basilica of Saint Louis, otherwise known as the New Cathedral, still give everyone the element of surprise. With 41.5 million glass tesserae pieces to install, it's no surprise that it took builders from 1912 to 1988 to complete this masterpiece.
Considered the world's largest mosaic collection outside of Russia, the Cathedral Basilica features Tiffany-designed mosaics on the sanctuary walls and inside chapels and August Oetken-designed mosaics in the main Cathedral areas.
To find out more about these bizarre and astounding attractions, go here and get to exploring St. Louis!
Featured Image Credit: Gateway Arch Facebook
Find what really matters in Chicago with the UrbanMatter app!
To download or see reviews from our users, head here.