The coronavirus COVID-19 has people staying indoors, especially now that restaurants and bars are closed statewide for the next two weeks. If you've already finished every Netflix and HBO marathon you can think of and are grasping for new ideas, here's a list of what to do during your self-quarantine. Thanks to online resources, there's actually a ton of things to do indoors nowadays, from coloring to taking yoga classes, to learning computer coding, knitting, and everything in between.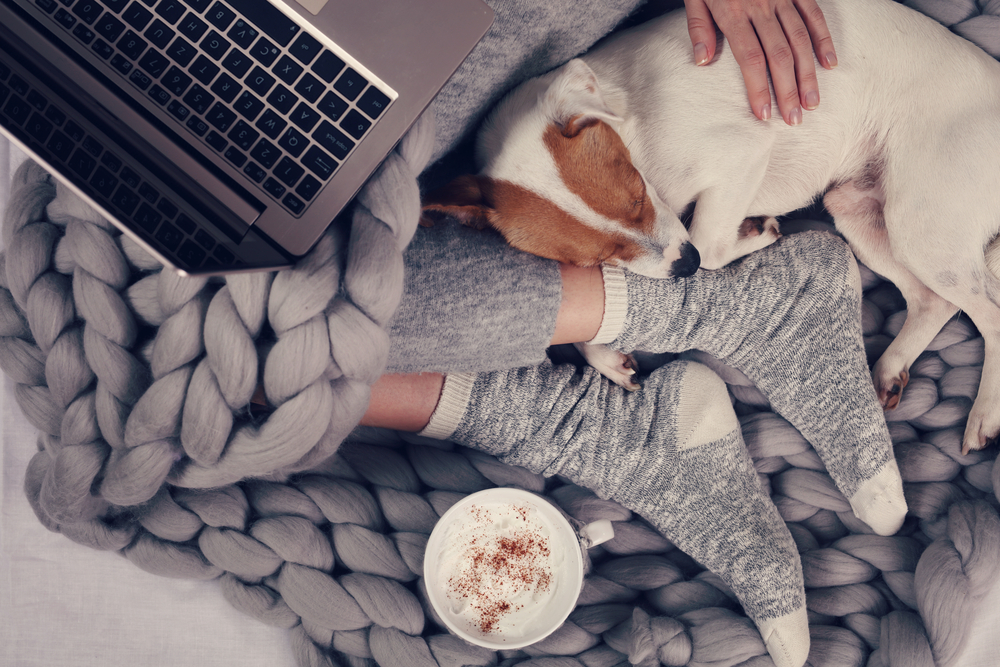 1. Download an audiobook from Audible
If you aren't interested in audiobooks, they also offer language instruction and music.
2. Play brain games at Lumosity
Another excellent indoor activity to try in the Chicago area when you're snowed in is Lumosity brain games. You can join a global community of 85 million brain trainers, all committed to challenging their brains with cognitive games designed by in-house scientists. Lumosity will have you diving right in with a Fit Test: three games that each challenge different abilities. That'll give you your baseline scores, so you can watch how your scores change over time, one of the best things to do indoors.
3. Download sheet music
If you're social distancing and staying home in Chicago, we also recommend downloading and listening to sheet music from free-scores.com. If you place an instrument or enjoy classical music, this activity with keep you busy. If you don't already know how to read sheet music, you can learn via this Ted Ed Lesson.
4. Stay curious with TED-Ed
You can learn just about anything academic via TED lessons. If you'd like, you can also create your very own lesson. At TED Talks, you can also watch speakers present on pretty much any topic you are interested in and some you didn't even know existed.
5. Learn an instrument
If you're self-quarantined and looking to be productive, it may be a good idea to learn a new instrument, one of the best things to do indoors. Why not make use of the free music lessons at ArtistWorks?
6. Take yoga classes from home
MyYogaWorks has everything you need. It requires a paid membership, but you can sign up for a free 14-day trial.
---

Best Indoor Activities to Do With Kids
Are you looking for the best things to do with your kids inside during your self-quarantine? We know a few.
View the Best Indoor Activities for Kids
---
7. Learn to code
Or, if you aren't interested in coding, take another free class at Khan Academy. Khan Academy offers classes in math, science, engineering, computing, arts and humanities, economics, and finance, as well as test prep and college admissions help. All for free. Forever.
8. Get "Craftsy"
Visit Craftsy to learn fabric crafts, how to bake, decorate cakes, spin, weave, make wood crafts, art, quilts, and way more. For free.
9. Find DIY projects
Take a browse through POPSUGAR's DIY section for some creative ideas to tackle while you're self-quarantined, one of the best activities to do indoors.

10. Listen to a free podcast
The LearnOutLoud Podcast Directory offers over 7,000 audio and video podcasts you can learn from. They've screened thousands of podcasts to find ones of the highest quality that will instruct, entertain, and inspire you. If you are snowed in and want to stimulate your brain, we recommend viewing the collection available to you on your iPhone or listen to your favorites via Spotify.
11. Build a website
Start here, at WordPress Create, and WordPress will walk you through the steps necessary to do so.
12. Color
Bust out the colored pencils and join in the adult coloring trend. Find printable coloring pages, such as these Mandala pages. Or, if you'd prefer an app, you could do it that way, too. Search "adult coloring" in your app store and prepare to be overwhelmed with options.
At UrbanMatter, U Matter. And we think this matters.
Give more ideas on things to do indoors and what we should write about next in the comments below!
READ MORE LIKE THIS
DOWNLOAD THE URBANMATTER APP
FIND PARKING