Broadway in Chicago presents Sherlock Holmes at the Oriental Theatre (24 W. Randolph) for a one-week engagement November 24-29, 2015, presented by Starvox Entertainment and June Entertainment.
David Arquette stars as Sherlock Holmes in the title role in an original adaptation by Greg Kramer, and directed by Andrew Shaver, inspired by Sir Arthur Conan Doyle's classics. The rest of the cast is represented by James Maslow as Dr. John Watson, Renee Olstead as Lady Irene St. John, Kyle Gatehouse as Professor Moriarty, as well as Patrick Costello, Graham Cuthbertson, Matt Gagnon, Barbara Gordon, Karl Graboshas, Trent Pardy, and Amy Rutherford.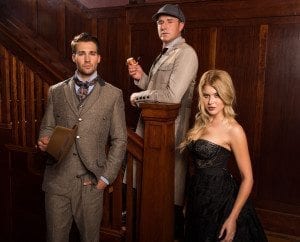 Set around the turn of the century in London, Sherlock Holmes is laid out in the backstreets of post drug run communities after the opium wars have ended. Jack the Ripper wreaked his havoc, and Lord Neville St. John proposed a ban on opium. When Lord Neville went missing, and a lifeless, drowned body was discovered, Scotland Yard looked towards a detective to solve the case, Mr. Sherlock Holmes.
The story is brought to life with jovial twists and unexpected, full-blown dance numbers by the incredible cast. Arquette exceeded all expectations when he delivered a performance that was both consistent and hysterical. Alongside Arquette, Renee Olstead brought a vibrant, intriguing female presence to the Sherlock Holmes cast. The highlight of the night was an alluring dance number that looked like it included the full cast, portraying a dream-like state of mind after a few had accidentally breathed in chloroform. The entire cast and production of Sherlock Holmes did an exemplary job at bringing it to the Broadway stage in a modern fashion, while still keeping it appropriately classic.
Ticket information: Individual tickets range from $21-87. Group tickets for 10 or more are now on sale by calling Broadway in Chicago (312) 977-1710. For more information, visit here. 
For more information on Sherlock Holmes, visit here.
Chicago Performance Schedule:
Wednesday, 11/26 2 pm and 7:30 pm
Friday, 11/28 2 pm and 7:30 pm
Saturday, 11/29 2 pm and 8 pm
Sunday 11/30 2 pm