Round up the squad and pick a date – 'cause these drinks are made to be shared.
From fish bowls, to pitchers, to a whole slew of creative libations, these are our favorite large-format cocktails in Chicago.
Bottle service be damned.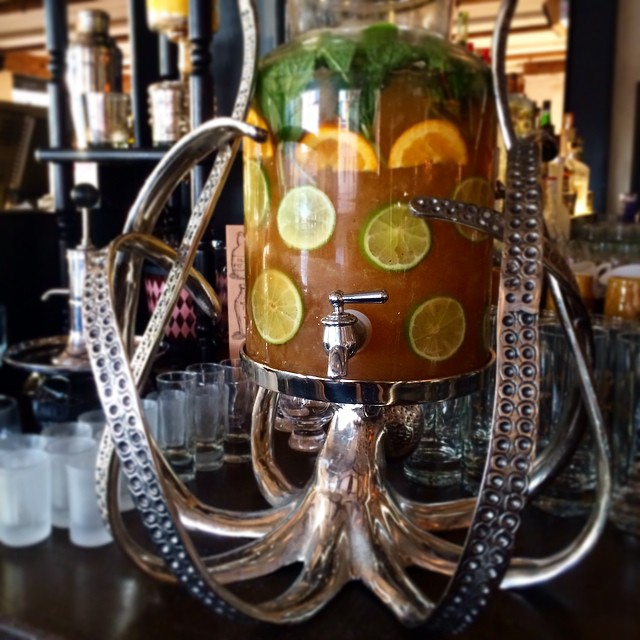 730 W Grand Ave, West Town
Home to one of the best patios within city limits – and an extensive cocktail menu to boot – The Dawson is well established as one of Chicago's favorite group hangs. Add an amazing shareable cocktail like the Octopus Garden into the mix and, well, we've got a recipe for a great night out. Made with Praire vodka, Aperol, Gran Classico, white peach, raspberry and lemon prosecco, this absolute beast of a mixed drink is served out of a be-tentacled spout and will accommodate 10-14 thirsty folk.
The cost? A cool $105.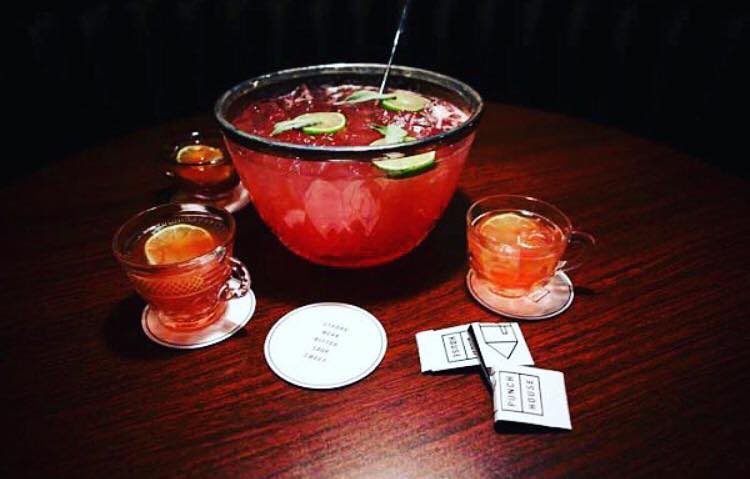 1227 W 18th St, Pilsen
Located in the basement of Thalia Hall, this Pilsen lounge and restaurant has enough cool vibes to keep you coming back for more, even without the amazing drink list. Staying true to its name, however, Punch House offers a sizable roundup of awesome, shareable cocktails with a 70's bent, served out of crystal punch bowls, no less.
Though each mix is, in all honesty, pretty great, our favorite has got to be the From Chile, With Love, featuring Control pisco, pomegranate, Linden flower, lime and a sparkling finish.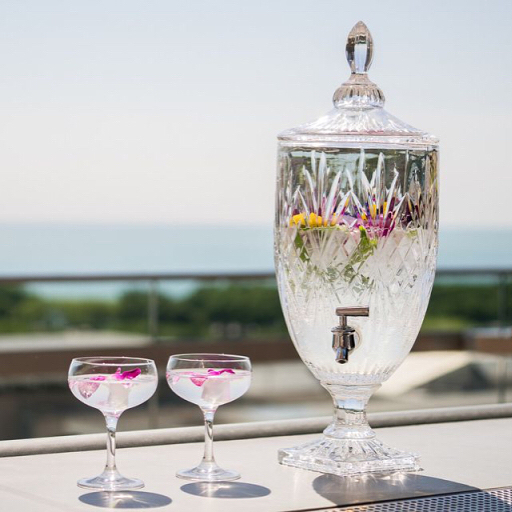 12 S Michigan Ave, the Loop
Topping the Chicago Athletic Association's adult playground of a building, Cindy's Rooftop is, without question, one of Chicago's most iconic bars. And though, sure, an afternoon at this Michigan Ave mainstay would be complete simply with an Aperol spritz in hand, if you want a truly unfrotgettable visit, you'll order your cocktails apothecary style. Serving anywhere from 10-20 of your closest pals, try the Miss Beauregarde, with blueberry-ginger demerara, rosemary and Off Color Apex Predator.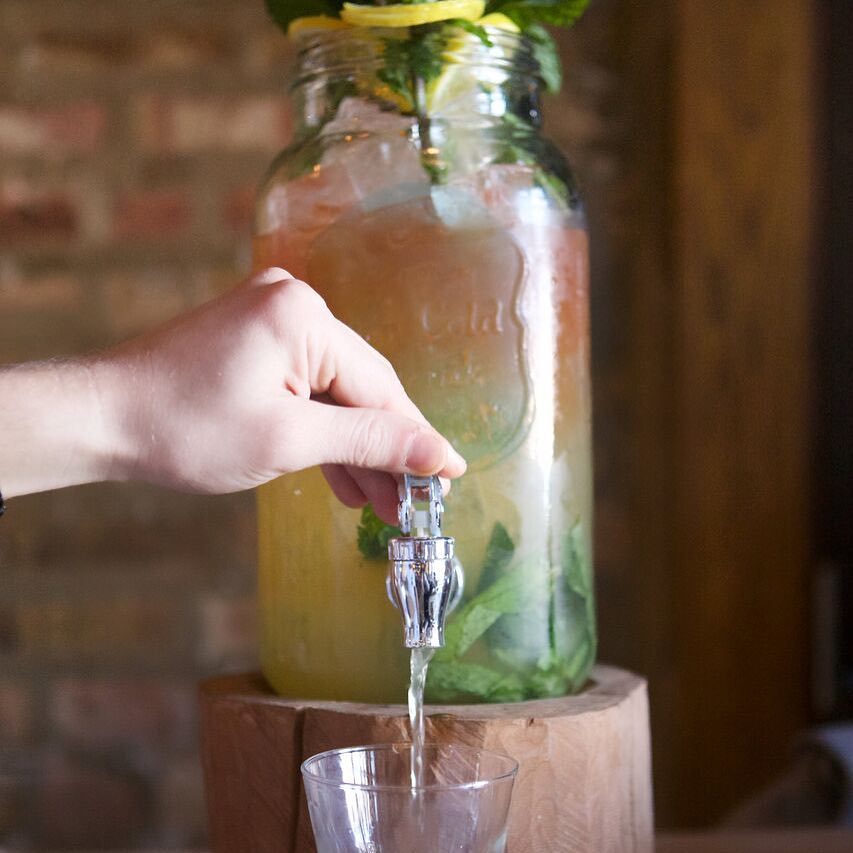 1072 N Milwaukee Ave, West Town
At a place like Frontier, you're pretty much gonna need a giant cocktail to offset your giant meal. A West Town spot known for serving up full roasted pigs, boars and yes, even gator, it's no wonder they've got the shareable mixes to match. Grab a buddy (or like 5) and try to Front Porch Punch, a delicate mix of Chamomile infused Old Overholt Rye, lemon, mint, simple syrup, and Angostura that'll have you whistling like it's summer in no time.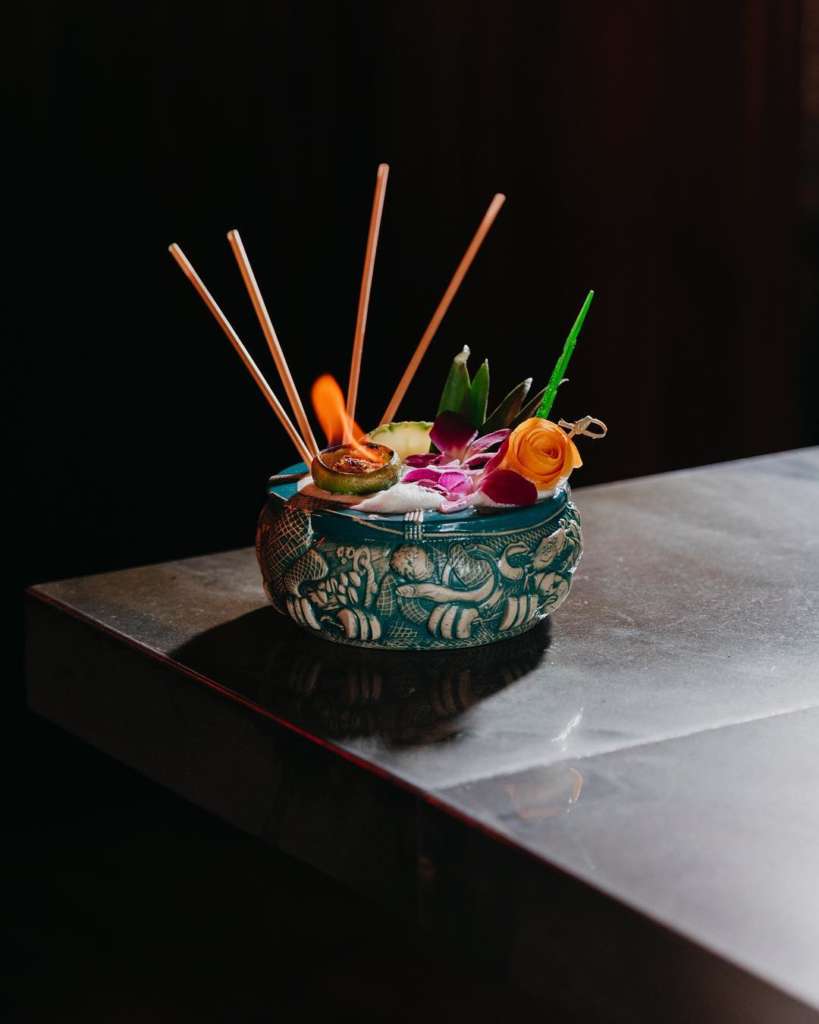 3154 W Diversey Ave, Logan Square
The drink program at Lost Lake is undoubtedly one of the most celebrated in the city. Helmed by master mixologist (and true beard guru) Paul McGee, any cocktail at this tiki concept is well worth a try. For shareable options, we'd go for Ruby Mae's Second Surfin' Bird, featuring Reposado tequila, mezcal, Ruby port, Campari, pineapple, lime, and passionfruit.
Tiki mugs, get at us.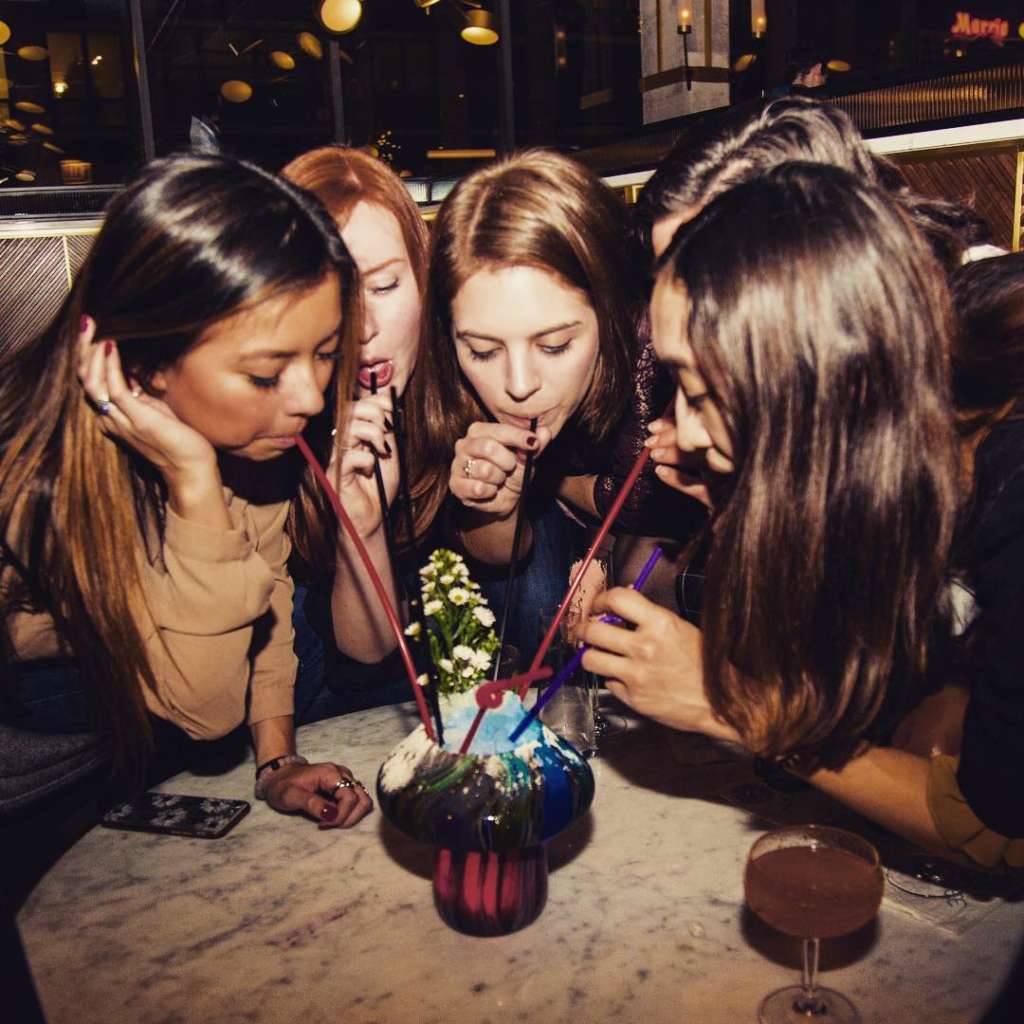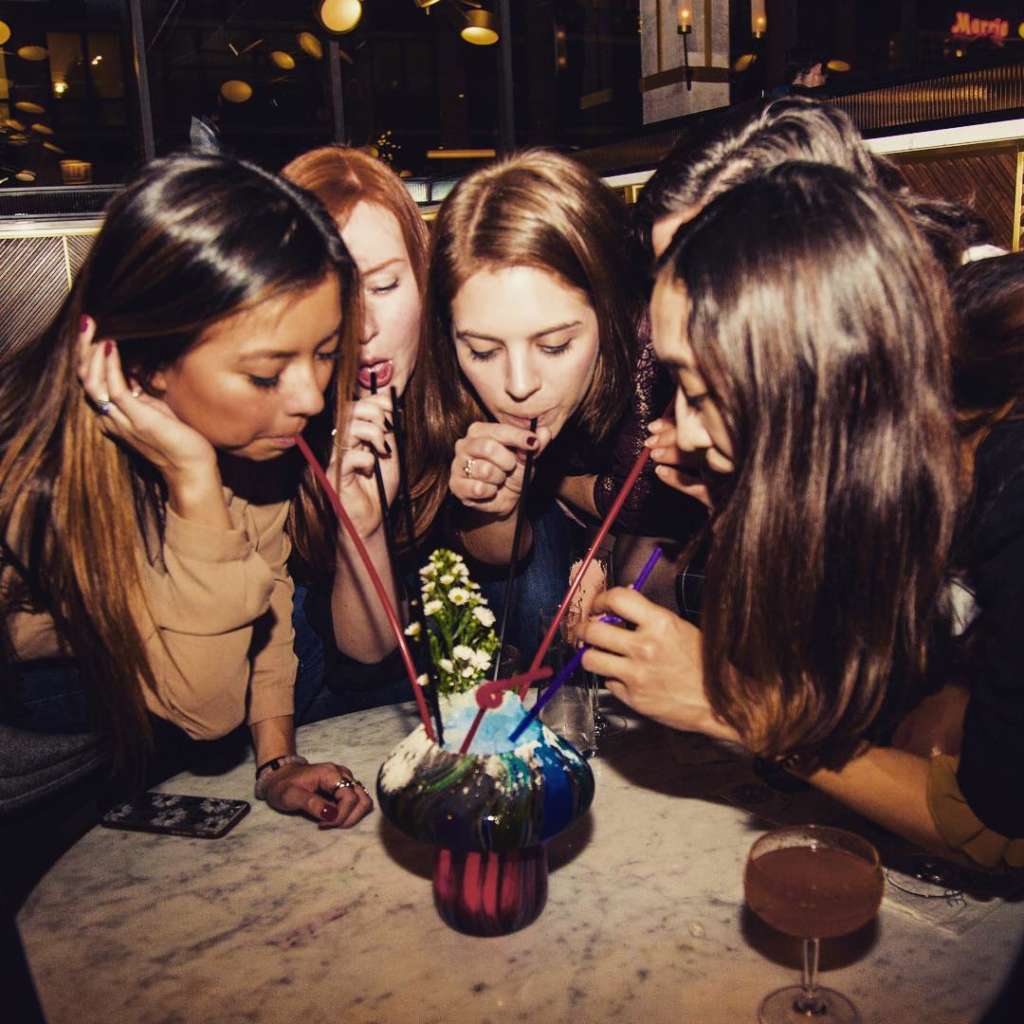 2 W Erie St, River North
River North's Apogee's got a looooong list of creative and totally shareable cocktails. But if we had to pick one large-format option, we'd go with the World 4-3, a fruity mix of Ford's Gin, strawberry, chartreuse, mint, and Cocci Rosa served out of – yeah, you're eyes are not mistaken – a psychedelic mushroom cap.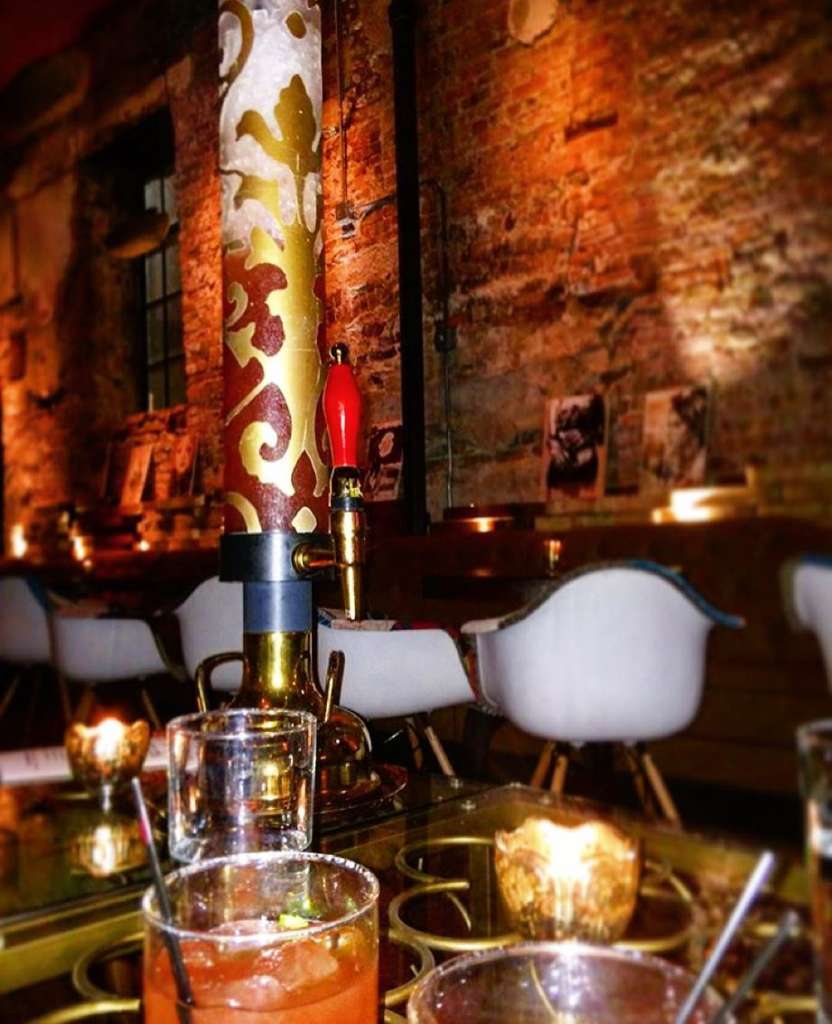 311 N Sangamon St, Fulton Market 
This artsy bar and restaurant in Fulton Market may be best known for its graffiti-covered walls, but they are not messing around when it comes to cocktails, either. Though most of FMK's mixes are available via a large-format pump, our fav has got to be the Beauty School Drop Out, made from a combo of vodka, St. Germain, Drambuie, Peychaud's Bitters, lemon, and soda.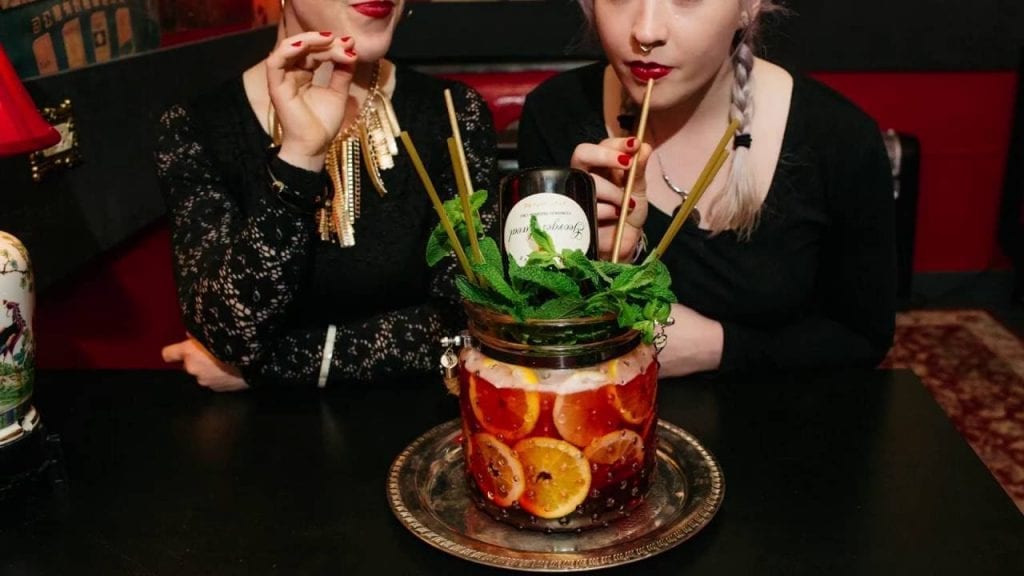 2957 W Diversey Ave, Fat Rice, Logan Square
Fat Rice's not-so-secret, secret bar The Ladies Room is home to many a creative drink. But for any group lookin' to do things big on their next night out, there's only one option: the Grande Royale. Featuring a heady mix of George Laval Growers Champagne, Cognac, 5 Year Calvados, Creme de Cassis, Campari, Allspice Dram, Peychaud's, and wild lemon, this shareable cocktail serves 8-10, making it a real crowd pleaser for sure.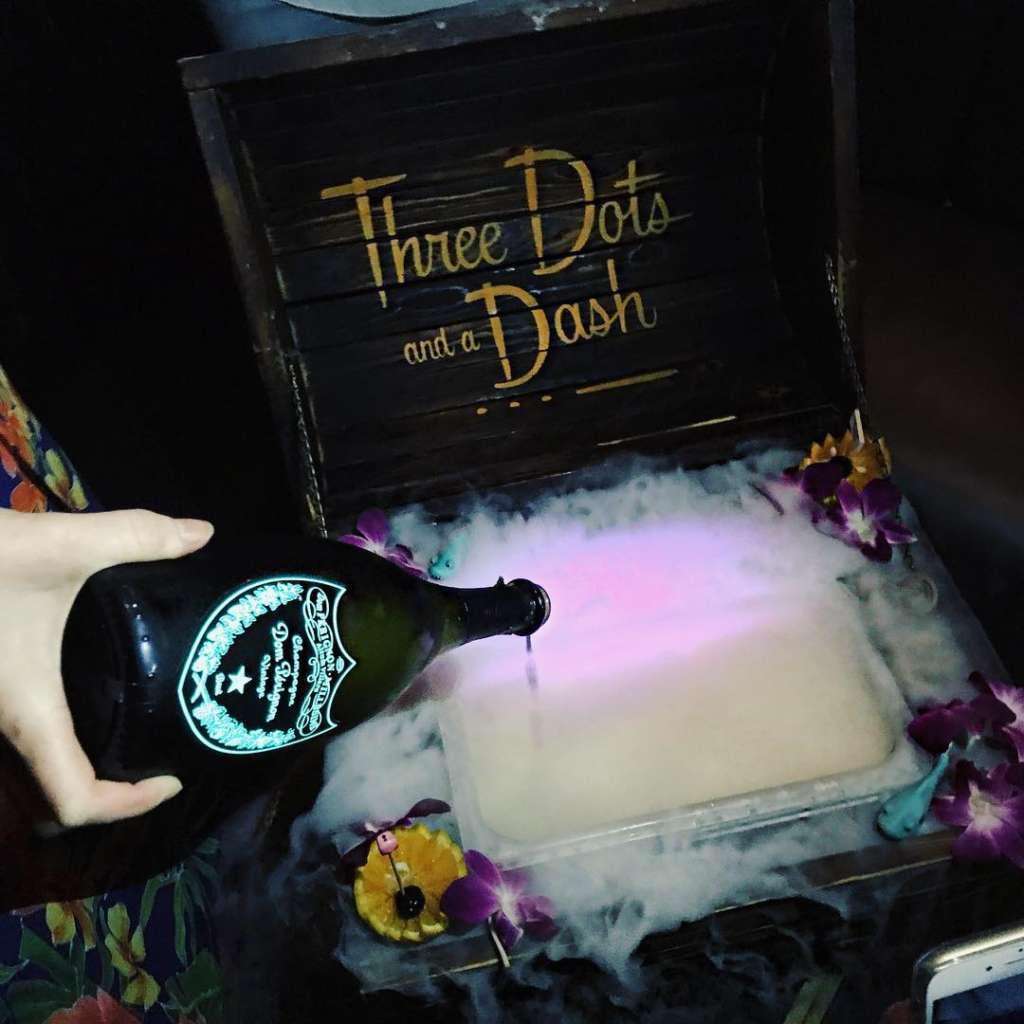 435 N Clark, River North
Part speakeasy part tiki lounge, Three Dots and a Dash's tropical basement lounge has slowly taken over Chicago's bar scene since premiering a few years backs. And while their cocktail creativity is certainly not limited to large-format sips alone, there's no denying that the wow factor here is unlike any other. Check out the Treasure Chest – a literal chest filled with Dom, a blend of rare rums, pineapple, guava, passion fruit and fresh lemon – frothing with extra dramatic (and appropriately pirate-like) dry ice.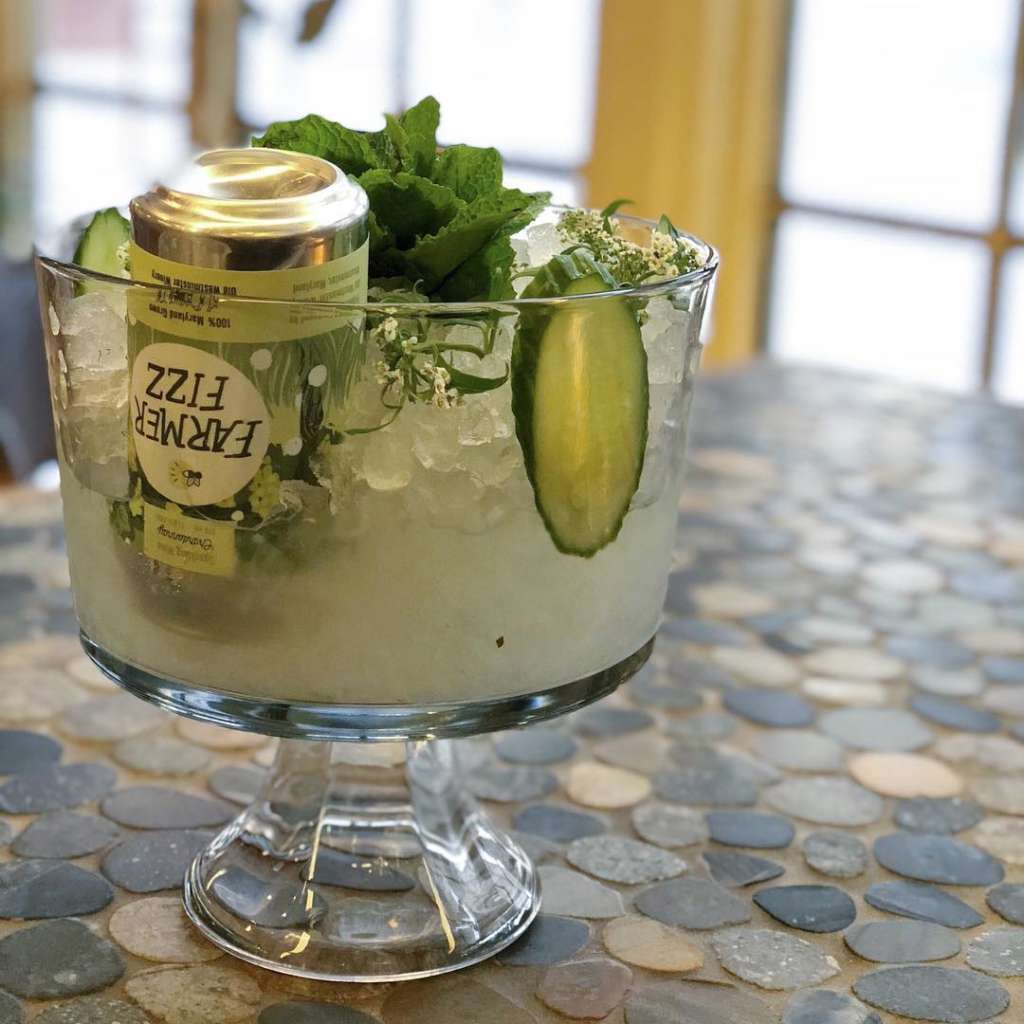 802 W Randolph St, West Loop
What this veg-forward bar and restaurant in the West Loop lacks in meat it certainly makes up for in drink. So when you're lookin for a shareable cocktail to sip outside this summer, look no further than the Infatuation: made with Grey Goose, cucumber, and Pet-Nat wine.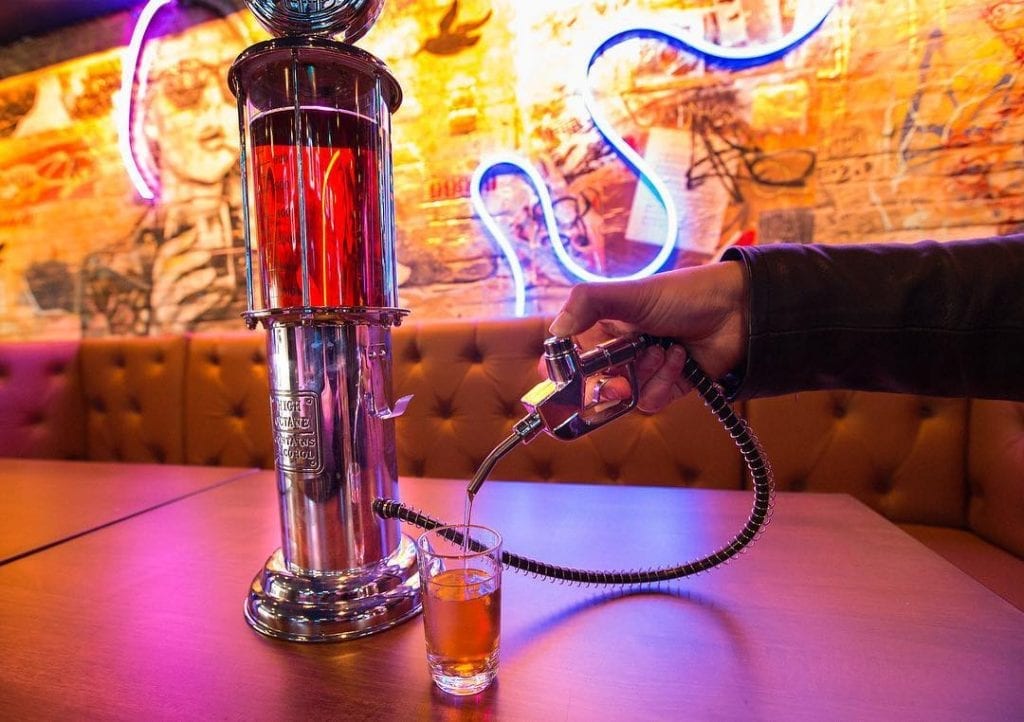 873 N Orleans, River North
LiqrBox burst onto the scene last winter with a total banger of a New Year's Eve party, and has since all-but completely taken over downtown's late-night crowd. And while their signature cocktails may be that of the, decidedly small, adult juice box variety, this bar and club's shareable drinks are no less noteworthy. Take, for example, the High Octane – a mixture of Basil Hayden, apple and cinnamon served in a literal gas pump.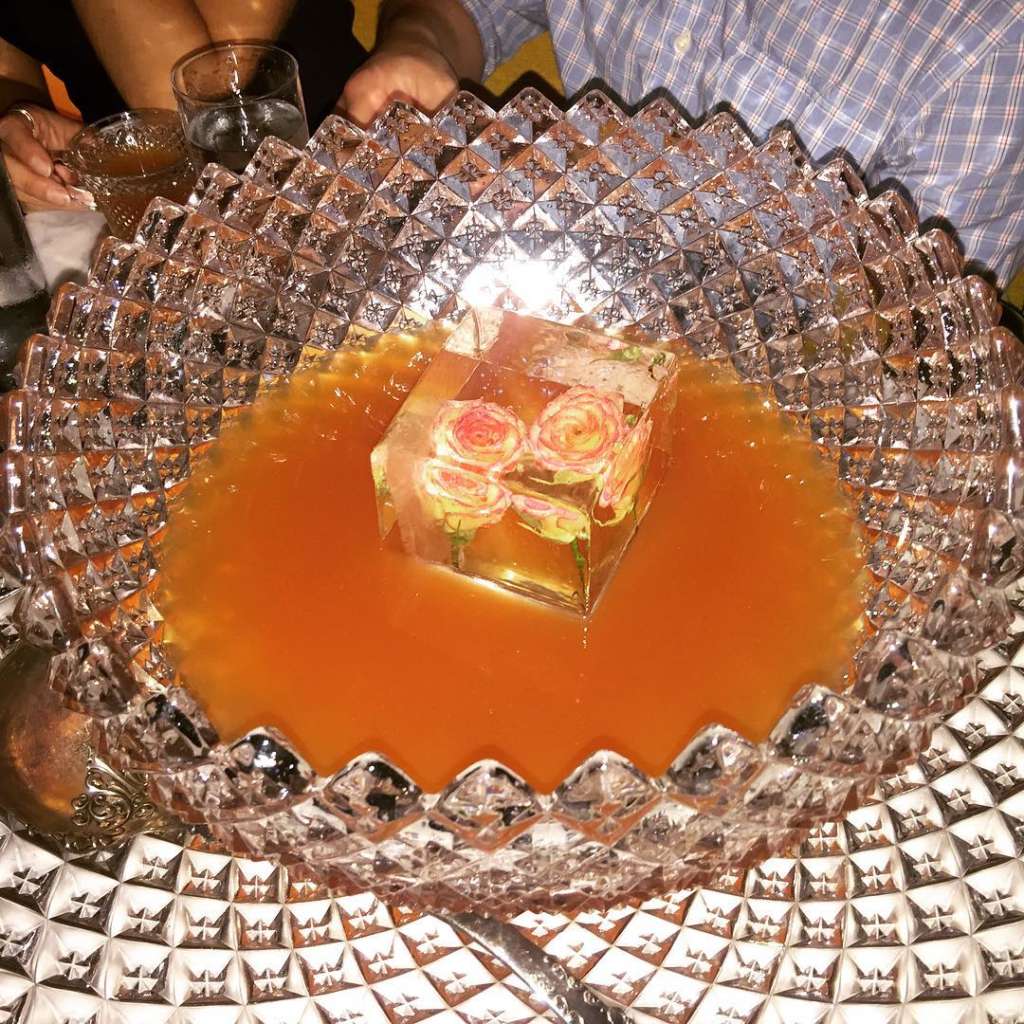 2202 W Lawrence Ave, Lincoln Square
This Lincoln Square cocktail concept is dishing out delicious drinks left and right, including a shareable option known as the 7th Cup: a punch-bowl style number made with your choice of Ketel One, Tanqueray, Don Julio, or Bulleit Bourbon served with Pimm's No. 1 Cucumber, fancy ice (yes, that one does have roses in it) and topped with sparkling wine.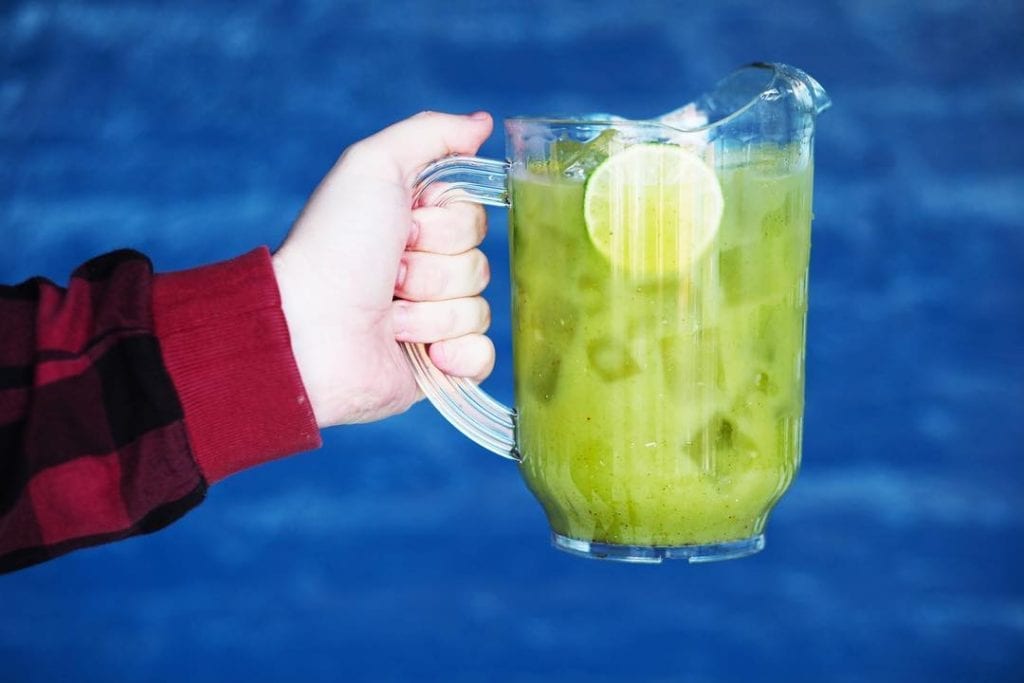 3204 W Armitage Ave, Logan Square
One of Logan Square's newest hot-spots, the Scofflaw group's The Moonlighter is the perfect spot for shareable drinks. Serving up burgers, beer, and patio vibes for days, favorites at this slightly-sporty locale include the Out-N-Out (featuring mezcal, guava, pineapple, kiwi, lime, cilantro, mint, jalapeño, and cucumber) and the Bitter Ward (made with rye whiskey, Meletti Amaro, orange, lemon, and grenadine).
Are you looking for the best cocktail bars to visit in Chicago during the summer months? View our list of the most reputable cocktail bars in the city.
Featured Image Credit: Apogee Instagram