It was the handshake seen around the world. Israeli Prime Minister Yitzhak Rabin and Palestine Liberation Organization (PLO) leader Yasser Arafat signed a peace agreement and shook hands on the White House lawn in Washington D.C in 1993.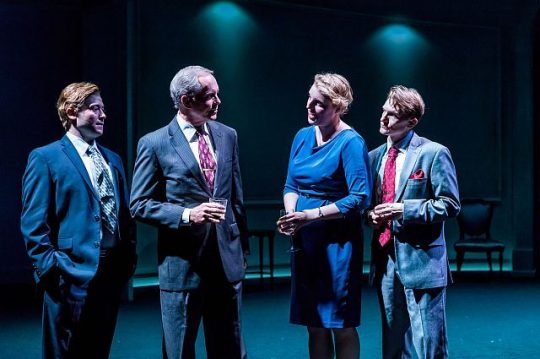 Now, you can experience a behind-the-scenes look at how it all came to be in OSLO — TimeLine's Chicago premiere of the 2017 Tony Award® winner for Best Play. This remarkable play traces the story about the unlikely heroes and sheer determination that pushed these two international leaders to reach a peace agreement.
Behind the scenes, a Norwegian diplomat and her social scientist husband mastermind an intricate, top-secret, and rather complex scheme for "unofficial" negotiations at an idyllic estate just outside Oslo, Norway. Far from any international media attention, these long battling enemies come face to face, not as adversaries, but as humans.
Written by J.T. Rogers, Oslo is a powerful, humorous and inspiring true story about the people inside the politics. The play brings the audience into the apartment of a diplomat, Mona Juul, and her husband, Terje Rod Larsen, a university professor, who unbelievably initiated the process together.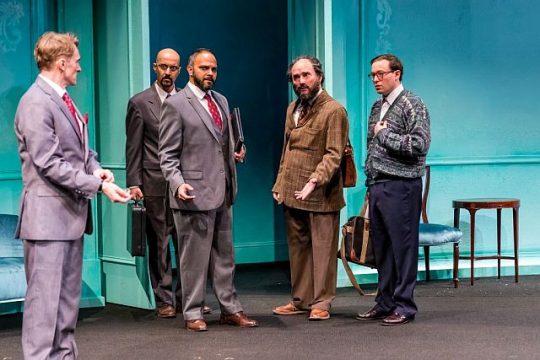 As Mona Juul, the always-excellent Bri Sudia steals the stage at every chance. Her over-the-top performance is laced with both humor and in-your-face, non-negotiable terms when she has to be. Several times, applause for her stopped the show. Inside the more intimate Broadway Playhouse, the audience comes to feel they are actually involved in the negotiations.
The humor in the play is that both sides keeping calling for an "upgrade" meaning upping the status of whose doing the negotiations. The peace process finally starts moving along when Israeli Foreign Minister Shimon Peres officially steps in.
Directed by Timeline Theatre founder, Nick Bowling, who directs the show with tight precision, OSLO was awarded the Tony, Drama Desk and Obie for Best Play. Using the actual footage of political happenings contributes to the reality of the situation and the final scene leads to a powerful, satisfying conclusion.
The play runs through October 20 at Broadway Playhouse, 175 E. Chestnut St. in Chicago. The show is approximately 2 hours 45 minutes, including one intermission.
At UrbanMatter, U Matter. And we think this matters.
Tell us what you think matters in your neighborhood and what we should write about next in the comments below!
Featured Image Credit: Reuters/Corbis
READ MORE LIKE THIS
DOWNLOAD THE URBANMATTER APP
FIND PARKING