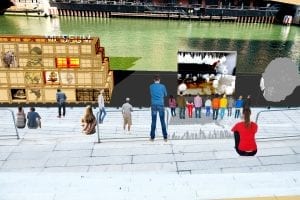 Chicago Riverwalk Floating Museum
The Chicago Riverwalk's latest art installation, titled River Assembly, is docking in Bridgeport starting August 7. The first stop of this floating museum will be at the Eleanor Boathouse in Chicago Park Districts' Park No. 571 (2828 South Eleanor Street) and will remain there until August 17. After that, it will embark along the Chicago Riverwalk until August 28 and ultimately make its home along Navy Pier. Admission is free and it's open daily.
"The Floating Museum is taking collaborative arts to the next level by bringing temporary, site-responsive museum spaces to sites throughout Chicago's neighborhoods," according to Mayor Emanuel. "Using the city's waterways, the museum activates sites along the river to bring art and cultural programming directly to visitors and Chicago residents."
Basically, they've taken a boring ol' barge and made it into a floating, interdisciplinary art gallery with works from local artists and community groups. Instead of unloading typical barge payloads of who-knows-what, the crates themselves will either contain art or be art themselves. No need to travel to your favorite Chicago museums anymore, it's coming right to you!
According to the Chicago Department of Cultural Affairs and Special Events, "[t]he exhibition features a monument to Jean Baptiste Pointe du Sable, a moving image program, interdisciplinary performances and a "wonder cabinet" made from crates by Terry Dowd Inc."
Floating Museum Events
In addition, there will be a film screening of Salty Dog Blues on Saturday, August 12. If free guided tours are your jam, from August 15 to August 27, there will be a Chicago Riverwalk guide leading a discussion of the participating artists and museum itself.
You'll also be able to catch free musical performances on Fridays and hands-on activities by the River every Wednesday through Saturday in August. Can't get enough of poetry performance? On Wednesdays, renowned poet and vocal artist Avery R. Young will be leading his "Song Circle".
Young will also be featured in the finale event titled "art.i.fact" on August 27 between 7pm – 8pm. The main theme of this live music event is "art as truth-telling", and will feature some of the most talented musicians and singers Chicago has to offer in musical collaboration, with video art and dance performances as well. Don't miss this!
The Floating Museum is a welcome addition to the other temporary Riverwalk art installations, including Deer by Tony Tasset and Scott Reader's notorious Real Fake sculpture situated strategically near Trump Tower.
Featured Image Credit: Curbed Chicago