This Place Is Getting All the Food
If you're a resident or a frequent visitor of the Loop and you love Chicago dining, then this will be a game changer for you.
Revival Food Hall will be opening at The National building downtown and it will feature a collection of 15 of Chicago's favorite neighborhood food vendors. The establishment will be a fast-casual, 'grab and go' type of setting and it's expected to change the way city-goers eat downtown. It will totally revolutionize lunch breaks for professionals in the Loop. Even better? This 24,000 square foot food hall will also feature a coffee shop, bar, record store and reading corner.
Seriously, can we live here?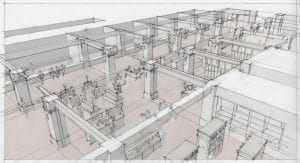 The highly anticipated food hall arrives right on time to ride the wave of the massive eatery trend, like Eataly and Latinicity. This will be the largest organized food concept in the Loop and we think it's a genius idea. It's especially perfect for people who are on-the-go downtown and need a convenient spot to grab a quick bite. It's also great for those who are simply curious about the cuisine of Chicago restaurants because it provides easy access to multiple restaurants at once without the hassle of traveling to individual locations.
Look out for Revival Food Hall opening officially next month. Here are some of the restaurants that they'll be featuring:
Danke (from the creators of Table, Donkey and Stick)
Location:
The National Building
125 S. Clark St.
Which restaurant are you excited to see at Revival Food Hall? Let us know below!