What's a better way to celebrate Pride Month than supporting queer-owned restaurants in Chicago? We all know that Chicago is one of the best food cities in the world, but there are also tons and tons of queer-owned spots to support the LGBTQIA+ community this June (and for the rest of the year)! From casual breakfast spots to gourmet eateries, we've rounded up the best spots to stop in, have a bite, and support a local queer-owned business this Pride season. 
https://www.instagram.com/p/ClRt-Dho0U9/
5759 N Broadway, Chicago, IL 60660
If you're looking for a newer queer-owned restaurant to add to your list, check out Sfera. This quaint little shop brings authentic Sicilian street food to Chicago, and we can confidently say that you can't find these snacks anywhere else. The shop mainly focuses on takeout but has recently opened up a patio for additional seating if you'd rather sit and eat a quick lunch. Everything here is made from scratch. They also have a good selection of authentic Sicilian products, including sauces and pickles to take home.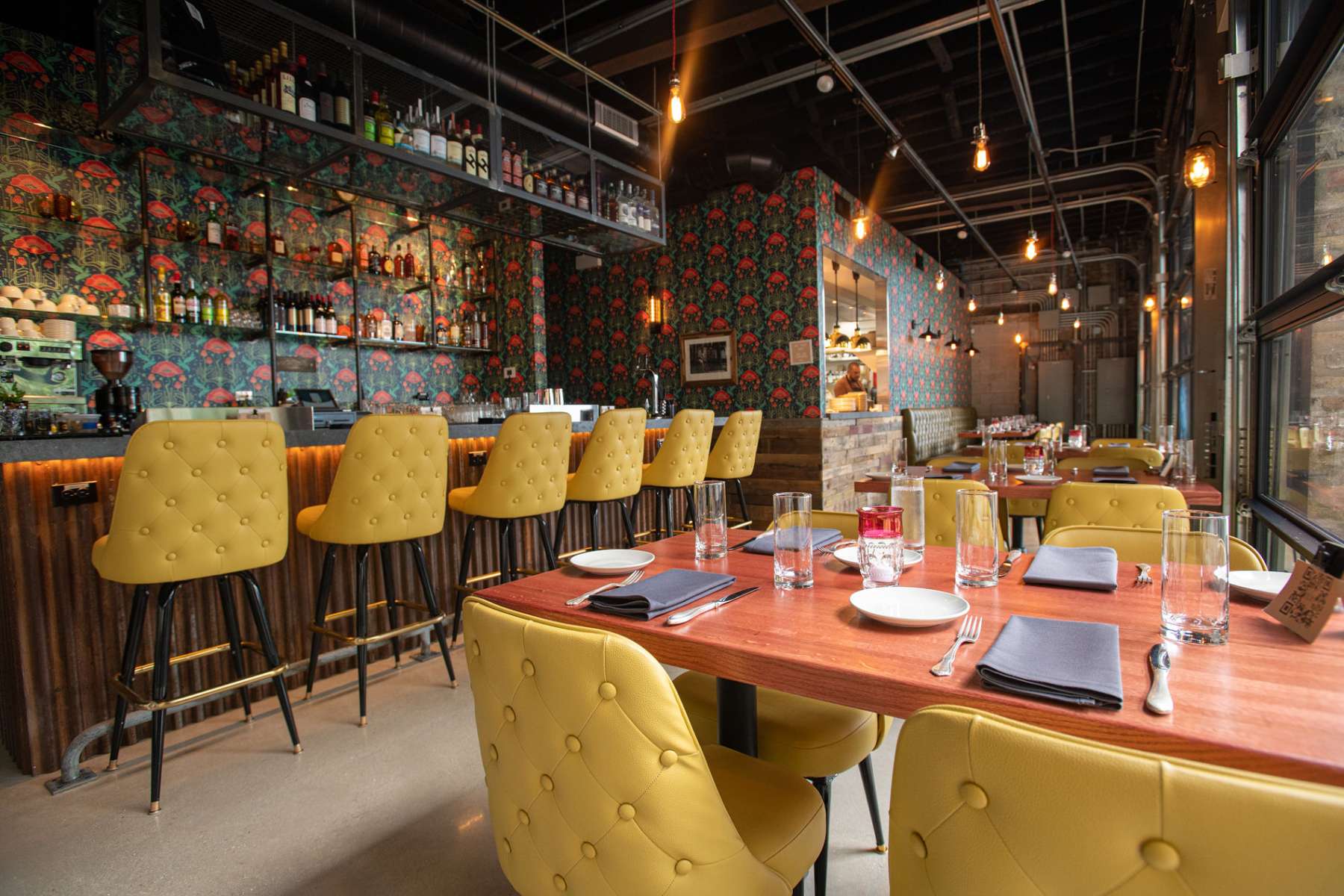 1308 N Elston Ave, Chicago, IL 60642
1308 Chicago is a "Speak Eatery" in Chicago's up-and-coming Salt District. Opened in 2022 by award-winning engineer Kimberly Moore with her employees' wellness in mind, the Black-owned restaurant features Southern-inspired comfort food with an emphasis on vegetarian cuisine. But there is more to the restaurant than vegetarian food – from buns to ketchup, each ingredient is scratch-made and carefully selected to deliver a spectacular result.
1308 is helmed by Chef Matt Condon, a veteran of Little Goat and Table, Donkey and Stick. As a former head butcher at Stephanie Izard's West Loop eatery, he loves to take an artisanal approach to every food, applying care to every ingredient and every interaction in his kitchen.
https://www.instagram.com/p/CsbRTFMtwqU/
The global Cauldron concept was founded by David Duckworth and Matthew Cortland, a British and American duo that combine their backgrounds in molecular mixology and technology development to create The Cauldron Co., an entertainment brand that brings magic to life with science, technology and design. The Cauldron is a queer-founded company focused on creating fun, fantastical experiences and inclusive spaces for all of its patrons.
3201 N Halsted St, Chicago, IL 60657
This isn't the first time we've mentioned Drew's, and it certainly won't be the last. If you're headed to Drew's this June, you have to go for brunch. The menu, full of classics like sweet french toast, spicy breakfast burritos, and the juicy Drew's classic burger, pairs perfectly with bottomless mimosas, a savory bloody mary, or tangy, refreshing red sangria. Along with drag brunches on Sundays, Drew's often hosts other special musical events like a night with Stephen Schuch, Brian Felder's "Broadway", and their famous cabaret shows. These shows are reservation only, and wildly popular, be sure to score your seats early. You'll be in for a treat.
5260 N Clark St, Chicago, IL 60640
If you haven't stopped into Lady Gregory's, now is a perfect time. Serving over 300 different whiskeys, you're guaranteed to get your fill of food and drink, and get that warm, fuzzy feeling in your stomach while doing it. This Andersonville favorite first opened their doors in 2011, and is currently still a wildly popular spot for hand-crafted cocktails, brunch, and a full dinner menu. Being an Irish Gastro Pub, we recommend trying out the shepherd's pie, curried veggie pot pie, and of course, a delicious, kick-ass dessert like peach cobbler (perfect for summer) or a Reese's PB cookie skillet. 
5020 N Sheridan Rd, Chicago, IL 60640
When you're looking for a new breakfast, brunch, or lunch spot this Pride month, look no further than Tweet. This Uptown staple is continuously serving up mouthwatering plates, whether you're looking for something more sweet or savory, Tweet has you covered. In opening Tweet (sister restaurant to Big Chicks), owner Michelle Fire wanted to create a space of experiential dining, where the portions are large, and the walls are lined with the owner's personal art collection. Tweet is the perfect spot to go whether you're with a group or looking for some "me-time" this month, where you can dig into exquisite eggs benedict and pumpkin pancakes, or sip on a sparkling "La Vie En Rose" cocktail.
 3352 N Halsted St, Chicago, IL 60657
I'm seriously convinced that Tex-Mex is the best food in the world. Tons of taco options? Check. Half-pound, succulent burgers? Check. At D.S. Tequila Co. in Lakeview, the options are truly endless. Since 2010, this eatery has been serving up spicy and succulent dishes that will satisfy whatever you're craving. This Pride month is also the perfect time to check out D.S. Tequila Co. because they're right in the heart of everything! Instead of standing on a busy street waiting for a glimpse of the Pride parade, celebrate with D.S., who are hosting a Pride Parade Brunch on their gorgeous patio. Tickets are definitely going quickly, so get yours here! 
5347 N Clark St, Chicago, IL 60640
Pickle tastings, succulent fried chicken, and blackened catfish: you can find it all at Big Jones Southern kitchen and bar. Chef and co-owner Paul Fehribach's mission is to bring the taste and history of southern cooking to life with explosive flavors and savory favorites. This Pride month, sink your teeth into something out of your comfort zone with a stop into Big Jones. They'll also be participating in Andersonville's Midsommer fest June 10th through the 12th. Who says you have to sit in a restaurant to enjoy a great meal?
565 W Randolph St, Chicago, IL 60661
Date night just got a whole lot better. This June, head into Proxi for a dining experience you surely won't soon forget. At Proxi, you'll find menus mixed with a variety of global flavors, all brought together on one table. From creamy smoked carrot dip to a tender New York strip steak. While you can order delicious plates a la carte, why not make the night a bigger event by choosing the Chef's Menu? With this option, you'll go through a series of courses, choosing a number of tantalizing dishes until you make it to the best round, dessert! 
145 N Dearborn St, Chicago, IL 60602
Sisters Amy Lawless and Clodagh Lawless combine their 40 years of hospitality experience—both here in Chicago and in their native Ireland—at The Dearborn to create a restaurant that unites their passion for heartfelt service, a welcoming ambiance and classically rooted food that isn't afraid to take culinary risks. Inspiration for the cuisine starts with traditional American taverns and from there Executive Chef Aaron Cuschieri taps into his passion for seasonal ingredients, farmers markets and contemporary culinary techniques to create dishes that lean towards the Midwest as well as those with a more global influence.
3335 N Halsted St, Chicago, IL 60657
The six-time Michelin Bib Gourmand Winner pays homage to Owner Franco Gianni's father, who was a woodworker for more than 50 years. The kitchen presents a range of sharable plates on a frequently rotating menu for dinner and Sunday brunch, focusing on peak season locally grown produce, house-butchered meats from responsible Illinois purveyors, housemade charcuterie, and bread from the wood-fired oven. Known as well for whimsical yet nuanced cocktails, Wood also features a list of affordable wines by the glass and craft and import beers.
Featured Image Credit: The Dearborn