It's that time of year again! Oktoberfest is almost here, so grab a stein and a bratwurst and get ready to celebrate German-style. From the Revolution Oktoberfest on September 27 to the Oktoberfest Cruise on September 26 offered by Shoreline Sightseeing, there are plenty of ways to experience everyone's favorite beer festival in the city. Here is a guide to the most popular 2019 Oktoberfest Chicago events.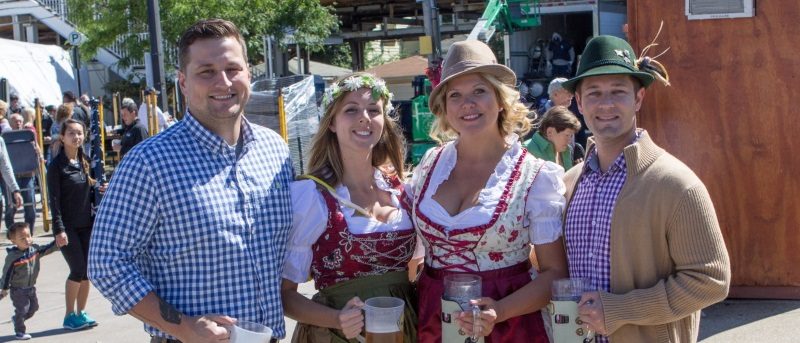 September 6 – 8 @ Lincoln Square
Enjoy good food, good beer, and good music at Lincoln Square's Oktoberfest. This Oktoberfest Chicago celebration will include traditional singing and dancing groups that will bring an authentic German spirit to Chicago. Don't forget about the parade at 2 pm on Saturday! Admission is free, so what are you waiting for!?

September 19 @ Adler Planetarium
Adler After Dark presents a special themed event on September 19: it's their Oktoberfest Chicago celebration combined with the wonder of the universe. Exclusively for adults over 21, you'll have open access to the Adler Planetarium from 6 – 10 pm, enjoy specialty brews from Empirical Brewery and Marz Brewing, learn about DANK Haus's new beer exhibit, and listen to live music by a local German Oompah band, Die Musikmeisters. Tickets are $20 or $10 if you're a member, but more at the door, so get them now!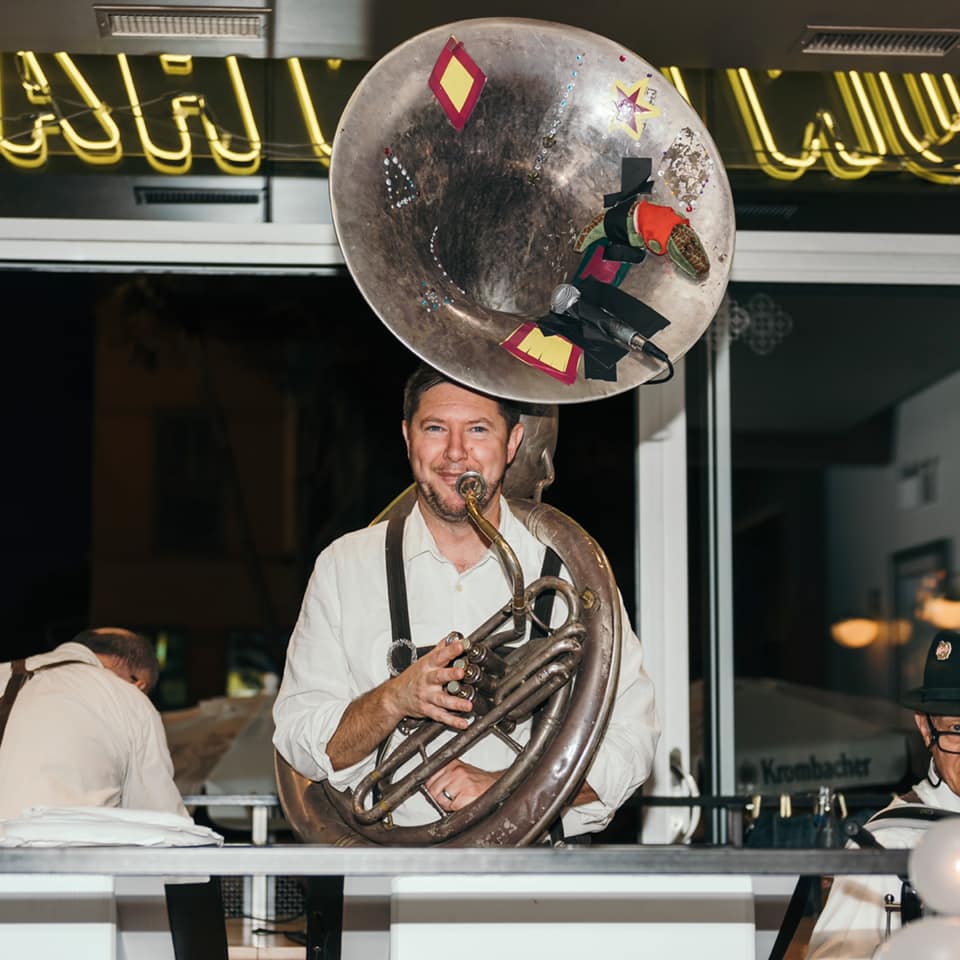 September 21 – October 6 @ Funkenhausen
Chicago's first-ever German- and Southern-inspired restaurant presents Partyboi, a beer collaboration with 18th Street Brewery, during the entire German Oktoberfest season. Grab 8-16 of your best friends and make a reservation for a themed pre-fixe dinner at Funkenhausen, complemented by Partyboi. On the last day of Oktoberfest, October 6, the restaurant will offer a 3-course dinner for $35, plus the regular dinner menu, and close out the night with kegs of Partyboi.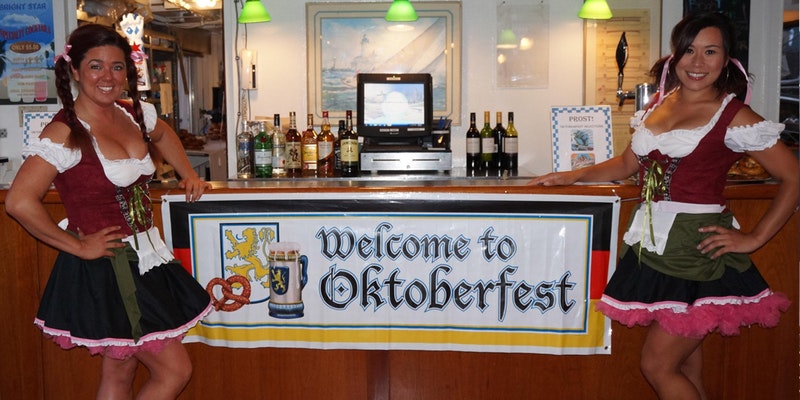 September 26 @ Polk Bros Park at Navy Pier

Shoreline Sightseeing brings back their Oktoberfest Chicago Cruise on September 26 this year. Spend two hours on the Chicago River and enjoy a traditional German dinner served by the staff of Paulina Market. Throw in classic Oktoberfest brews, live music and dancing from the Paloma Band, and a souvenir stein and you've got an unforgettable evening on the water. Tickets are $59 and only available to passengers age 21 and over.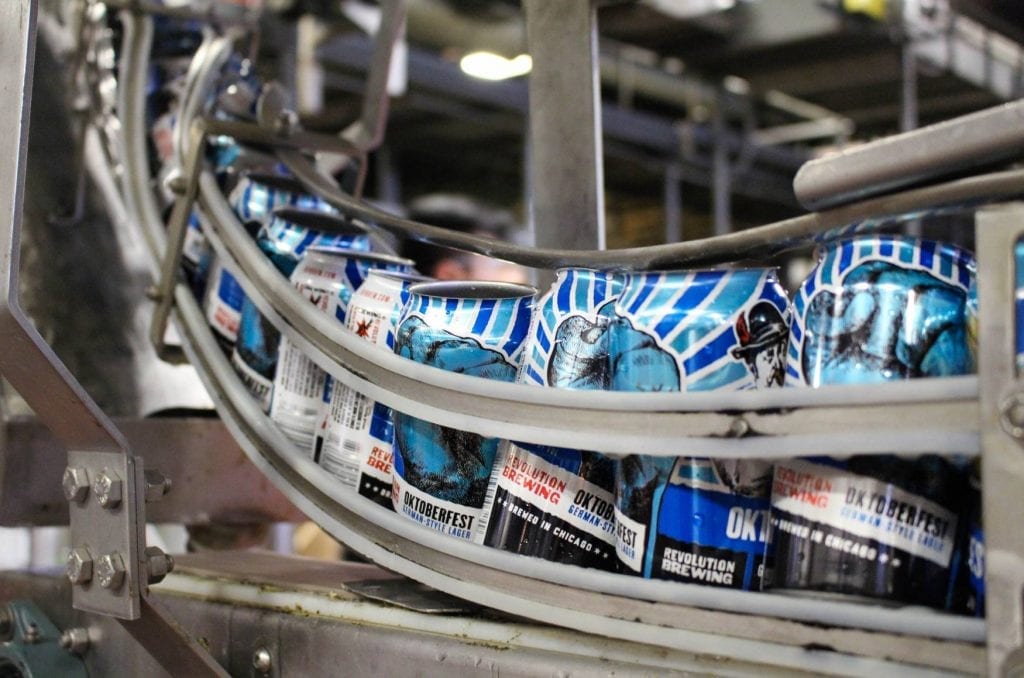 September 27 – 28 @ Revolution Brewpub
Revolution Brewing Company will be hosting a celebration outside their Milwaukee Avenue brewpub called Revolution Oktoberfest. This festival features live music and of course, lots of beer, including Revolution Brewing Company's Oktoberfest, a classic German-style lager. Revolution Oktoberfest's suggested entry donation is $5 and proceeds go to the neighborhood school programs of Friends of Goethe School.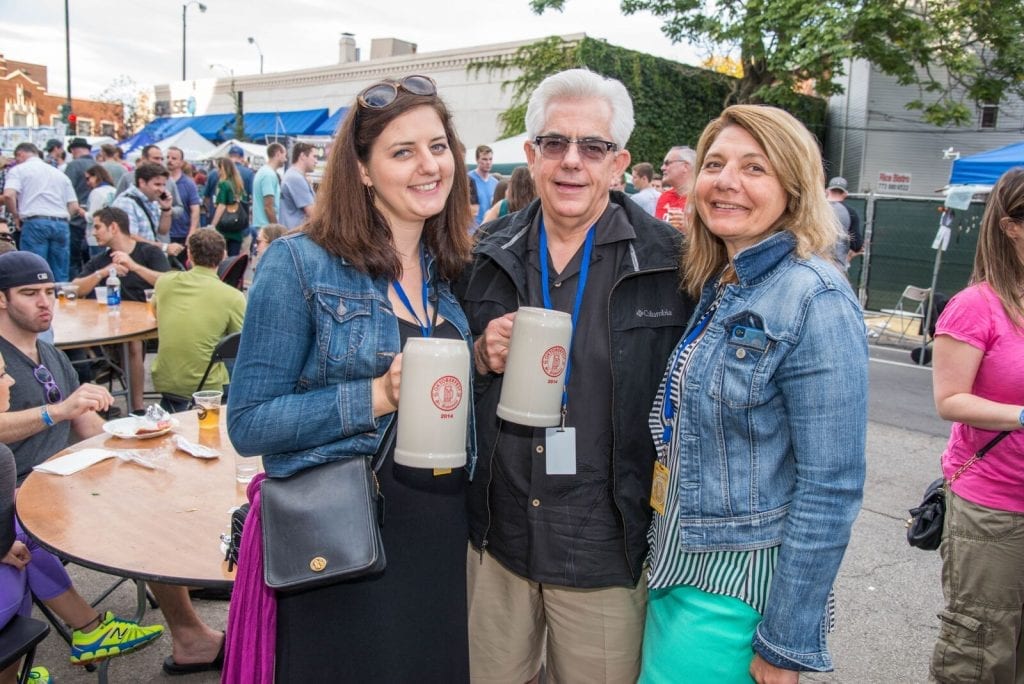 September 27 – 29 @ St. Alphonsus Church

The Oktoberfest Chicago festival at St. Alphonsus Church has everything that comes to mind when you hear "Oktoberfest." Coming back for its 19th season, Oktoberfest Chicago is one of the city's most popular annual fall events. The promise of beer, brats, and giant pretzels lures thousands to this weekend-long festival. Beer tastings and live music from authentic German bands keep visitors entertained for three days straight. Feel free to bring the whole family to this Oktoberfest location for face painting and polka lessons at Kinderfest, the kid-centric Oktoberfest held on Saturday and Sunday.
Oktoberfest Chicago admission is $10 on Friday and Saturday and $5 on Sunday.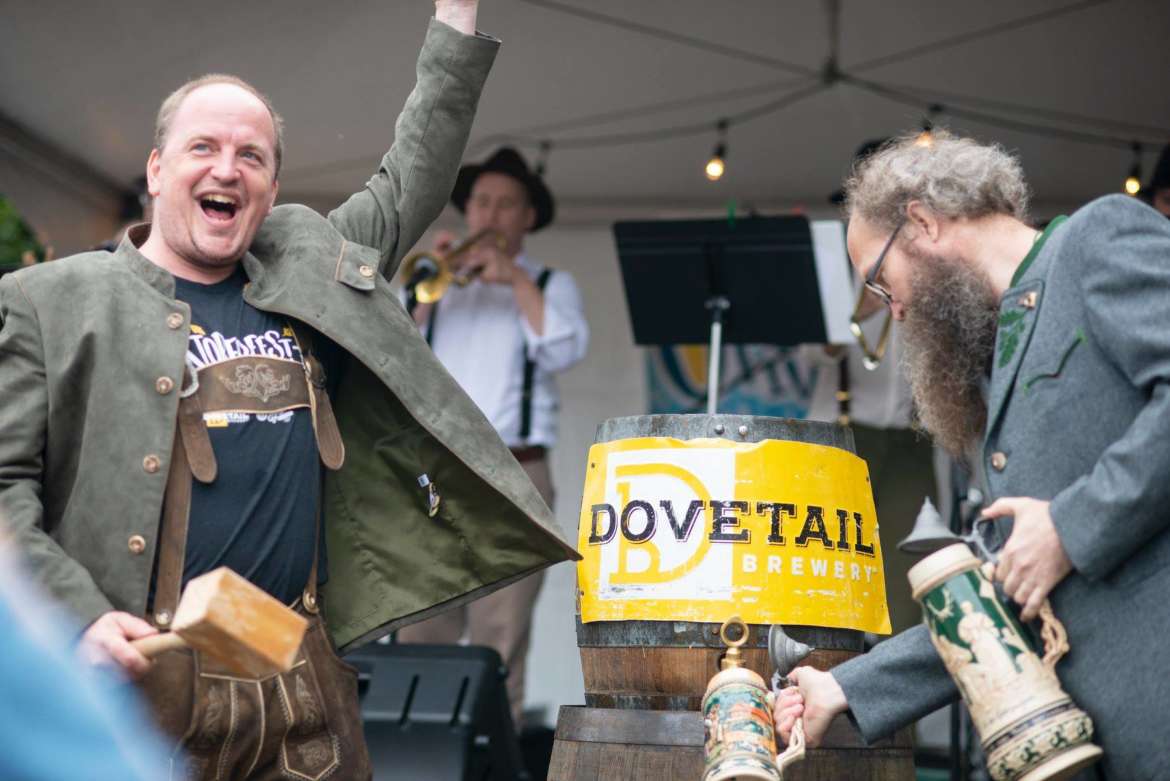 October 12 – 13 @ 1800 W Cuyler Ave
Celebrating the four-year anniversary of Dovetail Brewery and Bergyle Brewing, Oktoberfestiversary takes place in between both locations and boasts killer food, vendor, and music lineups. The event is free but suggests a $5 donation to benefit the Friendship Center, and is even family-friendly with activities like skeeball, coloring, an art wall, and balloon creations.
Food Truck Lineup:
Saturday – Bricks on Wheels
Saturday & Sunday – DonerMen
Saturday & Sunday – Bopbartruck
Saturday & Sunday – Three Legged Tacos
Saturday & Sunday – Paulina Meat Market
Saturday & Sunday – Mac Dynamite
Saturday & Sunday – Fido to go Dog & Cat Treat Food Truck
Sunday – Our House Pizza
Vendor Lineup:
Luckyprints
Ritual Coffeehouse
Amy's Candy Bar
CHIRP Radio 107.1FM
Saturday Music Lineup:
1pm – The Last Drop
2pm – The Purcells
3pm – Robert Rolfe Feddersen
4pm – Model Stranger
5pm – Salt Sweat Sugar
6:15pm – Gazebo Effect
7:45pm – Uncle Jesse and The Rippers
Sunday Music Lineup:
1pm – ProstModern Brass
2pm – The Box Band
3pm – Bremer and the No Goods
4pm – Pony Bang Bang
5pm – Catfish and the Dogstars
6:15pm – JETDRIVER
7:45pm – The Ivy Ford Band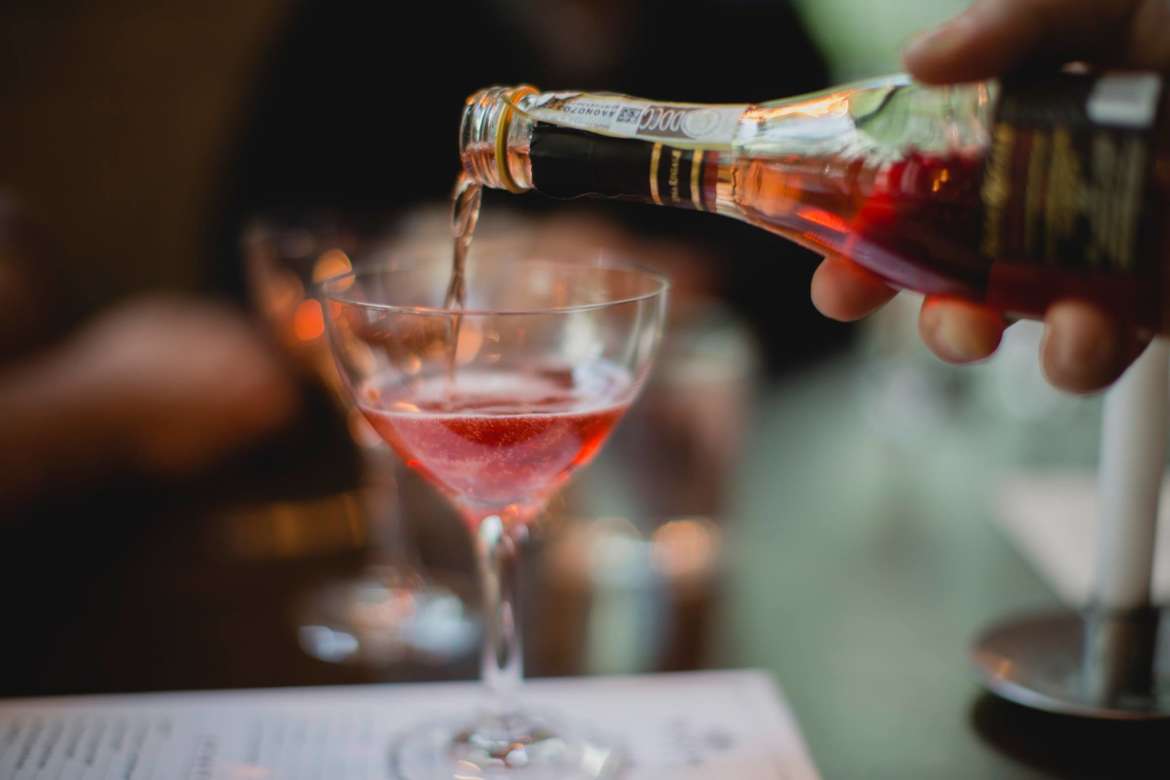 September 24 – October 27 @ 405 N Wabash Ave
Enjoy specials throughout the month of October at Beacon Tavern, specially curated to be Oktoberfest-inspired. Don't miss the official Oktoberfest Wine Dinner at Beacon Tavern on Tuesday, October 15th, beginning at 6:30 p.m., which will include a six-course menu with wine pairings.
Food Specials:
Country Terrine with paté of pork, spicy mustard, fresh pickles, Riesling gelée, rye bread
Charred Cabbage Salad with spiced apple, Emmentaler cheese, bacon lardons, brown butter vinaigrette
Braised Chicken with mustard spaetzle, creamed chanterelles
Liebesknochen with Crunchy Éclair, cream cheese custard, caramelized apples, Dijon caramel sauce, white chocolate chantilly
Drink Specials:
Wine by the Glass
Weingut Becker-Landgraf Pinot Noir, $12
Hild Eibling Sekt, $14
Klosterhof Schwedhelm "Wontanfels" Riesling, $12
J. Baumer Riesling, $12
Peter Nicolay Riesling Auslese 2010, $10
Wine by the Bottle
Dreissigacker Brut, $65
Josten & Klein Gartenlay Riesling 2013, $55
Spindler Ungeheuer Trocken, $99
Lemberger, $65
Weinreich Pinot Blanc "Orange" 2014, $55
Beer by the Glass
Paulaner Marzen
Metropolitan Afterburner 987
Cocktail
Kirschkaffe with coffee, cherry liqueur, vanilla bean, whipped cream, chocolate shavings, $13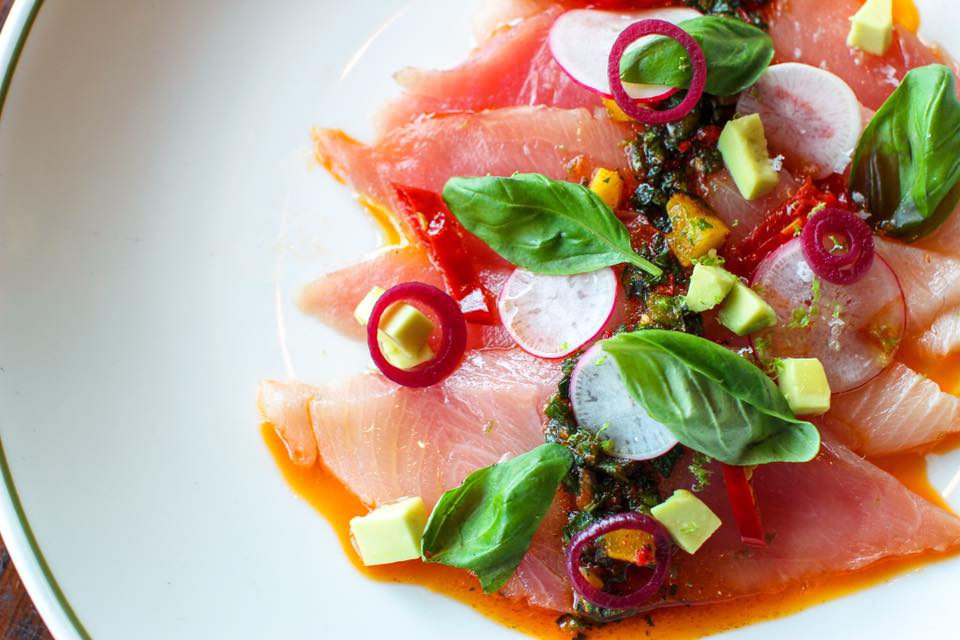 September 24 – October 27 @ 24 S Michigan
Indulge in Oktoberfest-inspired food and drink pairings at the Gage all October!
Food Specials:
Country Terrine with paté of pork, spicy mustard, fresh pickles, Riesling gelée, rye bread
Apple and Smoked Chicken Salad with endive, smoked chicken thigh, [local farm] apples, sunflower seed, herb cream
Maultaschen with veal-stuffed ravioli, caramelized onions, brown butter, fresh dill, sour cream
Braised Pork Shank with house-made bratwurst, potato galette, sauerkraut
Apfelkuchen with stout cake, apple butter and compressed apples, egg foam, spice ice cream
Drink specials:
Wine by the Glass
Heger Pinot Noir, $14
Hild Elbling Sekt, $14
Dreissigacker Brut, $15
Spindler Trocken, $15
J. Baumer Riesling, $12
Peter Nicolay Riesling Auslese 2010, $10
Wine by the Bottle
Weinreich Pinot Blanc "Orange" 2014, $55
Josten & Klein Gartenlay Riesling 2013, $55
Richard Bocking Grosse Lage Ungsberg, $65
Spindler Ungeheuer Trocken, $99
Beer by the Glass
Paulaner Marzen
Revolution Oktoberfest
Cocktail
Kirschkaffe with coffee, cherry liqueur, vanilla bean, whipped cream, chocolate shavings, $13
Oktoberfest in the Suburbs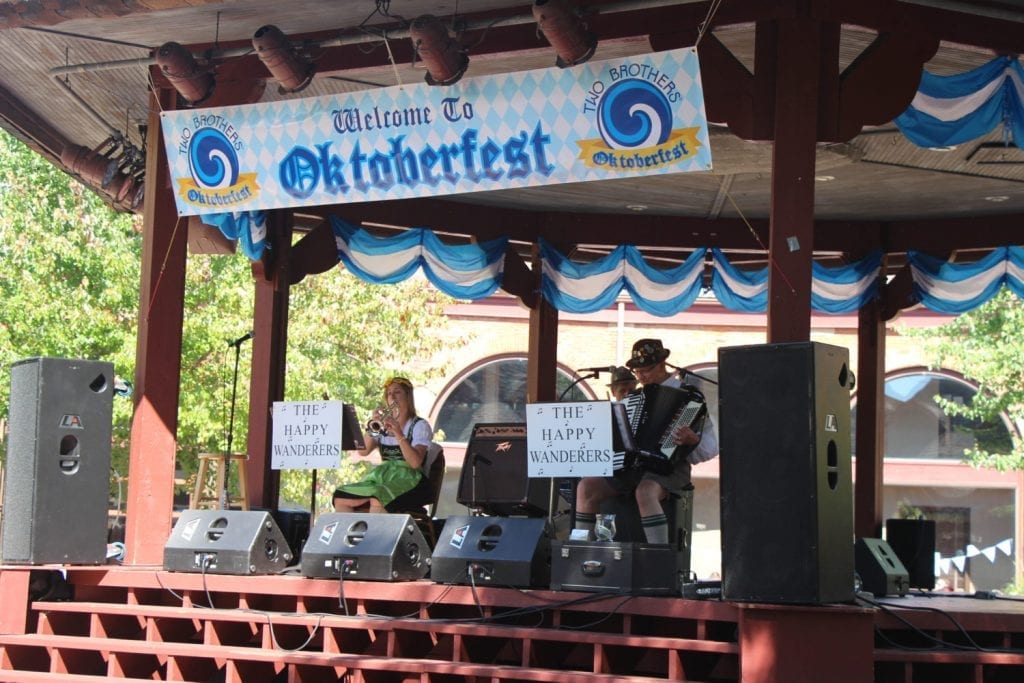 Don't worry suburbanites – there are plenty of Oktoberfest Chicago events for you too. Two Brothers Oktoberfest in Aurora features beer tastings, live music, yummy schnitzel, and competitions for Two Brothers gift cards on September 22. Oak Park's Oaktoberfest has a root beer garden for the kids and an adult beer garden stocked with local brews for the grown-ups on September 20 – 21. Or you can support the Naperville Heritage Society while enjoying beer and polka music at the historic Naper Settlement on October 4 – 5.
No two Oktoberfest locations are exactly alike! Each has its own perks, but most importantly, the wide variety gives every Chicagoan the chance to enjoy these favorite fall festivities. Whether you're bringing the kids or the dog, partying in the streets or enjoying a sit-down dinner, there's an Oktoberfest in or near Chicago for you.
At UrbanMatter, U Matter. And we think this matters.
Tell us what you think matters in your neighborhood and what we should write about next in the comments below!
Featured Image Credit: Revolution Brewing Chicago Facebook
READ MORE LIKE THIS
DOWNLOAD THE URBANMATTER APP
FIND PARKING