Get ready to rid yourself of all inhibitions – and, also, pants – 'cause the annual No Pants Subway Ride is back in Chicago this weekend!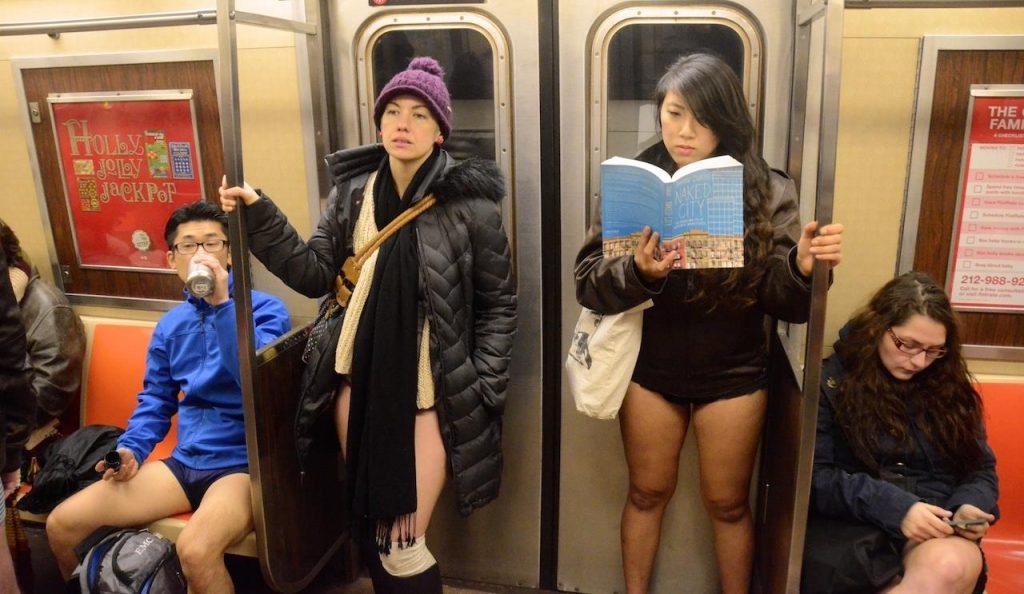 Yup – what started as a hilarious one-off stunt in New York is returning for its 13th year in Chicago on January 12th. Founded by funny-man Charlie Todd of Improv Everywhere, The No Pants Subway Ride is now a veritable, city-wide tradition and has inspired revelers across the country (and even the globe) to strip down to their undies in the dead of winter for, well, fun.
The premise, of course, is simple – come Sunday at noon, don your best briefs and warmest winter garb and head out to the fourth floor of the parking garage at 1209 W Arthur Ave. Don't be late, as everyone will be boarding together around 12:30 pm, and it might be a good idea to have a bag to hold your trousers while on the ride. Once everyone is in attendance, the pants come off and the fun begins.
From there, and this is the hard part, you will all hop on the Loyola Red Line station ride with a completely straight face. At this point, you can no longer talk to other pants-less riders – as far as everyone else is concerned, this is just par for the course for you.
If questioned by normal, pants-wearing people, Improv Everywhere asks that you say you just "forgot to wear pants" and that the fact that there are multiple riders who also forgot their trousers is "just a coincidence."
To participate in this year's event, you can RSVP on Facebook OR simply show up to the meetup location prior to 12 pm.
After your very normal train ride, all routes will converge on the Loop at which point we highly suggest you put your pants back on – it is only supposed to be like 30 degrees, after all.
The afterparty is scheduled to take place at the Potbelly on Sheridan, where you'll get a free drink with a purchase if you participated! This year, a donation was charitably given, so the No Pants Subway Ride is taking things up a notch with a free giveaway. One lucky winner will take home an HP Core I5 Computer desktop computer, complete with Windows 10, Office 2019, a mouse, keyboard, and monitor, but you must be a rider to be eligible.
At UrbanMatter, U Matter. And we think this matters.
Tell us what you think matters in your neighborhood and what we should write about next in the comments below!
Featured Image Credit: Steven Preston
READ MORE LIKE THIS
DOWNLOAD THE URBANMATTER APP
FIND PARKING