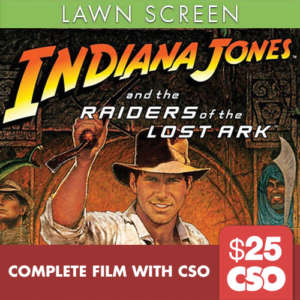 It was a beautiful night under the stars at Ravinia Festival as the Chicago Symphony Orchestra took to the stage and accompanied the soundtrack of the first Indiana Jones movie. Indiana Jones and Raiders of the Lost Ark was released in 1981, but it was like seeing the film for the first time with the partnering sounds of live symphony music.
Indiana Jones was the second in this year's four-film Ravinia Movie Nights series, with the first being E.T. The Extra-Terrestrial, and which will end with Vertigo on August 15 and The Red Violin with Joshua Bell, the film's original violinist, on August 21. Video screens are set up in both the Pavilion and on the lawn.
The series builds on the successes of screening classic films with their scores digitally removed so that the orchestra can play them live. Under the able direction of conductor Emil de Cou, it was fascinating to see his small guiding screen gliding along, while the orchestra played in perfect time.
Other noteworthy Ravinia shows in August include the following:
August 12 – Steve Martin and Martin Short
August 14 – Michael Feinstein and Kristen Chenoweth
August 17 – Earth, Wind, and Fire
August 22 – Cake and Ben Folds
August 23 – Sugarland
August 24 – The Beach Boys and Righteous Brothers
August 25 – Good Vibes with Jason Mraz
Check out the complete Ravinia schedule here. Ravinia Festival is located in Highland Park, Illinois, and is easily accessible via the Union Pacific North Metra Line from downtown Chicago.
Find what really matters in Chicago with the UrbanMatter app!
To download or see reviews from our users, head here.