Are you familiar with Mandolin? If not, it's a digital platform that exists with the sole purpose help artists, venues, and fans connect through live music. This Tuesday, Nov. 3rd, also known in this country as Election Day, they are teaming up with #iVoted to host the largest single-day digital concert to date and using getting out to vote as an incentive to have access to the concert.
Now, you're probably wondering what is #iVoted? Well, it's the creation of music industry titan Emily White of Collective Entertainment and along with Pat Sansone of Wilco and Mike Luba of Madison House, they have created an initiative that activates music venues in support of voter turnout. In 2018, the year #iVoted launched, they activated 150 venues in 37 states on the evening of the midterm elections and everyone from Billie Eilish to Maggie Rogers to Playboi Carti. You can follow #iVoted on any of their social platforms (Facebook, Instagram, or Twitter.) or at www.ivotedfestival.com.
OK, fast forward to 2020. One of the biggest billboards surrounding the 2020 Election is getting young people to get out and vote early and to vote loudly. That's why Mandolin and it's budding streaming service stepped in to ensure that the #iVoted festival received its proper showcase. The festival is expected to have an artist lineup of nearly 600 acts. Confirmed artists include (via #iVoted press release):
Additional confirmed artists include: A Conversation w/ W. Kamau Bell and Living Colour, Chris Thile, A Conversation w/ Julien Baker and Rhea Butcher, Greensky Bluegrass, Wes Walker, Citizen Cope, Drive-By Truckers, grandson, Brian Courtney Wilson, Joywave, Jukebox the Ghost, Julia Nunes, Kam Franklin of The Suffers, My Brightest Diamond, The Dresden Dolls, The Polyphonic Spree, Vacationer, Yonder Mountain String Band, Geographer, 3OH3!, Saves the Day, Taking Back Sunday, an exclusive appearance by Olympic Gold Medalist Anthony Ervin and more artists announced to-date can be found on the #iVoted website.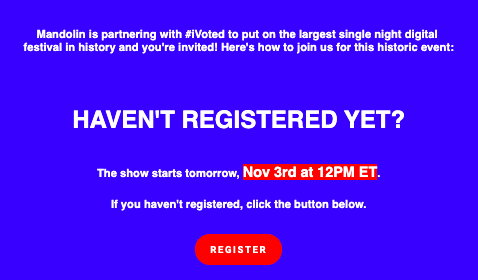 That is an absolutely loaded slate of artists from every genre across the spectrum. Mary Kay Huse, the CEO and Co-Founder of Mandolin said, "We're excited to help musicians get closer to fans through new livestream and digital technologies. It's also part of our mission to make our communities better in the process, which perfectly aligns with the mission of #iVoted." While Huse said, "In the face of yet another disruption, I'm inspired by Mandolin and all of the creative minds working together to solve and create new avenues for artists, fans, voters, and activists to make change."
If anything, these two brands are completely in sync about what needs to be done to present a perfect production and also inspire those to get out and vote for the rights, beliefs, virtues, and experience.
Voters can RSVP to access the show(s) of their choice by taking a selfie with their blank mail-in ballot, or from outside of their polling place, and submitting it online via the RSVP at www.ivotedfestival.com in exchange for a link to the livestream festival on Election Day. Fans who are not 18 by 11/3/20 can RSVP with a video letting #iVoted know what election they will be 18 for and why they're excited to vote.
Fans who aren't U.S. citizens, or who are otherwise unable to vote will be able to RSVP as well. Sign up for the organization's email list via their website to be alerted when the RSVP system goes live.
At UrbanMatter, U Matter. And we think this matters.
Tell us what you think matters in your neighborhood and what we should write about next in the comments below!
Featured Image Credit: Mandolin
READ MORE LIKE THIS
DOWNLOAD THE URBANMATTER APP
FIND PARKING