*Update: Mamby on the Beach 2019 has been canceled, but you can still get in on all the fun at Cerise Rooftop!
Mamby on the Beach's unexpected cancellation has left festival-goers scrambling to find alternate weekend plans. Fret not, Tim Baresko fans, because Cerise Rooftop at the Virgin Hotel has come to the rescue. DJ Tim Baresko will be performing at Cerise's Moonlight Disco party this Friday, August 23 from 9:00 p.m. to 2:00 a.m.
Guests will sip on their favorite drinks, vibe to Tim Baresko's bassy beats, and enjoy panoramic views of Chicago while dancing the night away. Guests must be 21+ to enter. Tickets are only $15 and can be purchased here.
What do you get when you mix summer sun, live tunes, and lakeside views? Mamby On The Beach, 2019 of course.
That's right, guys – Mamby On The Beach is back in Chicago for summer 2019 and ready to make this weekend one of the best of the year.
Here is everything you need to know about one of the city's youngest and most anticipated music festivals.
What is Mamby On The Beach 2019?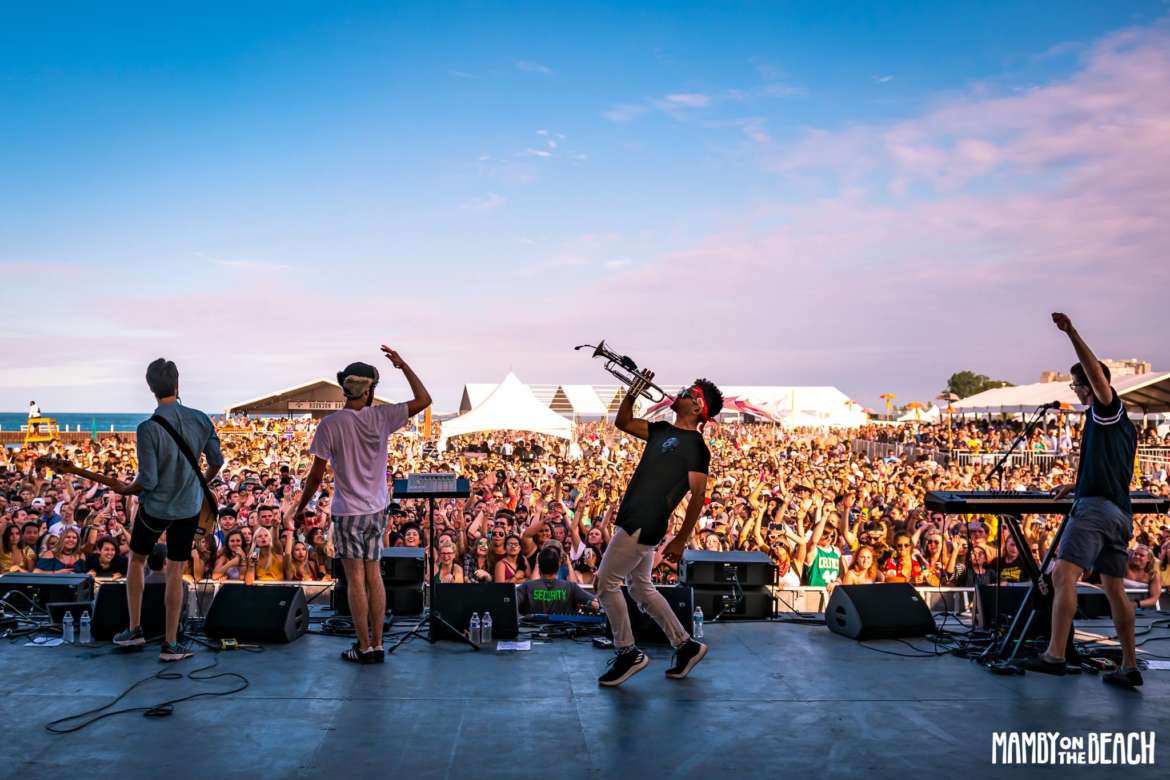 Oh, you haven't heard?
Founded in 2015 by the same folks who brought you Spring Awakening, Mamby On The Beach is one of Chicago's newest live concert festivals. Taking place just off of Chicago's lakefront trail, in addition to big-name headliners, amazing vibes, and some serious eats, Mamby On The Beach also offers revelers some of the best skyline views city-wide, making this new-summer staple a favorite among locals and tourists alike.
When are we going to Mamby On The Beach 2019?
Mamby On The Beach 2019 is Friday, August 23, and Saturday, August 24. Doors open at 1 pm sharp, with set times running throughout the day until 10 pm. With performances spreading across 5 stages, most headlining acts will begin around 8 or 8:30 pm.
Where is it happening?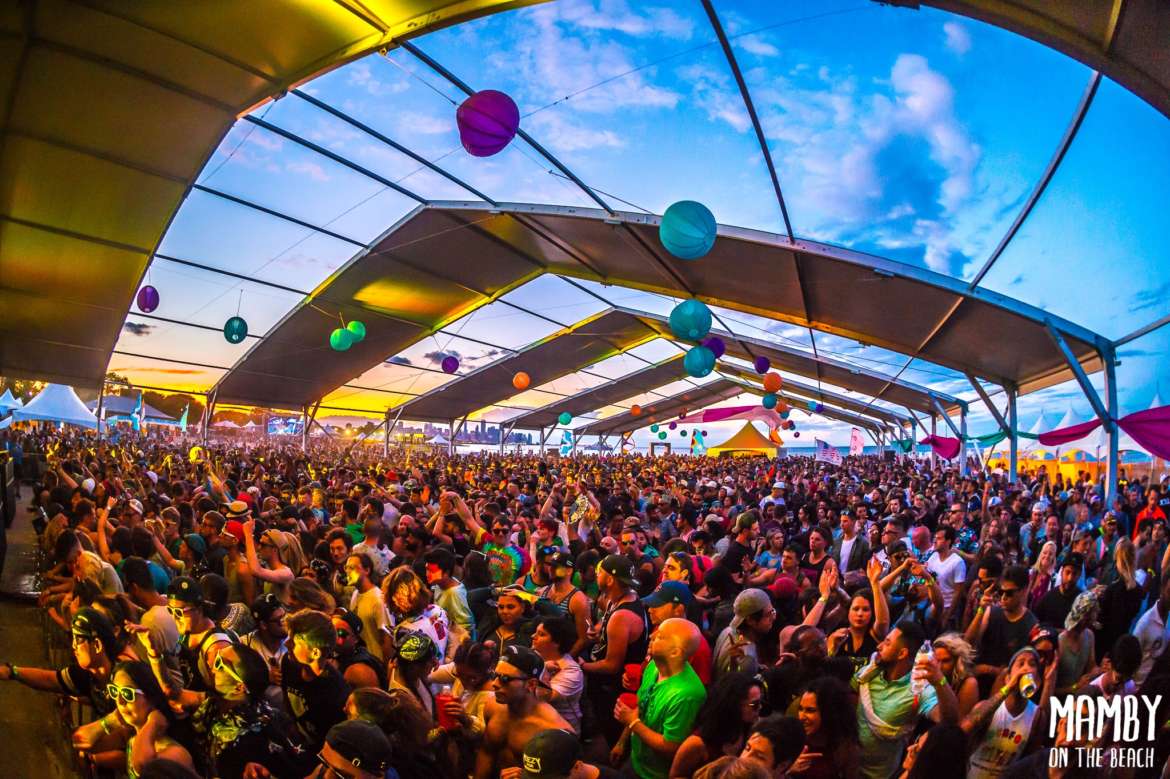 Mamby On The Beach 2019 is returning to Chicago's south side for the 2019 season at Oakwood Beach! Located just outside of Oakland, event organizers are offering a free shuttle this year from the CTA Cermak-Chinatown Red Line stop, Cermak-McCormick Place Green Line station, and the McCormick Place marshaling lot. The 39th street beach parking lot is only available for drop off and there will be NO PARKING at the event, so come prepared.
Who's gonna be there?
This year's lineup at Mamby On The Beach 2019 is as good as ever, featuring performances from ARIZONA to T-Pain, to the one-and-only Troye Sivan. The full lineup hasn't been released yet, but you can catch a preview below: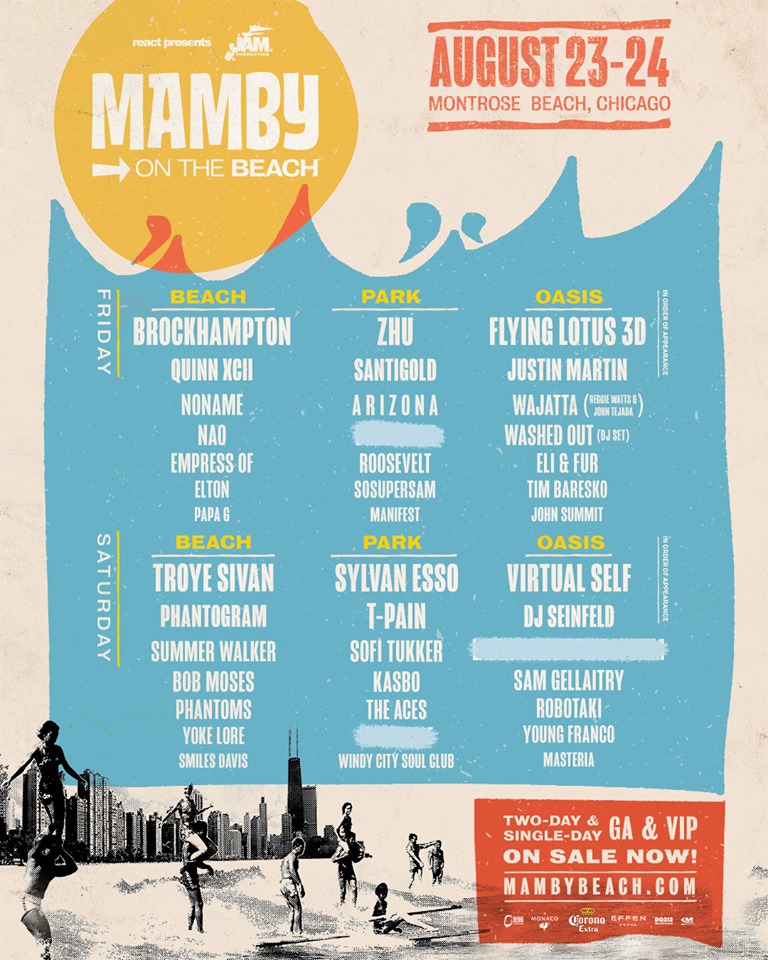 In addition to the music itself, Mamby will also feature a volleyball tournament, yoga sessions, henna tattoos, tarot card readings, and a Ferris wheel. Last year, we tasted some of Chicago's most delicious food provided by the likes of Bacci Pizza, Harold's Chicken, Big Star, Pink Taco, and more.
How do I get in?
Tickets to Mamby On The Beach are on sale now for anywhere between $69 and $159, and you can purchase them here. Keep in mind, however, that the closer you get to the event, Mamby will raise ticket prices, so be sure to scoop them up while you can!
For even MORE info on Mamby On The Beach 2019, you can check out their full festival guide, here.
Featured Image Credit: Mamby On The Beach Facebook