Visiting the Art Institute of Chicago is, in and of itself, an experience.
Each hall recreates, describes, and showcases not only cultures, but also traditions. We see the evolutionary history of the world, from Europe to the United States, walking through Africa, ancient Greece with its pantheon. The Art Institute of Chicago offers inspiration to everyone, especially architects. In the Modern Wing, or Contemporary Area, until January 3rd there will be the exhibit on the architecture of David Adjaye.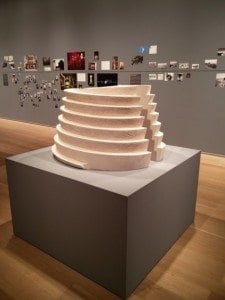 David Adjaye's architecture wishes to serve the community, its intrinsic differences, and its varieties. Born and raised in Ghana, as an architect who works internationally, David Adjaye has established offices in New York, London, the Middle East, and Accra.
His idea of urbanism stems from the desire to be transient, to project, and construct with the concept of the city itself as an ever-evolving center. The beauty of his architecture, as one can see through this exhibit, lies in the clean geometry of the buildings themselves. Whether in the center of New York or Ghana, they stand out as an experience – tactile, auditory, visual.
The importance of his work is original and innovative. As an international architect, he has created a fulcrum of structures in Africa, thus including the continent on the global map of international architecture.
For him, architecture has to be a unique within the geography around it. It also has to be of utility to the topography, and urban contexts themselves.
The spaces which he creates connect people from the most diverse backgrounds. They come together inside of a structure that serves as a landmark. For example, the Smithsonian's National Museum of African American History and Culture on the National Mall in Washington, D.C.
In the installation, "Horizon" we are brought to experience freedom – of sight, both walking inside the structure, and observing from outside – as well as a detailed sensation of listening, talking, and walking inside it as if people were ripples. Together with the ridges of the wood, everything comes together for a compact and innovative perspective on space.