So, no – our hometown heroes' chances of making it past third-seed Michigan come Saturday afternoon might not be great.
But we're not gonna let that stop us from cheering them on anyway.
Here are the best places in Chicago to watch your fav bracket busters take on the Wolverines in the NCAA Final Four.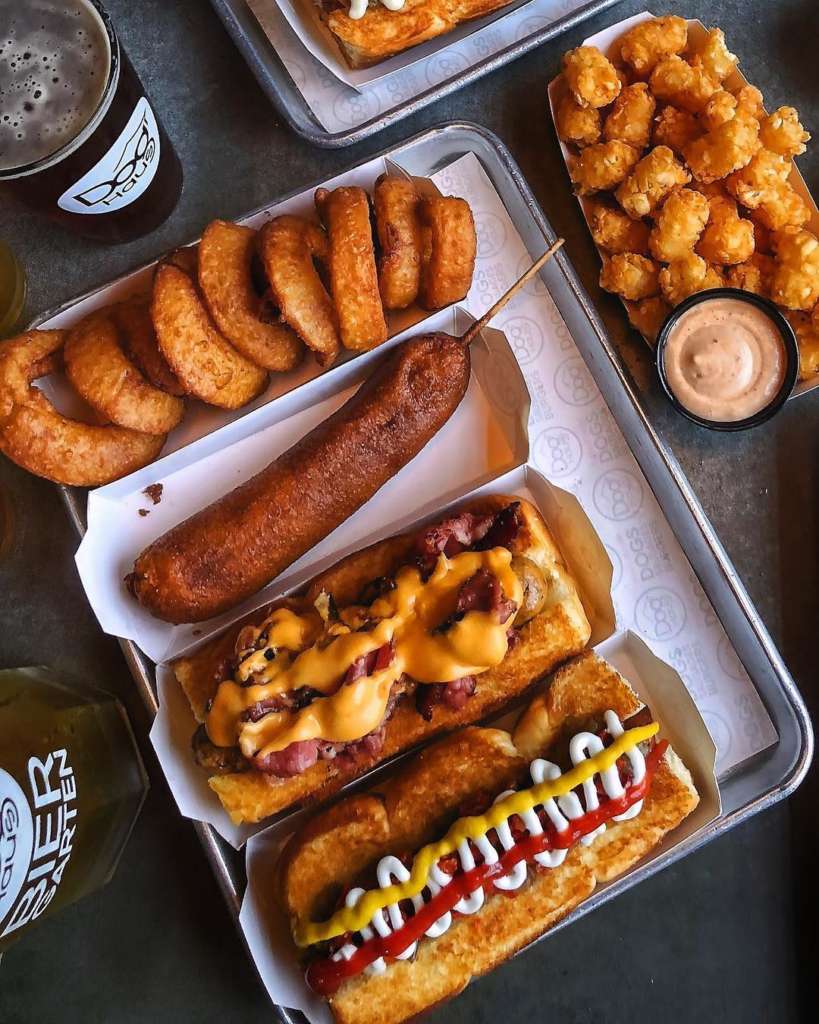 This LA transplant might be new to the city (we're talkin' like two weeks old, max), but Lincoln Park's Dog Haus is wasting no time getting in the Chicago spirit. Stop by this hot dog joint and beer garden anytime between 5pm and midnight on Saturday, March 31st for Final Four specials.
For just $4 a piece you can get:
The Final Countdown Haus Dog – topped with delicious spicy cheese sauce and a strip of bacon to show Loyola maroon and gold team spirit.
This Burger – featuring white American cheese, caramelized onions and mayo.
That Burger – featuring white American cheese, pickles, lettuce, chopped onion and 1000 Island.
And Select Draft Beers!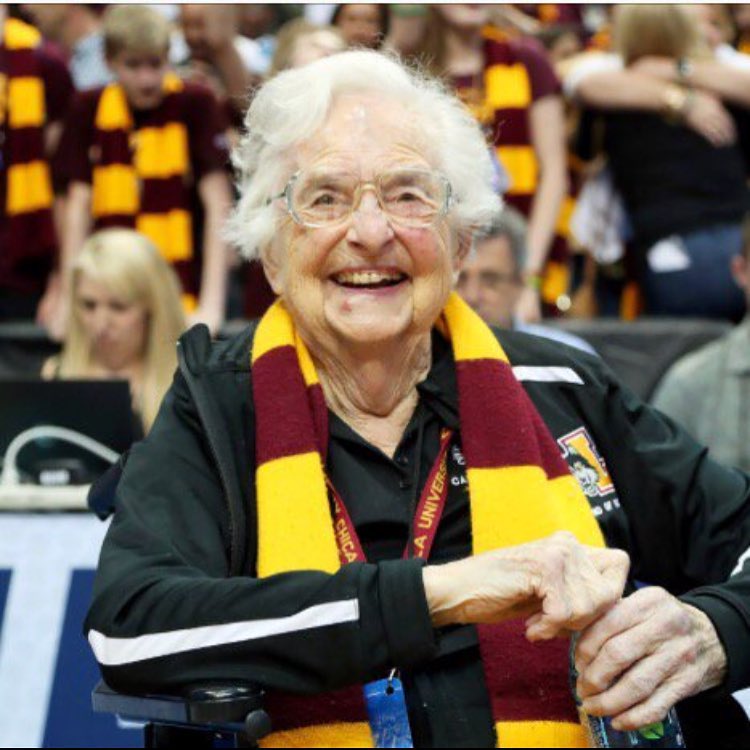 A watch party that Sister Jean would be proud of, make your way to Wrigleyville classic Nisei Lounge before tip off for what's being called the Loyola Hoops Charity Kegger. Enjoy the game on any of Nisei's flat screens (with sound!) and 50% of all proceeds from Miller and Coors drafts sold during the game will benefit the Sisters of Charity of the Blessed Virgin Mary.
In their own words, the folks at Nisei Lounge "love local sports and nuns, so this should be fun."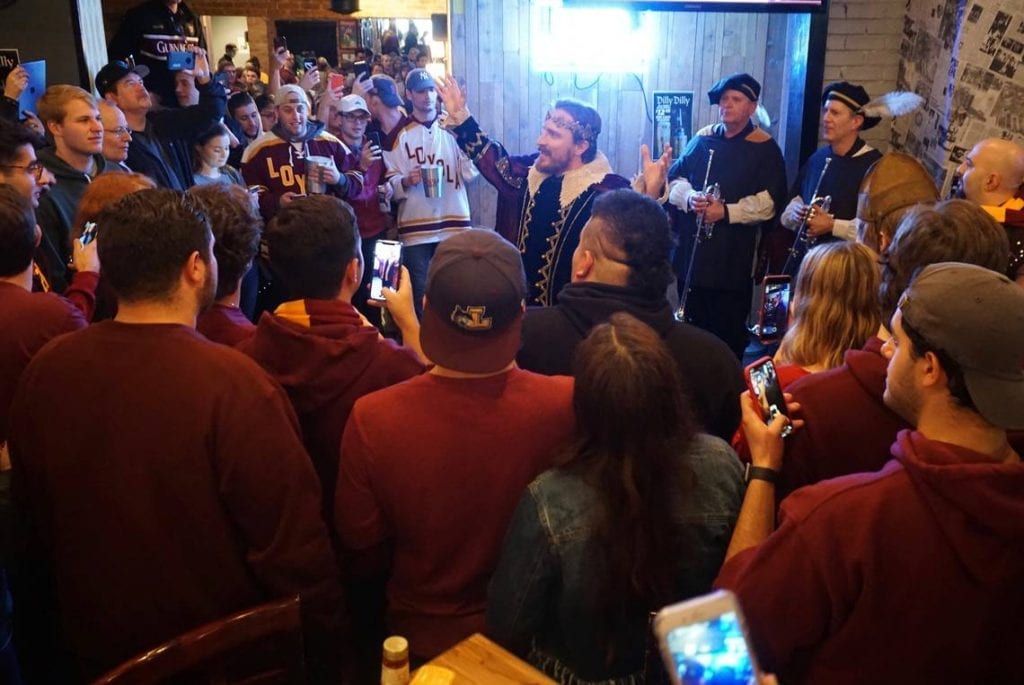 Looking for an extra large dose of Loyola Ramblers spirit? Then Bar 63 is your go-to spot.
This Rogers Park bar and tap is just steps away from campus itself, so you know it's gonna be pretty packed. Come Saturday at 5pm prepared to bleed Maroon and Gold.
And in case you were wondering, no, your eyes do not deceive you – that is the Bud Light "dilly dilly" king stopping by Bar 63 during the game against Nevada last week.

Enter into enemy territory this Saturday at Celtic Crown, Chicago's premiere Michigan bar. While, yes – you'd be totally right to point out that it seems counterintuitive to cheer on the Ramblers in a sea of Wolverine fans, just imagine the pure joy you'd feel if we win.
As an added plus, Celtic Crown is offering the chance to win a trip to Vegas during the tournament and you just know you gotta get in on that.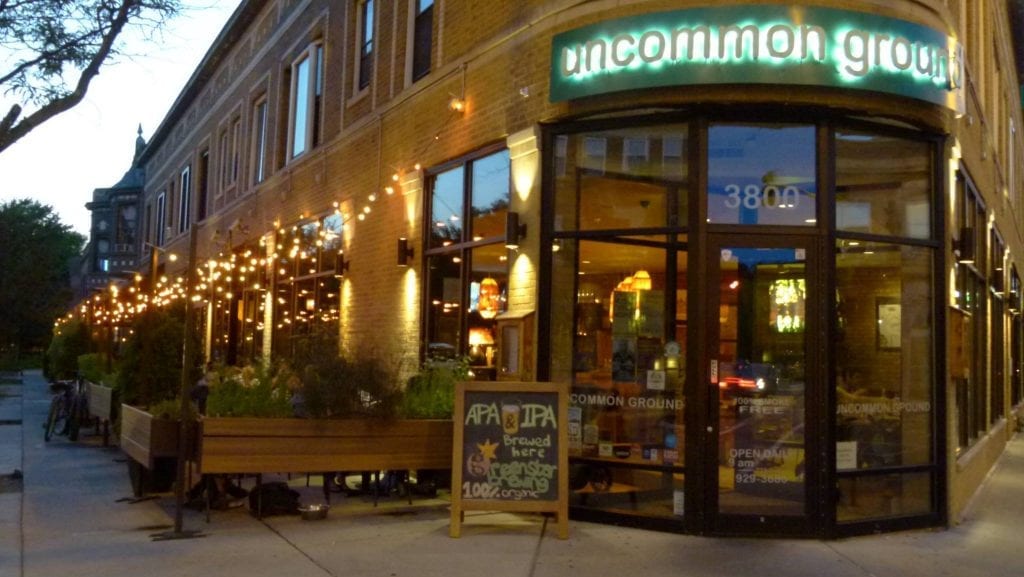 Just blocks from the Loyola campus, Uncommon Ground's Glenwood location is turning up the volume for the Final Four. Make your way to this live music venue and restaurant for the semifinals to watch the game on a 10-foot high-def screen, $8 cocktails and amazing dinner specials.
Reserve your table for Saturday here.
Tip off is at 5:09pm sharp on Saturday, March 31st in San Antonio. Go Ramblers!
For more March Madness options in Chicago, head here.
Feature Image Credit: Loyola Ramblers Instagram