You really haven't experienced the heart of River North until you've been to Joy District. This elixir of nightlife has become a Chicago tradition: to live your best life on the roof at Joy District while the DJ spins heart-thumping jams at concert-level volumes. Over the summer, Joy District is a haven in the midst of Chicago's humid heat waves, welcoming its guests with cold bottles and chilled cocktails. But in the winter, Joy District is a bonfire that attracts night owls from all over the city, who gather around its warmth and ignite the evening.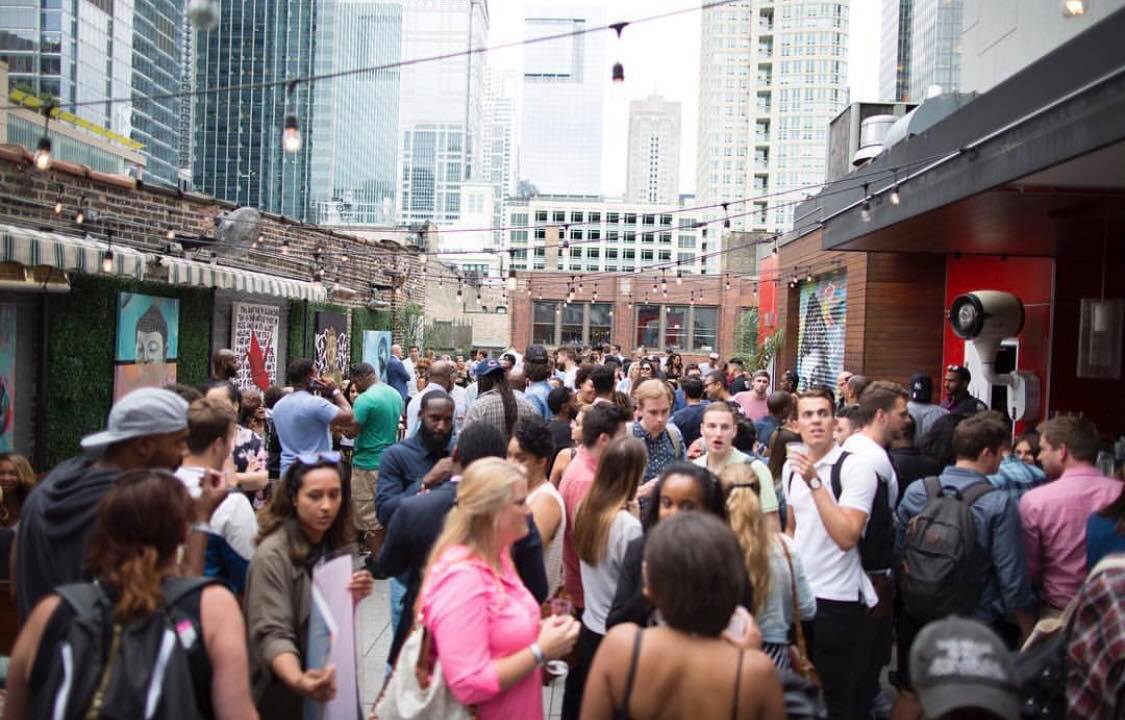 Joy District is split into two parts: a multi-tier nightclub for the party animals who aren't impeded by Chicago winter and the rooftop, open from March through October to anyone looking to get some sun. At night, strings of iridescent bulbs illuminate the dance floor, making you feel important beneath the blur of stars and light. You can't help but find yourself mesmerized by this view of the city skyline. It makes you fall in love with Chicago all over again every single night.
Joy District boasts plenty of photo opportunities with several painted wall murals, plenty of foliage, walls of greenery, their highly Instagrammed JOY flower wall, and so much more. Even their lounge chairs are picture-worthy and, thanks to a professional photographer usually there to snap shots, it's a good idea to be photo-ready at all times here.
It's been decided by the people of Chicago: Joy District is easily the hottest nightclub in town. Nobody here is afraid to pop bottles. When servers walk by with flaming champagne, you're going to notice, but it only adds to the grandeur of this unequivocal nightclub. Not only is the vibe always bumping, but the decor crafts the right blend of class and enjoyment, while also implying that the people here like to let loose as the night goes on. Artistic photographs and mirrors line the walls from floor to ceiling, all framed in elegant brass and forming their own kind of mural within the space. Private lounges are available, complete with bottle service, which overlook the dance floor from a raised mezzanine.
But what would Joy District be without Parlay? Still an awesome nightclub, to be sure, but with Parlay just below, you can take advantage of game day specials for March Madness, as well as pregaming the night before raging upstairs. Parlay has a wide range of menu items, but our favorite has to be the Parlay Burger with a double beef patty and pork belly. Yes, it's as mouthwatering as it sounds.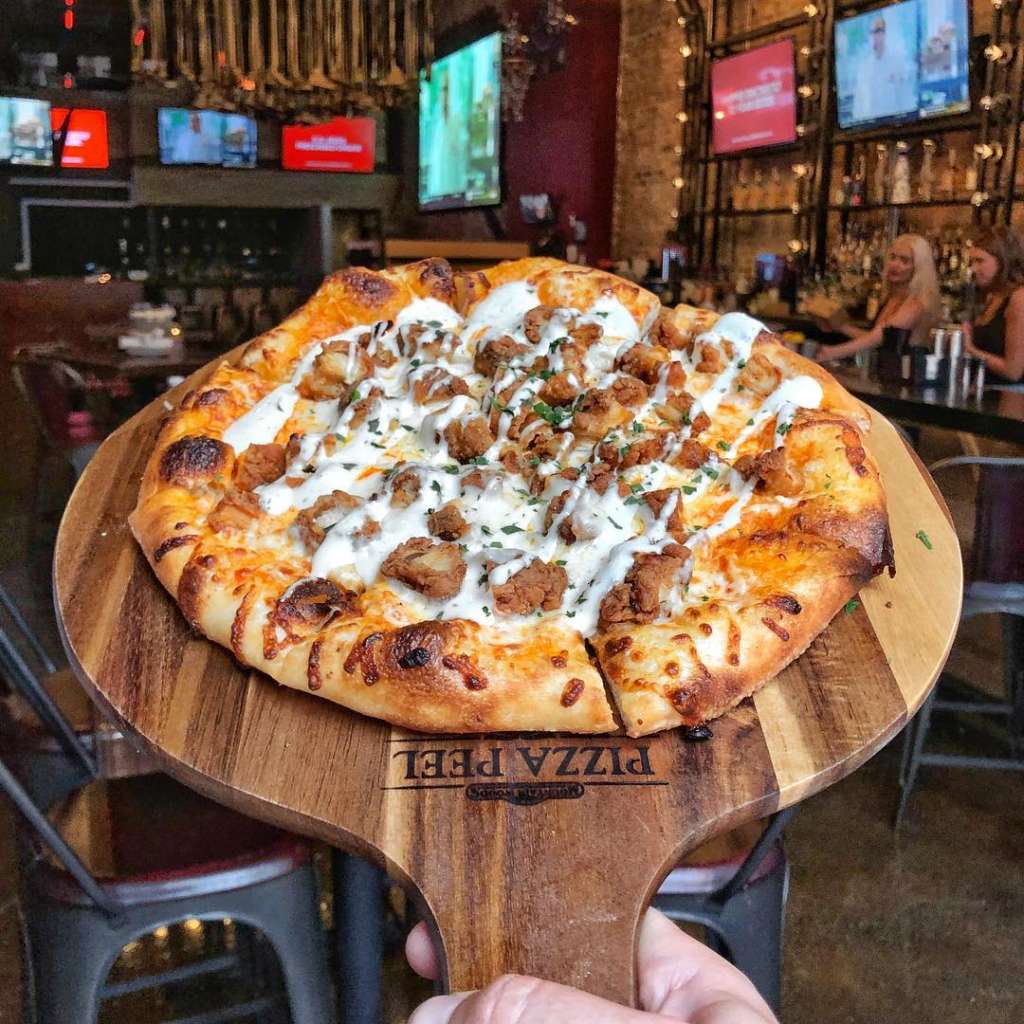 As far as their specials, well, they're endless, but we'll try to do them justice.
March Madness Specials
Parlay | March 19 – April 8
You're going to want to bring the boys along for this one. Parlay is offering a special where you can buy one beer bucket and a get a second beer bucket for free with the purchase of any food item (domestic: $30 and import: $35). There will be plenty of game days for you to cheer on the University of Wisconsin, all thanks to their 21 massive TVs, which range from 60 inches to a 200-inch projector. It's safe to say there's no better place to watch your team kick ass than at Parlay.
Joy District | Every Saturday & Sunday | 11 am – 3 pm
$30 bottomless brunch buffet and $20 mimosa package every Saturday and Sunday morning. Can we get a hell yeah!?
They also have plenty of shareable cocktails; in fact, they basically invented them. Get the Scrumdidilyumptious, a massive, gumball machine-shaped cocktail that contains a blend of Cruzan strawberry, pineapple, orange, simple syrup, lemon, and cranberry juice, and topped with Chandon.
If you're feeling brave, try the Cereal Killer Shots, which will get you three shots of Honey Nut Cheerios (Rumchata + Jack Honey Whiskey), Pancake (Jameson ButterScotch + Bacon… yup), and Cinnamon Toast Crunch (Rumchata + Jack Fire Whiskey). And, if your girls are feelin' themselves, why not go all out with the Mega Mimosa? This giant morning drink is filled with two bottles of prosecco topped with orange juice and served in a champagne glass with colorful straws. It serves five to seven of your friends for just $100.
Parlay | Tuesday – Friday | 4 – 7 pm
You can't miss out on Parlay's happy hour, not when they're offering three hours of $5 rum and whiskey cocktails, $5 Absolut cocktails, $5 select glasses of wine, and $7 Don Julio 1942 shots. Talk about luxurious! Plus, their food specials feature $10 select pizzas like pepperoni, sausage, artisanal cheese, buffalo chicken, and more.
We Parlay Wednesdays
Parlay | Wednesdays | 9 pm – 2 am
This mid-week party unfolds every Wednesday at Parlay! They bring the party up at Joy District down to the main floor with the hottest DJs and top-notch bottle service, drawing in huge crowds every week. Check out this preview below!
Joy District/Parlay Hours
Sunday 11 am – 12 am
Monday Closed
Tuesday 4 am – 12 am 
Wednesday 4 pm – 2 am
Thursday 4 pm – 2 am
Friday 4 pm – 2 am
Saturday 11 am – 3 am
Joy District can be found at 112 W. Hubbard St. Find a good parking spot nearby and then head up the stairs. When you hear the music thumping through the walls, you'll know you're in the right place.
Featured Image Credit: Joy District