Considered Houston's beach playground, Galveston is located right in their backyard, about an hour away. This sun-and-fun-filled destination creates the perfect getaway with a Schlitterbahn Water Park, Moody Gardens attractions, and Pleasure Pier.
If you're planning to depart from the Galveston port for a cruise, be sure to spend a few days before or after your cruise exploring this historic city.
Keep Cool at Schlitterbahn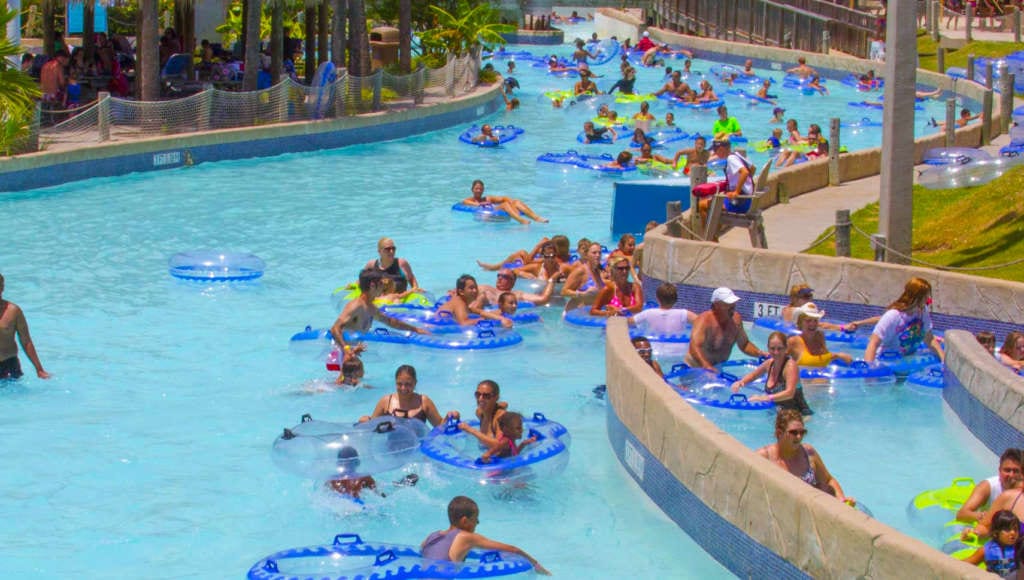 Craving water fun? Head to the Schlitterbahn Waterpark with more than 35 refreshing water adventures, including the new Infinity Racers Mat Slide. Cool off on a hot day with the largest collection of thrilling water slides, wave rivers, and water coasters.
Wind your way through three distinct areas where you'll find four high thrill speed slides including Rohr!, Cliffhanger, and the immersive Screaming Serpents body slide. Surfenburg has raft rides and water coasters. For something a little more low-key, bring the little ones to the Tiki Tikes Kids Area, perfect for all ages. The world's tallest water coaster, MASSIV Monster Blaster, can be found in Blastenhoff with a wave pool, Shipwreck Harbor, and a swim-up bar.
We all had a blast as we navigated the wave pool. With so many waves, this was hardly a "lazy" river as we laughed our way through the currents! The girls were braver than I and took on the Guada-Loopy and Loopy Luge thrill ride several times, telling me it was scary, but so much fun.
Schlitterbahn is open weekends in spring and fall, and daily from mid-May through August. Schlitterbahn Indoor Waterpark is open weekends and selected holidays in March and through December.
Moody Gardens – Fascinating Fun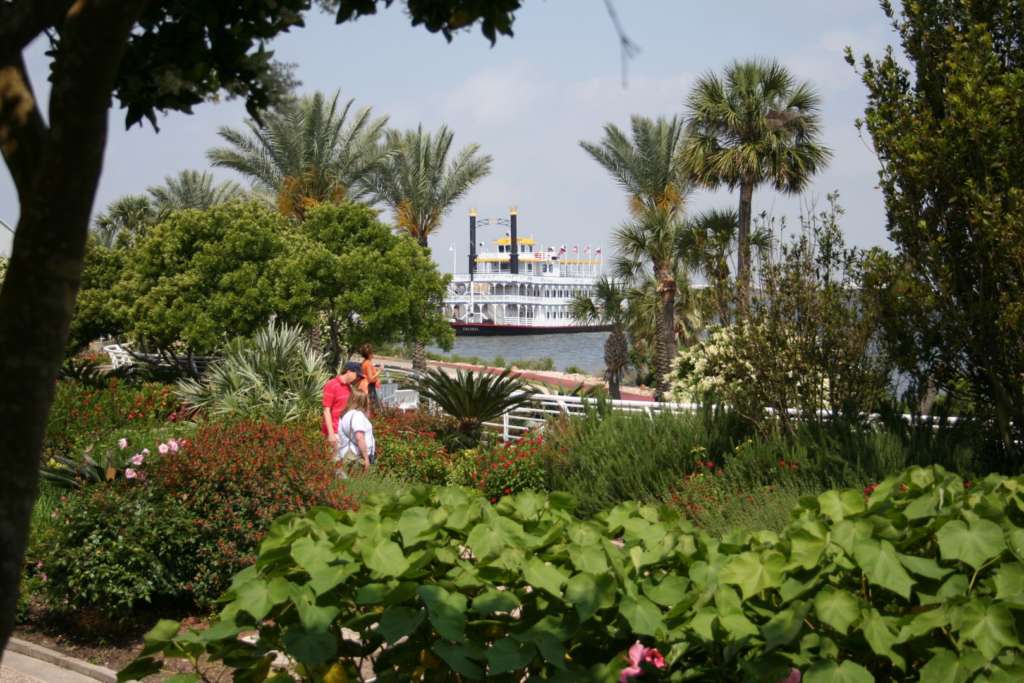 In the distance, the two Moody Gardens pyramids beckon. Explore the Aquarium, Tropical Rainforest, and Discovery Pyramids, as well as the MG 3D, 4D, and Ridefilm Theaters, splash galore at Palm Beach, or test your stamina on their new ropes course and zip line.
We watched the 3D film on Cuba and 4D film, San Andreas, which featured wind, water, and rumbling seats… what a thrill! The virtual reality experience, Reef Rescue, was educational and lots of fun as we donned our own individual headsets. Of course, the girls beat me hands down. Hop aboard the Colonel Paddlewheel boat for a relaxing ride on Galveston Bay.
Inside the Rainforest, you'll get up close and personal with monkeys, macaws, and other endangered species. See the penguins, seals, and sharks at the Aquarium Pyramid.
There is so much to discover that your best bet is a Value Pass, which gives you access to the Theaters, Rainforest, Aquarium, Reef Rescue, Colonel Paddlewheel, and more.
Relax at the Luxurious Moody Gardens Hotel & Spa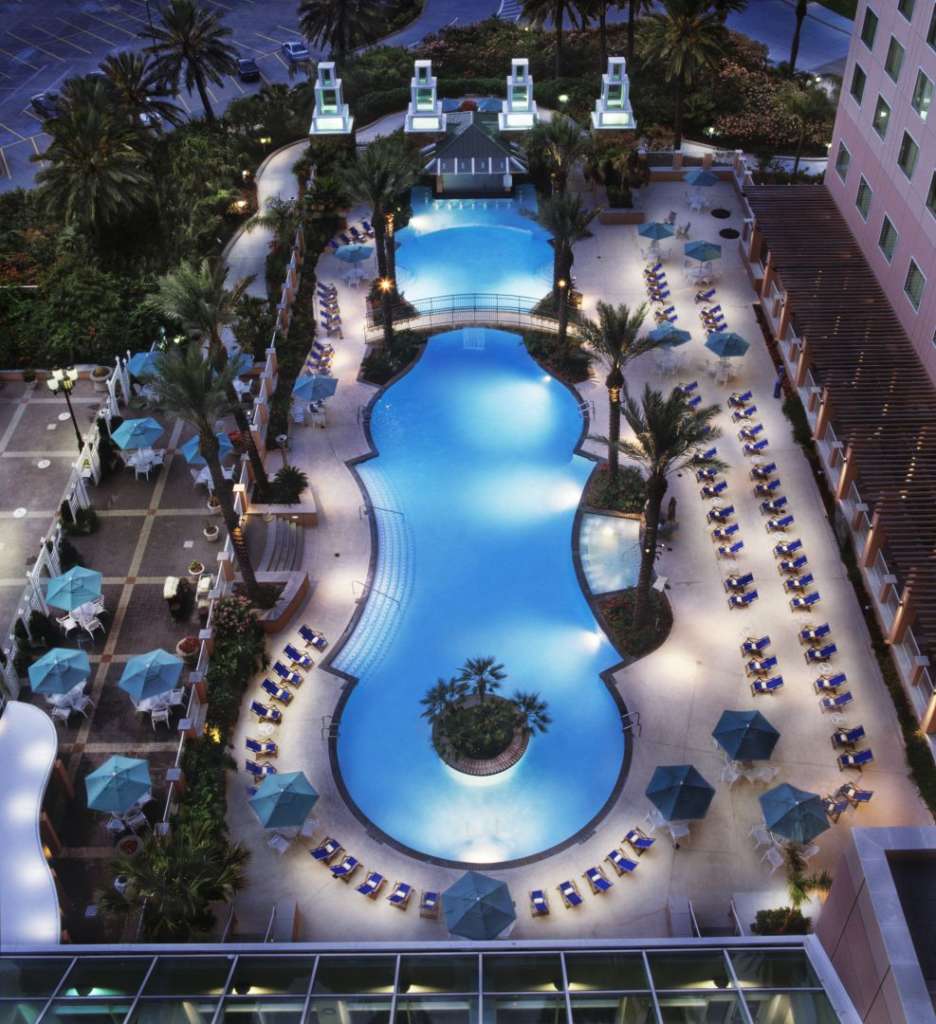 You'll know you've arrived someplace special when you drive up to the Moody Gardens Hotel.  This tropical paradise features lush grounds with lovely palm trees and turquoise pools. We chose the Butterfly Suite with more than enough room to spread our wings and enjoy the gorgeous views from our private balcony.
Imagine a Texas-size heated tropical pool with swim-up bar, full-service Spa, indoor lap pool and fitness center, complimentary WiFi in all guest rooms and championship golf at the Moody Gardens Golf Course.
We enjoyed several meals at Café in the Park, which offered a delicious variety of meals, as well as a sumptuous buffet. Try Shearn's Seafood and Prime Steaks for award-winning fine dining, but rejoice in their Happy Hour that offers half-price appetizers and drinks in the lobby bar!
The jewel of Galveston is the Strand area. Close to the Cruise Ship Terminal, the historic downtown features shops, restaurants, galleries, and museums, all within a few blocks. Be sure to see The Great Storm at Pier 21 Theater to learn more about the 1900 storm that devastated the island.
Pirate Jean Lafitte made Galveston his home, and you'll see references to him throughout the town. He also introduced coffee to Galveston, so I pirated my own package of Galveston Island Coffee – bold and flavorful.
For more information, you can research your trip to Galveston online.
At UrbanMatter, U Matter. And we think this matters.
Tell us what you think matters in your neighborhood and what we should write about next in the comments below!
READ MORE LIKE THIS
DOWNLOAD THE URBANMATTER APP
FIND PARKING