Nature teased Chicago with a November snowstorm with modest accumulation. Unfortunately, for Chicago Nordic skiers, we have seen virtually no flaky white stuff since. The closest snowfall sufficient for cross-country skiing is three to four hours north. Stevens Point, Wisconsin, has just under a foot of snow and Wausau even has more.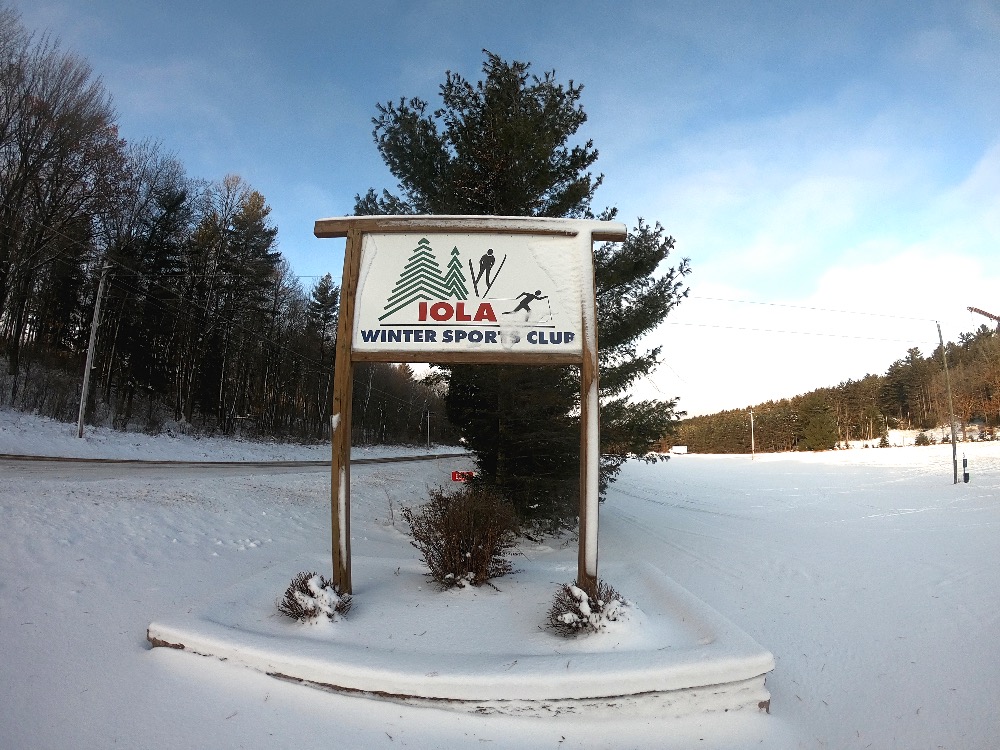 Leaving the Ugly Brown Landscape of Chicago
My plan was to leave Chicago in the afternoon, which would put me in central Wisconsin in the evening. Since it would be dark by the time I arrived, I looked for the possibility of lighted ski trails. Nine Mile Recreation Area in Wausau has lighted ski trails, but their opening day was not until the following Monday. I discovered through the Skinny Ski website that Iola Winter Sports Club has lighted trails. I had never been there, so I gave them a call.
Someone answered my call, and I asked how late they would be open. The man who answered seemed confused by my question, so I explained I was driving up from Chicago and would not get there until 7 p.m. He said that would be no problem; however, he cautioned me that they already had a few Chicagoans up there, so they were at their limit. You could tell it was a Bears-Packers weekend.
I left Chicago and got through Saturday traffic and soon passed the 'Welcome to Wisconsin' sign at the border. Three hours later, I pulled off onto several deserted county roads. A light snow was falling and wind drifted snow across the road. When I left Chicago, the landscape was dead and brown. It was a different world as I approached the Iola Winter Sports Club. Here, the dead grass and leafless trees were covered with a layer of white. I pulled into the parking lot to see the nearby trails illuminated with light. There was only one other car in the parking lot.
Night Skiing at Iola Winter Sports Club
I entered the chalet and was greeted by a couple from Illinois who was leaving. They informed me that the last car in the parking lot needed to turn off the lights and lock the door. The trail fee was $10 for the day, which was paid by the honor system in a collection bucket on the counter. A warm fire flickered in the wood stove. I felt like I was at home. I could not believe this was the first time I had ever been here, and I was already entrusted to close the place.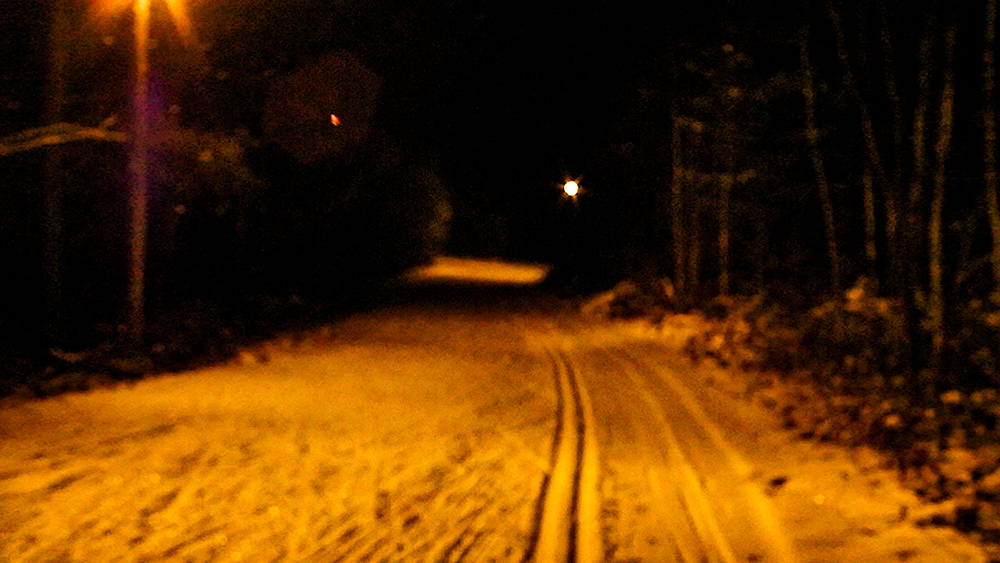 I changed into my skiing clothes and did not waste any time hitting the trails. Iola offers six kilometers of lighted skiing. I completed the outer loop twice and was impressed with the skiing conditions and terrain. There was a nice mix of hills and level ground good for both intermediate and beginning skiers. I could not believe I had this whole cross-country ski park to myself. I could have skied there all night if I wanted to. A couple of times I stopped and just enjoyed the sound of complete silence.
I locked up and turned off the lights. The skiing was so good, I decided to come back the next day. When I returned the fellow who took my call opened the chalet. He collected my fee for the day, and I enjoyed a couple of more hours on the trails. It was a cold day and started with temperatures reaching one degree and warming up into the lower teens.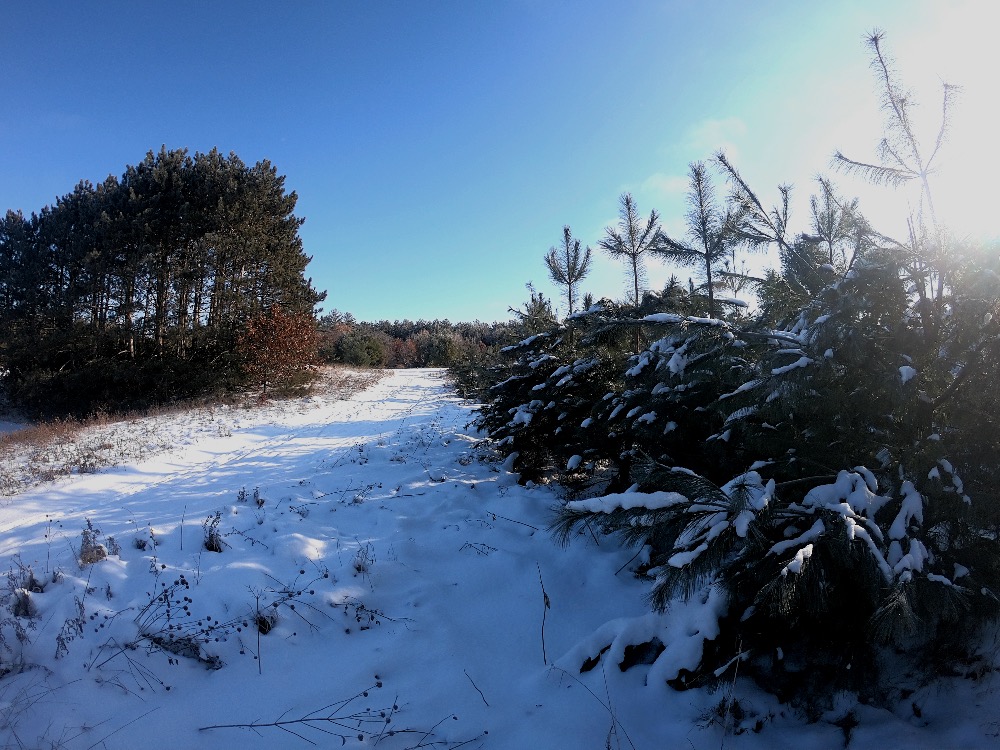 Cross-country ski rentals
Iola Winter Sports Club offer ski rentals at $5 a day for the whole package, which is a crazy low price. They may charge more for people from Chicago depending if they have reached their limit. Since the Packers won, perhaps they will feel sorry for us and charge us the same. Check out their website for more information.
If you are looking for a change of scenery and leave the bustling city behind with its drab and dead landscape for the pristine white of a Wisconsin cross-country ski trail, Iola Winter Sports Club is the place to go. They also offer snowshoeing and they even have a ski jump.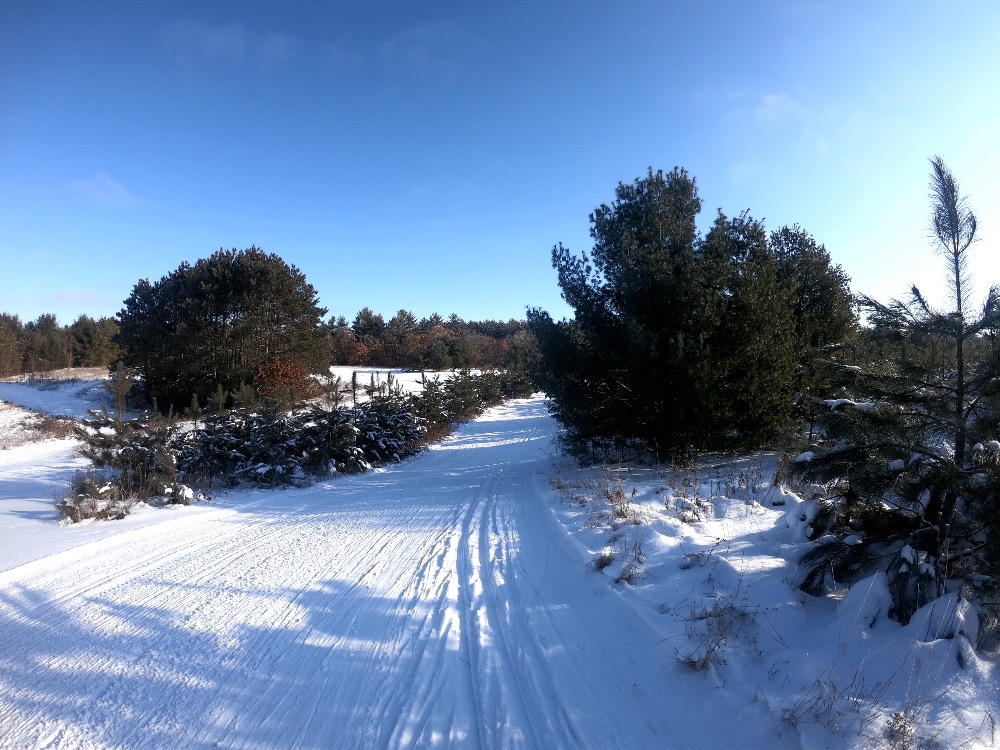 Leaving Iola Winter Sports Club
I  took a break from skiing and watched the Packers beat the Bears. I returned for another couple laps at Iola Winter Sports Club that night before heading back to Chicago. There was one other skier on the course. After two loops, I returned to the chalet and changed into my regular boots in front of a wood stove fire on the couch. I felt like I was home, and I definitely will return.
Follow Traveling Ted on Instagram, Twitter, and his blog for more outdoor adventure tips from around the Midwest, the country, and abroad.
At UrbanMatter, U Matter. And we think this matters.
Tell us what you think matters in your neighborhood and what we should write about next in the comments below!
READ MORE LIKE THIS
DOWNLOAD THE URBANMATTER APP
FIND PARKING