This is the role veteran Chicago actress Hollis Resnik was born to play and she is magnificent! Now celebrating Porchlight Music Theatre's 25th Anniversary Mainstage at the Ruth Page Theatre in Chicago, the show features glorious music by Andrew Lloyd Webber, lyrics and books by Don Black and Christopher Hampton, directed by Michael Weber, choreographed by Shanna VanDerwerker with music direction by Aaron Benham.
Sunset Boulevard is the first Andrew Lloyd Webber musical to be produced at Porchlight. The show earned eight Tony Awards, including Best Musical, Best Original Score, and Best Book of Musicals and has electrified audiences around the world. Audiences will love hearing the wonderful score, including "With One Look" and "As if We Never Said Goodbye."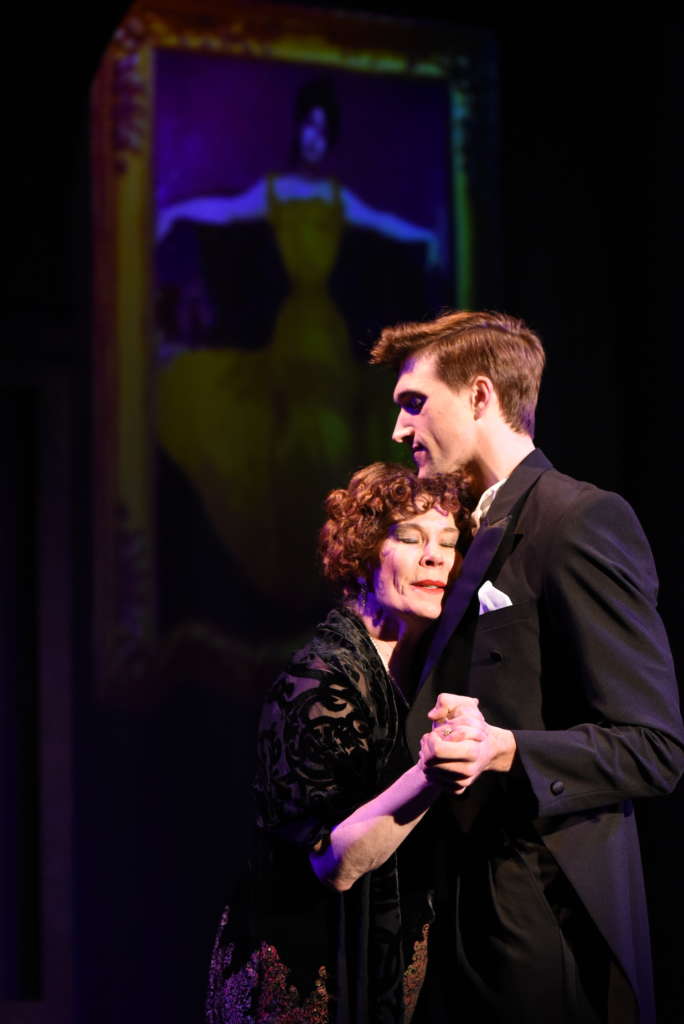 The plot focuses on not-aging-well, silent-screen goddess, Norma Desmond (Hollis Resnik), who lives in a fantasy world, served by her butler Max. When impoverished screenwriter Joe Gillis (Billy Rude) stumbles into her reclusive mansion on Sunset Boulevard, he is persuaded to work on Norma's "masterpiece," a screenplay that she believes will put her back in front of cameras. Seduced by Norma and her luxurious lifestyle, he finds himself trapped in her clutches. When he falls in love with another woman, the consequences are devasting.
As Norma, Hollis Resnik, winner of 12 Joseph Jefferson Awards, 2 Sarah Siddons Awards, the Helen Hayes Award, and a 2012 recipient of the Lunt-Fontanne Fellowship at Ten Chimneys is outstanding with a gorgeously rich voice and "that look" that tells you exactly what she's thinking. Her Chicago theatre credits include The Little Foxes, Angels in America, Man of La Mancha, The Cherry Orchard, Carousel (Court Theatre), and Grey Gardens.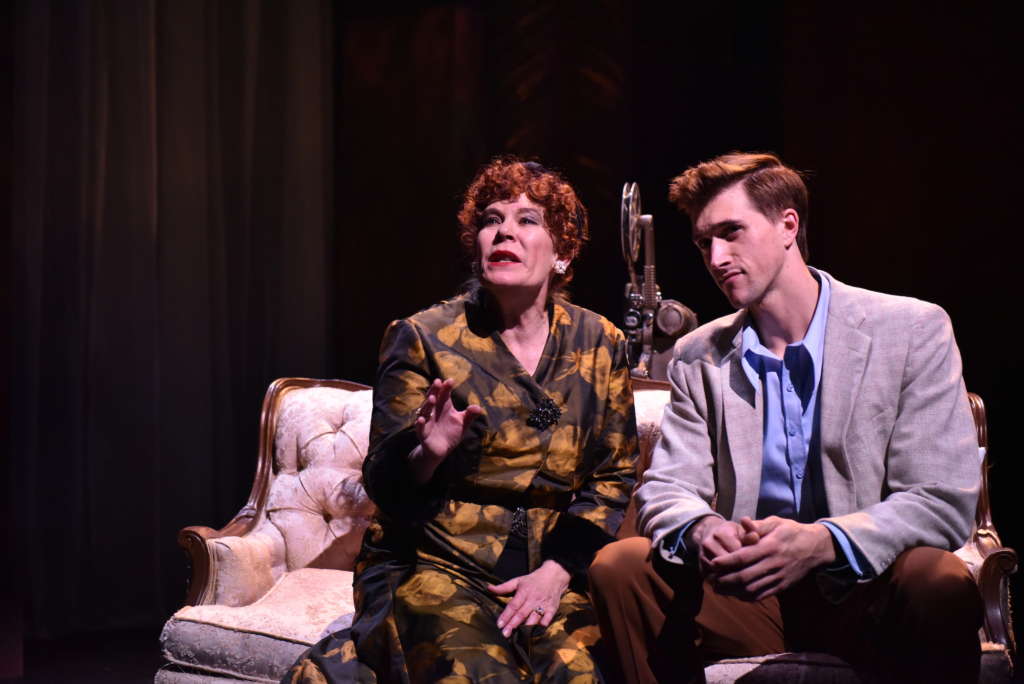 Billy Rude—as the young Joe Gillis who has his whole life in front of him—is excellent. Michelle Lauto as Betty Schaefer has a magnificent voice and her scenes with Billy are dramatic and powerful. The always wonderful Larry Adams plays Max Von Meyerling with a sad, wistful performance. Yet when he sings, the audience takes note.
Kudos to Scenic Designer Jeffrey Kmiec and Projection Designer Anthony Churchill for projecting authentic films onto the stage, adding a sense of realism to the play, as well as the changing movie posters showcasing the popular films of the day. Mention must be made of the beautiful period costumes by Bill Morey that take you back to the 1950s with class and style.
Sunset Boulevard is playing now through December 8, recently extended. The performance schedule is Thursdays at 7:30 p.m., Fridays at 8 p.m., Saturdays at 3:30 p.m. and 8 p.m., and Sundays at 2 p.m. with weekday matinees on Thursday, Oct. 24 and Nov. 14 at 1:30 p.m. and an added performance Sunday, Nov. 24 at 6 p.m. Tickets are $39 – $66 and are available at or by calling the Porchlight Music Theatre box office, 773.777.9884. The Ruth Page Center for the Arts is located at 1016 N. Dearborn Street in Chicago.
At UrbanMatter, U Matter. And we think this matters.
Tell us what you think matters in your neighborhood and what we should write about next in the comments below!
Featured Image Credit: Michael Courier
READ MORE LIKE THIS
DOWNLOAD THE URBANMATTER APP
FIND PARKING