Get in the holiday spirit by grabbing a couple of ~holiday spirits~ at these awesome pop-up bars in Chicago!
Trust me, you'll be feelin' merry and bright in no time flat.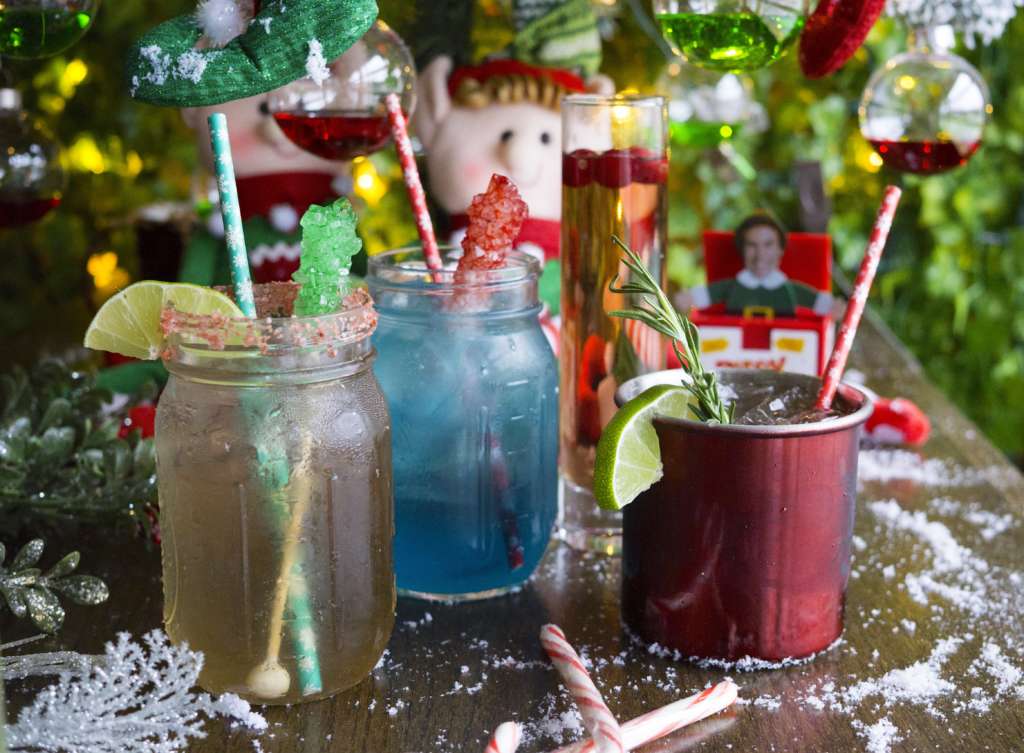 Stretch Bar & Grill | 3485 N Clark St | November 20 – January 1
Son of a nutcracker! A bar in Wrigleyville is transforming into an Elf-inspired holiday pop-up bar better decorated even than Gimbel's, complete with a 10-foot Christmas tree and plenty of themed cocktails. There will be over 200 variously designed elves scattered throughout the bar and an upside-down Christmas tree stands tall and proud. While you're there, order a Ninny Muggins (Chila 'Orchata and Fireball, topped with whipped cream and Cinnamon Toast Crunch) and a Buddy Burger at the bar, but don't forget to fill up on maple syrup and candy cane condiments.
Every Thursday through Saturday, sometime between 9 p.m. and midnight, the pop-up bar in Chicago gets a special guest appearance from Buddy himself! And, if you're a super fan of the movie, try your hand at Elf Movie Trivia on December 4, 11 and 18 at 7 p.m., where teams of four will compete for prizes like a $100 Elf'd Up gift card and other swag.
Visit the Elf'd Up pop-up bar every weekend from 11 a.m. – 2 p.m. for Buddy's Brunch, which includes festive dishes like green Papa Elf Pancakes, Buddy Burrito, You Smell Like Bacon, Egg & Cheese Sandwich, and more! Breakfast cocktails include Sleigh All Day (Wheatley Vodka, St. Germain, Mionetto Prosecco, splash of cranberry) and the World's Best Cup of Naughty Coffee (Buffalo Trace Bourbon Cream, Paddy's Irish Whiskey, maple syrup and caramel coffee). The later you stay, the better, because everyone in the bar gets free cookies nightly at 10 p.m.
Hours of Operation:
Wednesday, November 20 – Friday, November 22: 4 p.m. – 2 a.m.
Saturday, November 23: 11 a.m. – 3 a.m.
Sunday, November 24: 11 a.m. – 2 a.m.
Black Wednesday, November 27: 5 p.m. – 2 a.m.
Closed Thanksgiving
Friday, November 29: 5 p.m. – 2 a.m.
Saturday, November 30: 11am – 3 a.m.
Sunday, December 1: 11 a.m. – 2 a.m.
Closed Monday, December 2
Open Daily starting Tuesday, December 3 through Wednesday, January 1
including Christmas & Christmas Eve
Monday – Thursday: 4 p.m. – 2 a.m.
Friday: 11 a.m. – 2 a.m.
Saturday: 11 a.m. – 3 a.m.
Sunday: 11 a.m. – 2 a.m.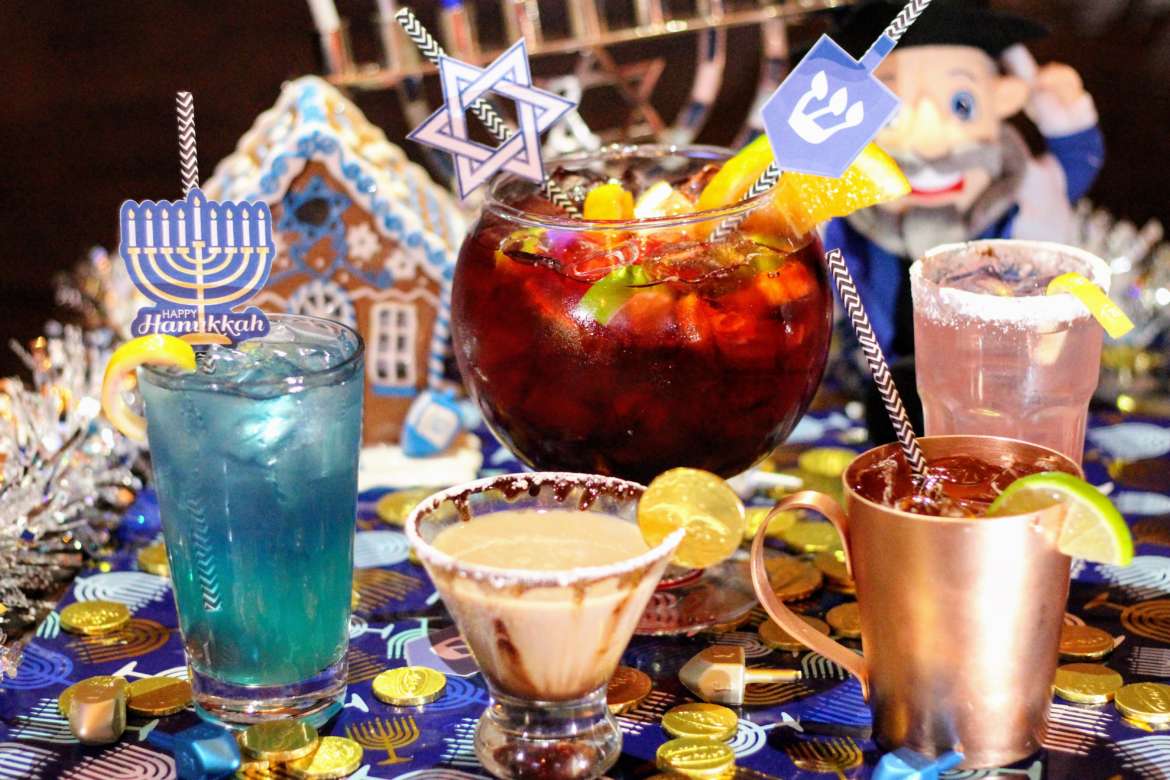 Graystone Tavern | 3441 N Sheffield Ave | December 1 – 31
Riffing off of Adam Sandler's adult animated holiday cult classic, Eight Crazy Nights, the Graystone Tavern in Wrigleyville is hosting Chicago's first and only Hannukah pop-up bar this season. Adorned with more Hannukah decorations than your grandmother's home, 8 Crazy Nights features 8,000 blue and white lights, Hanukkah ball lanterns, Star of David and dreidel ornaments, Mensch on a Bench, and a lighted menorah. Don't forget to make some memories in the photo booth, complete with Hanukkah props, and play a round of card or board games with your friends! Nightly entertainment includes Connect 4 with Hanukkah gelt, Cards Against Humanity Jew expansion pack, Mitzvah Match, Jewish Guess Who, Dreidel, Apples to Apples Jewish edition, and Schmear Build-A-Bagel card game.
Expect favorite Jewish bites at this pop-up bar in Chicago like Latkes, Matzo Ball Soup, Brisket Platter, and Grilled Cheese with a twist served on Challah Bread and don't sleep on the cocktails! The drink menu includes Gelt Martini (Wheatley Vodka, Godiva Chocolate Liqueur, Crème de Cacao, chocolate syrup, Hanukkah gelt), a Manischewitz Spritzer (Manischewitz, Koval Cranberry, Mionetto Prosecco, club soda and an orange slice), the Sufganiyah (Vanilla Vodka, Citrus Vodka, Manischewitz, lemon wedge, powdered sugar), a Manischewitz Sangria Bowl (48-ounces and serves 3 to 4 guests), and more. Plus, the rotating beers at this pop-up bar are excellently creative—Messiah (Nut Brown Ale), Chanukah (Brown Ale), Circum-session (Sour Ale), and Shebrew (Double IPA) all grace the menu. Make sure to end (or start) the night with the $24 18-foot giant menorah "shotski," which allows eight guests to take a shot at once.
While the full schedule has yet to be released, you can expect themed events across the whole month of December, including Hanukkah Happy Hour Charity Benefit, Dreidel spinning tournament, Chinese and A Movie Night, and more. Most events at 8 Crazy Nights will benefit the Israel Cancer Research Fund and the Jewish Federation.
Hours of Operation: 
Open daily starting Sunday, December 1 through Monday, December 30.
including Christmas & Christmas Eve
Monday – Friday: 5 p.m. – 2 a.m.
Saturday: 11 a.m. – 3 a.m.
Sunday: 11 a.m. – 2 a.m.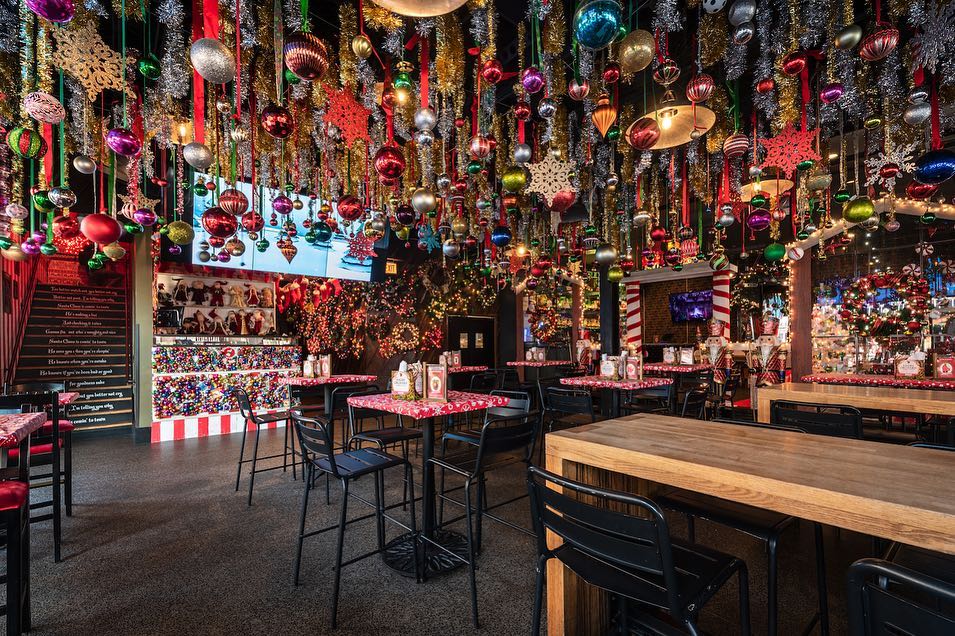 Deuce's and The Diamond Club | 3505 N Clark St | November 20 – January 6
If you came to sleigh, then you're in the right place. Santa Baby is the sexiest holiday pop-up bar in Chicago by far, fusing classic holiday themes with a killer nightlife scene and excellently crafted themed cocktails.
Every day brings something new to this holiday pop-up bar. Sunday brunch offers all-you-can-drink mimosas, a beautiful breakfast buffet, and lots of Christmas spirits! Mondays are for movies—Christmas movies, to be exact. Tuesdays encourage game night, including bingo, trivia, board games, and more! Wednesdays offer a paint and sip class for $25 per person. Thursdays help you bring out your inner Maria Carey with Christmas karaoke. And, with various Santa Claus appearances on Fridays and Saturdays, plus visits from other characters like Rudolph and Bad Santa, you have plenty of chances to tell Old Saint Nick exactly what you want for Christmas.
Take a journey through the several installments throughout the pop-up bar in Chicago — the Alpine Village, a Brat Haus Beer Hall, Santa's Workshop, Rudolph's Elf Dive Bar, and a Winter Wonderland — for one of the best holiday experiences of the year.
Hours of Operation:
Monday – Thursday: 1 p.m. – 11 p.m.
Friday: 1 p.m. – 2 a.m.
Saturday: 11 a.m. – 3 a.m.
Sunday: 9 a.m. – 11 p.m.
Holiday Hours:
Thanksgiving: Closed
12/16 – 12/24: Open at 11 a.m.
Christmas Eve: 11 a.m. – 11 p.m.
Christmas Day: 11 a.m. – 11 p.m.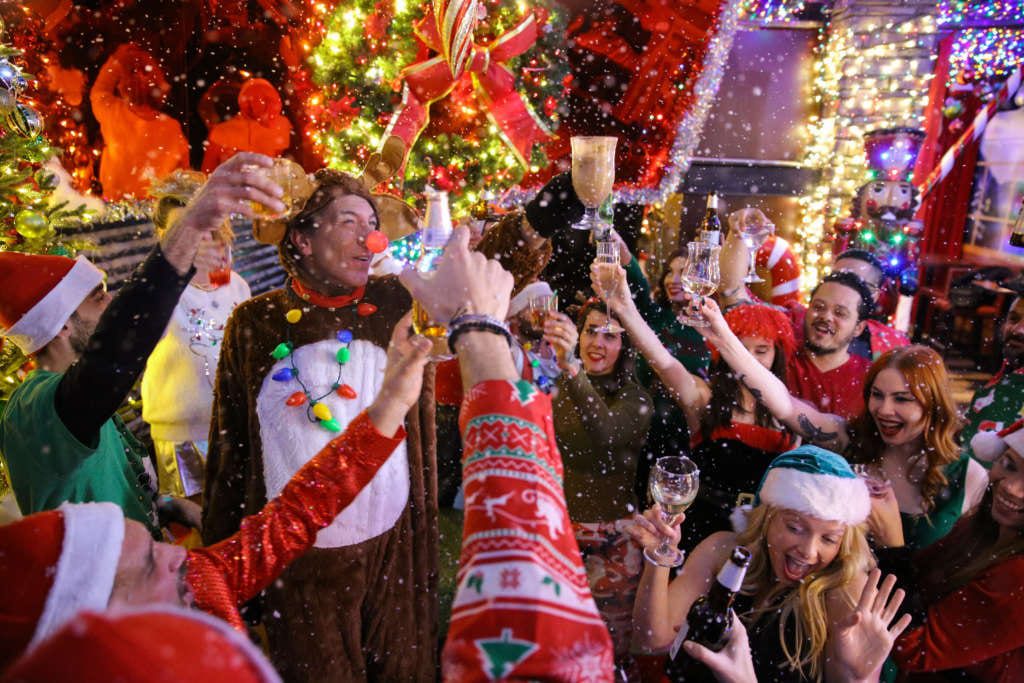 809 W Evergreen Ave | November 22 – January 5
Frosty's Christmas Bar is ready for action on the Near North Side! This 4-bar, 3-level Christmas behemoth is one of the largest – and most festive – holiday pop-up bars in the country, and it shows no sign of stopping the party anytime soon. Putting on a number of ugly sweater parties, winter events, and even Singing Santa shows on the hour, every hour, Frosty's pop-up bar in Chicago is more of an "experience" than it is a "bar."
But don't worry; they still have plenty of cocktails. Try seasonal drinks like the Very Merry Punch and Baby it's Cold Outside Martini while you snack on festive bites. Stop by anytime in the next month for a glimpse of gingerbread houses, life-size toy soldiers, ribbons and wreaths, garlands, and plenty of festive Instagrammable moments. Complete with two dance floors and maybe even a "North Pole" dance or two (no, we're not kidding), Frosty's Christmas Bar has truly endless possibilities.
Hours of Operation:
Daily: 4 p.m. – 4 a.m.
Holiday hours vary, so check the website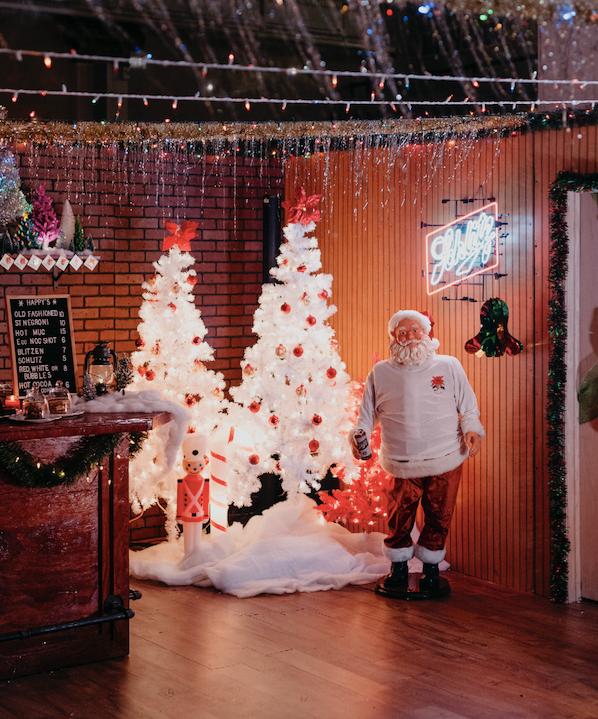 The Chicago Athletic Association | 12 Michigan Avenue | November 27 – December 28
Here at UrbanMatter, we personally love that the CAAH has started rotating events and pop-ups all over their many rooms and floor levels. We danced our way through Drake Skate night and slayed at their Underworld's Fair Halloween party, but all we wanted for Christmas this year was a solid holiday experience from our favorite Loop hotel. And trust us when we say they seriously delivered.
Happy's is the classy, yet totally Instagram-worthy holiday pop-up experience you need in your life, with last year featuring karaoke nights, bingo competition, a holiday skate event, and a class on custom chainstitch embroidery. We can't wait to see the full lineup of things to do this year. Don't miss the Chicago Athletic Association's dope holiday party!
Hours of Operation:
Monday – Wednesday, 5 – 10 p.m.
Thursday – Saturday, 5 – 12 a.m.
Closed Sundays
*Happy's will be closed Thanksgiving, Christmas Eve, and Christmas Day.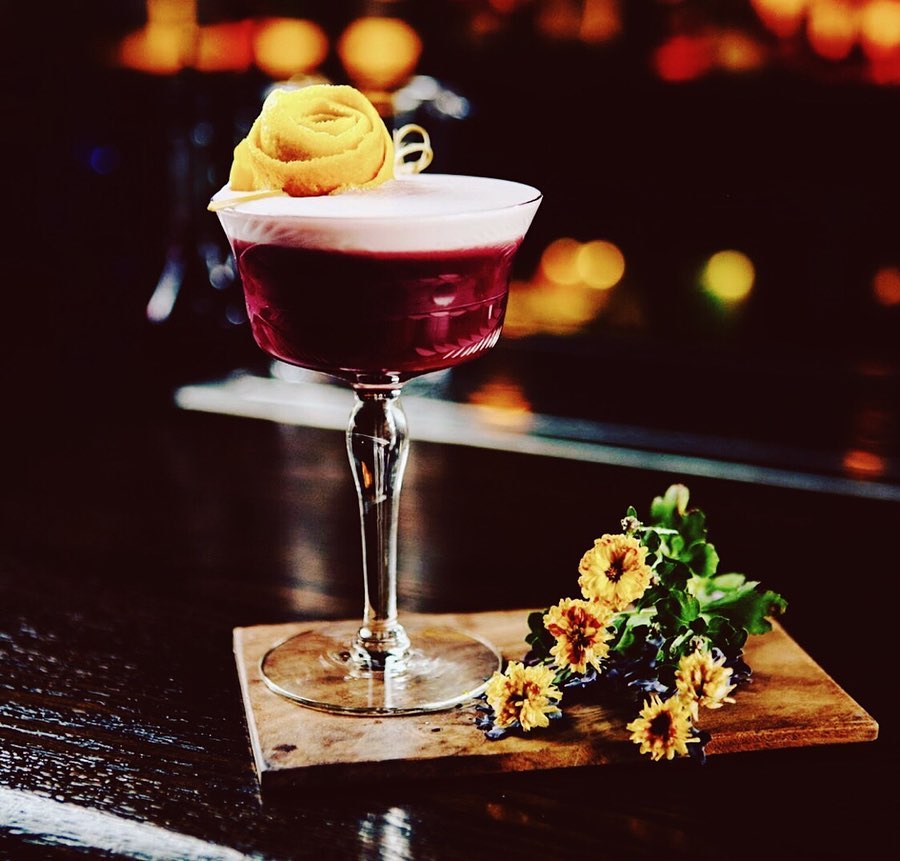 Hush Money | 3632 N Clark Street | November 22 – December 29
Mordecai's second-floor bar is getting a complete makeover for the holidays, decked out in over-the-top seasonal decor and exploring the art of crafting holiday cocktails. Head to Wrigleyville all next month for Hush Money's Mistletoe pop-up bar, complete with signature festive cocktails you're sure to enjoy:
Santa's Munchies – Blanco Tequila, Becherovka, Cinnamon, Horchata + Snickerdoodle Cookie infused with CBD Oil
SantaClaw's Basic Reindeer – Vodka, Ginger, Peppermint Soda
Sleigh-Cation – Rum, Coconut, Lime, Crispy-mallow
Keep The Change (Ya Filthy Animal) – American Whiskey, Alpine Amaro, Maple, Winter Forest Bitter
Hours of Operation:
Thursday – Sunday: 5 p.m. – 12 a.m.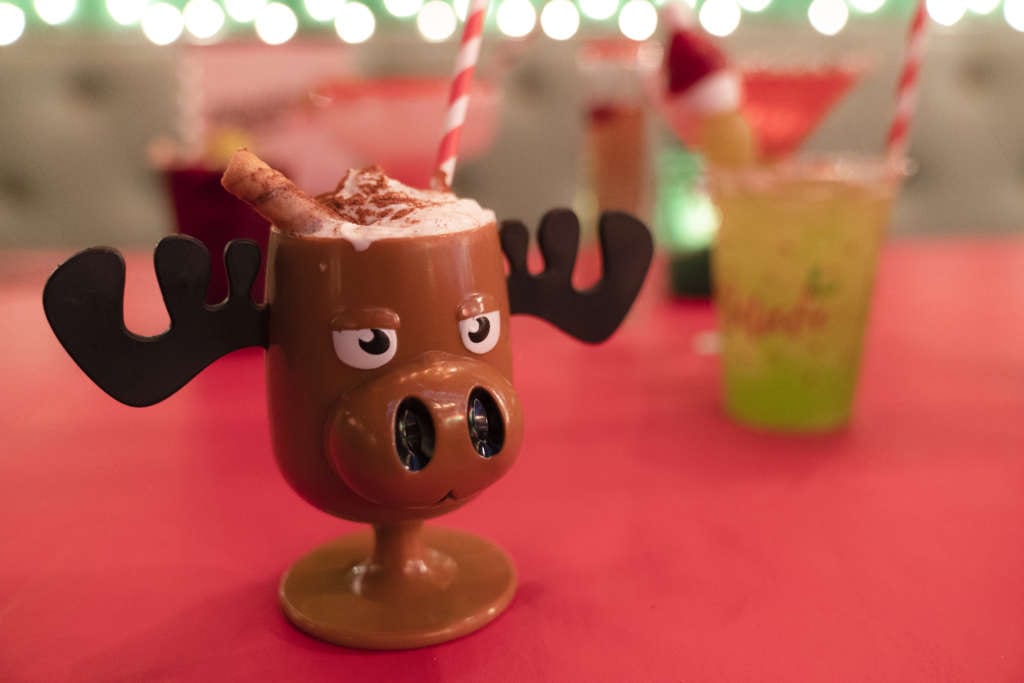 The Country Club | 3462 N Clark St | November 20 – January 1
Spanning three bars and three different party rooms, Christmas Club is both Wrigleyville's original Xmas pop-up bar and one of the most festive events of the season. Expect ugly holiday sweaters to adorn the walls while Santa hats grace every table and ornaments hang delicately from the ceiling. There's never a cover charge at this pop-up bar in Chicago to get in on all of the seasonal entertainment, including special appearances by Santa and other characters. DJs will be spinning classic holiday tunes alongside traditional party music, so there's never a dull moment when you embrace the grandeur of Christmas Club.
Hours of Operation:
Monday Closed
Tuesday Closed
Wednesday 5 p.m. – 2 a.m.
Thursday 5 p.m. – 2 a.m.
Friday 5 p.m. – 2 a.m.
Saturday 11 a.m. – 3 a.m.
Sunday 11 a.m. – 2 a.m.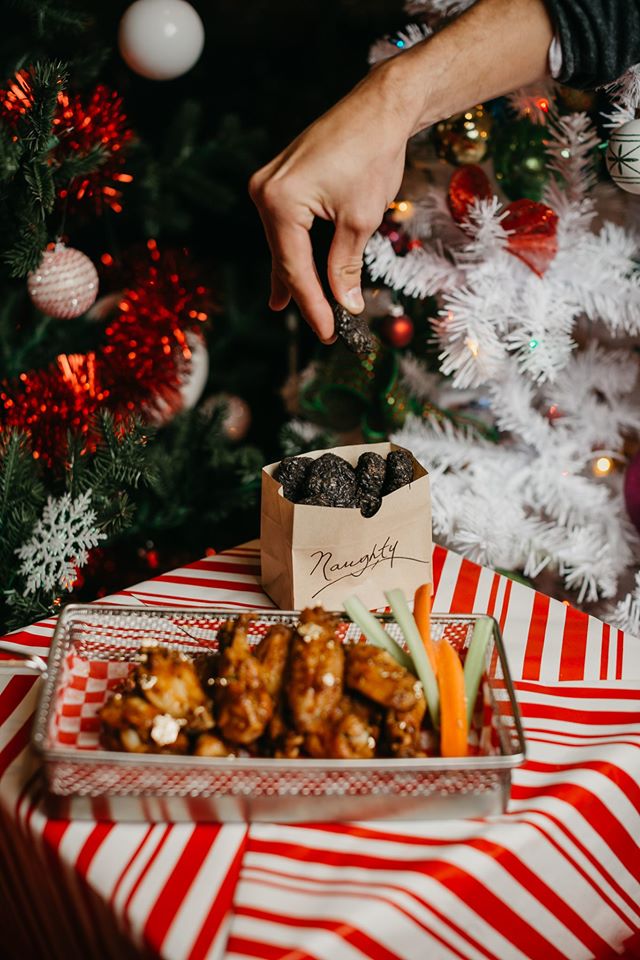 Casey Morans | 3660 N Clark Street | November 22 – January 6
Let us tell you one thing: we're getting lit at Rudolph's Bar this season for SURE. The cocktail menu is both magical and extensive, complete with spiked hot chocolate Rumchatanog, the Elf Fashioned, and the Merry Manhattan, to name a few. But don't worry—if you have more than a few people in your group, Rudolph's offers amazing shareable cocktails like Jingle Juice, The Clausmo, the Colossal Cocoa, or the Mega Yule Mule. Beer drinkers will love the Taste of the Holidays flight and only the courageous will brave Santa's Twelve Shots of Christmas, spinning the naughty or nice wheel to let fate decide. Rudolph's will top you off with killer drunk food like the Red Velvet Cakeshake and a Toasted Snowball. Feeling naughty enough to take on the spice? The Atomic Yule Logs are no joke—3 giant cheese sticks with Flamin' Hot Cheetoh™crust and cheddar and Sriracha dust.
Weekly specials at Rudolph's brings something new each day. Make your own gingerbread house on Mondays for Rudolph's Bake-Off and get creative at the $25 Paint & Sip or just by playing around with your own Christmas coloring book on Tuesdays. Wednesdays, of course, bring out the Reindeer Games, while Thursdays are designated movie nights for all the Christmas classics. Test your vocals at Friday's Grinch's Karaoke, enjoy character appearances on Saturdays, and don't miss out on Sunday brunch!
Hours of Operation:
Monday – Thursday: 4 p.m. – 11 p.m.
Friday: 4 p.m. – 2 a.m.
Saturday: 11 a.m. – 3 a.m.
Sunday: 9 a.m. – 11 p.m.
Holiday Hours:
Thanksgiving: Closed
12/16 – 12/24: Open at 11 a.m.
Christmas Eve: 11 a.m. – 11 p.m.
Christmas Day: 11 a.m. – 11 p.m.
Featured Image Credit: Victoria Kent