It's been years in the making y'all, but it looks like Mayor Emanuel's express train dreams are finally coming true.
After issuing a Request for Qualifications (RFQ) for private companies to submit proposals for the long-awaited project in late 2017, Mayor Emmanuel and the City of Chicago have finally announced today that Elon Musk and his new venture, the Boring Company, have been tapped to design, build, operate, and fund a high-speed transportation system from the Loop to Chicago O'Hare International Airport.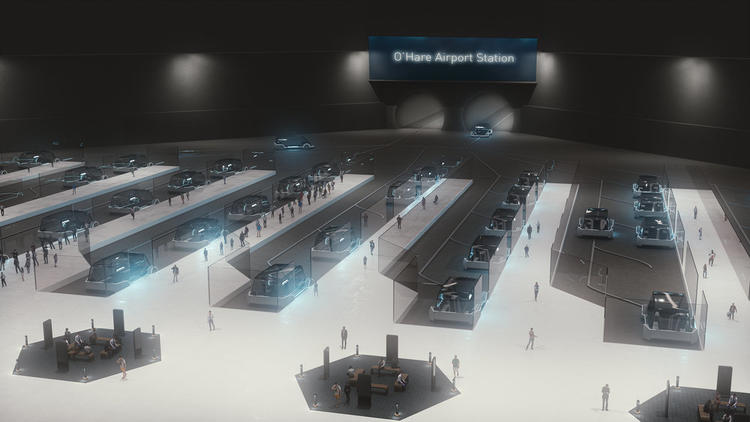 Beating out four other potential proposals, the Boring Company's solution to Chicago's traffic gridlock will use innovative drilling technology to create tunnels between the airport and the long-defunct Block 37 super-station downtown, allowing a series of 16-passenger, automated vehicles to move back and forth at speeds of up to, and potentially over, 100 miles per hour. Though the tunneling method still remains unproven, should these new electric sleds – or "skates", as Musk has called them – be put into use, Musk believes they could cut the commute between Chicago's main travel hub and the city center down from 40 minutes to about 12.
Plus, the cars are expected to leave as frequently as every 30 seconds, and operate for up to 20 hours a day, making it just that much easier to get into the city.
While this high-tech drilling method would also supposedly slash construction costs by up to 90 percent, the pricey-project is still valued at well over a billion dollars. And though that money wouldn't necessarily come out of taxpayer pockets (Musk has volunteered to foot the bill, after all) the skates would cost quite a bit more per ride than the CTA, with prices expected to land somewhere around $20 to $25 for a one-way ticket.
Of course, the route for what the Boring Company is now calling The Chicago Express Loop is still undecided, and negotiations between the big-wig tech company and the city are expected to continue for quite some time before the plan is actually put into action.
But still, it looks hella cool, right?!
For more information on the Boring Company, you can check out their website here.
To be wildly entertained by Elon Musk's twitter, click here.
In the meantime, we'll keep you updated as negotiations continue. Who knows, guys – we might be livin in the future sooner than we thought.
Featured Image Credit: The Boring Company