Welcome to the club, where the dress code is
festive
.
Combining two floors of festive fun and three party rooms across three different bars, Christmas Club is Wrigleyville's original holiday pop-up bar and the merriment gets brighter every year. Taking over The Country Club bar from November 20 through January 1, this year's Christmas Club holiday bar puts the icing on the gingerbread house. 
Dance all night to the DJ-curated mix of party jams and Christmas classics at Christmas Club pop-up bar and don't be afraid to make a special request if you're ready to serenade your love, Mariah-Careyoke-style. And you better watch out because Santa Claus is coming to town! The Wrigleyville Christmas Club event boasts special Christmas character appearances, including Old Saint Nick, and he knows who's been naughty or nice. Luckily for you, naughtiness is rewarded at Christmas Club, so feel free to get blitzened on their extra spirited cocktails.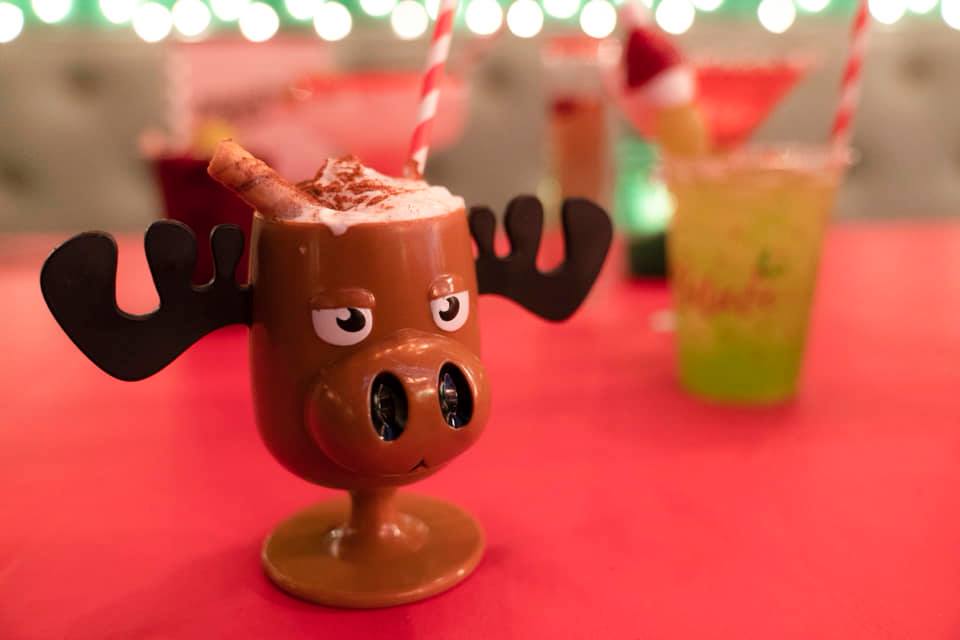 What's On the Menu at this Christmas Event?
Get that warm, fuzzy feeling when you're sippin' on Cousin Eddie's Eggnog, concocted with house-made eggnog, infused with Jameson Black Barrel, and served in a souvenir mug. Or, if you're a big fan of summer '19's signature seltzer, Santa Claws is your drink, made with white Claw Pure, house-made apple spice, and also served in a souvenir cup. Large groups can indulge in the shareable 5L Breckenridge Christmas Ale Mini Keg at the Christmas Club event, which fills about 10 pints for $70. And, thanks to a collaboration with local Chicago breweries, Christmas Club has plenty of great holiday beers on tap, like Revolution Fistmas and Lagunitas Brown Shugga. 
Cocktails are great, but shots are the name of the game at Christmas Club holiday bar. Whether you're on the naughty or nice list, you can throw back a double shot of Malort (order Look What Ya Did, You Little Jerk) or Peppermint Schnapps, Irish Cream, and Creme de Cacao (order Baby It's Cold Outside). Reds, whites, and bubbly wines are also available for consumption. 
After all that alcohol, you're going to need something to settle your stomach. That's where the snacks come in and, boy, does Christmas Club pop-up bar deliver. Order the Tree of Rings for your group, which pairs onion rings with spicy ranch, or get a little goofy with Baby Cheesus—battered cheese curds with the house ranch. Popcorn chicken, mini ham and cheese sliders, a cheesecake sampler, and Little Nero's Popcorn—pizza-flavored popcorn—are also mouthwatering.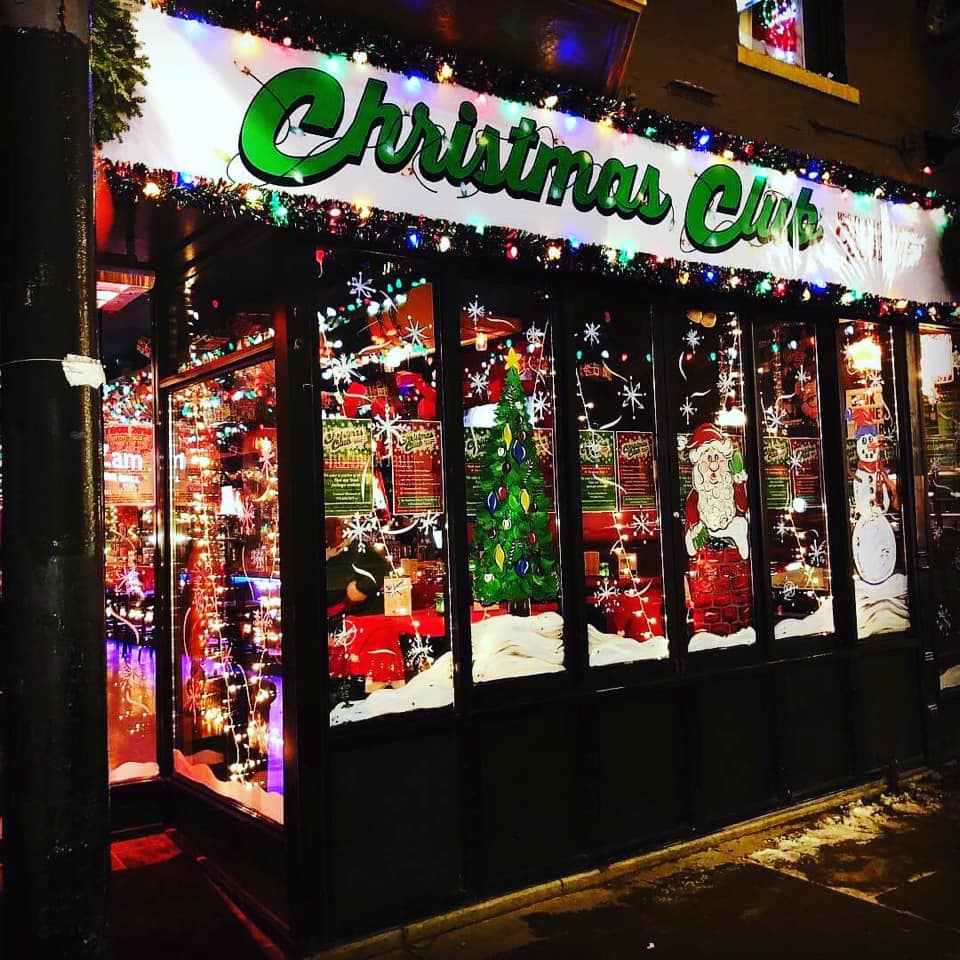 House Rules
Since it wouldn't be in the Christmas spirit, the Wrigleyville Christmas event never charges a cover! You can waltz right in after visiting Christkindlmarket at Gallagher Way to complete your night of holiday bliss. You can bring the kiddos to this one, but only until 7 pm on weeknights and 5 pm on weekends, when guests under 21 are officially booted to make room for adults-only fun! 
Groups of 10 or more can book a party at Christmas Club holiday bar for the best holiday gathering of all time! You can reach out to Country Club at 773.975.2010 or make a reservation for one of their decorative party rooms online. 
Street parking is easier than you'd expect at the Wrigleyville Christmas Club evnent, but if you can take public transportation, you should! After all, you want to have the best night out possible and nothing ruins a good time like knowing you have to drive home later. Take the Red Line to Addison and walk a block south, or take the 22 Bus to Clark & Newport/Sheffield to stop right across the street! Parking lots are available at 3330 N Clark and 947 W Roscoe, under the EL entrance.
Hours of Operation
November 20, 2019 – January 1, 2020
Monday – Thursday: 4 pm – 2 am
Friday – Sunday: 11 am – 2 am
*We will open early for party reservations and groups. Contact Shannon@WaterhouseChicago.com
At UrbanMatter, U Matter. And we think this matters.
Tell us what you think matters in your neighborhood and what we should write about next in the comments below!
Featured Image Credit: Christmas Club
READ MORE LIKE THIS
DOWNLOAD THE URBANMATTER APP
FIND PARKING