End the summer with the most Chicago event of the year: fifteen independent bars serving up that notorious love-it-hate-it combo, the Chicago Handshake. Grab a free Chicago Handshake Passport at participating bars and collect a unique stamp at each when you order a handshake. How many neighborhoods can you or your team visit before the grande finale event benefitting local hospitality non-profit Another Round Another Rally? Receive a limited-edition handshake coin when you complete the challenge among other giveaways.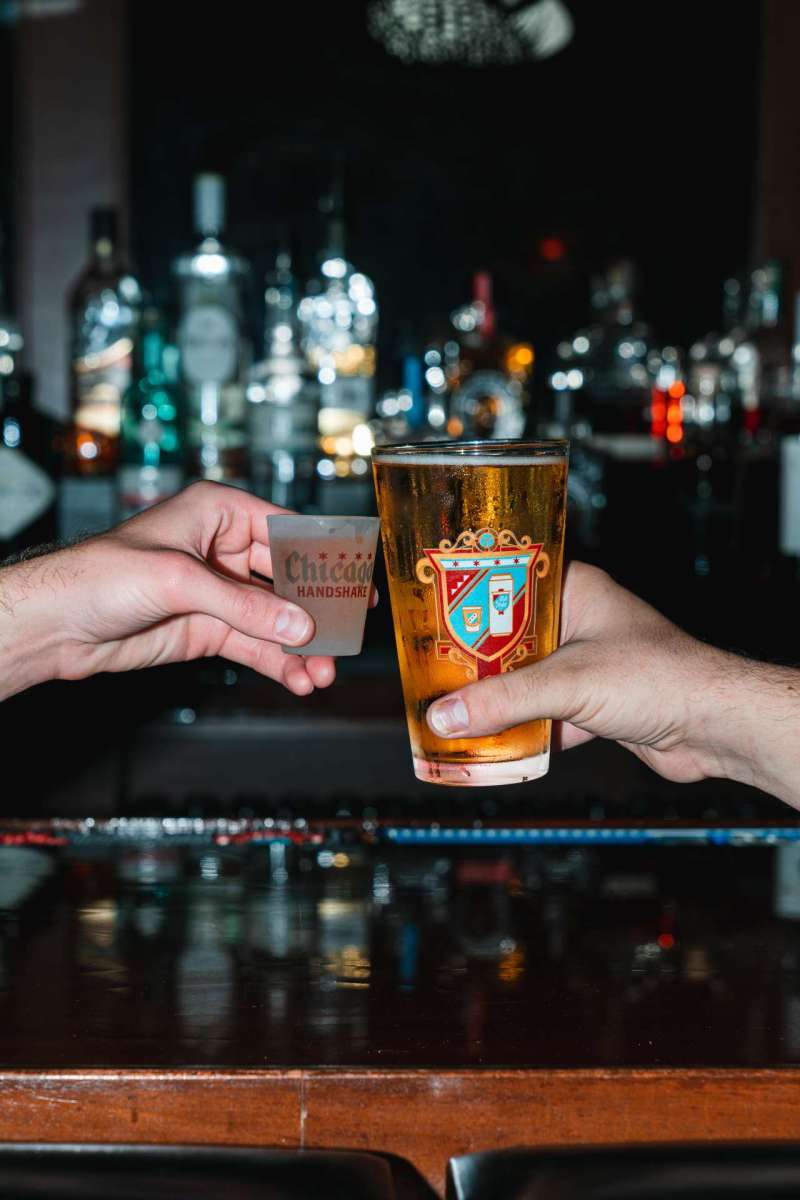 How Chicago Handshake Passport Works
Don't underestimate this challenge. The sense of urgency begins right from the beginning! To compete in the Chicago Handshake Passport Challenge this year, you must visit any of the 15 participating bars and request a passport with your first order of a Chicago Handshake drink combo (an Old Style Beer & shot of Malört). However, each bar only has limited supplies of passports, so make sure to grab yours early!
Once you have your passport, visit the remaining bars, and order a Chicago Handshake at each location to get the unique stamp from each location. Collect all 15 stamps by September 22 to complete the challenge and redeem a limited-edition challenge coin!
What are you waiting for? Let's take a look at the participating bars!
2313 N Milwaukee Ave, Chicago, IL 60647
Enjoy music and nightly events at Café Mustache. Considered Chicago's best non-traditional music venue, this Logan Square gem is loved by many in the neighborhood. It is a cafe during the day, and a bar at night. Also, there are always karaoke night on Saturdays and Sundays.
1424 W Chicago Ave, Chicago, IL 60642
DJ, pool tables, and tattoo art. Five Star Bar is a local favorite where all the regulars hang after a long day of work. Order some small bites, a good shot of bourbon, and people-watch as you relax. Then, when you're ready, take on the Chicago handshake challenge!
2801 W Chicago Ave, Chicago, IL 60622
Great deals, affordable drinks, late hours. Continental Lounge is a perfect midweek getaway spot when you just want some time to yourself but still rather go out than stay home. PS: The upstairs is RAD.
2224 N Leavitt St, Chicago, IL 60647
Enjoy daily drink specials and craft beers at this neighborhood bar. You'll understand why so many people become regulars here once you speak to the staff and realize how friendly they're. It literally feels like walking into a reunion or returning to your hometown after college. Remember, though: they're cash only!
2849 W Belmont Ave, Chicago, IL 60618
Loud and proud, DMen Tap is a food truck that decided to open up a bar. This tells you they have awesome bites and drinks alike! And did we mention that this place is inspired by Dungeons & Dragons? We wonder if their stamp will be D&D inspired too.
2363 N Milwaukee Ave, Chicago, IL 60647
Attention, everyone! Now you have another reason to come play video games at Emporium — getting the stamp for your Chicago Handshake Passport! Also, we think you should choose a night with live music to come for your handshake. Because why not?
921 N Western Ave, Chicago, IL 60622
Drinks, hugs, and high fives — honestly, that sounds like just the right vibe. This rustic hidden gem is right there on Western. If you hop on the #49 bus, you'll be there in no time. Besides the handshake, you'll find plenty of signature drinks on their extensive menu, ranging from craft beers to specialty cocktails.
2403 W Homer St, Chicago, IL 60647
The Green Eye Lounge is a neighborhood joint on the unfashionable side of Western Avenue, just steps from the Blue Line. Let your bartender guide you through comfortable surroundings, personally ensuring you an earful of good music and a glassful of a good drink. All are welcome to join our team of Green Eye regulars.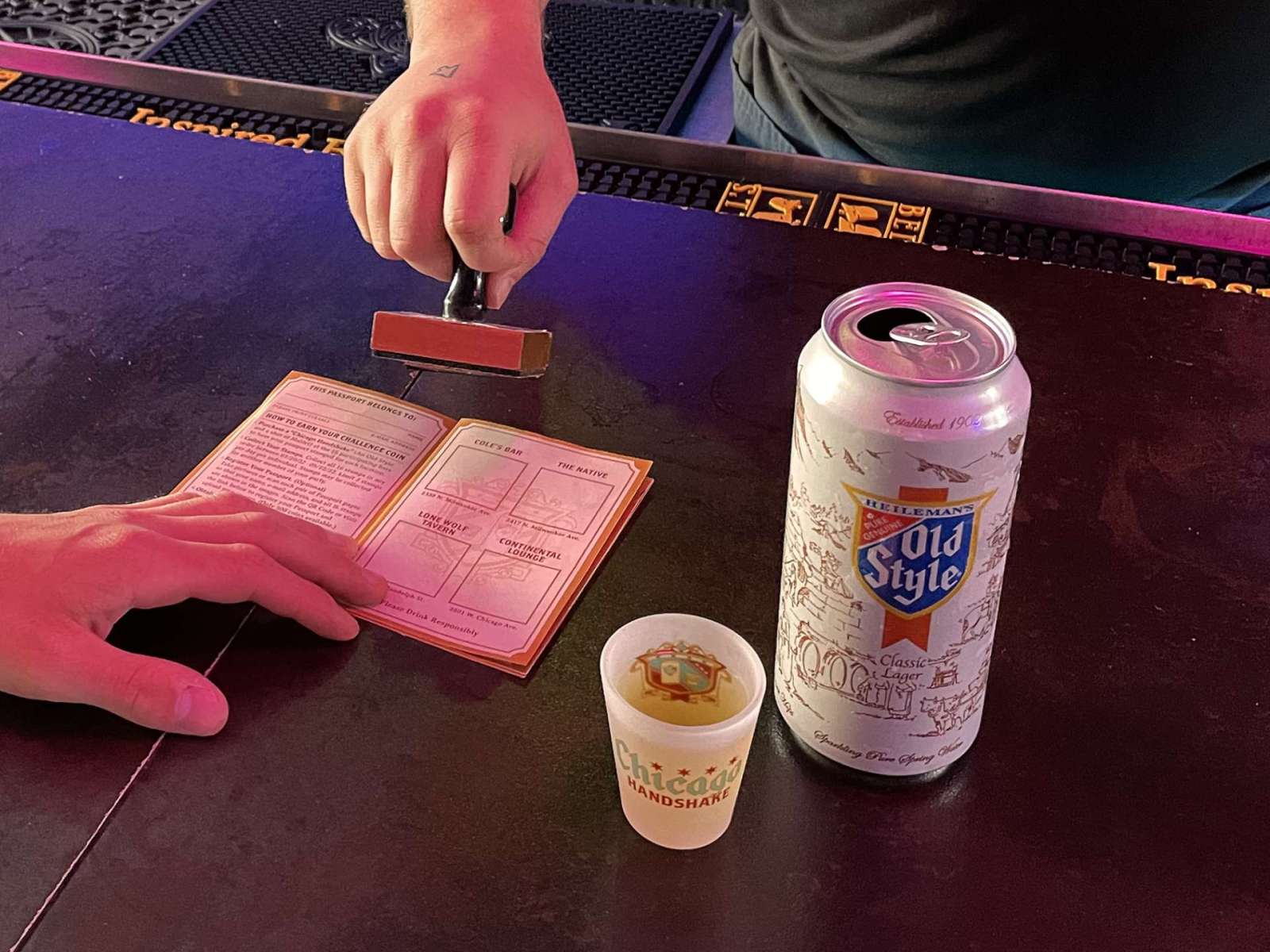 1850 N Damen Ave, Chicago, IL 60647
Watering hole with craft beers & billiards in vintage tavern digs with a carved bar & local art — that's Lemmings for you. This is probably one of the best dive bars in the area. Plus, they have a fantastic wine selection, which means that Merlot shot in your handshake is probably gonna be really tasty.
2410 W Fullerton Ave, Chicago, IL 60647
Logan Arcade is a chill hangout with vintage arcade games & pinball machines, plus a full bar with many beers on tap. This craft beer-focused tavern/arcade has the most and best-maintained collection of games in Chicago!
1516 N Milwaukee Ave, Chicago, IL 60622
Nick's Beer Garden is a Wicker Park Tavern with a long, colorful history that dates back to 1977 in Lincoln Park. Live music, DJs, sports, and revelry are all part of the format along with a thoughtful selection of all things liquid at this quaint joint.
3439 N Sheffield Ave, Chicago, IL 60657
As Wrigleyville's oldest bar, Nisei Lounge has been pouring craft brews, showing baseball on flat-screens, and cheering around the dartboards and pool table since 1951. We're super curious about what their Chicago Handshake Passport stamp looks like!
2417 N Milwaukee Ave, Chicago, IL 60647
Great bartenders, awesome music, and the dark, retro interior along could keep us staring forever. Enjoy some tap beers and house cocktails, then work yourself up to the Chicago Handshake! You also get free popcorn here. Yes. Free. Popcorns!
222 S Wabash Ave, Chicago, IL 60604
Someone cue Taylor Swift's "22," please? 2Twenty2 Tavern features bourbon, craft beer, and pub snacks. Its chill, traditional digs are what keep people coming back, and the fun only gets better with shuffleboard and video games throughout the establishment. This is a perfect stop after a quick visit to The Art Institute.
2026 W Webster Ave, Chicago, IL 60647
A Bucktown staple since 1947, we are a neighborhood tavern that takes pride in our community, our local patrons, and the fresh faces we have yet to meet. Their ever-changing vintage cocktail menu pays homage to the O.G.'s of Chicago, but have a modern twist.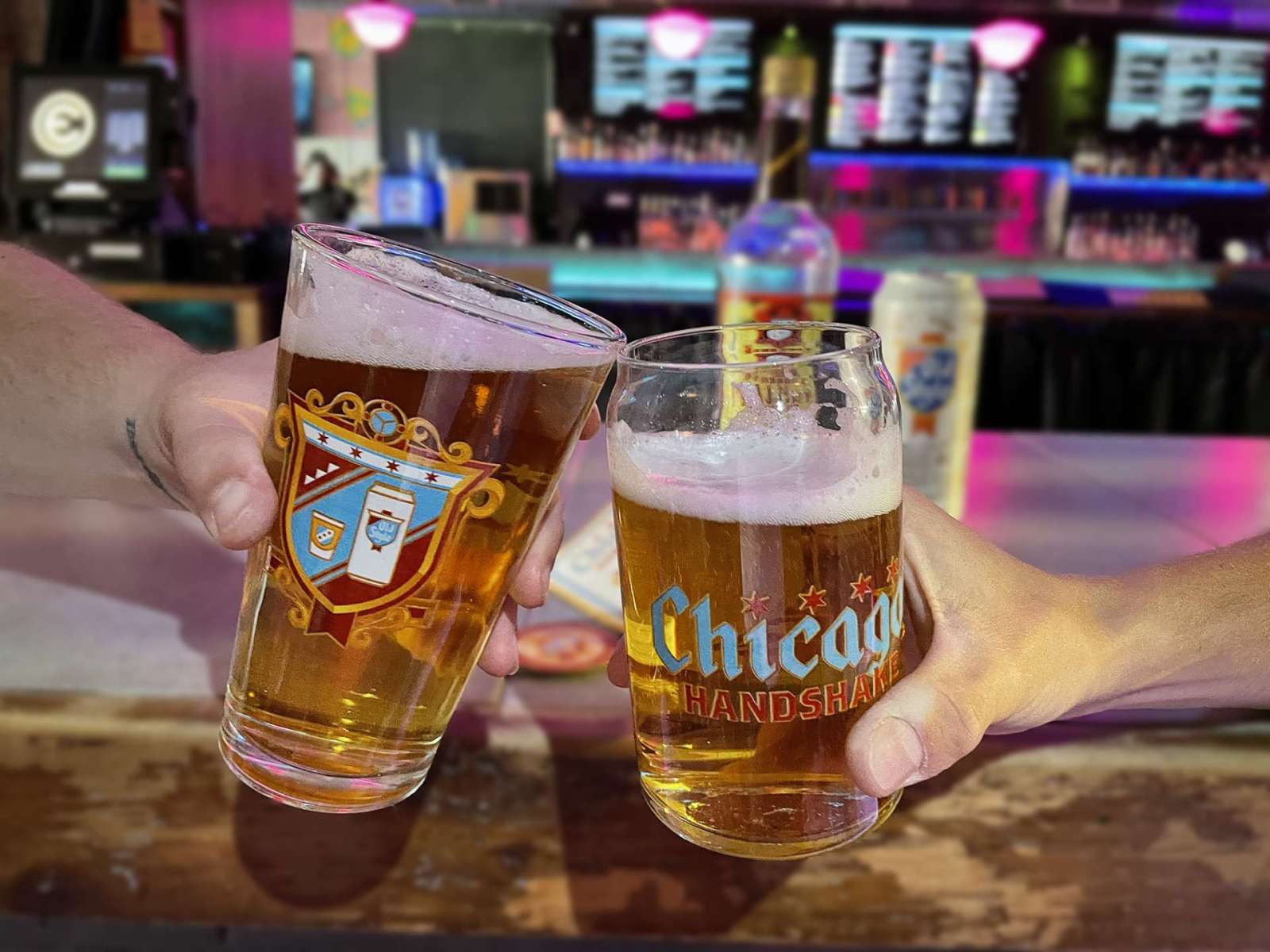 Another Round Another Rally is a nonprofit financial and educational resource for the hospitality industry, providing scholarships, developing future leaders, and supplying emergency assistance.
From helping hospitality workers build their skills and navigate the lingering effects of the COVID-19 pandemic to assisting bar and restaurant employees dealing with sudden illnesses, natural disasters or other emergency circumstances, Another Round Another Rally works to address pressing needs within the community – regardless of the current state of the restaurant industry.
Featured Image: Ryan Duffy