What is Chicago? Music! Holiday or not, live music has always been a vital part of Chicago's livelihood. Check out the best bars and restaurants with live music in Chicago and pick out your next show! Life is good when there is live music, don't you agree?
145 N Dearborn St, Chicago, IL 60602
The Dearborn continues the live music fare on weekends for brunch hours! Come enjoy their signature tavern pizza and other brunch favorites, paired with a seasonal cocktail, and enjoy live music as light shines through the glass. It's a dreamy scene at The Dearborn this season.
858 W Lake St, Chicago, IL 60607
"Sexy, sultry tunes by local talent almost every night of the week" — that's GG's tagline for their live music lineup. Our beloved local restaurant is now adding music to its many offerings.
If you haven't planned for Christmas, come join them for the Christmas singalong. Or, have a spontaneous night out and see if you can grab a seat at one of their music nights!
1134 W Washington Blvd, Chicago, IL 60607
The concert series at The Press Room is becoming a new tradition! You can still book for their December concert series at $30 per person. We're talking a 90-minute show at Chicago's most iconic speakeasy on a beautiful Sunday! What are you waiting for?
1375 W Lake St, Chicago, IL 60607
18,000 square feet featuring a huge bar and a full-size restaurant, Bottom Lounge is where the activities are at! Take a quick look at their event calendar and you'll spot some big names from pop to rock to musical: Broadside, The Home Team…
Keep in mind that proof of vaccination is required and they no longer accept a negative test result as an alternative.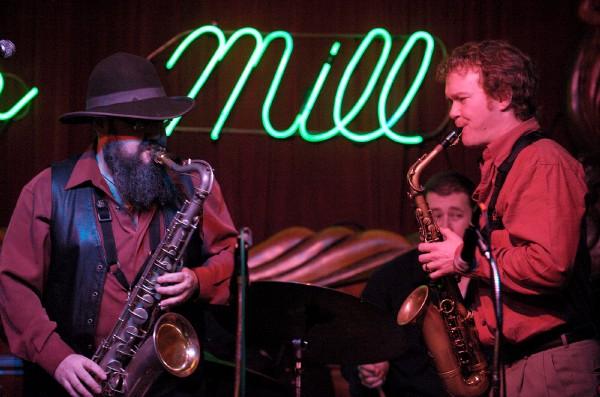 4802 N Broadway, Chicago, IL 60640
You have not been to Chicago if you've never been to The Green Mill. And if you're a local, then you know this is the holy ground for all live music lovers. They have live music lineups almost every night and you can find the full calendar on their website.
Come in casual, or dress up. The Green Mill will show you that old-school intimacy you can only feel at a live lounge.
2421 N Milwaukee Ave, Chicago, IL 60647
Come for a show and a drink at one of Chicago's most favored hidden gem — The Whistler! Whether it's funk, jazz, or your old-schooled holiday music, The Whistler's got you covered. And don't forget their cocktail menu changes all the time, so I guess that means you have to come back over and over again!
712 N Clark St, Chicago, IL 60654
It's impossible to talk about NOLA culture and the vibrant history of the red light district, which inspired Storyville's interior and dining concept, without mentioning live music! So, if you're looking for one of the most romantic restaurants with live music in Chicago, come to Storyville.
Come to Storyville for live jazz and solo piano, while enjoying authentic NOLA dishes such as red bean rice, gumbo, and the flaming Bananas Foster!
157 W Ontario St, Chicago, IL 60654
Most people know Fame has a nightclub upstairs that opens on the weekends, but did you know the downstairs supper club has live music and DJ as well? Check the calendar on their website for their next show!
2105 S State St, Chicago, IL 60616
Drop the fanciness, it's time to get down-to-the-earth with one of the best restaurants with live music in Chicago. All hardcore live music lovers know about Reggie's, then why shouldn't you?
Come enjoy a wide pub grub menu and loads of beers. Also — did you know Reggie's is one of the few bars around town with shows open to anyone that's 17+?
6970 N Glenwood Ave, Chicago, IL 60626
A private, intimate, old-schooled jazz bar, Le Piano is a landmark in Roger's Park. With an elegant cocktail menu and delicious small plates, there is no better place for a date night, whether with a special someone or with yourself.
Doors open at 6 PM, and music usually starts at 7 PM. Masks and social distancing are required.
Featured Image Credit: Bottom Lounge