Dallas is a city that could be in Chicago's loop or smack in the middle of Manhattan. It is modern, tall glass buildings and executives in grey suits, some wearing expensive Stetsons. It's the city made famous by J. R. Ewing and oil barons. But aside from that, there seems little to connect it to the heritage of the old west.
Some thirty miles south of Dallas and a century in the past, sits its sister city, Fort Worth. The mileage distance belies the difference in ambiance, culture, and warmth. While Dallas grew in the 1800s as a commercial center, Fort Worth was a major gathering point for cattle drives heading for the railroads to deliver beef to hungry Northerners.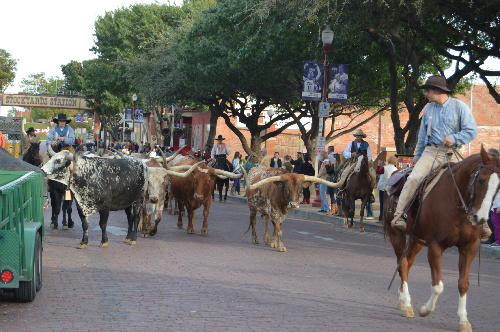 And to this day Fort Worth is still known as a "Cow Town" and revels in that reputation. Make this a family vacation and bring the grandchildren along. They'll never forget the ride.
So intense is the rivalry between Fort Worth and Dallas that the late entrepreneur Amon Carter, known for his philanthropic generosity to his home town, refused to buy lunch when he was forced to go to the Sister City for a business meeting. Carter was known to "brown bag" it so that he would not have to spend a nickel in Dallas.
While Dallas was on a building frenzy putting up tall buildings of glass and modern design, Fort Worth created its historic district that encompasses mainly the "Stockyards" section. Today that effort has resulted in earning the designation of the Stockyards National Historic District. You can tell you've somehow gone back in history to the 1800s when you see a buckskin-clad, Stetson-wearing cowboy with a brace of .45 caliber revolvers strapped to his waist. Ask to take a photo with him and you'll have a terrific souvenir to send back home.
Every day at 11:30 a.m. and 4 p.m. a herd of longhorn cattle makes its way down East Exchange Place. Kept in tow by cowboys on horseback as the herd passes by, tourists flock to the edge of the street to get as close to the cattle with a horn spread nearly akin to that of a 747 aircraft… well, not exactly, but it does seem that way. The horns can reach a wingspan approaching seven feet.
In days gone by, cattle would be driven down the street to the rail yards just off Exchange and loaded onto cars shipped to Chicago to be converted into steaks.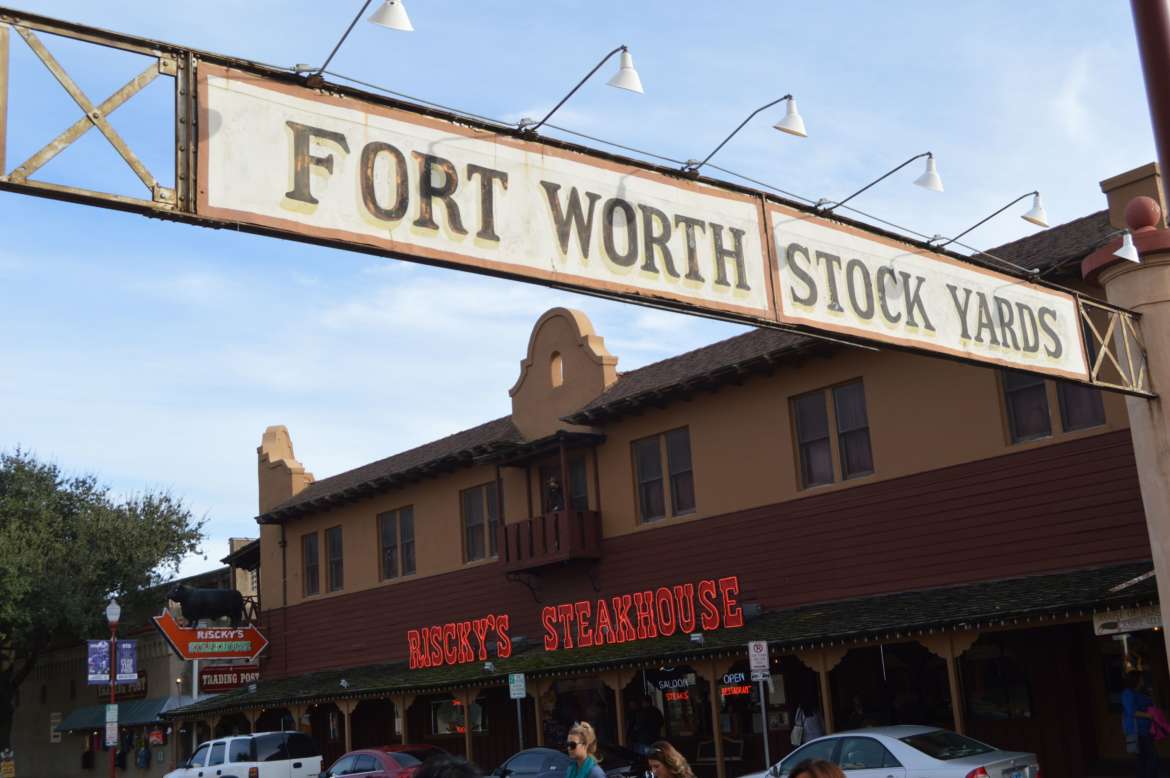 The train station today features a vintage train that takes eager tourists from Fort Worth to Grapevine, a nearby town, as well as other selected destinations. The cars are beautiful and feature amazing carved wooden seats and posts. Much of the woodwork was done by Fort Worth native Mike Reznikoff, head of Reznikoff Custom Furniture. The woodworking on the more than century-old train was a labor of love. It matches in every detail the fine work that had gone into the train when it came off the manufacturing line.
So well know in Texas and beyond that, he has been commissioned to create the fine woodwork in courthouses and the homes of many prominent individuals.
Visitors to Fort Worth should schedule a day or two to stay in the Stockyards area. The famed Stockyards Hotel sits on East Exchange Place and is another example of the vintage Western aura. Built in 1903, it has maintained its original ambiance and has hosted numerous famous people such as Tanya Tucker, Trisha Yearwood, Willie Nelson, and… Bonnie and Clyde.
Okay, journalists don't normally put themselves into a story unless there is a solid reason. Here's one.
On a trip to Fort Worth, arguably our favorite Texas town, we opted for a couple of nights at the Stockyards Hotel and reserved one of the better accommodations. On check-in, with a smirk, we asked the young lady at the registration desk what room Bonnie and Clyde stayed in. She smiled and said: "Yours."
Obviously, she was joking. So we thought until we arrived on the second floor, walked to the room, and saw a plaque on the door announcing this was the room B&C had occupied. The room was exceptionally comfortable and decorated in a style of by-gone days. There were news clips and photos of the notorious couple hanging on the walls. Also adorning the room was a .38 caliber revolver once owned by Bonnie Parker.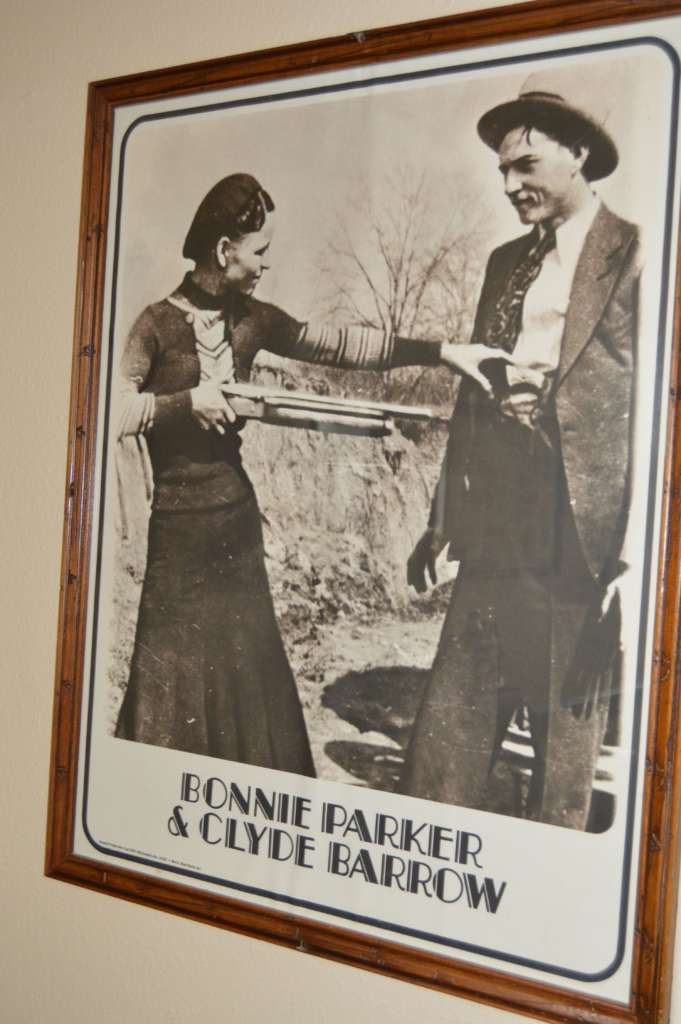 We've slept in some famous beds before (one once occupied by the former Shah of Iran when he lived on Contadora Island, Panama), but never one with a couple sporting a blood-stained history.
Across from the hotel is a true Western saloon, the White Elephant. Hanging from the rafters are scores of cowboy hats left by patrons who may have been too "happy" to know what they were doing. Some of the seats are saddles instead of traditional bar stools. Grab a saddle, bend an elbow, and enjoy a drink at a vintage Western bar.
Next door to the White Elephant is one of our favorite stops. It's a place where we've left considerable amounts of money over the years. The Maverick Fine Western Wear store is a place where real cowboys buy their boots, belts, hats, and everything else they need on the range.
Western wear is not inexpensive, especially quality boots and hats, but Maverick has always been reasonable and we've never left the store without a new pair of boots or a hat. May have to skip this stop on the next visit because there is little room left on the hat rack and boot shelves at home.
What do real cowboys and cowgirls do for fun in their off-hours? Many of them head to the Stockyards area and Billy Bob's, arguably one of the best honky-tonks in the country. On any given night you'll see a line up at the main entrance of young Texans waiting to enter. The gals are wearing brocaded dresses or blouses and boots and the guys have on shiny boots, shirts with flowered decorations, and jeans being held up by leather belts with buckles the size of a dinner plate.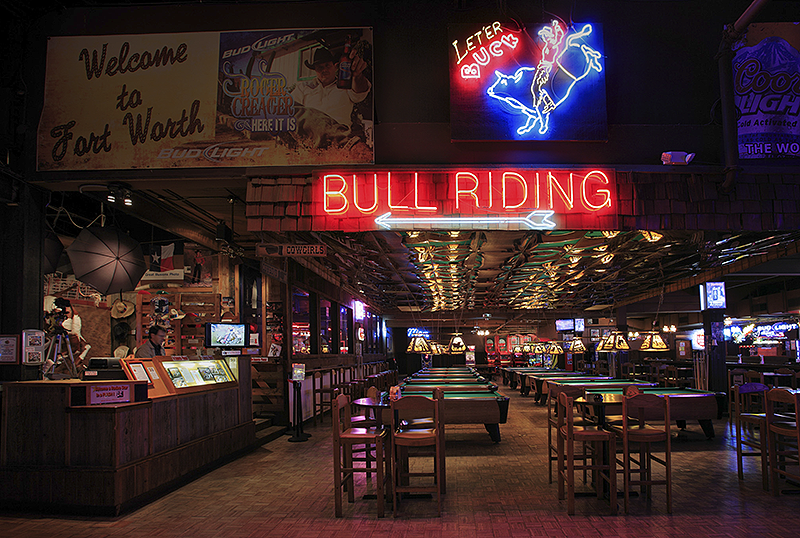 There are a number of rooms inside Billy Bob's. Some you can sit and eat, others for square and line dancing and one in the back that's not for the faint of heart… a bull ring. Honest-to-goodness cowboys actually ride the massive beasts as though they were in a scaled-down rodeo. In fact, if anyone remembers the television show, "Walker, Texas Ranger," with Chuck Norris some years back, one of the opening scenes was Norris supposedly riding a bull here.
Move out of the Stockyards area and you'll find museums (Amon Carter Museum of Western Art and the Kimbell Art Museum featuring artists such as Renoir), good hotels and restaurants and a bustling business-like city.
But just close your eyes for a minute, listen closely and you can still hear the thundering hoofs of thousands of cattle being driven through the city on their way to Chicago and points north to feed a hungry nation.
At UrbanMatter, U Matter. And we think this matters.
Tell us what you think matters in your neighborhood and what we should write about next in the comments below!
READ MORE LIKE THIS
DOWNLOAD THE URBANMATTER APP
FIND PARKING