Another fun step in building a better Chicago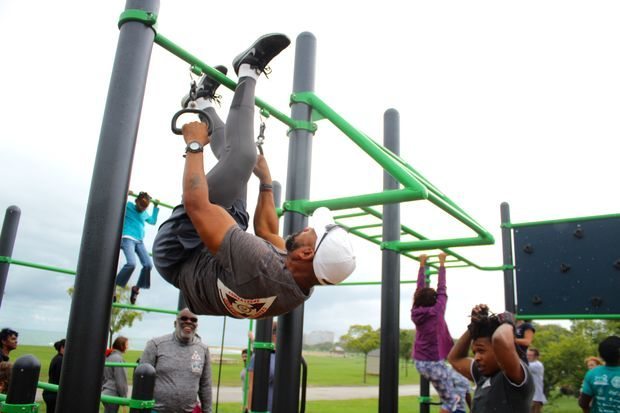 Yesterday, the Burnham Park Outdoor Fitness Station was opened to the public. The jungle gym-like space is located near the city's South Side, where Lake Shore Drive intersects with 39th Street.
According to the Chicago Park District, Burnham Park, which lies just south of Grant Park, spans 600 acres and offers plenty of recreation for visitors old and young. The latest addition is geared toward Chicago adults who are fitness enthusiasts. It represents the first concept of its kind in Chicago, with many more likely to open up throughout the city.
Inspired by a similar park in Venice Beach, California, the Burnham Park Outdoor Fitness Station fulfills more than one function. While it can be a simple form of recreation for those passing by, it's also a one-stop shop for people who are in serious training as it serves as a nice deviation from the traditional gym. It's also great for athletes or individuals who are accustomed to more intense workout programs that implement unique types of exercise targeting multiple parts of the body, like CrossFit or various bootcamps.
The outdoor project was funded primarily by Coca-Cola and is part of a larger effort led by Mayor Rahm Emanuel called "Chicago Plays," which partners with the Friends of the Park organization and promises to restore 300 parks by the year 2018, netting out at about 50 parks per year.
Whether you're looking for a new setting for an extreme workout, or just somewhere you can be a kid again for an hour or two, the Burnham Park Outdoor Fitness Station will certainly be an appreciated addition to the city.
What do you think of having more playgrounds like these around Chicago? Tell us below!
At UrbanMatter, U Matter. And we think this matters.
Tell us what you think matters in your neighborhood and what we should write about next in the comments below!
READ MORE LIKE THIS
DOWNLOAD THE URBANMATTER APP