It's been a few weeks since our beloved city came to a halt. Bars are now ghost towns, public parks are eerily empty, and restaurants can only offer takeout or delivery in order to flatten the curve. While most of us have been spending an absurd amount of time glued to the TV and trying to limit our toilet paper use, there's a local legend who's gotten crafty in quarantine. He's famously known as the Chicago Tamale Guy and he offers happiness in the form of a traditional Mexican dish. And now, during the pandemic, he offers delivery.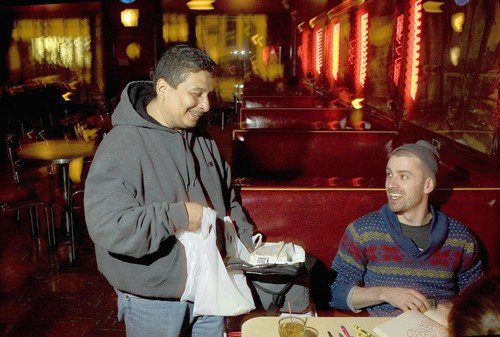 Tamale Guy, whose real name is Claudio Velez, is familiar in the community for carting around coolers packed with cheese, pork, and chicken tamales. He spreads love to the hungry—sometimes tipsy—Chicagoans around Bucktown, Wicker Park, and Logan Square bars without kitchens. The best part? The Tamale Guy in Chicago seems to magically appear at various times and locations without any rhyme or reason. Like an elusive superhero whose superpower is feeding the famished. He's known for his minimalist sales approach by simply asking, "Tamales?"
With Chicago shut down, the Tamale Guy hasn't been able to sling his famous cuisine. But recently, Velez saw an opportunity to keep his business running. He decided to test out delivery for the die-hard tamale lovers and his phone number was privately shared online. The Tamale Guy in Chicago is now busier than ever with locals organizing huge orders for neighborhoods. One particular order fed over 160 and reached $1,000 in sales. Folks lined up in a commercial parking lot, following social distancing rules of being six feet apart.
So, how do you get in on the tamale action? Well, it's not as simple as placing an order on Postmates or UberEats. Plus, he doesn't have a website (someone get this guy a website!). The Tamale Guy wants to operate at a smaller scale and keep his information private, for obvious reasons. He does have a Yelp page with 294 reviews but alas, no contact information.
Perhaps the best way to get your fix is to follow @TamaleTracker on Twitter, an account organized by over 7,000 superfans. The latest house delivery occurred in Lakeview East on April 10. A few lucky Twitter users claim to have his number on speed dial, so a quick DM could land you the goods. While you're at it, you can support Velez and other small businesses by purchasing a Tamales T-shirt designed by Kyle Hollings (@misterkanos on IG) from Barrel Maker Printing.
Maybe a silver lining in all of this? According to our friends over at Eater, Velez says he eventually wants to open a restaurant. Well, Tamale Guy, you have our business.