Walk along almost three miles of pure sand beach with sparkling blue waters as you reach your inner happy. Relax with a cocktail as you stare up at the AAA Four-Diamond Sandpearl Resort in Clearwater Beach, a part of the Opal Collection of luxury destinations. You have discovered paradise, the ultimate waterfront getaway.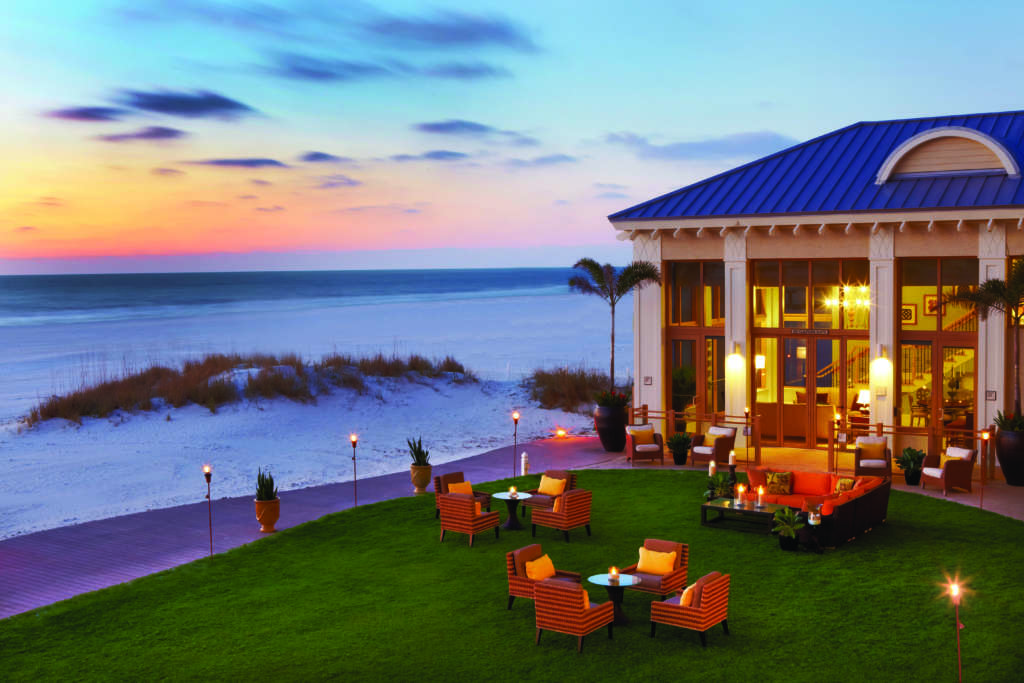 This epic four-star hotel blends the radiant beauty of the coast with luxury amenities and warm, personalized service. From the moment you enter the lobby, the inviting ambiance serves as a warm welcome. The yellow and white beach chairs beckon. You never want to leave.
Best part is, its location is right on the beach and the bustling Mandalay Avenue. Great restaurants and shopping are just a few steps away, but bar hopping is your primary activity.
Accommodations Fit for a King
More than 250 guest rooms and suites await with views of the Gulf Coast, Clearwater, and Mandalay Bay. A perfect blend of comfort and style, the rooms feature premium amenities that include flat-screen televisions, in-room coffee, mini-refrigerator, plush bathrobes and more.  My oversized suite featured a balcony so big; I could have hosted my own party on it.
Keep Your Heart Pumping
Enjoy a relaxing afternoon on the sand or just sipping tropical cocktails by their zero-entry pool. Or, keep your Fitbit happy by kayaking through Florida's spectacular estuaries. Hop a wave runner, parasail or play volleyball, right on the beach. Sandpearl Resort also offers a variety of enrichment programs that include dolphin encounters, organic food, and wine tastings, and tours of the resort's impressive art collection.
Fine Dining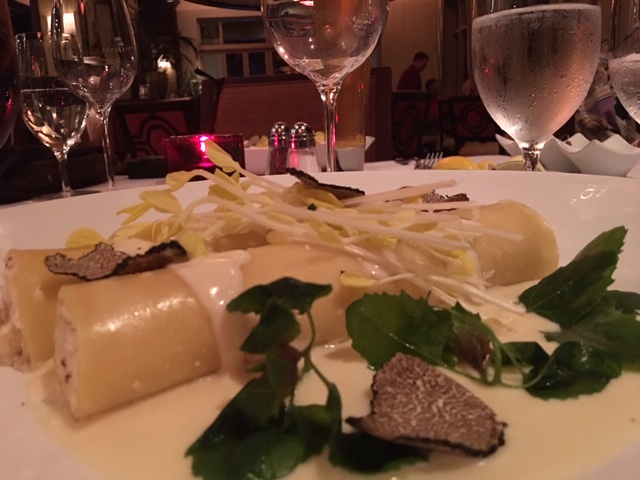 Have breakfast and lunch poolside at Tate Island Grill which serves refreshing salads, sandwiches, and wraps. For dinner, head to the award-winning Caretta on the Gulf, named after the loggerhead turtles that are unique to the island. The restaurant serves a full menu of fresh seafood, steaks, and sushi. Start with the beet salad or butternut squash bisque. For entrees, I recommend the cauliflower cannelloni or gulf grouper. Don't miss their signature dessert, A Chocolate Story in Nine Chapters for its taste and imagination. Enjoy their sumptuous breakfast buffet with exquisite views of the water, inspiring the day that lies ahead.
Spaaaah!
In this tranquil oasis, the spa offers a full range of ocean-inspired treatments like their signature facials, pedicures and massages. After your treatment, extend the bliss with full access to the hot tub. Try a mineral-rich mud cleanse and discover why they've earned the distinction as "One of the Top Spas in North America" by the readers of "Condé Nast Traveler." I opted for the Swedish massage with hot stones and felt the stress just melt away.
So Blue and Yet So Green  
Sandpearl Resort is also a leader in environmental conservation, the first Silver LEED-certified resort in the state. The program improves energy efficiency, indoor air quality, water conservation and natural resource conservation. They've also partnered with Clean the World, which recycles guests' leftover soap and shampoo to reduce waste and provide essential items to impoverished communities.
The Belleview Inn – Sleep in a Part of History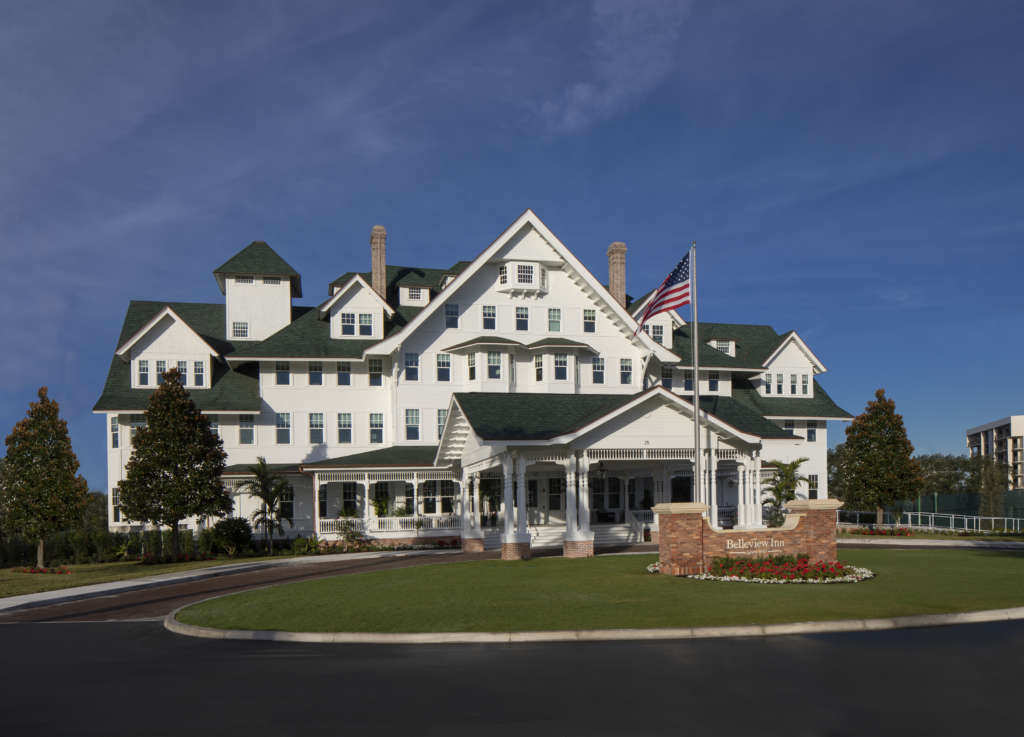 Originally built in 1897 by railroad magnate Henry Plant, the majestic Belleview Inn has been recently re-opened in Belleair and restored to its elegant grandeur with architectural touches from the Gilded Age. Also a part of the Opal Collection, this contemporary retreat is designed to impress with contemporary lifestyle amenities. After all, this iconic hotel has hosted presidents, nobility and stars of the day, like Marilyn Monroe and Joe DiMaggio, even baseball great, Babe Ruth.
Savor the Belleview Wine Dinners
Love the perfect blend of food and wine? Make your reservations for one of their Wine Dinners in the beautiful Tiffany Room. The Sandpearl Resort culinary team (their sister Opal Collection property) crafts an elegant multi-course menu to tantalize your taste buds.  Passed appetizers begin the evening, expertly paired with an accompanying glass of bubbles, reds, whites or port – with a wine expert to accompany the evening to tell the story of each pairing.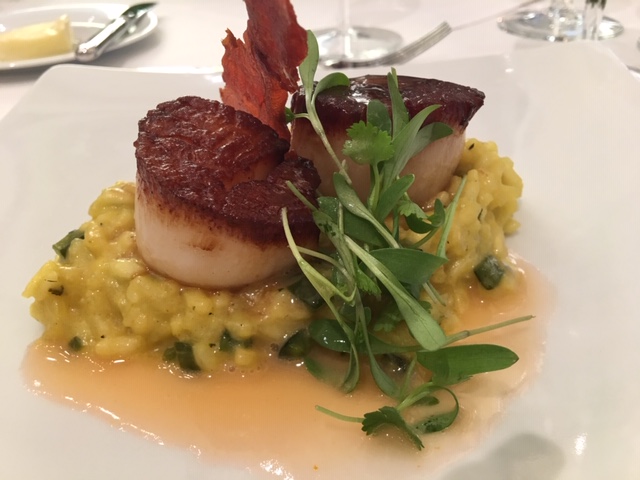 Daily History Tours
Complimentary history tours take place every day at 2 pm for about an hour.  Learn more about the history of the hotel as well as the pieces of artwork currently on display by local artist Christopher Stills.
Visit the Dali Museum in St. Petersburg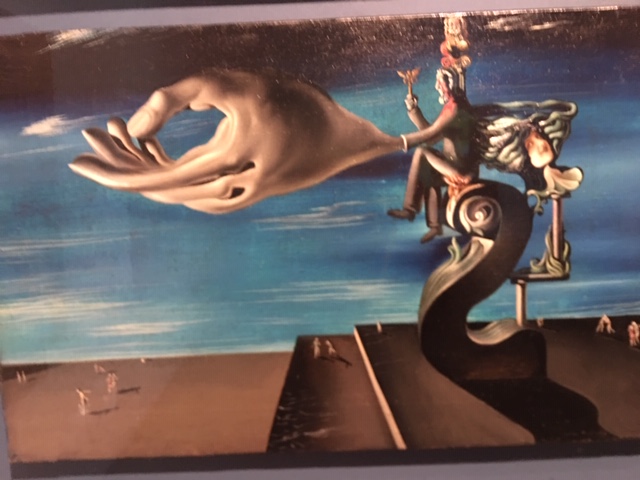 The work of a true genius, the Salvador Dali Museum exhibits works of the Spanish master painter and sculptures in a building that is itself a work of art. Be sure to check out the gardens and snap a selfie with Dali's signature moustache. New to the museum is an APP that lets you examine his paintings in greater detail from your cell phone. Also new is the Virtual Reality Headsets you can put on and view his famous works in a whole new way.
Visit the Clearwater Marine Aquarium and see how injured dolphins and sea turtles are rehabilitated.  Come spring, watch the Phillies play spring training baseball games.
Plan your getaway to Sandpearl Resort and Belleview Inn this winter and make the beach your own! For more information, visit Clearwater Beach.
At UrbanMatter, U Matter. And we think this matters.
Tell us what you think matters in your neighborhood and what we should write about next in the comments below!