Life should feel ceremonial, and a tasting experience sounds about right. This month's first UM Dining Review takes you to Dusek's Tavern & Dining Room. Situated in the beloved Thalia Hall, Dusek's Tavern (1227 W 18th St, Chicago, IL 60608) features imaginative pairings of high-end pub grub and specialty beers and cocktails on the front and a wood-fired tasting menu in the dining room area, offered Thursday through Sunday. For $70 per person, you and your date will embark on a tasting journey through four courses. You can also add wine pairings for an additional $40 per person.
Read More: The Most Romantic Restaurants in Chicago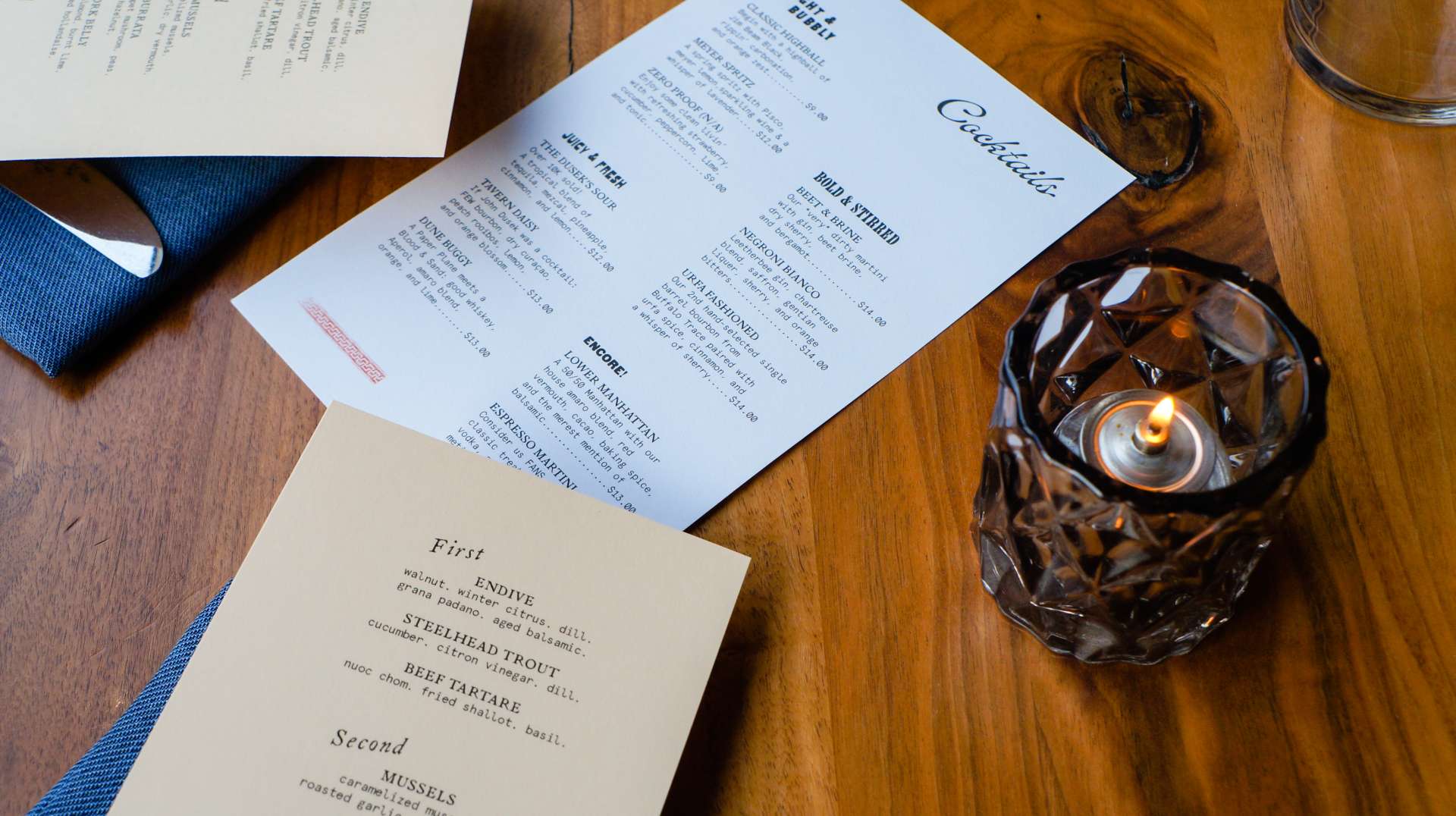 It's been a while since we've treated ourselves to a tasting experience. Pricing is one of our concerns, but tasting menus are also such a hit-or-miss. But Dusek's had its reputation. We've always loved the Tavern Smash Burger and never had any complaints when we stopped by for a quick drink before a show. So, when the opportunity of trying out their current tasting menu arose, we happily accepted.
Before we dive any deeper, check out our overall rating to know what you're getting into:
Ambiance: ★★★☆☆
Food: ★★★★★
Drinks: ★★★★☆
Service: ★★★★★
Overall: ★★★★☆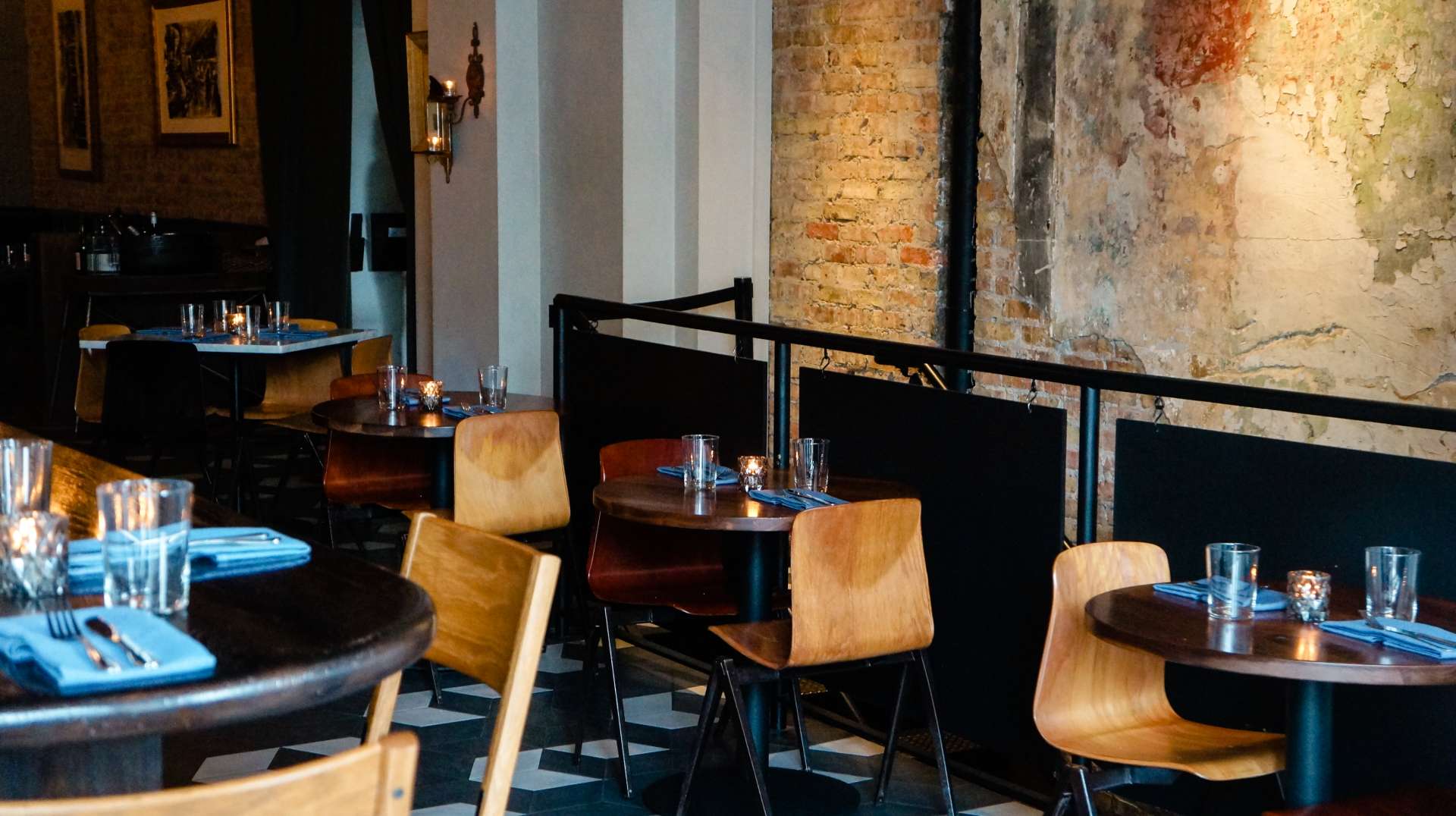 The Vibe
For clarification, our 3-star rating for the interior has absolutely nothing to do with any complaints. We gave this standard rating compared to some of the more extravagant venues we've been to. We feel like this is a fair decision given certain restaurants did commission site-specific artwork, or designed following an entire concept (say, Three Dots and a Dash).
However, we definitely loved Dusek's environment. In fact, its casualness is what differentiates it from other restaurants. When we speak of tasting menus, we have certain presumptions like tastings are fancy and "high-end," so you must dress up to match the occasion. Well, that's not really what we meant when we said life should feel ceremonial because most of us don't feel like going home, changing into formal clothes, then leaving for a dinner date. As busy modern citizens, once we're home, we're home.
Therefore, Dusek's welcoming vibe is actually perfect for busy professionals. It doesn't matter if you're in a plain shirt and jeans, because this is a tavern! The whole point is to enjoy good food while feeling at home. In that sense, Dusek's deserves a five-star.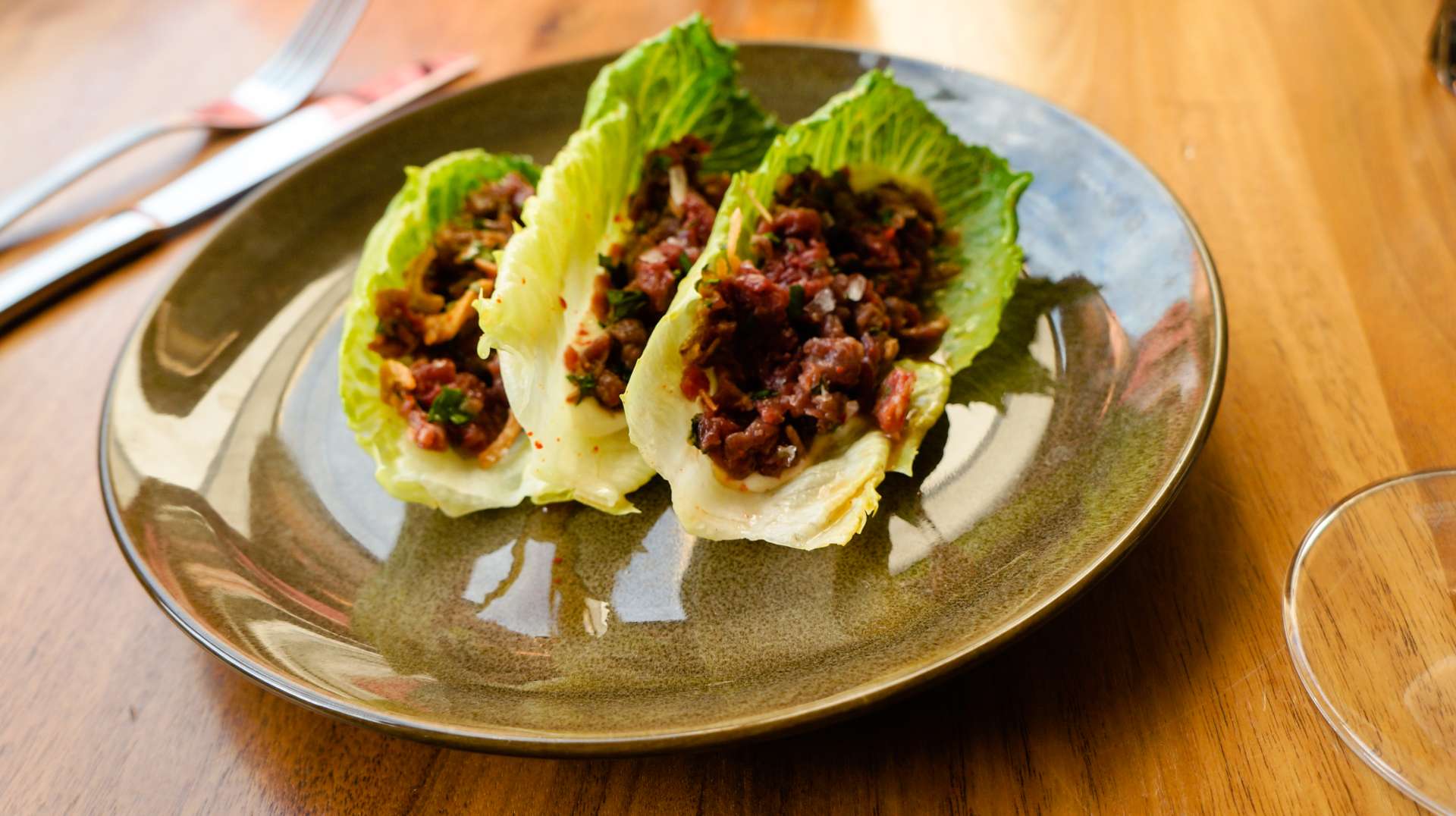 The Food
Everything on the menu sounded delicious, so choosing our courses was challenging. For starters, we tried the Steelhead Trout and the Beef Tartare (image above). Verdict? Both were amazing. My colleague doesn't even like fish much, but he had nothing but compliments for the trout. Meanwhile, we truly appreciate the lettuce-wrap approach to beef tartare. It was a perfectly refreshing touch to the classic dish.
As for the second course, we found the Burrata (image below) a delightful surprise. I chose this item because I wanted something to clear my palate, but this dish did way more than that. It perfectly balanced savory and lightness, and every bite was flawless. We also tried the Pork Belly: slightly too powerful to my taste, but heavy meat eaters would definitely enjoy the dish.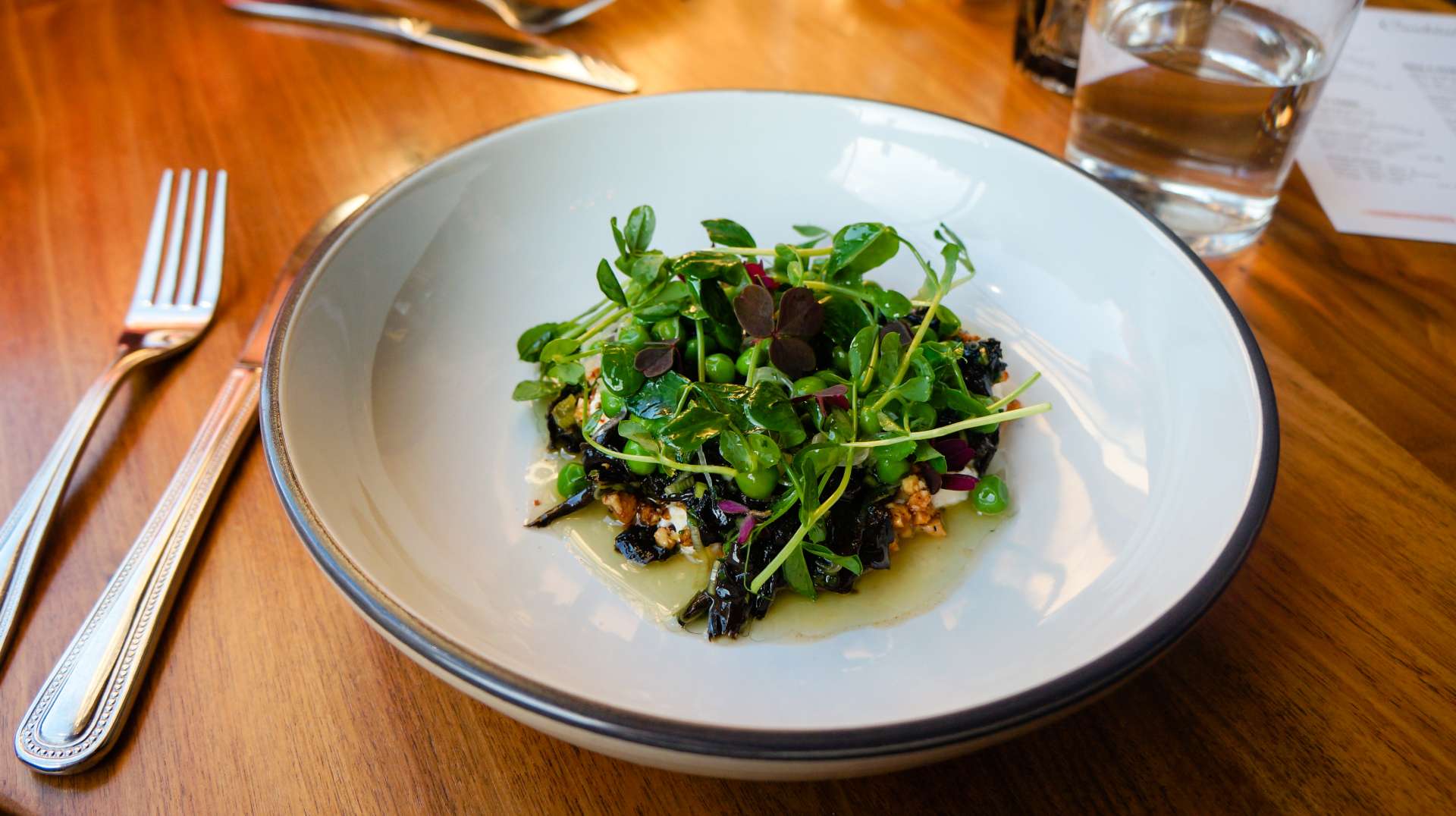 For the third course, we recommend the Dry Aged Duck Breast. The best parts of this dish were the seared duck skin (covered in spices!) and the piquillo pepper jus. As for the brûléed leek, we mainly treated the leek as a flavor enhancer instead of part of the meal. However, those who like caramelized onions would probably enjoy it very much.
Finally, we conclude the meal with tasty desserts. Both the Berry Cream Puff and the Smoked Panna Cotta were delicious. The cream puff was fruity and silky, perfect for a cleanse after going through some of the heavier menu items. Meanwhile, the Panna Cotta was smooth and rich in texture. The flavors were well-layered and left us reminiscing. Also, the presentation was gorgeous that we almost felt bad digging our spoons in!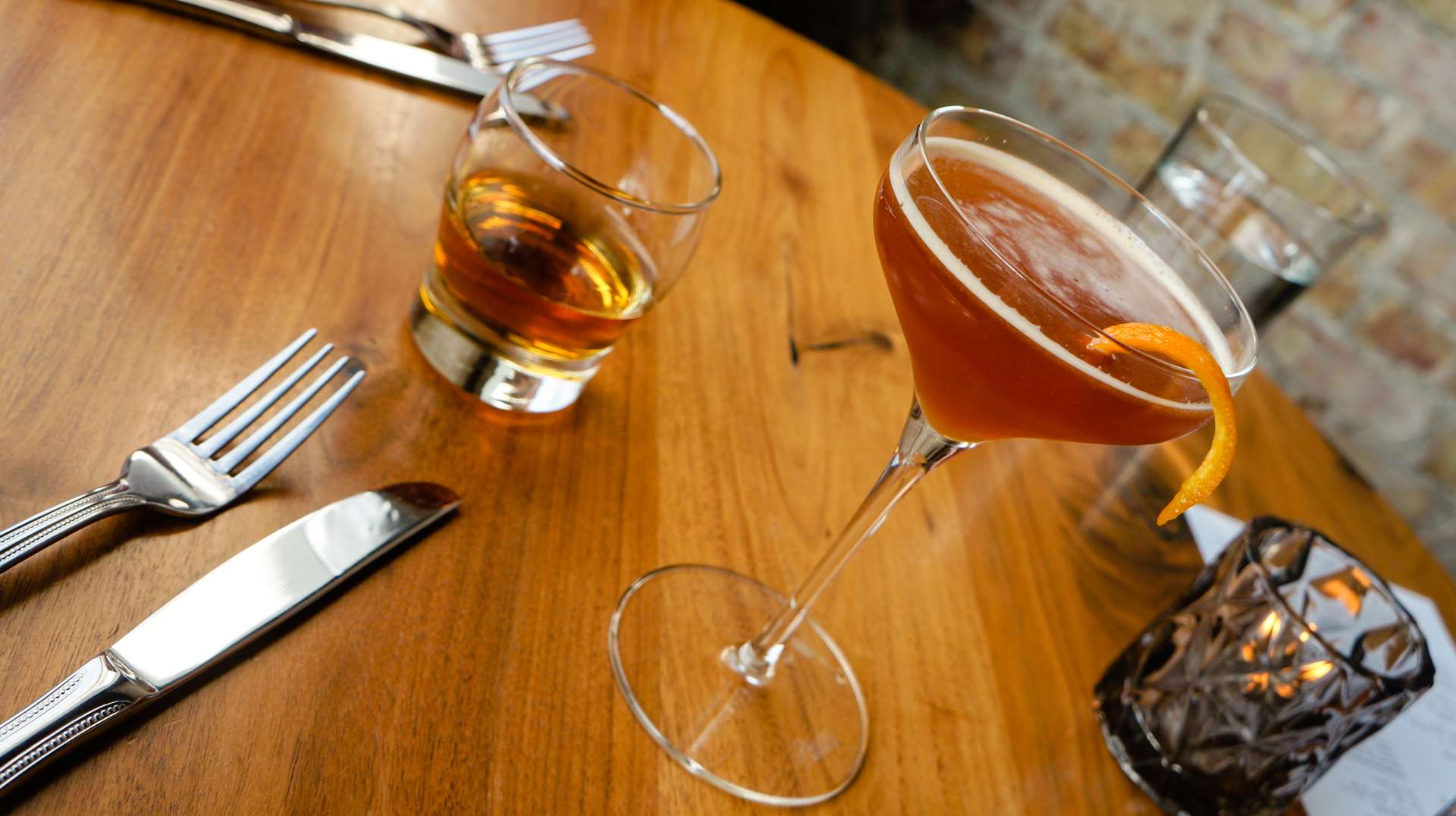 The Drinks
We're not the biggest fan of wines, so we didn't go with the pairing. Instead, we followed our true passion: spirits! If you didn't know, Dusek's has an extensive list of spirits available to be enjoyed on the rocks, and they go great with the heavier items on the menu. Their cocktails do not disappoint, either. The Urfa Old Fashioned features 2nd hand-selected single barrel bourbon from Buffalo Trace, paired with urfa spice, cinammon, gentian liquer, sherry, and orange. It is rich, smooth, and well-textured.
However, we found the Beet & Brine a bit daunting. I'm a pretty big dirty martini fan, but I still felt a little thrown off by the strong brine flavor in this drink. But, to be fair, you would be warned when you order that drink. So, I guess it's a lesson I should learn, ha!
Read More: The Best Old Fashioned in Chicago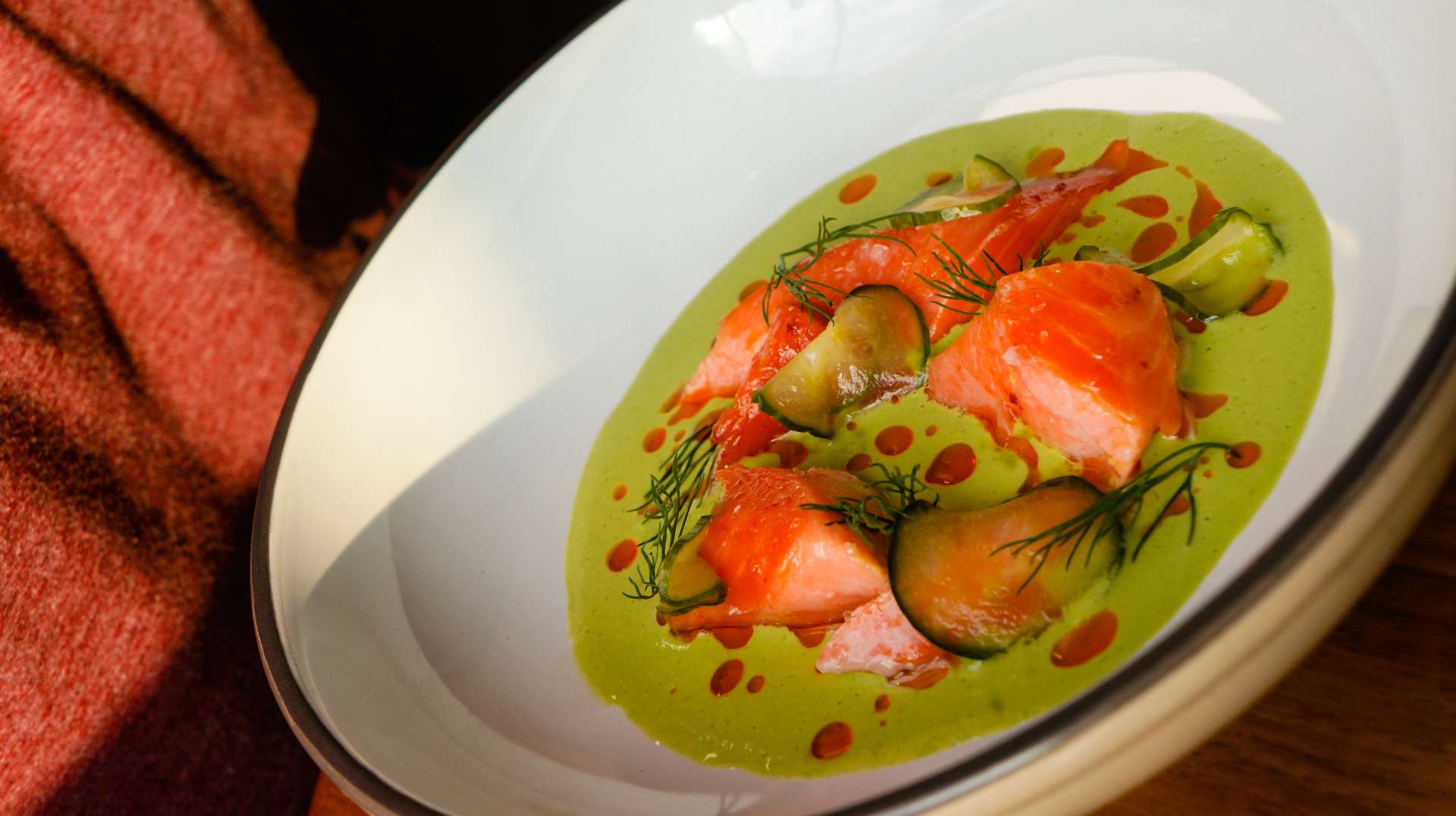 The Service
Dusek's service was impeccable. Our server knew the menu in her heart and even helped us pair our cocktails according to our courses. Toward the end, we couldn't decide what dessert to choose, and she made the perfect recommendations based on what we'd already ordered. The overall environment was friendly, respectful, and comfortable. We felt well taken care of every time the plates were swapped out for clean ones between each course, or when our waters were swiftly refilled without us ever noticing them running low. Hands down, five stars!
instagram.com/p/Ctj0h7BOcfu/
Get Your Reso!
Since we've last been there, Dusek's Tavern has modified the menu. One of the new dishes added is Roasted Lamb Loin with spring onion panise, strawberry chimichurri, green coconut curry, and candied sunflower seeds. Honestly, hearing the description makes us want to go back. Therefore, if you want a romantic date that doesn't break the bank but still let you embrace all the elegance and romance you'll never want to forget, head to Dusek's. You can make your tasting menu reservation right here.