Imagine a small town where goats on a restaurant roof cause a traffic jam and a county where visitors to its small, scenic towns gather around huge outdoor pots to watch traditional fish boils.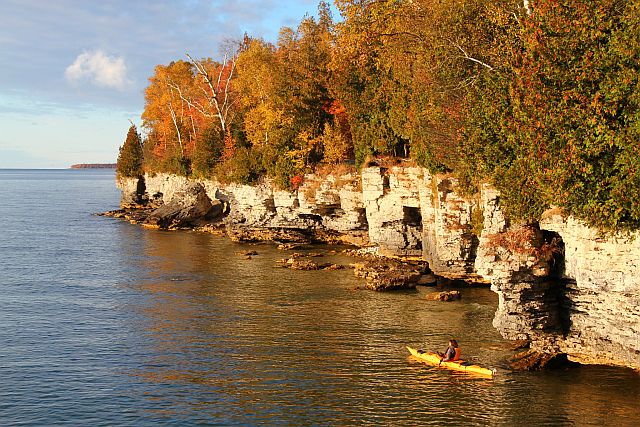 This is Door County, a peninsula that separates the calm waters of Green Bay from the turbulent waves of Lake Michigan and where the must-take-home items are chocolate-covered cherries or cherry pies and the must-visit time of year is fall.
An easy drive from Green Bay's airport, the route on the way to Sturgeon Bay, the first vacation town on the peninsula, is dotted with the crimsons, golds, and pinks of changing leaves. And, as TV ads say, "But wait." The colors keep intensifying when driving northwest along curving roads through picturesque villages.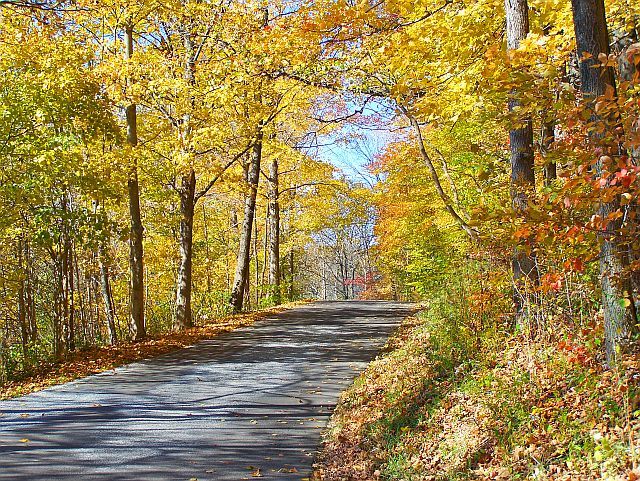 That restaurant with the goats is up in Sister Bay. The fish boils are in Fish Creek, Ephraim, and a couple of other villages. But Door County's famed cherry items are everywhere from farm and orchard markets and gas stations to wineries and cheese shops.
However, a trip to "The Door" means you can leave the car at your B&B, inn or condo. This is a great place to bike, hike or walk. I've biked the great trails in Peninsula State Park on the bayside and the back roads across fields and woods. My place had loaner bikes but there are bike shops including one near the south entrance to the park.
But I also loved taking a fall cruise out of Sister Bay to see the park from the water.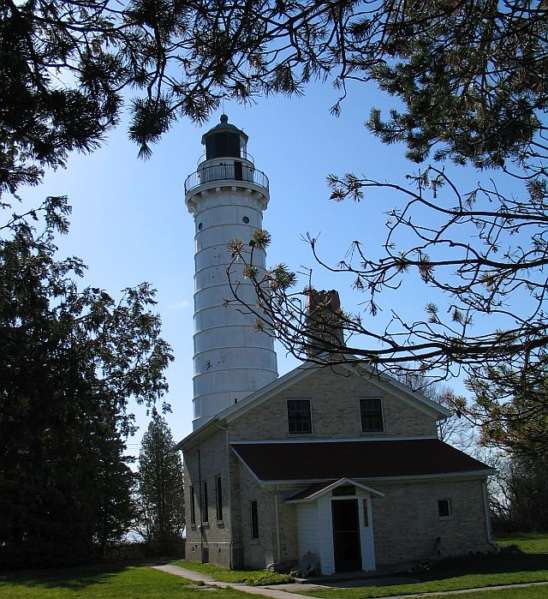 I worked off ice cream sundaes at Wilson's and fudge and cherry/chocolate cookies from Seaquist Orchards' market walking around the bayside harbors and hiking Dunes State Park on the lakeside.
But not everything here is horizontal. If the Cana Island Lighthouse near Bailey's Harbor on the lake side is open, do the 97 stairs up. The view is spectacular, particularly in fall.
Colors here are not just outside. Door County is an artists' colony. Potters, painters, and photographers have studios and shops in every town. Artists from across the country go there to participate in the Peninsula School of Art's annual prestigious July Plein Air Festival. Edgewood Orchard Gallery in Fish Creek has an amazing sculpture park.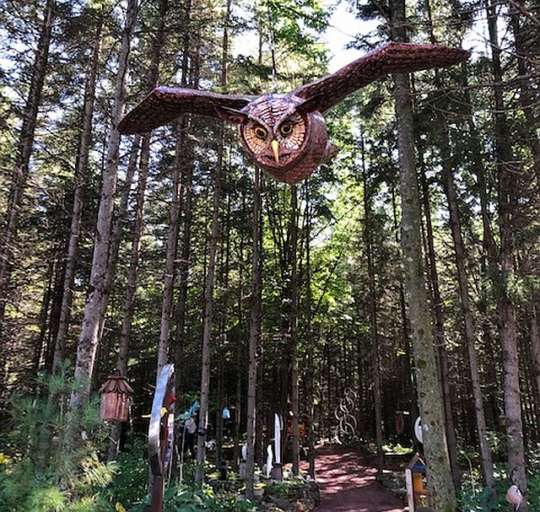 You can also do your own thing, from stained glass and sculpture to jewelry and ceramics at Hands On Art Studio, up the road from Edgewood.
Oh, and if here in October take the  Trolley Ghost Tour or the Haunted Pub Crawl. I think I saw a strange face in a mirror at a haunted house and felt shivers when visiting a haunted lighted house.
Just remember to charge your phone each night so you are camera-ready for fall, and maybe, ghosts.
For accommodations and other help, visit Door County Visitor Bureau or call 800-527-3529.
At UrbanMatter, U Matter. And we think this matters.
Tell us what you think matters in your neighborhood and what we should write about next in the comments below!
READ MORE LIKE THIS
DOWNLOAD THE URBANMATTER APP
FIND PARKING