I just returned from a getaway to the Kissimmee area. The result was one surprise after another. When home, I take buses, trains, and Lyft because I hate driving in Chicago, so I wanted to see if a car-rental-less vacation could work in the land of theme parks, lakes, golf courses, and Everglade-like vegetation.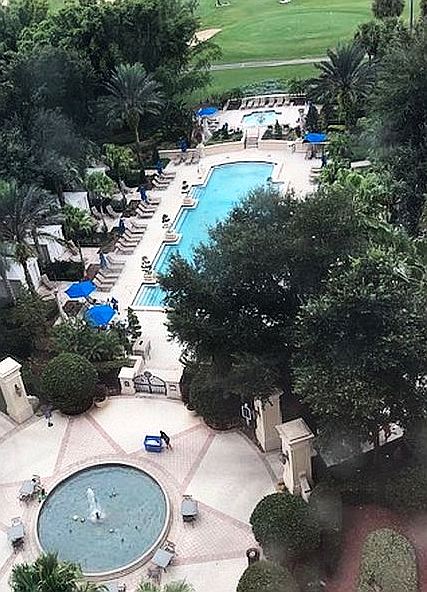 First, I took an MCO limo from the Orlando airport—code letters MCO for its former life as the McCoy Air Force Base, not Mickey—to the Omni Orlando Resort at Championsgate.
Supposedly about a 25-minute drive, it took 40 minutes. The highways were as bad as LA during the rush hour. Who really wants to put up with traffic when getting away from stress? I could have taken Lyft but the limo was one way of saying, "Hey, I'm on vacation."
What I really needed after my flight and drive to the hotel was a refreshing swim and down-time at the Adult Pool.
The surprise was that the Omni really tries to appeal to all ages. The resort's pools make this a great place for youngsters. Aside from the pool I used, there is the Lazy River, the zero-entry Family Pool, and the Kids Pool with slides and a 7,338 square-foot Wave Pool.
Refreshed from the trip, the next day I was ready to stroll Universal Orlando. I had to see its Harry Potter sections.
This time I took Lyft. Universal is further from our hotel than Disney World but I had excellent drivers going and coming. The rate each way was about $25 and I didn't have to worry about highway traffic or parking costs.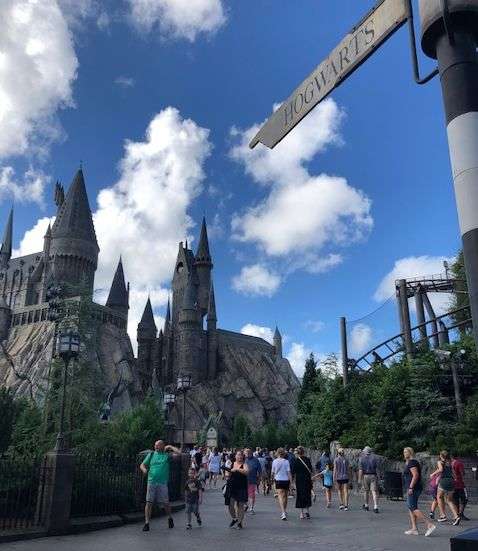 To do Harry Potter right, I needed a Park to Park ticket because half of the exhibit is in Universal Studios, where I found Diagon Alley, and half is in Islands of Adventure, where I found Hogsmeade.  Of course, in Harry Potter's world, you take the Hogwarts Express to go from one place to the other. As a long-time Potter fan I had to stop at Ollivandens to choose a wand. Actually the shopkeeper showed that wands choose the person. Then on to Gringotts' bank for a wild, bone-shaking ride. Of course no visit is complete without taking the Hogwarts Express to visit the castle in Hogsmeade. At the castle you can see Dumbledore's office, Gryffindor on the way to another, hold-on-tight soaring ride above Hogswarts.  What fun!
I also got an Express Pass, which was great for entering the parks and all the exhibits.
What surprised me in both Universal parks was that, except for a Dr. Seuss section, the rides and exhibits seemed aimed at ages 10 and up. There is an older-kid vibe. And there even is a Margaritaville near the Islands of Adventure exit where I took refuge from the hot sun with the best chocolate banana pudding I've ever had.
Next day, on to Epcot. The hotel has a free shuttle to and from the Disney properties. Because I also write about food, I wanted to go to the annual Epcot International Food & Wine Festival that went from the end of August to November 23, 2019.
Yum. Loved it! Good small bites, fun entertainment, and a good way to see the theme park's major exhibits and countries.
While waiting for the Omni shuttle back to the hotel, I realized Epcot's shuttle parking lot was really a Disney hub. This meant I could use it to go over to Hollywood Studios where Star Wars Galaxy's Edge just opened, if I could fit that in later.
Well, so far so good, managing without a car.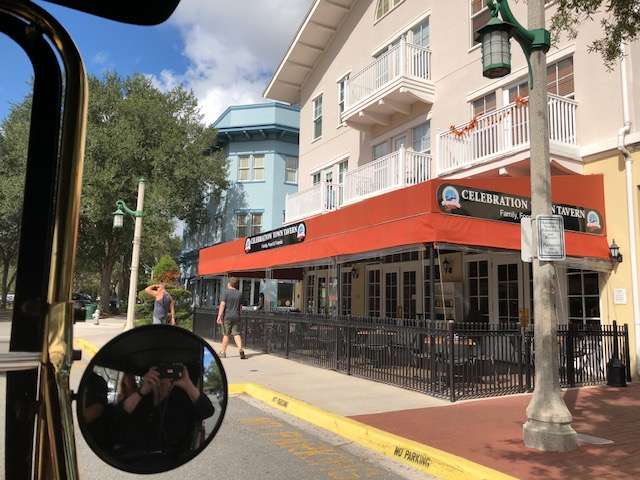 I had heard of an unusual town nearby called Celebration so thought it would be fun to visit. Built on property formerly owned by The Walt Disney Company, Celebration is a planned community within Kissimmee where the houses on some streets resemble once-upon-a-time, small-town USA and, on other streets, appear to be mansions.
An MCO limo or Lyft could get me there and back. Once there, bicycles are a good way to get around and can be rented but I joined a guided tour in an old-fashioned styled roadster.
The downtown was cute and seemed to have good restaurants and bakeries. But after hearing from a long-time resident about the community's advantage of good schools and disadvantages of restricted house color x and curbside flower choices, I thought of the satirical science fiction Stepford Wives or, as someone I heard point out, The Truman Show.
Would I go back? Yes. I'd like to stay in the town's Bohemia Hotel and try the Celebration Town Tavern for dinner and the Wonderland Cookie Dough Co. to see if I could find a cookie that said, "eat me."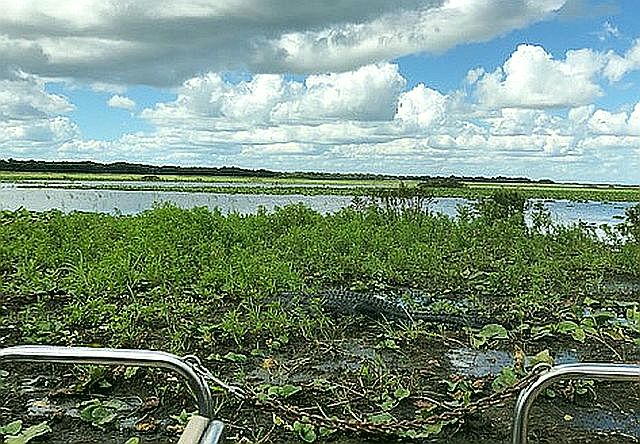 From Celebration, I went to Boggy Creek Airboat Rides that was also in Kissimmee. The city's waterways feed into the Everglades. I heard that Boggy Creek had a reputation as a good way to take a safe ride through the area's natural vegetation past alligators, great blue herons, eagles, and osprey.
Because there was time before my boat took off, I grabbed lunch there. Great baked beans!
The other way to see the terrain is from above. Back at the hotel, hot air balloons can be seen floating across the sky. They were from Orlando Balloon Rides which operates from Showcase of Citrus in Clermont. Boats and bikes are more my speed but people at the hotel went up to admire the view and try a new experience.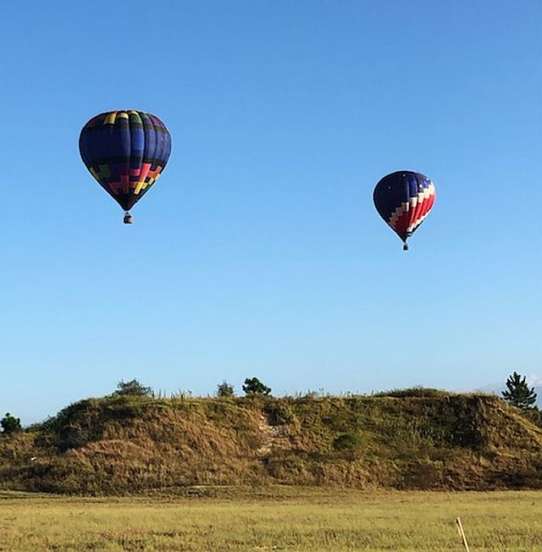 Speaking of experience, time ran out before I had a chance to visit all the places in Experience Kissimmee. A good website that lists things to do is Kissimmee/entertainment/Main Street which has enticing cafes.
At UrbanMatter, U Matter. And we think this matters.
Tell us what you think matters in your neighborhood and what we should write about next in the comments below!