It's been four years since the Cronut debuted at Dominique Ansel's SoHo bakery and the New York City donut scene has not died down since. There have been a variety of croissant-donut imposters, donut bread pudding, Creme Brulee donuts, and ice cream-filled churro sandwiches. Just when it appeared the fried dough pastry movement was losing momentum, the new East Village dessert destination Stuffed arrived to shake up the NYC sweets scene once again.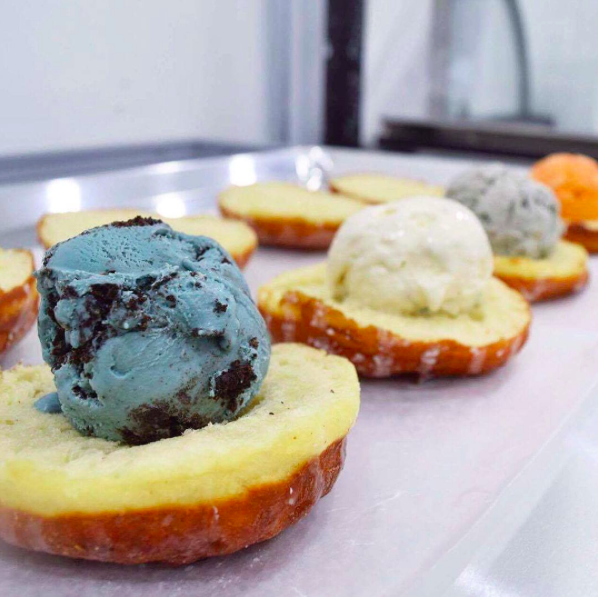 Owners Jackie Luu and Alan Yang set up shop on 139 First Avenue and opened their doors to the public at the tail end of July. The dynamic duo serves products that are made entirely in house; ice cream is freshly churned in-store while donuts are home baked and glazed. According to Bedford and Bowery, when it came to location scouting, Yang gravitated towards the East Village because of its proximity to bars and restaurants and its "good vibes".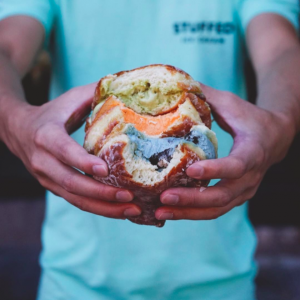 The owners were inspired by West Coast phenomenon Afters Ice Cream, which has a variety of inventive ice cream flavors including Peanut Butter S'mores, Acai Blueberry, and Jasmine Milk Tea. Similarly, Stuffed offers dessert lovers a variety of sandwich fillings to choose from such as Thai Iced Tea, Vietnamese Coffee, Rocky Road, White Chocolate Lavender, Blueberry Cheesecake, and Rice Krispies.
The creative options don't stop at ice cream. Stuffed offers visitors a multitude of choices for drizzles, including condensed milk, caramel, and chocolate syrup. Once the donuts are warmed and stuffed, there's also the option to finish them off with an equally diverse set of toppings and coatings, including gummy bears, mochi, toasted coconut, Oreos, Fruity Pebbles, and Captain Crunch.
Although Stuffed currently doesn't have a website, their general information and business hours are listed on the company's Instagram, @stuffedicecreamnyc. Fair warning, the page is also flowing with a variety of drool-worthy shots of inventive ice cream donut combinations that'll tempt even the most well-tamed sweet tooth.
All Images Courtesy of Stuffed via Instagram