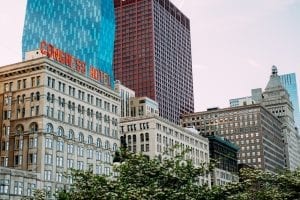 One of Chicago's most iconic hotels might soon get a noteworthy renewal. According to Crain's Chicago, the Congress Plaza Hotel will be up for sale after operating under independent ownership since 1987.
It's said that the sale could amount up to a hefty $300 million. Other than an unsuccessful sale proposition back in 2012 that included repurposing the building for condos, this is the first time that the hotel could see new ownership, as well as an entirely new concept.
Although plans for converting the building into residential and retail space is in talks, there's still a good chance that it will remain a hotel. After all, who can imagine a Chicago where you're driving up Lake Shore Drive without seeing those famous, red-lit letters towering over Grant Park?
Speaking of its prime location, the hotel is undoubtedly a magnet for tourists. Given that the city saw unprecedented tourism numbers in 2016 and already reported record highs in the first half of this year, it seems like keeping the building as a first-rate option for lodging would be a smart way to use the space.
The one million square-foot structure has stood in Chicago since its historic 1893 opening during the World's Columbian Exposition. Throughout its existence, it has been visited by U.S. Presidents, world-famous artists, as well as hosted large-scale protests, with the most recent being the union strike of 2013.
Even though we're in the midst of a city-wide trend in luxury hotel and residential construction, we'd bet that most would agree that some of Chicago's oldest establishments still reign in offering comfort, convenience, and class, of which Congress Plaza Hotel is one of the most exemplary.