2017 Set to See New Chicago Tourism Record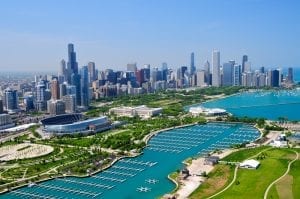 It seems that more and more people are visiting the Windy City these days. 2016 saw major growth in tourism for Chicago with 54.1 million visitors, up from 52.6 million the previous year. Now halfway through the year, the Second City is set to break its record again. Mayor Rahm Emanuel announced last week the first six months of 2017 indicate a new record for Chicago tourism. A rise in hotel room demand is the basis for the projection. The year-to-date rooms occupied up 4.0% and hotel occupancy up 70.7%. The opening of three new hotels also led to a 3.2% growth in room supply.
Tourism is not all about seeing The Bean and shopping on Michigan Avenue, either. In addition to leisure travel, an increase in travel to the city for conventions has impacted Chicago tourism statistics. Chicago has hosted 28 conventions just in the first six months of 2017. Of those 28 conventions, five had record-breaking attendance and another five reported attendance growth since 2016. Four conventions sold out completely, and three indicated a record in exhibitor space sales. Gatherings like the American Library Association convention and the Lions Club International convention each bring tens of thousands of visitors to the city from across the country and abroad. It's no wonder they're having such a huge impact on Chicago's tourist numbers.
Mayor Emanuel and Choose Chicago CEO David Whitaker have both expressed satisfaction regarding the economic boost the rise in tourism provides. There is also a hope that the growth in hotel demand will provide new jobs, and it has been projected that there will be an increase in jobs available in the hospitality sector.
Chicagoans have known for a long time their city is one of the greatest in the nation. It's good to see visitors are learning to see it too!