Chicago's Ace Hotel – the laid-back, cool hotel chain from Alex Calderwood – isn't set to officially open until September 1 (they are currently running "room previews"). But the hotel's new restaurant City Mouse squeaked its way into existence in the West Loop this week.
The new spot's name, City Mouse, is a pull from the favorite story of one of Chef Jason Vincent's daughters – "The City Mouse and the Country Mouse." The whimsical moniker's backstory is emblematic of the charming nature of City Mouse: the logo is a dignified rodent face in the shape of a heart and a sign announces that brunch is now available with a "promise" that dinner is coming soon – "soon" being Wednesday, July 12.
Currently, the location is going all-in on brunch – the usually weekend-only midday affair – by offering it seven days a week from 7am – 3pm. The casual hubris of inviting people to enjoy egg dishes and cocktails at 11am on a Tuesday is precisely what has made Ace Hotel properties so inviting since their inception in the Pacific Northwest. It is a vibe that easily mixes a few suits in a breakfast meeting with a couple of artists in town from some distant coast. Indeed, the staff hopes that the Ace is seen not just as a hotel, but a kind of neighborhood clubhouse. This aspiration is evident in the expansive, inviting City Mouse patio that offers free wifi to all and is aggressively dog-friendly.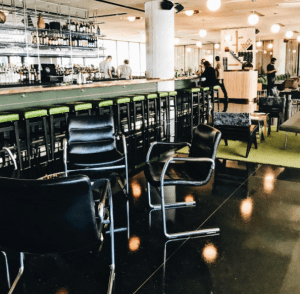 The culinary spirit of City Mouse is to offer "a menu of seasonal fare inspired by the Midwest." What does this mean besides offering Old Style at the bar? (Which, yes, City Mouse does). The restaurant's opening announcement showcases some of what diners can look forward to:
Led by Giant Chefs Jason Vincent and Ben Lustbader and Ace Chicago/City Mouse Executive Chef Pat Sheerin, the restaurant's brunch menu includes the following … a Gas Station Sandwich with egg and hash browns on an English muffin with American cheese and breakfast sausage, Milk Toast with cashew, coconut, stonefruit jam, caramelized milk, and Mexican chocolate ice cream; and Sweet Cornmeal Griddle Cakes with pork shoulder ragu, runny eggs, maple, and hollandaise.
The cornmeal griddle cakes, in particular, offer the kind of excessive hearty flavor you'd want from a Midwestern brunch but are not so heavy to KO you for the rest of the day. There's little doubt that the dinner menu will likewise provide patrons with a careful mix of luxurious taste with healthy ingredients.
With an airy, open design that's reminiscent of Frank Lloyd Wright's eminent prairie style, City Mouse is sure to become a popular spot to mix and mingle for locals and out-of-towners. The restaurant will likely only build more buzz as this hip neighborhood hub nears its official opening this fall.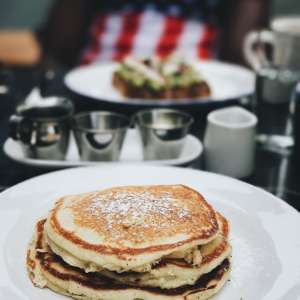 311 North Morgan Street
Chicago, IL 60607
Brunch: 7am – 3pm