Thanksgiving is finally over and you know what that means – the Holidays are officially here!
And because we've been very thoughtful, generous, and kind, we've decided to create a list of the best holiday and Christmas cocktails near you in Chicago.
So, without further ado, here's the down-low on the best cocktail bars to visit in the city this December.
We know, we know – you're welcome.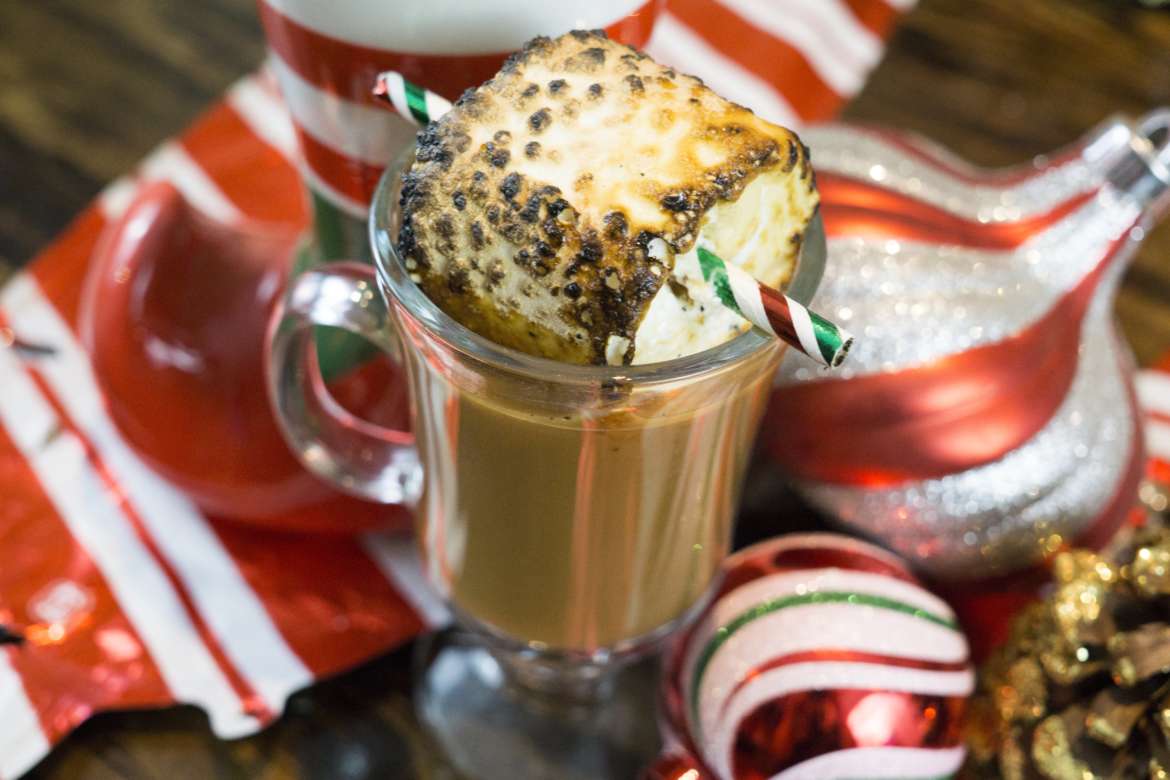 Elf'd Up | 3485 N Clark St
If you're looking for delicious holiday cocktails near you, the Stretch Bar & Grill has created a holiday pop-up experience dedicated wholly to the Christmas movie Elf. Visit this cocktail bar in Chicago to enjoy seasonal cocktail tributes to the classic film. Buddy the Elf is expected to show, and when he does, make sure you've got one of the following in hand:
World's Best Cup of Naughty Coffee – Buffalo Trace Bourbon Cream Liqueur, Paddy's Irish Whiskey, maple syrup and caramel coffee, topped with a toasted marshmallow ($12)
Ninny Muggins – Chila Orchata, Fireball Whiskey, topped with whipped cream and Cinnamon Toast Crunch ($12)
Hubbard Inn | 110 W Hubbard St
The newly re-opened Hubbard Inn is as enchanting as ever, especially with a sexy holiday cocktail on the menu. Mixologist Consultant Meghan Konecny created this snowy winter day sipper with an apple toddy in mind, bringing the strength and warmth of that classic drink to Chicago. This cocktail bar is partnering with No Kid Hungry for the month of December, donating $1 from select menu sales to raise $500.
Teacher's Pet – Cognac, Rhine Hall La Normande Pommeau, Pedro Ximenez sherry, Baked Apple Shrub, Bitters, garnished with star anise ($14)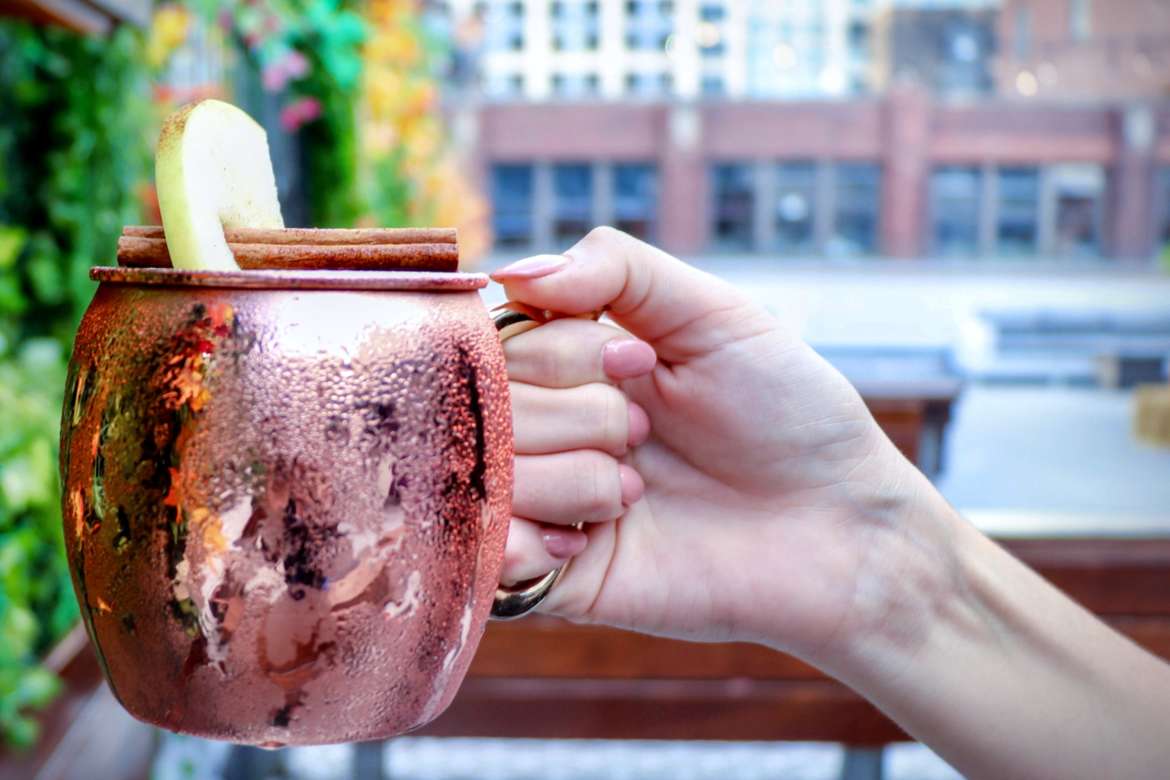 Joy District | 112 W Hubbard St
If you're searching for the most refreshing cocktails near you in Chicago, this bar is offering more than a few Christmas cocktails for you to try. We've listed our favorite but check out their cocktail menu at Parlay to see the big picture.
Winter Mule – Hendrick's Gin, lemon juice, apple cider, and ginger beer served in a copper mug and garnished with an apple slice pierced by a cinnamon stick ($14)
Whoville Hot Cocoa – Bailey's, hot chocolate and peppermint and the Jingtinglers with Bacardi Rum, Peach Schnapps, Blue Curacao, orange juice, and Sierra Mist ($14)
Grinch Juice – Absolute Juice, soda and prosecco, Christmas Drank with Bombay Gin, lemon, rosemary, simple, pomegranate, club soda, and prosecco float ($68, shareable)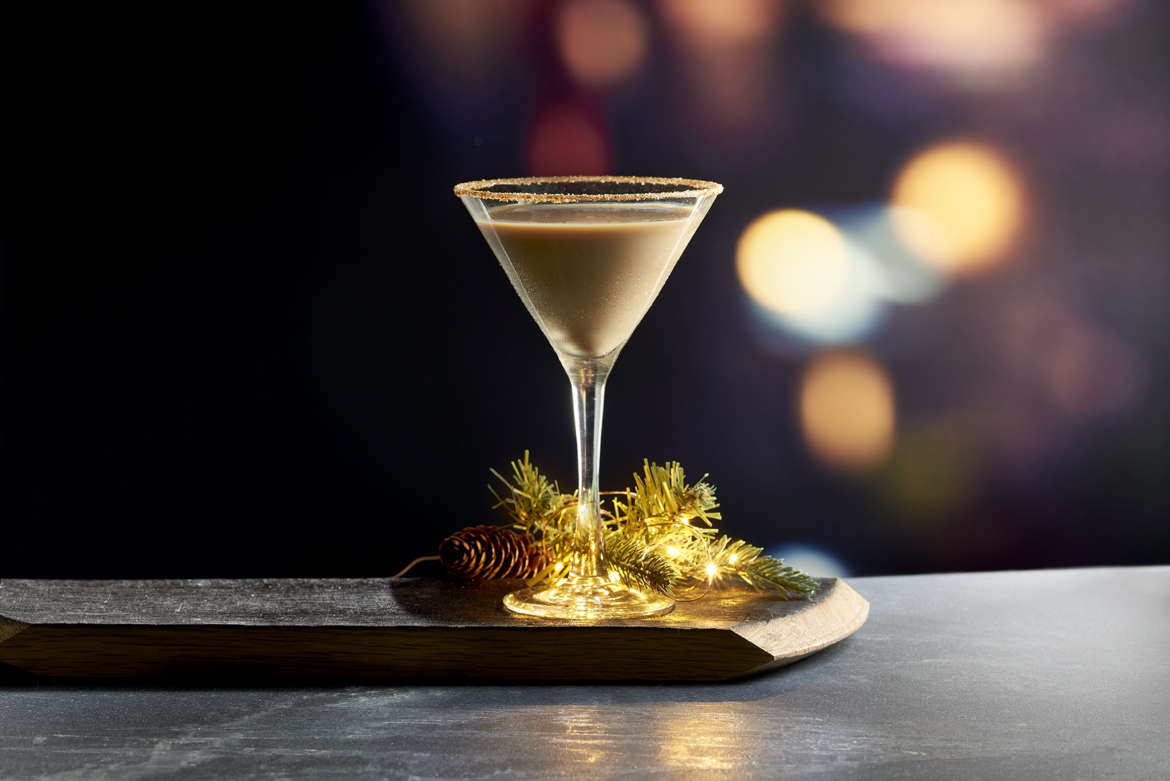 Mastro's | 520 North Dearborn
The Holiday Cheer Christmas cocktail at this cocktail bar in Chicago is will remind you of a Christmas dessert in a glass. This drink will make any cold, winter night that much warmer. Head in for a nightcap at Mastro's and order the velvety Holiday Cheer, served in a martini glass.
Holiday Cheer – Tito's Vodka, Kerrygold Irish Cream, Kahlua, Licor 43, garnished with a cinnamon, sugar and graham cracker rim ($22)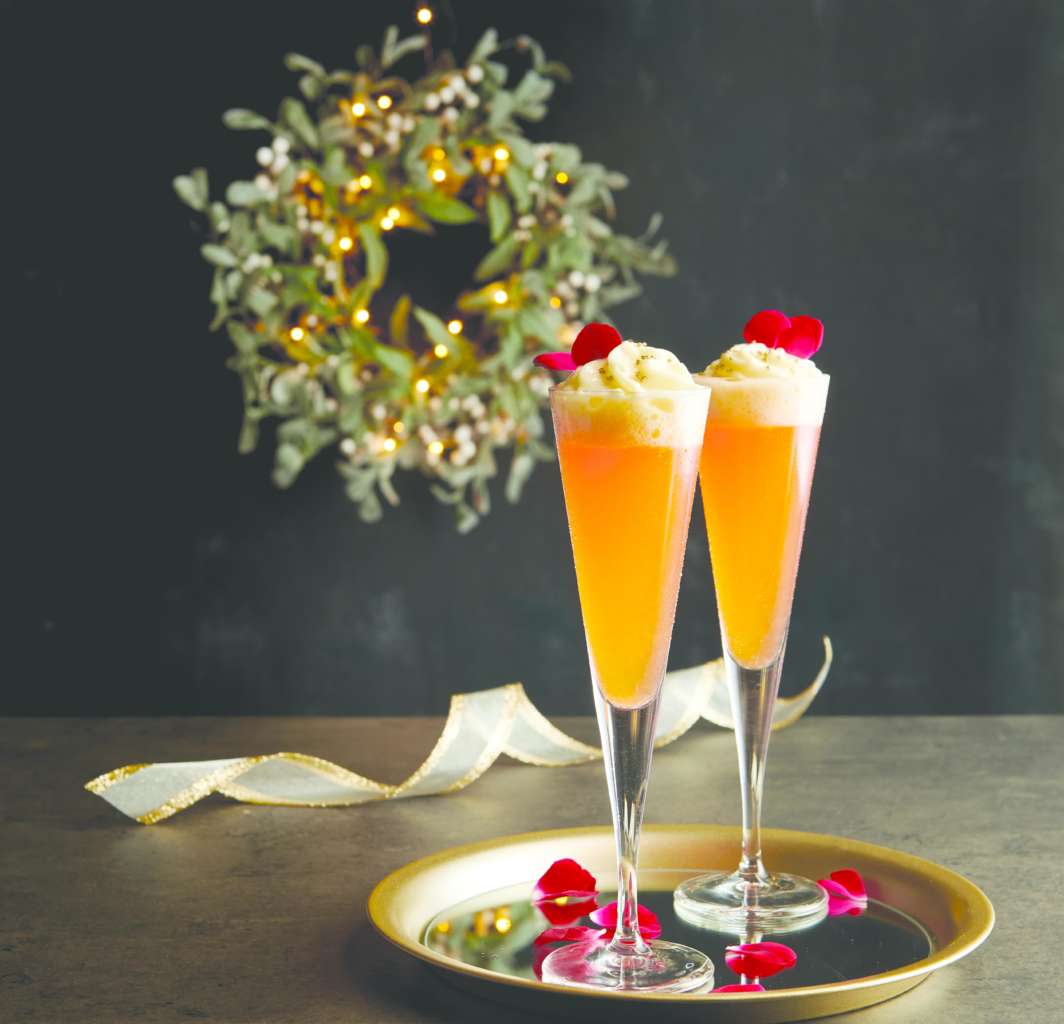 Morton's The Steakhouse | Chicago, Naperville, Northbrook, Rosemont, and Schaumburg
Holiday Cocktail Special – Ketel One Botanical Cucumber Rose Vodka, Aperol Aperitif, simple syrup, and lemon juice in a champagne flute, topped with hand-shaken whipped cream and an edible rose petal garnish ($17)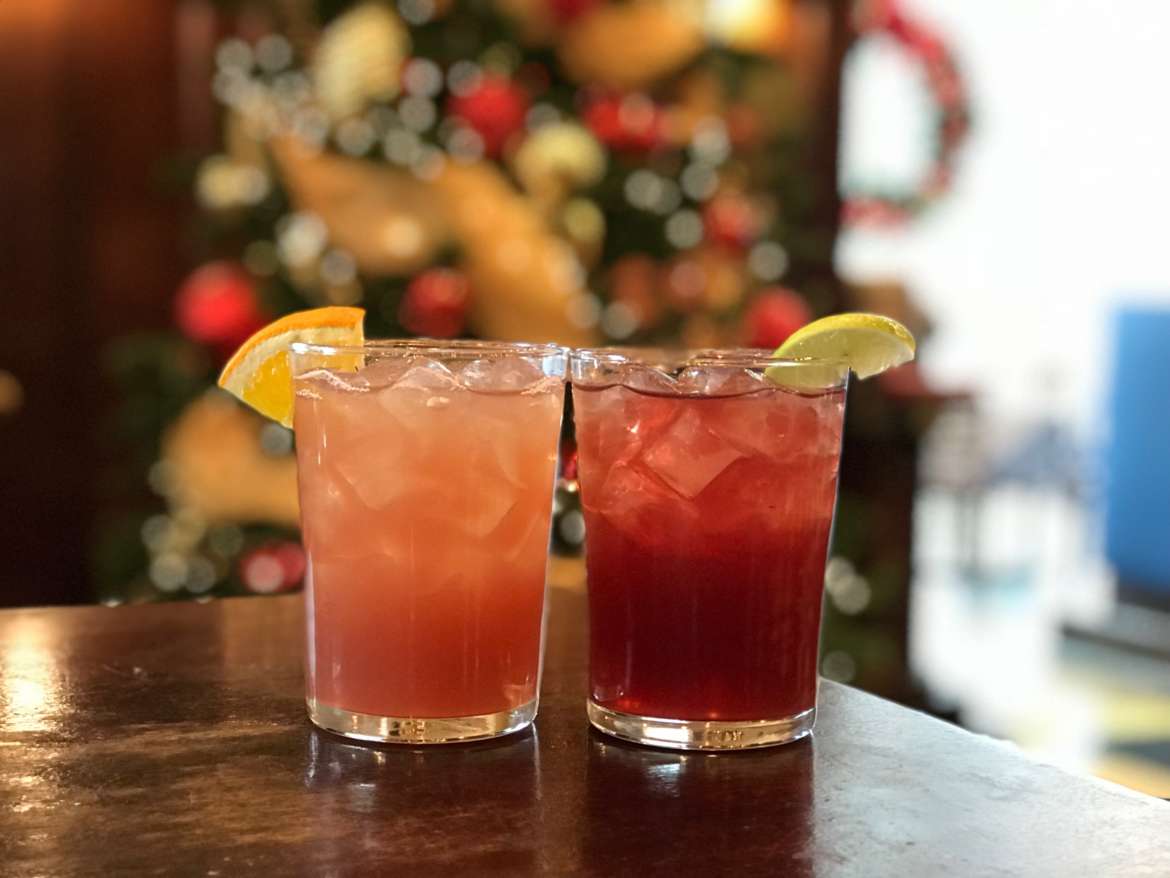 Tuscany Restaurants | 1014 W Taylor St & 550 S. Milwaukee Ave, Wheeling
Baby, it's cold outside, but Tuscany Taylor wants to warm you up with their holiday concoctions. If you're in the process of researching the most notable cocktails near you, Owner Phil Stefani is proud to present two specialty cocktails at their Chicago and Wheeling locations.
Jack Frost – Jack Daniel's Whiskey, simple syrup, cranberry juice, splash of orange juice and mint, garnished with an orange slice ($9)
Holiday Mule – Tito's Vodka, pomegranate juice, lime juice, ginger beer and dash of honey, garnished with a lime wedge ($9)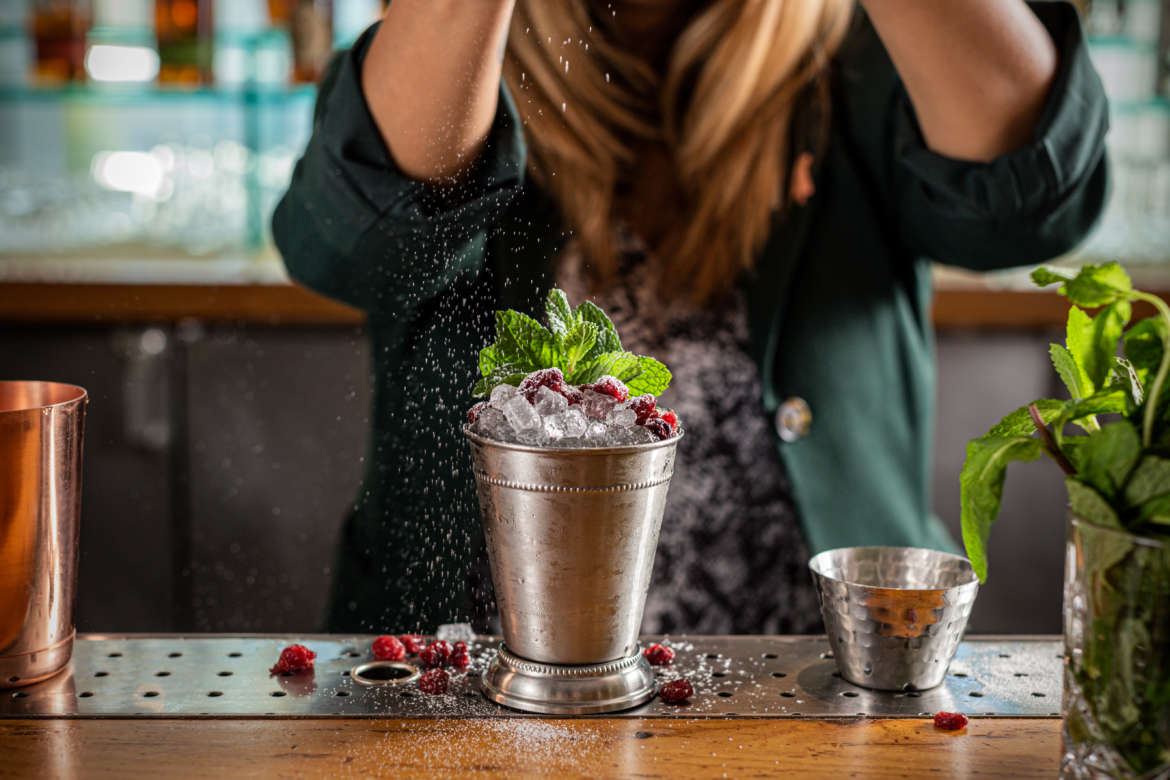 WoodWind | 259 E Erie St 18th Floor
Head up to the 18th floor of the Northwestern Memorial Hospital in Streeterville to experience a range of holiday cocktails that will warm you from your head to your toes. WoodWind just opened this year and is quickly becoming a hot spot for downtowners.
Cranberry Swizzle – Rittenhouse rye, maple, cranberry liqueur and a powdered-sugar topping the resembles snow ($14)
Sweet Nectar – Titos vodka, rosemary/vanilla bean syrup, black walnut bitters, notes of crisp pears with luxurious vanilla bean finish, and rosemary aromatics ($14)
Green Tea Flambé – Green tea-infused rum, torched rosemary, and green chartreuse with smoky and herbaceous notes ($14)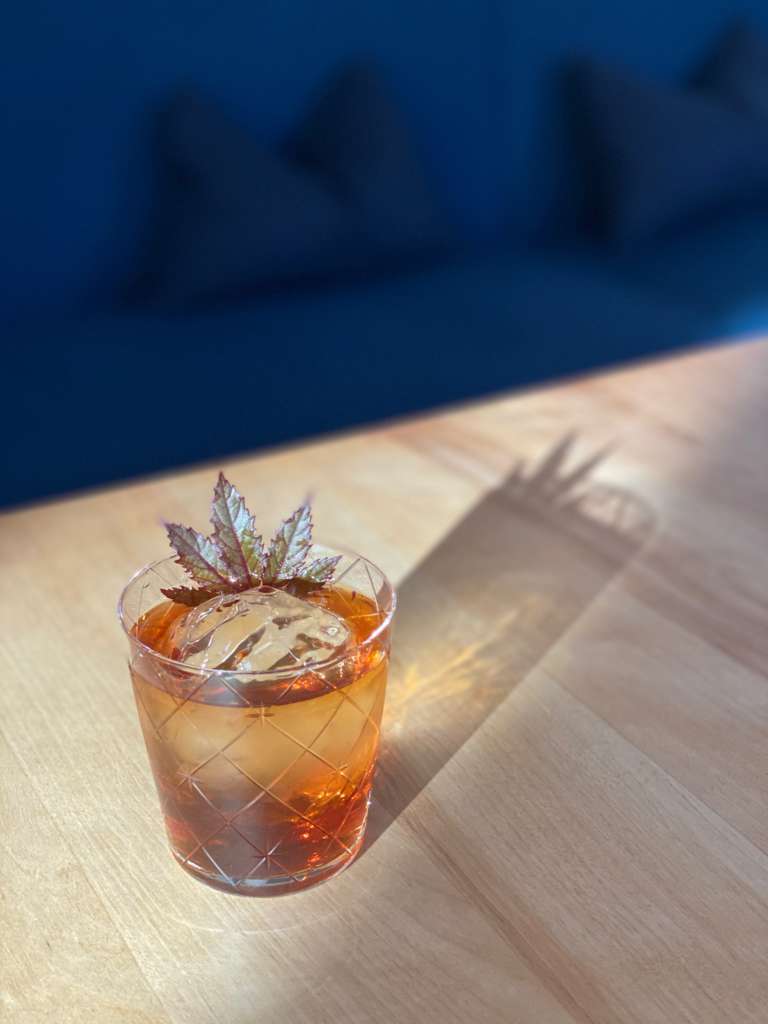 Kumiko | 630 W Lake St
Acclaimed chef Julia Momose's new Japanese cocktail bar has already made a name for itself, but now you can enjoy a holiday cocktail in the serene, minimalistic atmosphere.
Seasonal Old Fashioned – Salt-roasted Japanese sweet potato, Hatozaki small batch Japanese whisky, Kokuto (a pure Japanese brown sugar), green cardamom, and angostura ($27)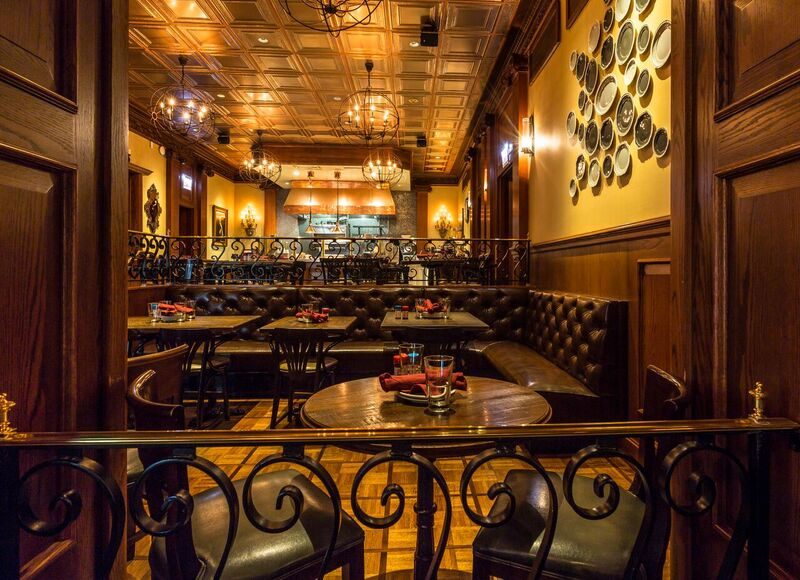 SideDoor | 100 E Ontario St
This high-end River North cocktail bar is pulling a dark one on us this Christmas season. The historic mansion is setting pairs perfectly with their newest Nightmare Before Christmas cocktail, giving us all the chills through the holidays.
Nightmare Before Christmas – Smoky mezcal and bitter Suze, warming notes of vanilla, allspice, fig, cardamom, and chocolate ($13)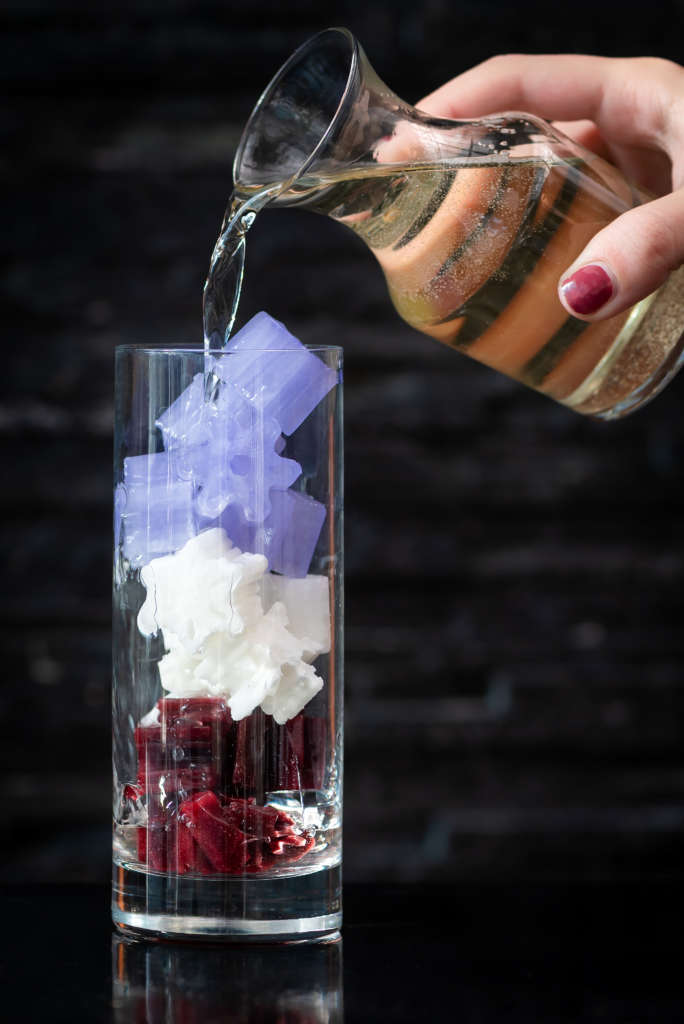 I|O Godfrey | 127 W Huron St
Celebrate National Sangria Day on December 20 while also ringing in the holidays at the I|O Godfrey. Their year-round rooftop bar has heated igloos that are perfect for keeping out the cold while still enjoying the Chicago skyline.
Snowflake Sangria – Wintry, snowflake-shaped ice cubes flavored by fruit purées and floral extracts, such as butterfly pea flower and blackberry, topped with Moscato and a splash of vodka. As the ice melts, the flavors become more prominent ($15)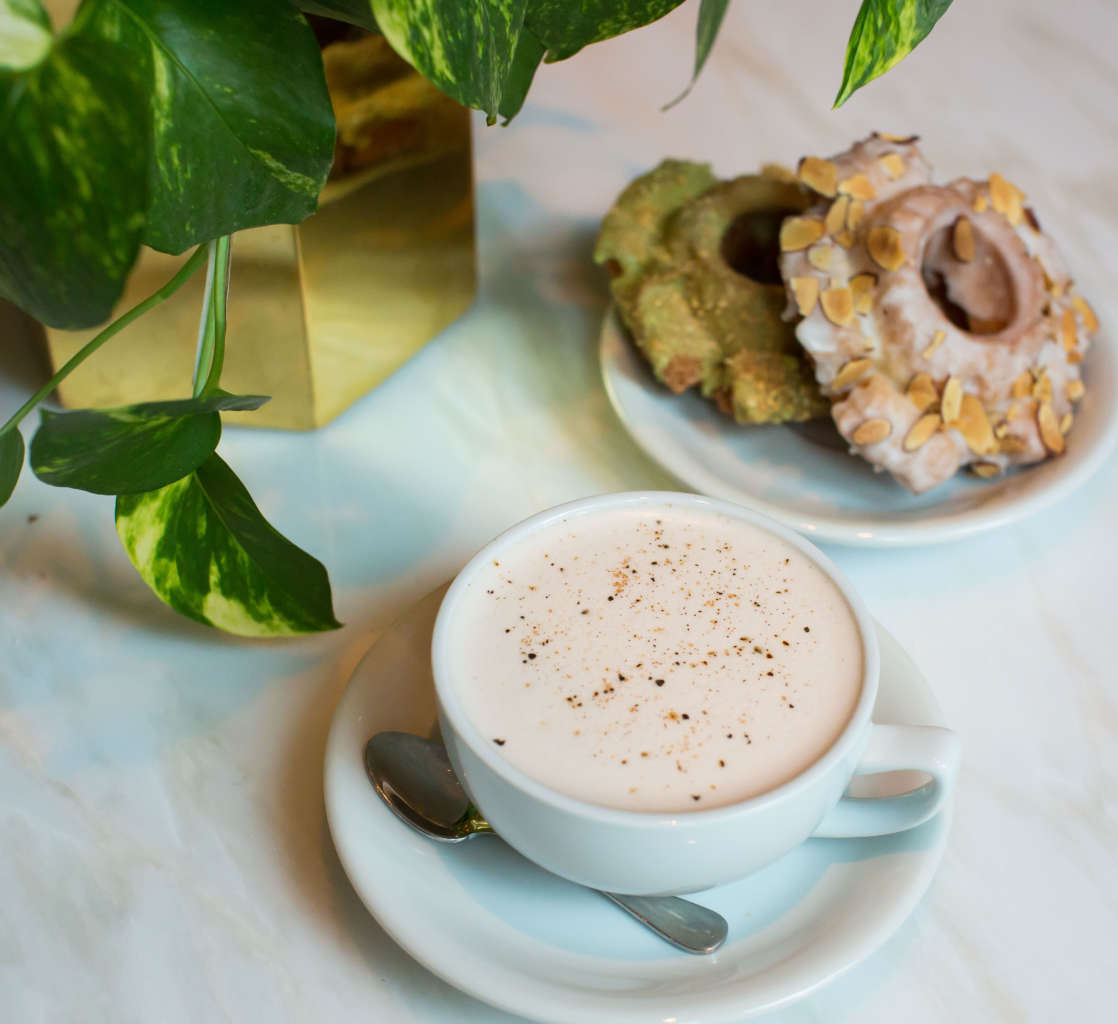 Aster Hall | 900 N Michigan Ave
This Chicago food hall is taking their holiday game to the next level by providing boozy chai cocktails near you. Take in the sweeping views of snowfall at this cocktail bar over Lake Michigan while sipping on this spiked holiday drink.
Bénédictine & Chai – Amped-up, spiked version of a Chai Latte with rich and creamy with notes of allspice, black pepper, and sandalwood ($7)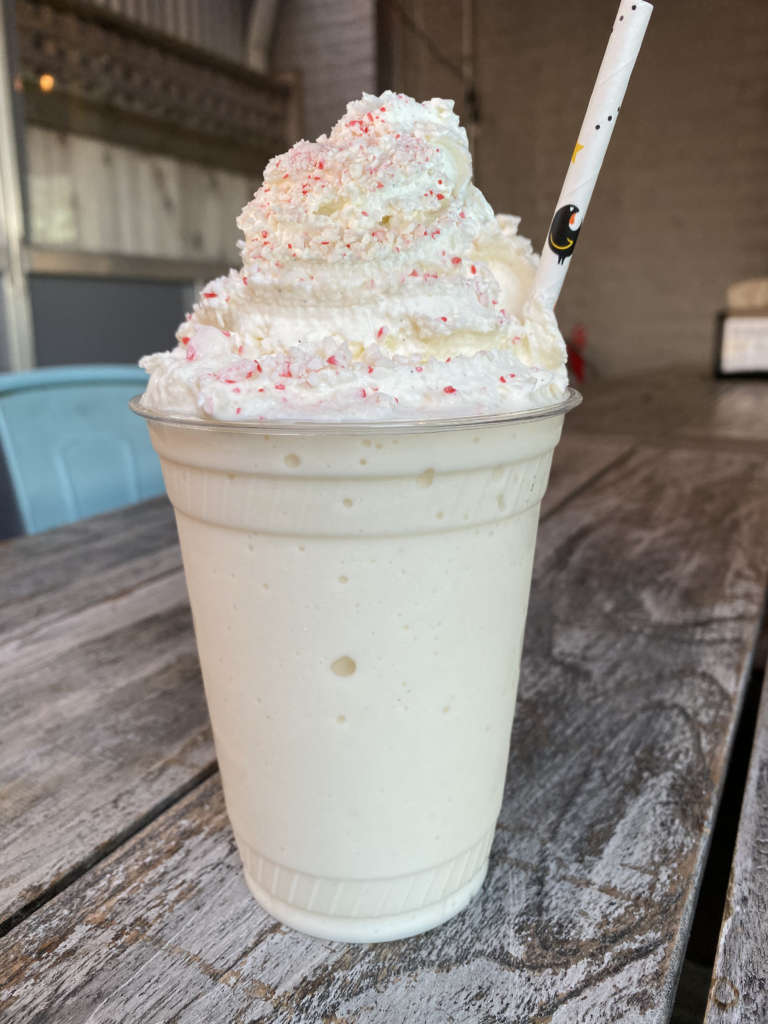 Honey Butter Fried Chicken | 3361 N Elston Ave
One of the BEST fried chicken restaurants in all of Chicago, hands down, Honey Butter Fried Chicken offers a non-alcoholic cocktail that you can turn twisted with a little rum if you choose.
Peppermint Milkshake – Combines Honey Butter's classic Honey Vanilla soft serve with peppermint and is topped with whipped cream and crushed peppermint pieces, make yours boozy with the addition of rum ($8)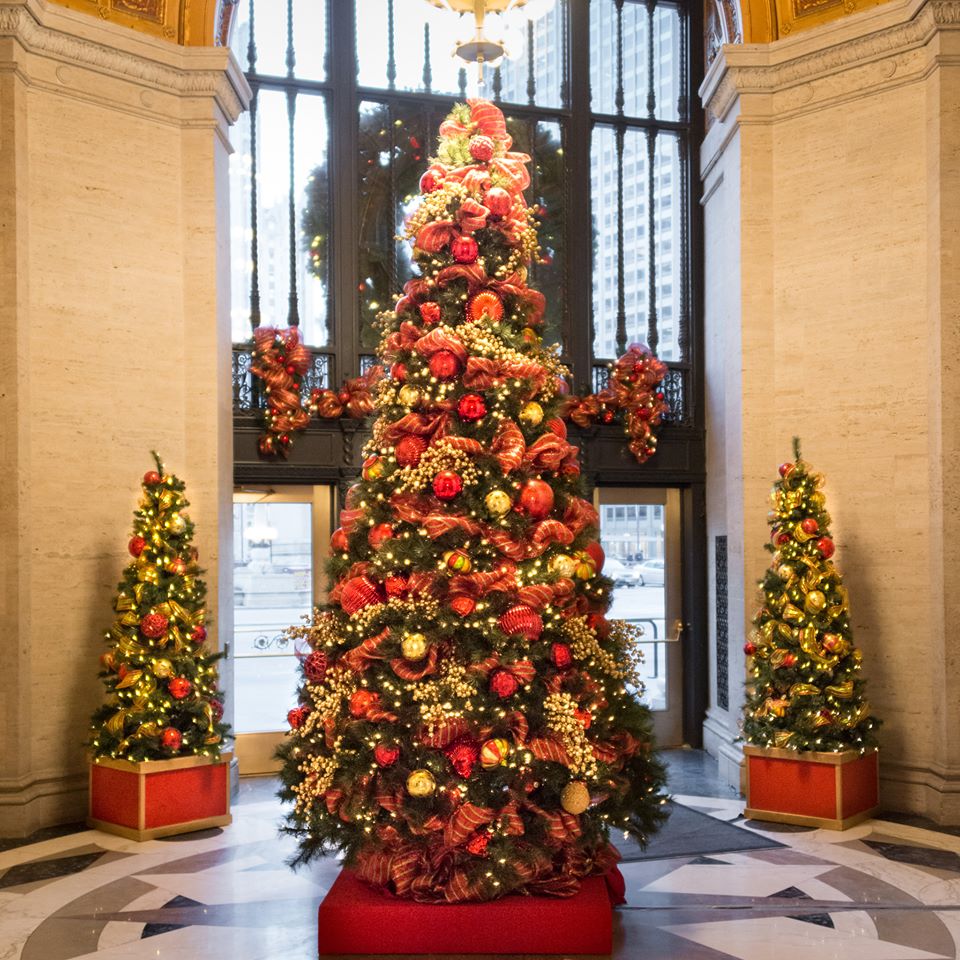 LH on 21 at LondonHouse Chicago | 85 E Wacker Dr
We love a good gin cocktail, and LondonHouse is no joke. This one knocks it out of the park.
Hot Buttered Apple – Hendrick's Gin, housemade apple cider, pear, lemon, and earl gray bitters ($16)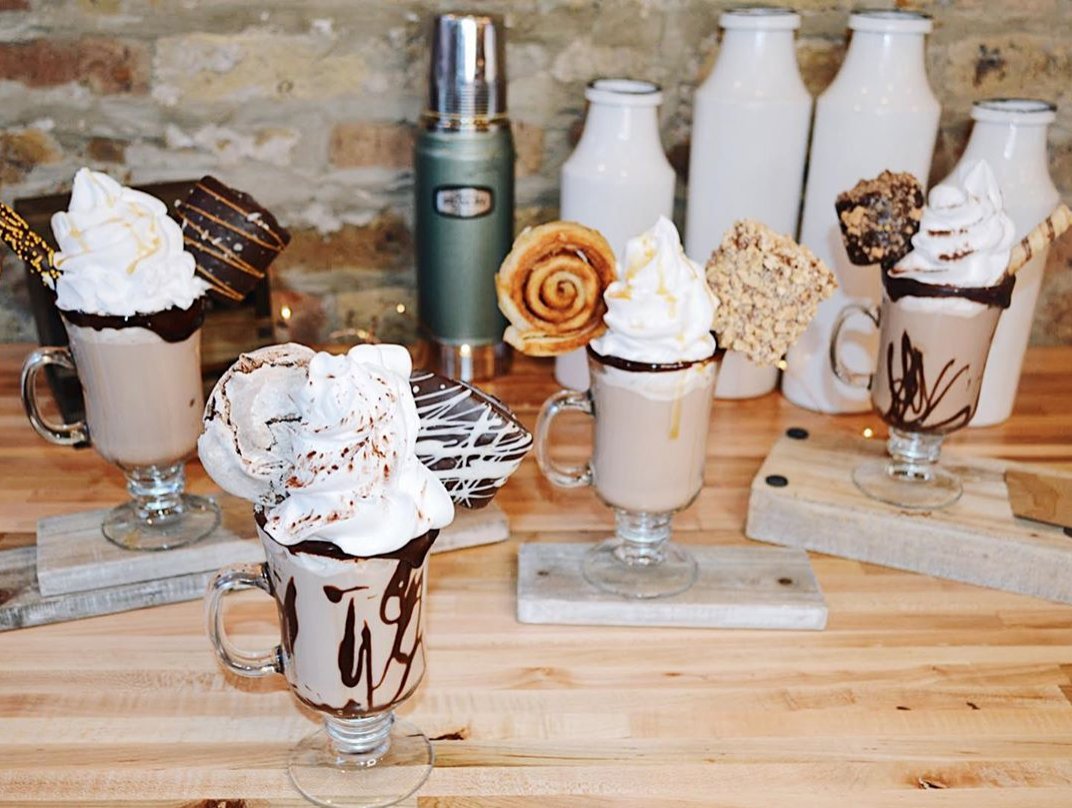 JoJo's Shake Bar | OPENING SOON in Watertower Place, Streeterville
JoJo's Milk Bar | ALREADY OPEN at 23 W Hubbard S, River North
A concept by JoJo's Milk Bar, opening this December at Watertower Place in Streeterville, JoJo's Shake Bar offering a seasonal cocktail menu that blows us away. Get yourself a BIGGIE Hot Chocolate and top it with any of the offerings below for one tasty dessert cocktail. Make your tasty drink boozy by adding a shot of Bailey's for $6, and CBD add-ons from Half Day CBD are available for an additional cost. You can also get yours to go in a 96oz thermos to share for $24 or $36 to make it spiked!
While you're waiting for this newest venture to open, head to the longstanding JoJo's Milk Bar in River North, where they're also available, to get a taste of these seasonal milkshakes before the season's end!
Cinnamon Bun – Hot chocolate, topped with whipped cream, toasty cinnamon bun, chocolate covered marshmallow, and caramel rim
Double Chocolate – Double chocolate hot chocolate, topped with whipped cream, chocolate meringue, and white chocolate drizzled marshmallow
Hazelnut – Hazelnut hot chocolate, topped with whipped cream, toffee marshmallow and pirouline
Salted Caramel – Salted Caramel infused milk, topped with whipped cream, salted caramel jumbo marshmallow, and chocolate covered pretzel
At UrbanMatter, U Matter. And we think this matters.
Tell us what you think matters in your neighborhood and what we should write about next in the comments below!
READ MORE LIKE THIS
DOWNLOAD THE URBANMATTER APP
FIND PARKING