Excited to make the most of your winter holidays with friends at your favorite ice rinks in Chicago? Get ready to lace up your skates and embrace the winter festivity in Chicago's icy wonderland in 2023. Whether you are looking for a fun family outing or wish to brush up on your skating skills, this guide will help you be prepared. So, don't miss out on Chicago's most beloved ice rinks with these opening dates revealed just for you!
1-Morgan Park Sports Center Ice Rink:
Located on Chicago's Southwest Side, the Morgan Park Sports Center Ice Rink is a fantastic venue for ice skating. This state-of-the-art sports complex is spread around 2.88 acres which offers a range of activities & amenities to cater to its visitors. The sports center boasts an NHL-sized ice rink that provides a high-quality skating experience for hobbyists and advanced skaters.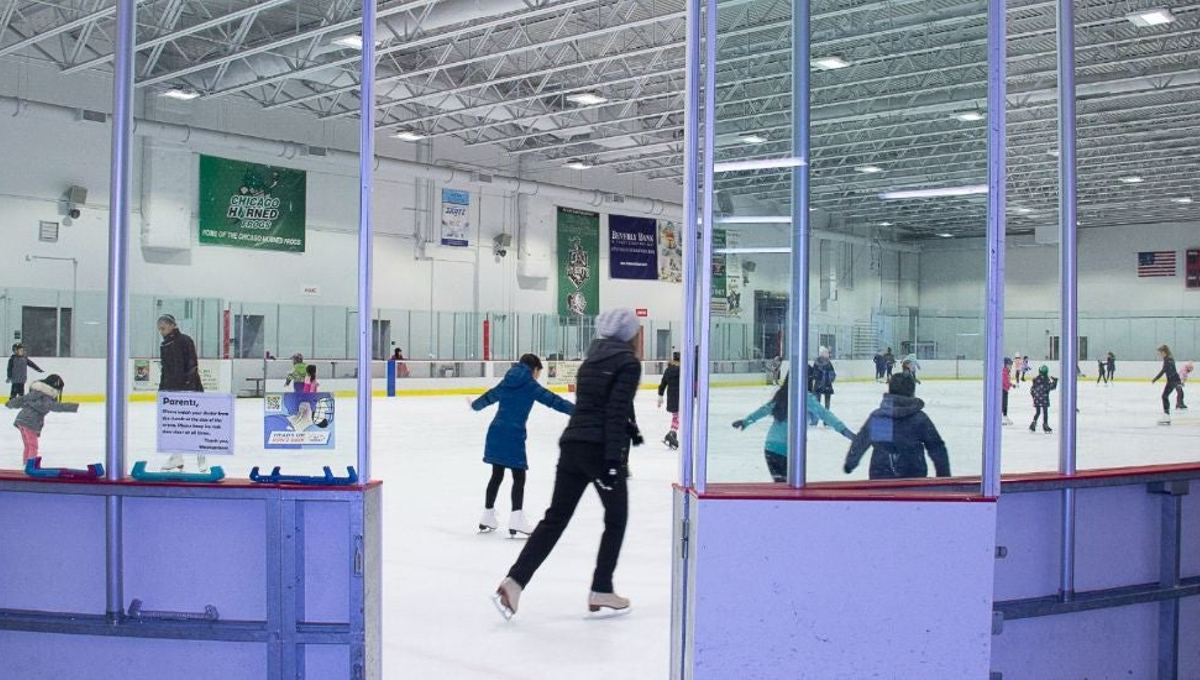 Apart from ice-skating, the sports center also houses a gymnastics center which makes it a versatile facility for sports enthusiasts. With 1200 spectator seating capacity, this skating rink offers private lessons for enthusiasts. The ice rink also offers public skating sessions that allow anyone to drop in on weekends for a fun session.
Moreover, the pricing for admission is very reasonable. For children aged 12 and under, the tariff is $4 while for teens and adults up to the age of 59, the tariff is $5. The lowest tariff is for senior citizens aged 60 and above at $2. If you are looking forward to rent skates, it can cost you about $3.
For more information about this ice skating rink, check out this link.
2-Sky Rink At The Peninsula Chicago Hotel:
If you are looking for a luxurious and unique ice skating experience, the Peninsula Chicago Hotel Sky Rink is the place to be. Located on the 4th floor of this hotel, this skating rink offers visitors and guests an exceptional experience. This ice skating rink offers a sophisticated and swanky environment for skaters to have the best time exploring their skating skills.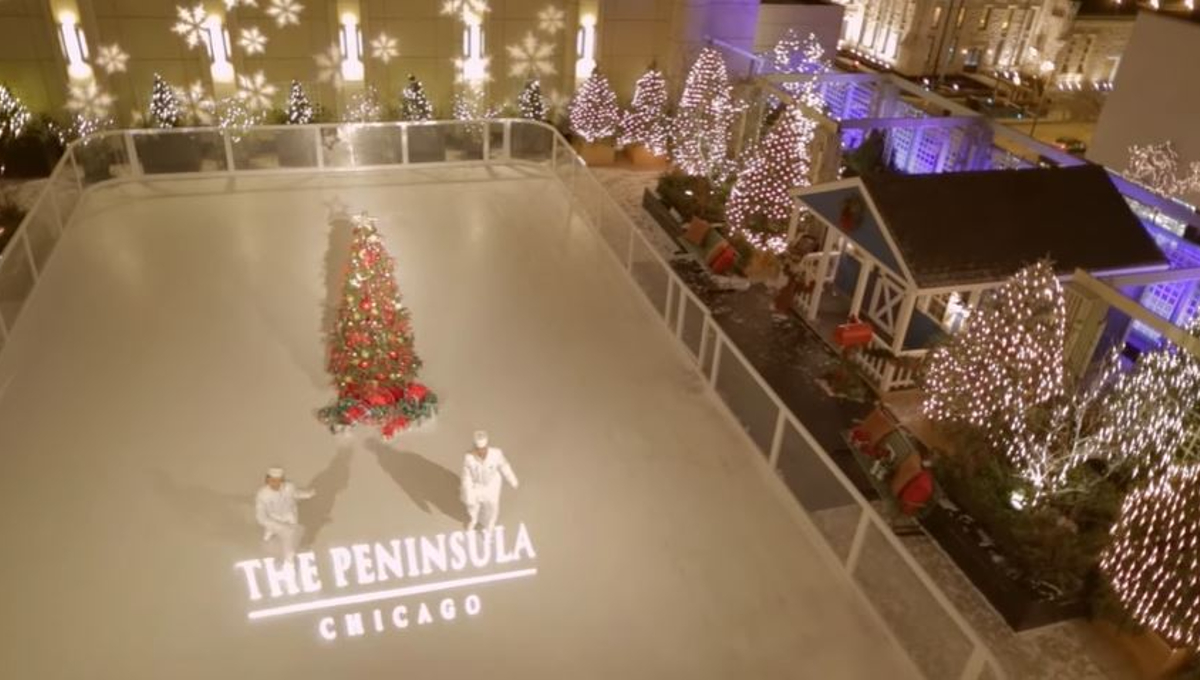 Moreover, the ice rink is situated high above Michigan Avenue which provides the skaters a mesmerizing view of the Chicago city. And while you skate at the ice rink, do not forget to relish a menu comprising of tasty and comfortable food options. This Sky Rink is also available for groups to rent which makes it an ideal location for private events, special celebrations, and corporate gatherings. While you'll have to pay a fee for renting skates, all the money collected from the rentals is donated to charity. Although the dates on which the Sky Rink will open this year aren't known yet, it is most likely going to happen around Thanksgiving.
3-Navy Pier- Light Up The Lake:
The Light Up The Lake event at the Navy Pier opens up the doorways to the ice rink located within the Festival Hall. This unique indoor ice skating experience ran from mid-November 2022 to early January 2023. However, dates for this winter season haven't been declared yet.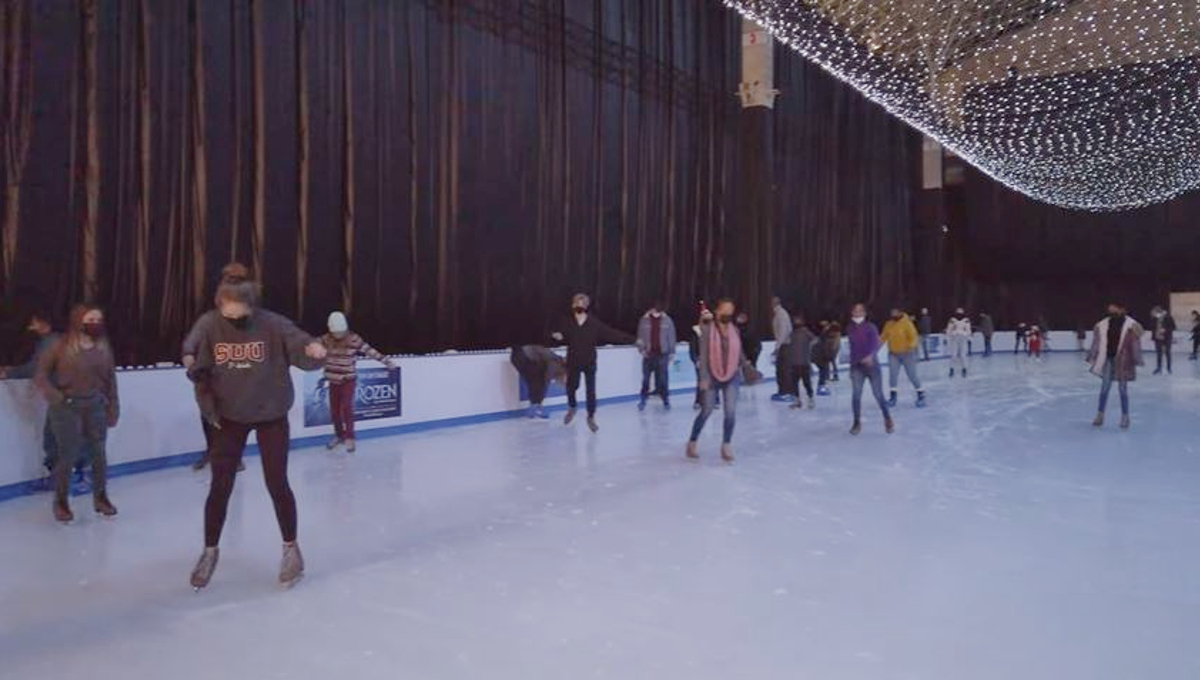 To make the winter months fun, the Navy Pier's 170,000 square-foot hall transforms into a skating rink with sparking Christmas lights all around. In 2022, the tickets were priced at $13 which included a free ride on the 200-foot Centennial Wheel.
Once the dates for the special event are updated, you can book your tickets here.
4-Gallagher Way Winterland:
The Gallagher Way Winterland is one of Chicago's best-kept secrets located close to the Wrigley Field. This place transforms into a beautiful winter wonderland as the holiday season approaches. While you would surely love the ice skating rink at this place, the outstanding Holiday Market would also grab your attention. This market features a collection of artisanal vendors that offer seasonal treats, handcrafted gifts, and several unique finds.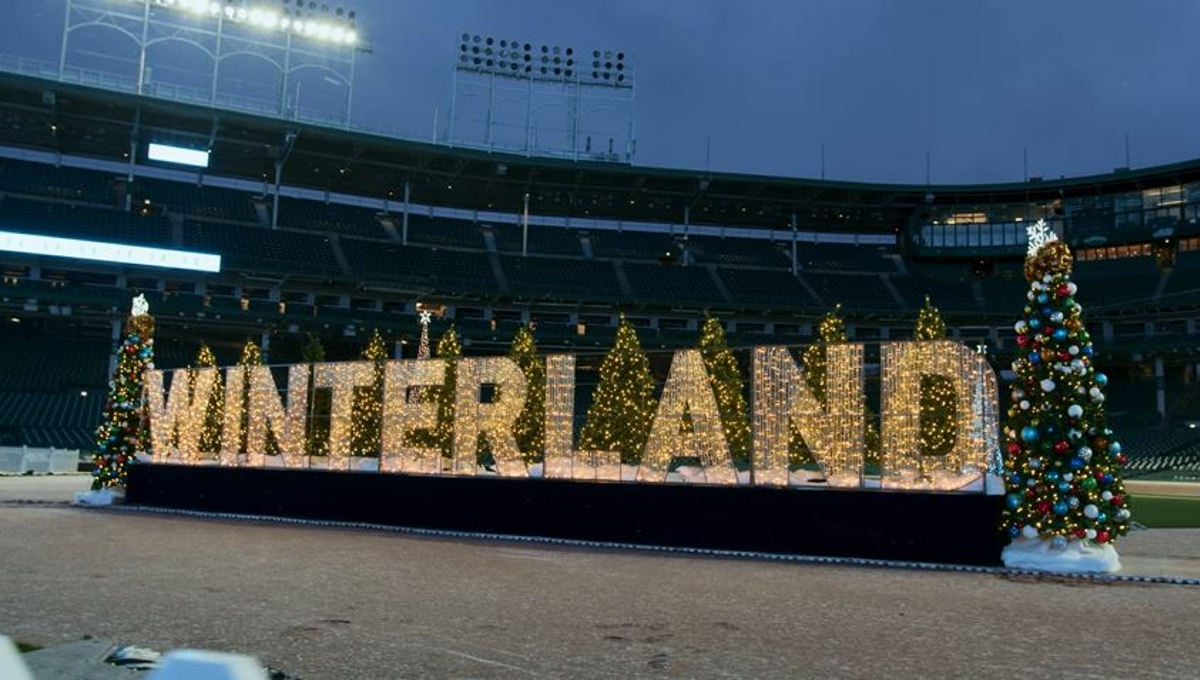 One thing that makes this ice rink a special one is the fact that it features the backdrop of the iconic Wrigley Field marquee. This adds a touch of Chicago sports history to the lovely holiday ambiance.
For folks interested in enjoying a visit to the Gallagher Way Winterland skating rink, the venue will be open to visitors from November 21, 2023, to January 7, 2024.
For more information, you can visit this link.
5-Maggie Daley Park:
Located in the heart of Downtown Chicago, Maggie Daley Park's Ice Rink is frequented by tourists and locals alike in the winter months. The ice rink is a prime feature of the expansive Maggie Daley Park that is spread across more than 20 acres of recreational areas and green space. While the ice rink is picturesque in itself, it also offers skaters a mesmerizing view of Millennium Park and the Chicago city's skyline.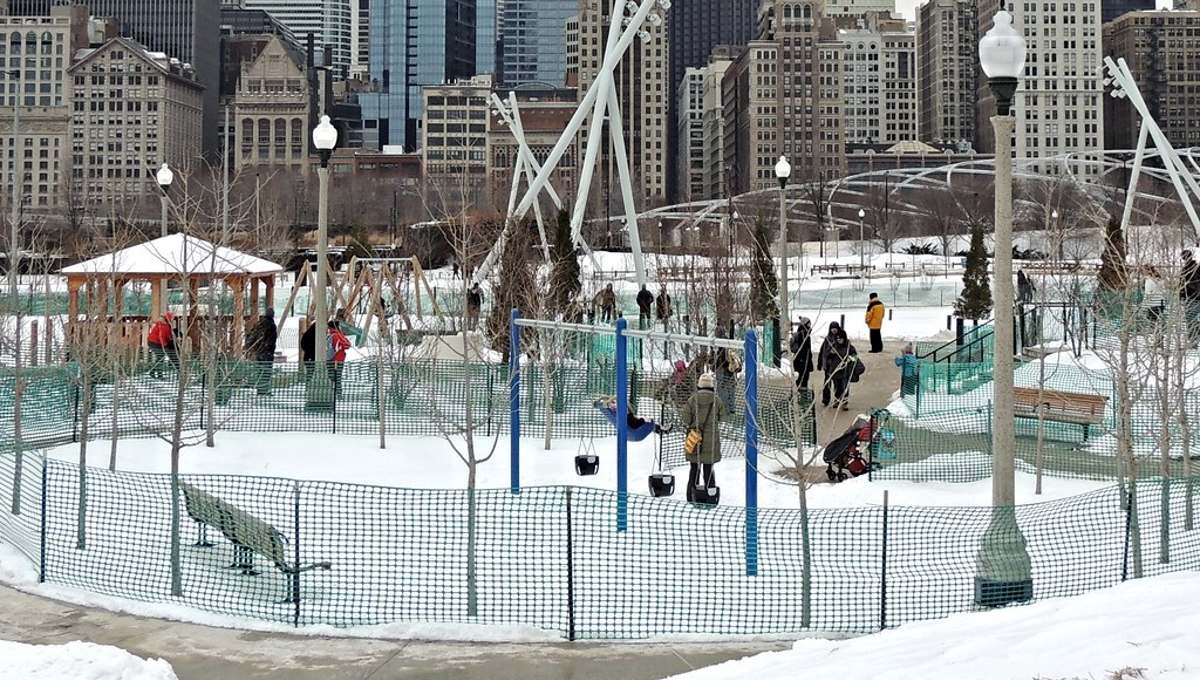 The Maggie Daley Park Ice Rink typically opens in late November. And is operational throughout the winter months (depending on the weather conditions). Moreover, it also hosts themed skating nights and a number of special events. So, if you wish to book your dates for an exciting skating adventure, the rink will open on November 17, 2023. However, for a brief period in the holiday season, it shall remain closed from December 15 to January 7. The last operational date for the Maggie Daley Park Ice Rink will be March 10, 2024.
Timing For Daily Skating Sessions
11:00 am – 1:00 pm
2:00 pm – 4:00 pm
5:00 pm – 7:00 pm
8:00 pm – 10:00 pm
Here's when you can book your tickets:
November 17 to December 3, 2023 – Book your tickets on November 6, 2023
December 4 to December 17, 2023 – Book your tickets on November 20, 2023
December 18 to January 7, 2024 – Book your tickets on December 4, 2023
January 8 to January 21, 2024 – Book your tickets on December 18, 2023
January 22 to February 4, 2024 – Book your tickets on January 8, 2024
February 5 to February 19, 2024 – Book your tickets on January 22, 2024
February 20 to March 3, 2024 – Book your tickets on February 5, 2024
March 4 to March 10, 2024 – Book your tickets on February 26, 2024
For additional information, do visit the official website at maggiedalypark.com.
6-McCormick Tribune Ice Rink:
Located in Chicago's Millennium Park, the McCormick Tribune ice rink is a popular skating venue for many. This family-friendly ice rink welcomes skaters of all ages and skill levels. Even if you don't have your own skates, you can rent them on-site which makes skating all the more accessible. Additionally, the rink hosts various events throughout the skating season which include musical performances.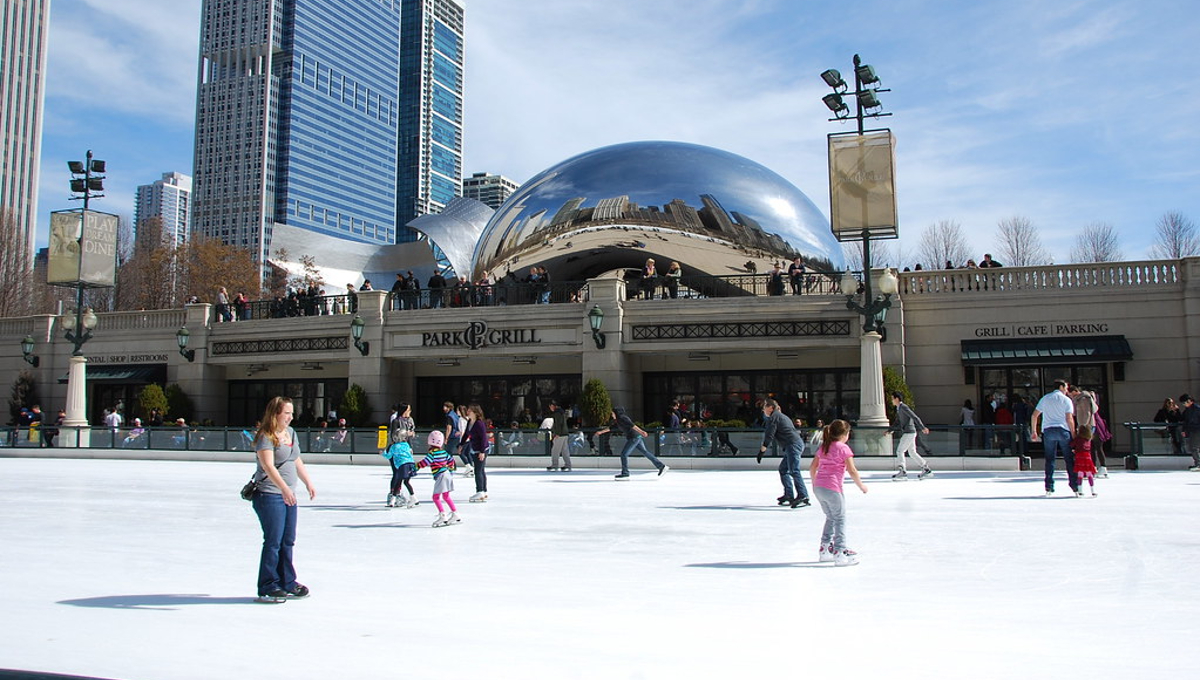 So, if you plan on skating at the McCormick Tribune, make sure you plan ahead of time. The ice skating rink will stay operational from November 17, 2023 to March 3, 2024. Admission here is free. However, you would need reservation tickets for the rink that can be booked online.
So, which of these ice skating rinks will you be visiting this winter? Share your thoughts in the comments and check back with Urban Matter for more insights! Also, do not forget to check out our list of some of the spookiest places in Chicago!