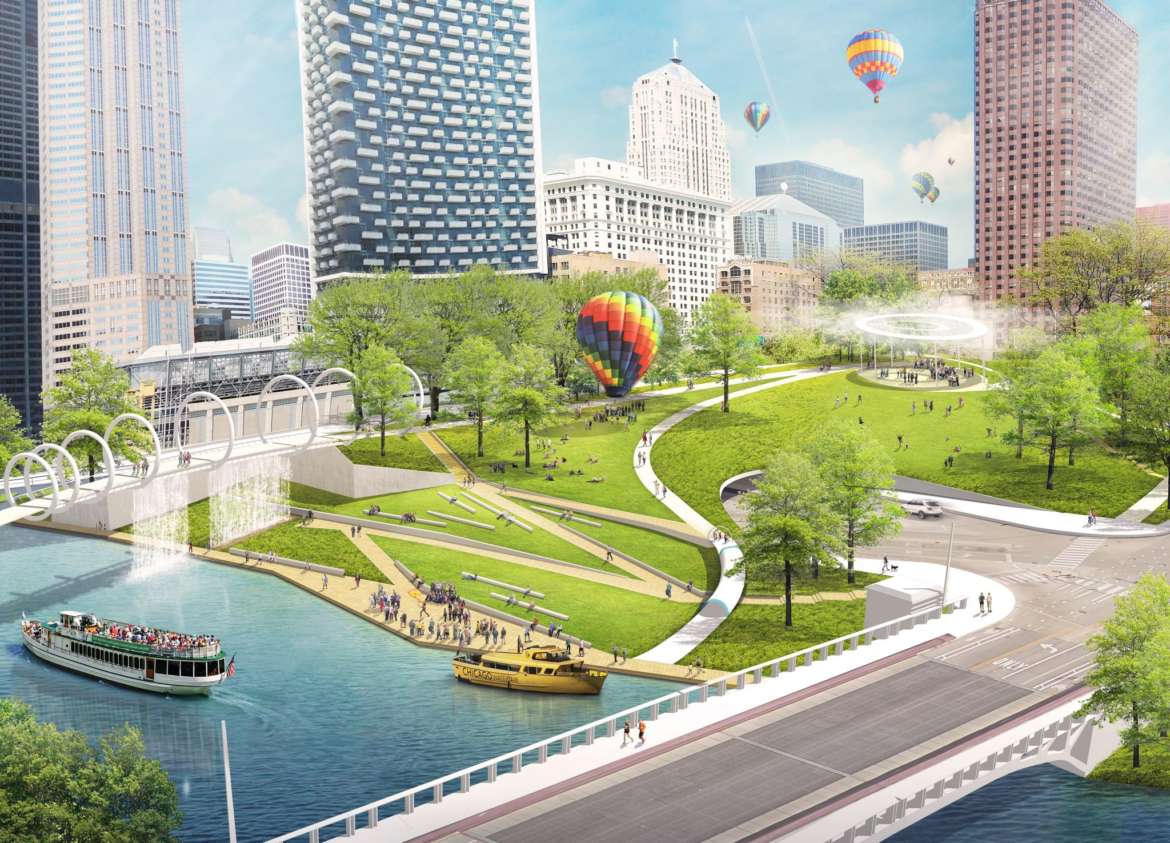 In March of this year, Mayor Rahm Emanuel held a conference with mayors from across the globe at Chicago's Riverwalk to discuss urban waterways and the role they play in today's society. The initiative that stemmed from this conversation is the Riverwalk Ideas Lab, where nine world-renowned design firms take turns reimagining the city's riverfront. In perfect line with Chicago's Architecture Biennial, these firms have turned their ideas into stunning realities, or rather, interactive exhibits on full display this year.
Sasaki, a cutting edge urban planning and design firm with prior ties to the Chicago Riverwalk, has a particularly intriguing vision for this dynamic part of our city. At a glance, it includes:
River Ballet: a series of calligraphic paths that allows visitors to dive below the water surface, climb a netting course, and create bird habitats and reflecting performance pieces on the Opera House wall.
Cloud Burst: a hilltop that seamlessly re-engages the city sidewalks to the river's edge, including a water curtain, slides and additional activities for all ages.
Shifting Fields: a dramatization of the uniquely flat surfaces of the land, the water, and the sky, including a seamless-floating pool with the River, an active plaza for farmer's markets, performance artists and community events, and more.
We interviewed Gina Ford, Principal and Chair of Sasaki's Urban Studio and lead designer of various phases of the Riverwalk's redevelopment, to delve deeper into the stimulating world that her firm has constructed for the Riverwalk.
What drew Sasaki to this project?
Sasaki has spent the last 10 years working on the Riverwalk to help it become what it is today. Participating in the Riverwalk Ideas Lab was a natural progression of this work.
What was the inspiration behind the River Ballet, Cloud Burst, and Shifting Fields?
We were really inspired by something the Mayor said out on the Riverwalk during a conference. He said that it's "our natural park, our Grand Canyon." We thought that was very profound – the idea of bringing the experience of these awe-inspiring natural habitats into the city. We were challenged to create ideas that were provocative and out of the ordinary. It was really crucial for us to have people engage with the Riverwalk in new and unexpected ways. We believe the result is much more thrilling than a typical riverfront promenade. It can basically simulate things that you'd find outside of a major city in nature on a larger scale.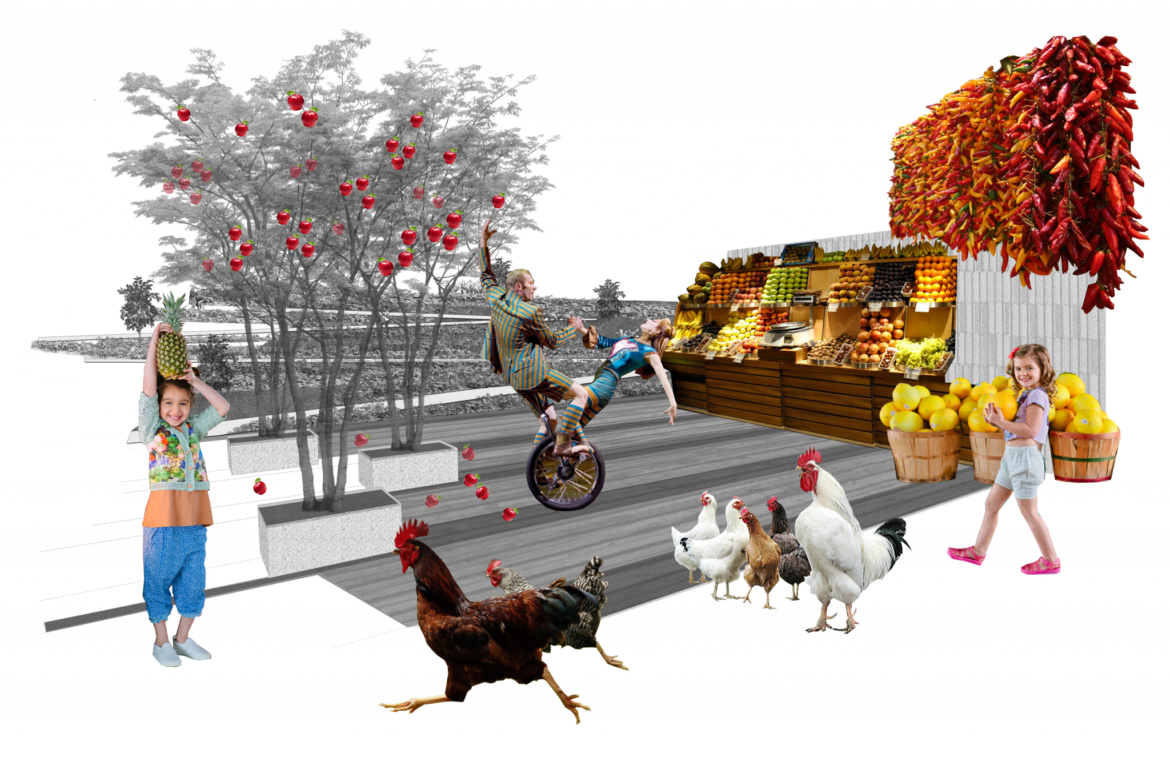 Why is it important to innovate this part of Chicago?
The Riverwalk has been a subject of study for over 30 years and will continue to be years from now. We see it as a mirror of the city itself — it was once a natural marsh, then an industrial conduit, and now its primary function has become recreational in recent years. It gives us one continuous system that engages with existing infrastructural features. The Riverwalk was something that was sorely in need of attention to make it a part of the city's bigger system.
What does Chicago's attention to the Riverwalk say about its attitude toward public spaces?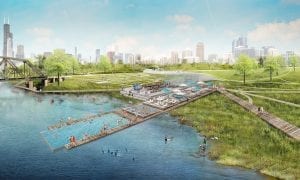 If you look at places like Grant Park, Millennium Park, Maggie Daley Park and The 606, it's obvious that Chicago is a city that invests in its public spaces. Since all the way back to the beginning of the century, the city has established itself as a global leader in innovating public space. Mayor Emanuel has continued that legacy, especially with his efforts on the Riverwalk. We're really proud of the work on phases two and three, they really set a new bar. People can't believe how intimate the place feels; there really are no barriers in experience. It has set a new precedent for how cities and people engage with each other.
What is the impact on the community?
Making it a safe, pedestrian, accessible place is obviously crucial, but there's also a connectivity piece that we find to be much more captivating. The recreational opportunities at the Riverwalk are ones that people might not find anywhere else in the city. Aside from water activities like kayaking, there's also the ecological education component. Phases two and three of the Riverwalk's redevelopment help amplify sustainability techniques, like water cleansing and caring for wetland plants.  It's another frontier that not only benefits wildlife, it benefits the community.
What can families do there?
There's a diverse group of firms participating in this project, and the ideas are pretty far ranging and beautiful, so as far as how families can engage, it's really across the board. We're thrilled to see the public reception of this work. More importantly, we encourage families to get involved in its sustainability, like participating in river cleanups. The Chicago River really needs advocates, and this is a chance to become a steward of this natural resource.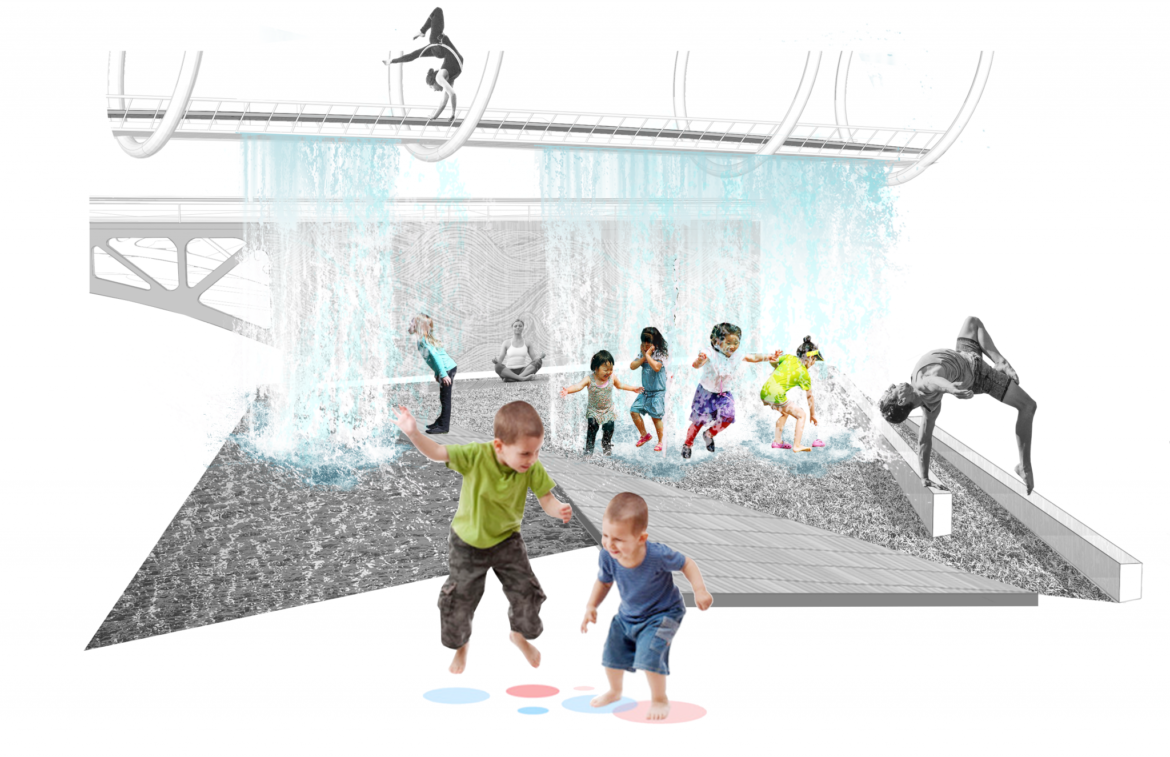 How long will the exhibit last?
The exhibit will travel through Chicago and stop at places like the Harold Washington Library and Civic Opera House. People can check out all of these amazing ideas now through January 7.