According to a report by DNAInfo, a floating exhibition space will sail the Chicago River and dock at places around the Riverwalk to entertain visitors.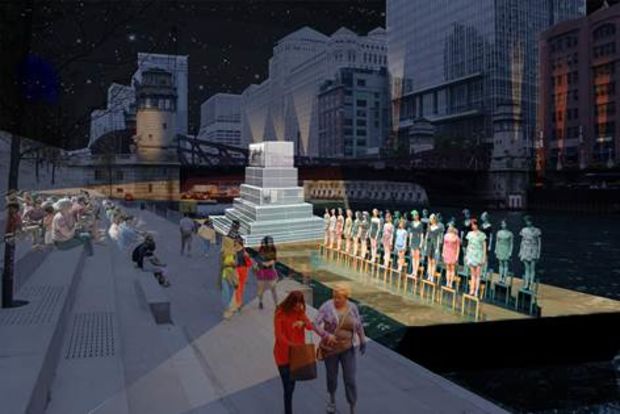 Programming aboard the floating attraction will include free moving screenings, live music, performances, and art displays. Renderings show a medium-sized stage attached to the edge of the Riverwalk, where performers can stand and where projections can be displayed from the Riverwalk, making for a unique and intimate mode of entertainment. The float will make stops at the Resource Center, Eleanor Park, the Chicago Riverwalk, and Navy Pier. Operation begins on August 7.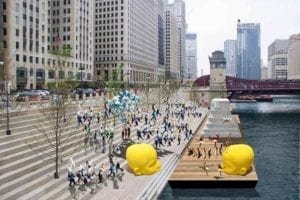 Although there will surely be plenty of great local performances on the Chicago River Float, it'll be interesting to see if any big-time acts make a surprise appearance or two. To keep track of what's happening on the float, as well as other local series such as Movies in the Parks, Theatre on the Lake, Chicago Shakespeare in the Parks, Midnight Circus in the Parks, and more, download the My Chi Parks app.
After its completion last year, the city is really taking the Chicago Riverwalk to the next level this year, with year-round vendors, pop-up attractions like City Winery's river domes, and an all-day festival coming up this month to kick off the season. The Mayor even held a forum with other city officials from around the world to discuss urban waterways, ending with a request for ideas on how to expand the Riverwalk into other neighborhoods. All of these efforts help meet the city's goal of making the Riverwalk one of its most important landmarks.
Originally Reported by DNAInfo