Chicago House AC took home its first-ever National Independent Soccer Association (NISA) win during its match versus Stumptown AC in Matthews, NC on Saturday, August 14th 2021 by a final score of 1-0.
The game was scoreless for a full 89 minutes before House forward Wojiech Wojcik received a centering pass from forward Derek Huffman, heading the game-winning goal into the back of the net behind Stumptown's goalkeeper, Kevin Gonzalez. The play was set up by a cross field pass from midfielder Matteo Kidd.
Following the match, Wojcik explained the club's game plan going in, and how important it was to capitalize on what they worked on during the week leading up to their first win. "We knew Stumptown was a team with a possession based approach to their game. Our plan was to stay organized in our press/defensive shape and find the right moments to capitalize on our opportunities through the run of play/transition," says the Chicago House AC forward. "These are things that we have worked on since preseason, and will continue to build on until we get it right. It was going to be a battle, maybe at times a little scrappy. We got the result, and we want to carry that momentum into this weekend's home opener."
Thanks to his team's efforts in carrying out his game plan and timely subs, CJ Brown recorded his first ever win as Head Coach and Technical Director of Chicago House AC.
"I don't look at things as 'me' – I look at everything as a club. I'm super proud of what the club has accomplished up until this point, from the Front Office to especially all the hard work the players have put in," says Coach Brown. "It wasn't our prettiest soccer, but to go one the road and get a win in our second NISA game, that is something to be proud of, as a team."
Coach Brown credited Chicago House AC's first NISA win to individual defending and gave special credit to his goalkeeper and defensive group.
House Goalkeeper, Mike Novotny, recorded his first clean sheet as a member of the House, helping Chicago take home its first three points in the league. "It's a good feeling to get our first league win and a clean sheet," said Chicago's starting goalkeeper. "The guys grinded and worked for 90 minutes to get this result and couldn't be more proud of them. The first of many!"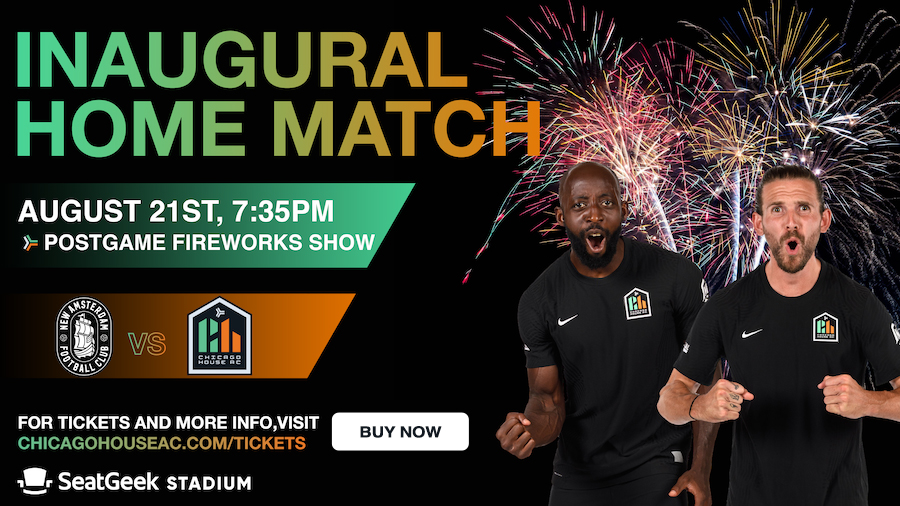 Chicago's defense played a solid match in front of Novotny, contributing to the club's first shoutout of the season. House defender and Chicago-native, David Abidor made his season debut on Saturday night after battling a lower-body injury for the majority of the preseason and Chicago's first match against Detroit last week. He and his teammate's efforts did not go unnoticed by Chicago's backstop.
"Our defense was very hungry and determined to keep that shutout all night long, added Novotny. "Players were putting their bodies on the line to block shots and crosses. As a goalkeeper, there is not a more beautiful sight to see than having defenders that are willing to do that."
The match included another "first." During Saturday's match, Joliet, IL product Damon Almazan made his professional soccer debut, entering the game in the 72nd minute of the match. Almazan signed with the club on June 4th, 2021 and on June 9th, the House announced that the club would be making a training compensation solidarity payment to Almazan's former club, Steel City FC. This solidarity payment, the first of its kind in American soccer, provided compensation for the signing of the midfielder to the House's inaugural roster, and intended to aid in the development of Steel City FC and create a relationship between the clubs in hopes of signing future players.
"It honestly feels amazing to have made my debut; it definitely boosted my confidence," says Almazan, who is 19 years old. "I'm looking forward to seeing all of our fans for our home opener! All of their support has been everything to us."
Although not a part of the starting eleven on Saturday night, Almazan was ready to make the most of his opportunity, reinforcing what the House looked to do during the competition in Matthews, NC. "We knew [Stumptown] possessed the ball a lot and tried to find the middle, so we tried to force them wide and close off the middle while we pressed," notes Almazan of the House's game plan going into the match. "When we were attacking, we focused on trying to play our game and moving the ball trying to find 'Woj' up top, and the wingers in behind."
Chicago House AC will play their inaugural home match on Saturday, August 21st at 7:35pm CST at SeatGeek Stadium in Bridgeview, IL.
"I'm just very excited to get out in front of OUR fans at SeatGeek," says Chicago House AC goalkeep Mike Novotny. "It's the start of something special here for the city of Chicago."
Saturday's match at SeatGeek Stadium will be a true homecoming for Wojiech Wojcik. "There are not very many firsts, but this home opener is going to be very memorable for the city of Chicago, the club, and myself," says 'Woj.' "It is the first time I will be playing in front of my friends/family in my hometown representing Chicago. We are building something special with Chicago House, and we can't wait to share this experience with our community!"