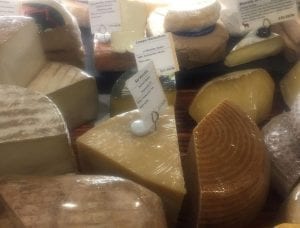 Whether you're on a food regimen (let's not call it a diet), or you need ideas about what to have for dinner, or what to put together for guests, you're likely to find solutions at vendors' booths at the Chicago French Market in the city's West Loop.
To impress guests or just treat yourself, ask the folks at Pastoral Artisan Cheese, Bread & Wine for suggestions. If you want to take home some of the best pastrami you've tasted in a long time, go next booth over to Fumare Meats & Deli.
If you're looking for something you don't want to fuss with yourself, try the gnocchi at The French Lunchbox across from Fumare or the dishes at K-Kitchen such as the yummy japchae, a Korean sweet potato noodle with vegetables. K-Kitchen is opposite the seating area.
With close to 30 vendors, the choices range from poke at Aloha Poke and really good tea such as a Passion Fruit Green Tea at B.I. Tea to mac and cheese at Vegan Now and French Macarons at Vanille Patisserie.
But coming here isn't just about finding something for dinner, though you're likely to leave at least with a loaf of fresh bread. The place is really a fun way to try something different. It's also a place to meet friends who might be picky eaters because they should be able to find something.
In addition, the French Market is easy to get to because it's accessible by bus, 'L' and an easy walk from the Loop to pick up stuff after work. It spreads out from Clinton Avenue to Canal Street between Washington and Randolph Streets on the Concourse of the Ogilvie Transportation Center.
Chicago French Market entrances are at 131 North Clinton Avenue and 118 North Canal Street.
Find what really matters in Chicago with the UrbanMatter app!
To download or see reviews from our users, head here.