View the best in cinema from a vibrant culture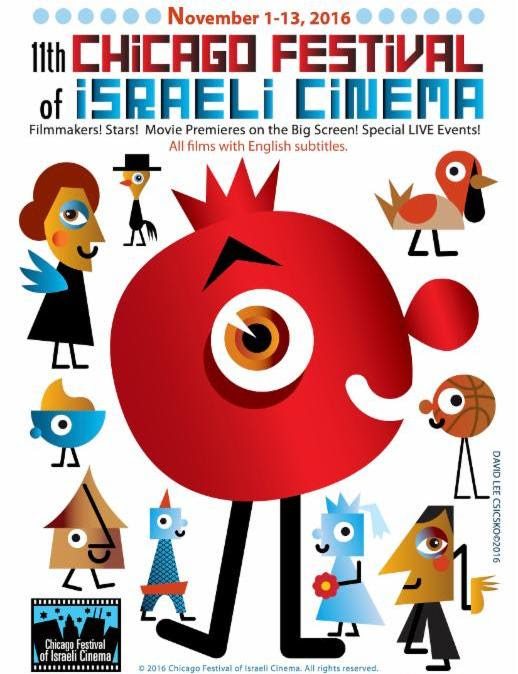 Twenty films from Israel presented in a variety of languages are showing at two Chicagoland theatres from November 1 through November 13. The Chicago Festival of Israeli Cinema, founded in 2005, presents 20 of the best in Hebrew, Arabic, French, Russian, English, Farsi, Tajik and Tigrinya, all with subtitles. Held at both the historic Music Box Theatre in Lakeview and the ArcLight Cinemas in The Glen in Glenview, the Festival also features appearances by stars, film directors, and food tastings, plus a few surprises.
A Taste of Israel, Too
Opening Night, Tuesday, November 1, the Festival will host the Chicago premiere of the 2016 Sundance Film Festival Grand Jury Prize winner Sand Storm by Elite Zexer. This feature, about a Bedouin mother and daughter facing the challenges of tradition and modernity, will also be Israel's submission to the Academy Awards—its first in Arabic. The screening will be preceded by the 2nd Annual Taste of Israel, featuring a light supper from some of Chicago's finest kosher restaurants and caterers served in a Bedouin tent.
The jewel of the Festival's Closing Night is the Chicago premiere of Tomer Heymann's Mr. Gaga. This is an ode to Batsheva Dance Company's long-time artistic director and creator of the gaga method, Ohad Naharin.
Another highlight on Wednesday, November 2, the "Israeli Michael Jordan," Tamir Goodman, motivates the Teen Night audience about character and sportsmanship at the Chicago premiere of Dani Menkin's On the Map. This documentary showcases Israel's improbable win over the Russian team at the 1977 European Championships. The star of the film, Tal Brody, makes a personal appearance with the director on Saturday evening, November 5.
Meet Pom-Pom
This year's mascot for the Chicago Festival for Israeli Cinema is Pom-Pom. "Pom Pom is bi-lingual, in Hebrew and English," said Cindy Stern, Executive Director of the Festival. "He represents the colorful mosaic of Israeli society." For tickets, trailers, schedules, show times and more, go to http://israelifilmchi.org