This is it.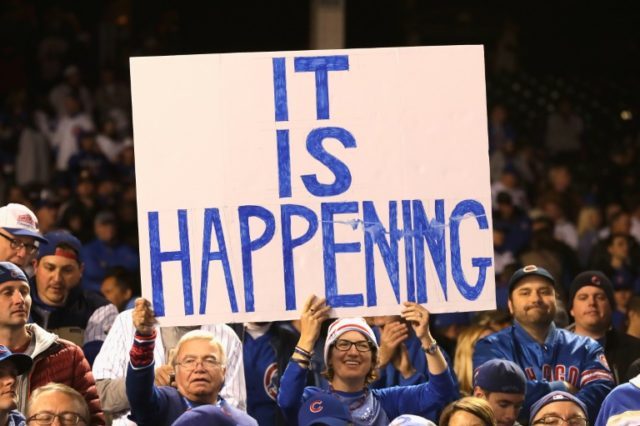 It's happening. No… it happened.
Cubs fans all over the world, rejoice! It's the moment we've all been waiting for. The Chicago Cubs have won the World Series.
The city is on the brink of unparalleled celebration, and we can't wait for every second of it. Are you ready for the Cubs World Series parade? We are, and we have been for over a hundred years!
So, where and when? Here's what we know so far.
When
All MLB parades take place no sooner than 48 hours after the victory. Not to mention, Chicago Public Schools aren't in session this Friday, which is pretty convenient.
The Cubs parade will take place this Friday, November 4 at 10am.
Where
The parade will begin at Wrigley Field and end with a rally at Grant Park. Vendors are already being recruited for the championship parade of the century.
The parade will travel along Michigan Avenue between Oak Street and Ohio Street and then along Columbus Drive between Monroe Street and Balbo Avenue. Viewers should watch the parade from the following locations: Addison from Sheffield to Pine Grove; North Michigan Avenue from Oak Street to Ohio Street; and Columbus Drive from Monroe Street to Balbo Avenue.
The rally will take place at Lower Hutchinson Field in Grant Park and it's free and open to the public as long as attendees pass through a security screening. Street closures will begin as early as 4am.
Tips
Judging on the reaction to previous parades, people will more than likely be camping out overnight for a spot. Get ready to get there as early as possible. Luckily, it's slated to be a beautiful, sunny fall day this Friday, so feel free to get comfortable in what you wear!
When you're there, remember to be safe and act responsibly. If you can't make it, you can plan on all major television stations broadcasting the parade in its entirety. If you're commuting, note that CTA buses will be detoured but there will be additional services for all lines on the 'L.'
So there you have it. This Friday, November 4 at Grant Park. Be ready.
Based on previous pro sports championship parades like that of the 2013 and 2015 Stanley Cup, you can bet that the city will basically be shut down and in full celebration modes for days on end. But it'll be worth it, Chicago, because the dream just came true!
For an idea of what we're in for, check out this video from RedEye Chicago of the 2015 Stanley Cup Parade.
At UrbanMatter, U Matter. And we think this matters.
Tell us what you think matters in your neighborhood and what we should write about next in the comments below!
Featured Image Credit: Chicago Cubs
READ MORE LIKE THIS
DOWNLOAD THE URBANMATTER APP