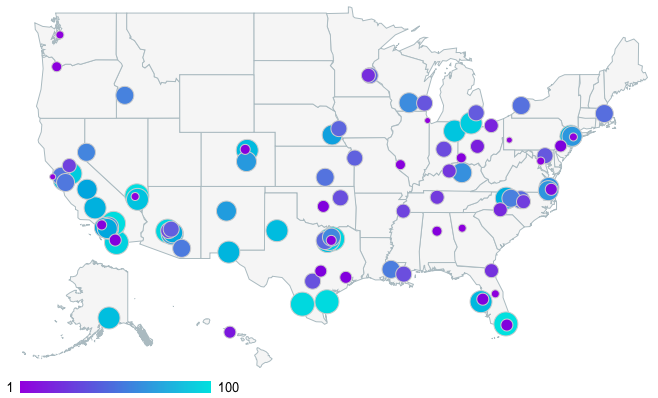 It's the most wonderful time of the year!
Yep, the Christmas season is pretty special, here in America. With thousands of decorative lights from door to door, festive markets in multiple neighborhoods, and dressed-up Santas sharing the season's greetings with passersby, there's no escaping the Christmas cheer in this Chicago – or any city, for that matter.
Do some cities have more Christmas spirit than others? A recent study by WalletHub would say so. Their team of analysts examined 100 of the largest U.S. cities to find the very best place to celebrate Christmas.
What makes Christmas as special as it is? This survey paid close attention to factors like traditions and fun, holiday observance, generosity, shopping, and costs from city to city. And we have to say, we're pretty satisfied (and in total agreement) with the results.
Christmas in Chicago
Out of 100 cities surveyed, Chicago ranked as the number one place to celebrate Christmas. Surprised? No, neither are we.
Coming in at 7th for traditions and fun, 4th for observance, 15th for generosity, 8th for shopping, and 53rd for costs contributed to its overall top spot. Based on the total overabundance of holiday-related activities available in the Windy City, we can totally vouch for Chicago being the ultimate playground for the holiday-crazed.
Curious about what other cities ranked high in this study? Check out the top 10 cities to celebrate Christmas below.
Chicago, IL
San Francisco, CA
Pittsburgh, PA
New York, NY
Seattle, WA
Orlando, FL
Atlanta, GA
Washington, DC
Las Vegas, NV
Portland, OR
To see the full WalletHub study, click here. Feeling inspired? Take advantage of your hometown being in the top spot and check out our extensive guide on how to spend Christmas in Chicago.