Nothing is more exciting than finding a new book that keeps you intrigued with every page turn. Why not enjoy the best of both worlds and grab something a little stronger while reading? There are bars around the city that allow you to indulge in your favorite cocktail and read without distraction. While Chicago is known for its lively nightlife, we also have a wide selection of bars with the best atmosphere for book lovers who prefer to cozy up with a glass of red and a good book. 
12 W Elm St, Chicago, IL 60610
Sparrow cocktail lounge is a hidden gem tucked away in the Gold Coast neighborhood. This quaint bar will transport you back to the 20s with its sophisticated and timely decorum. Instead of lining the walls with TVs like your typical bars or pubs, this Chicago bar plays wonderful jazz music that creates a calming atmosphere. 
They have a great variety of rums from around the world. For those who prefer their drinks to be a bit sweeter and fruitier, they also offer $5 daiquiris on Monday.
12 S Michigan Ave, Chicago, IL 60603
The Drawing Room is located on the second floor of the Chicago Athletic Association Hotel. They offer cocktails, small bites, and a beautiful space to unwind. The ambiance alone will keep you reading here for hours. Cafe tables, couches, and a communal library table are available, so pick your favorite seat and get cozy. They even have three grand fireplaces to warm up next to this winter. 
This is also the perfect spot for those who may not feel comfortable asking for a table of one at a more traditional bar! The space gives more of an old-school library feel than a cocktail bar. Because of the nature of the space, you'll hardly find it to be crowded and loud.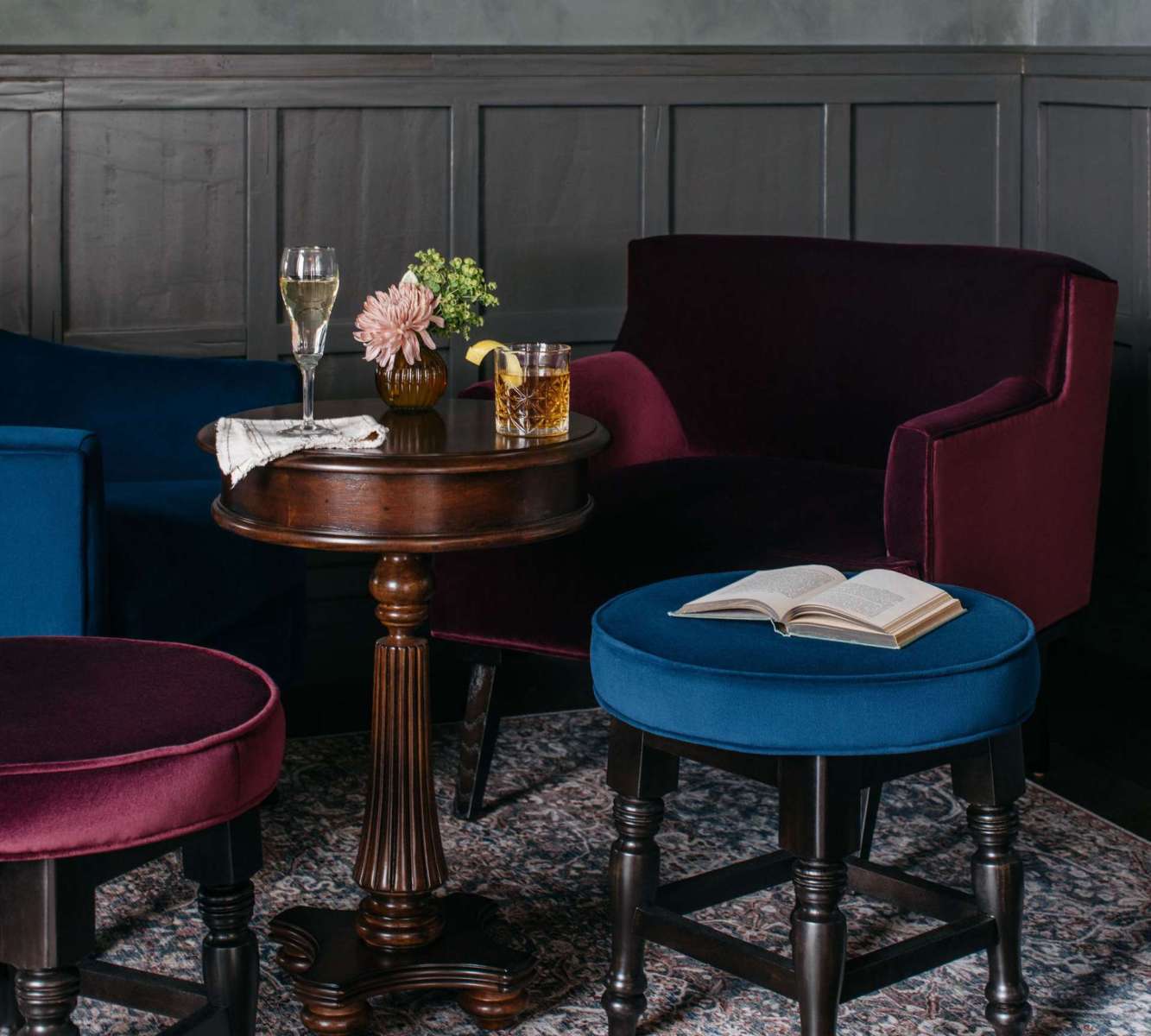 1227 E 60th St, Chicago, IL 60637
Truth Be Told, a new British-inspired tavern located along East 60th Street, on the South Campus of University of Chicago, is a tavern-style restaurant nestled off the lobby of The Study at the University of Chicago.
Right off the entrance to Truth Be Told, guests can flip through daily periodicals and an abundant supply of books and publications featuring University of Chicago authors and scholars, all readily available for a quick thumb through or a deep dive. With a name signifying intelligence, vulnerability, and candidness, Truth Be Told is as much a place to reflect as it is to share a hearty meal over a pint and good lore.
2212 N Clybourn Ave, Chicago, IL 60614
Kibbitznest is the perfect place to enjoy a drink and a good book. The owner has made this space a low-tech zone, computers and phones are meant to be put away, allowing you to be fully present in the moment. Use your time spent here to unwind, dissect the plot, and fall in love with new characters. 
Take your pick from 35 different beers or even a spiked coffee, no matter your preference Kibbitznest has something for you. On Sundays, Kibbitznest officially turns into a book bar and is a well-hidden secret among Chicago's book lovers. Therefore, this is also the perfect place for making new nerdy friends!
114 N Green St, Chicago, IL 60607
Found in an alleyway and down a cobblestone path, Trivoli Tavern awaits you. Their outdoor seating instantly transports you to Europe, dining at a quaint cafe. The bar's setting allows you to romanticize your evening spent reading in Chicago and the atmosphere is just soothing enough to keep you immersed in the book at hand. 
If this isn't enough to convince you, they also have a daily happy hour from 4:30-5:30 and offer $6 beer, wine, martinis, and more.
2008 W Roscoe St, Chicago, IL 60618
Voted number one for Hidden City Patio in Chicago, come enjoy a relaxing outdoor read year-round at Volo Wine Bar. Surrounded by white lanterns and lush greenery, you will feel able to read peacefully. The space is intimate so you don't have to worry about the noisiness that usually accompanies larger bars and crowds.
Not only is the ambiance a 10/10, but Volo also offers over 30 boutique wine options. For me, a sweet white and a Colleen Hoover romance novel make for the perfect Wednesday evening at Volo. 
2125 W Division St, Chicago, IL 60622
If you haven't noticed, there is a running theme with our list of bars in Chicago with the best atmosphere for book lovers. This place is no exception. Queen Mary Tavern is another neighborhood cocktail lounge with the best atmosphere for a drink and a good read. You will also find their decades of history steeping through the vintage decor. 
This place specializes in maritime spirits, cocktails, and fortified wines. You can enjoy your novel on their heated patio and explore their extensive drink options to find the cocktail that best suits you. 
Featured Image: Trivoli Tavern