Building on Burnham is here.
Mayor Emanuel's new comprehensive plan, titled Building on Burnham, outlines the city's new initiative to ramp up investments in the lakefront, Chicago River, parks, and neighborhoods.
Most people in Chicago have heard of Daniel Burnham. In 1909, the famed architect presented the Plan of Chicago – a series of projects that focused on the preservation of the city's parks and green areas. Burnham's vision laid out the city's current grid system and transformed Chicago from a dirty, downtrodden urban area to the flourishing, illustrious city we've come to know and love.
While Burnham's genius lives on in the city's current layout, Mayor Emanuel has proposed a new plan to build upon the initial blueprint. Known as Building on Burnham, the design focuses on four main areas:
Lakefront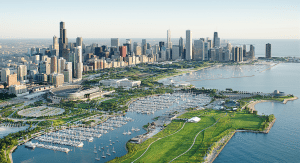 The 26-mile Chicago lakefront is easily the most widely used recreational area in Chicago. With beaches, paths, and gathering areas – thousands of pedestrians, joggers, and bikers alike take to the area every day. The new plan seeks to improve the experience for all by separating runners & bikers from Fullerton to Ohio and 31st to 51st Streets. In addition, seven miles of the path will be repaved.
The big addition here is the opening of the Navy Pier Flyover. This scenic path will extend from Jane Addams Park to the Chicago River Bridge. Construction began back in 2014, and it's slated for completion in 2018.
The Chicago River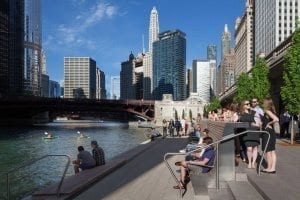 If you've been near the river from Lake Michigan to LaSalle Street, you've undoubtedly seen the revamped Chicago Riverwalk. While portions near this area are currently under construction all the way to Lake Street, the city's newest plan calls for additions outside of the Loop.
The expansion of the stadium at Kedzie and Devon, development projects in the South Loop near Roosevelt to Harrison, and the Eleanor Boathouse opening in Bridgeport are all on the horizon. Likewise, the Paseo, a pathway connecting Little Village to Pilsen, will turn a relatively abandoned railway into a beautiful trail. Paseo has already drawn comparisons to the 606.
Recreational Assets
Building on Burnham plans to build out programming and recreational assets for families in EVERY Chicago neighborhood. Innovative plans include a state-of-the-art rock climbing wall at Steelworkers Park, a world-class indoor track and field facility at Gately Park, a massive recreation facility at Addams/Medill Park, and Big Marsh Bike Park, an area focusing on adventure biking in the Calumet area.
"With this new plan, we will put every child within reach of an opportunity to stay safe, to stay engaged and to stay on the road to a brighter future," said Mayor Emanuel. "Every child in every neighborhood deserves to have these opportunities within their reach. Soon, they will."
Extended hours and more programming are coming to existing facilities while community organizations will be able to use the space for their own programs.
Natural Areas

As of this moment, the Chicago Park District manages over 1,400 acres of land over 65 protected natural areas. Stunningly enough, this acreage is more than double the amount of protected Chicago land from four years ago. Building on Burnham plans to take this number all the way to 2,020 acres by 2020.
You can learn more about Building on Burnham from the city's official press release.