It's always possible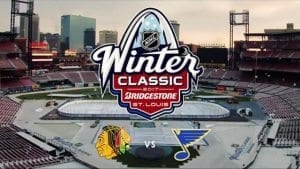 Let's face it. We suffered an embarrassing loss against the St. Louis Blues this week at the Winter Classic. Any loss against the Blues makes us cringe, but the 4-1 loss we experienced on Tuesday stings even more.
This came not too far after a 3-1 loss to the Winnipeg Jets as well.
However, the past couple weeks have also afforded us some wins. Last week, we beat the Predators 3-2. Last night, we beat the Sabres 4-3. Tonight, we're playing the Hurricanes and we're optimistic that we'll win.
Looking back, the trade of key players like Andrew Shaw and Teuvo Teravainen probably hit the team overall pretty hard. But for the most part, other key players are still keeping up the pace. After going through a frustrating goal-scoring dry spell in mid-December, Patrick Kane reached yet another milestone in last week's game against the Predators. A 700-point record in career history is surely an accomplishment. Wayne Gretzky's near-3,000 record is pretty mind-boggling, but Kane's still young. We think he can get there, or at least close. Kane recently made sports columnist Steve Simmons' list of the top 100 hockey players of all-time, alongside legends like Bobby Orr, Stan Mikita, and the aforementioned Gretzky. Accolades like that still totally work to our advantage.
Patrick Kane's 48th career game-winning goal ties him with Stan Mikita for third-most in #Blackhawks history.

— Charlie Roumeliotis (@CRoumeliotis) January 6, 2017
We don't want to get too ahead of ourselves. We're still fairly early into the season and there's plenty of time until the playoffs. But, who says we can't start ramping up for the finish line? We're no experts, but historically speaking, last January was when we really started winning consistently – 11 wins that month (10 being in a row) and only 3 losses. Hopefully, history starts repeating itself.
More good news – the Hawks are still at the top of NHL's current standings. Vegas odds have them alongside the Penguins and the Capitals at the top of the board.
Alright, maybe we're biased, but hey – all this just means that the Blackhawks are still really effin' good.